Welcome to my Plex Software Review!
Can you really generate traffic from 150 sources in 30 seconds with Plex and make money?
This is what they claim…
In this review, I'm going to show you everything there's to know about this software.
First thing first, congrats for taking the time to do your own research before putting your money into any product online.
That's the way to avoid scams, and find the Legitimate way to make money online.
But, what is Plex about, really? How does it work? Will it be able to deliver on its promises to you? Is Plex software a scam? This post will cover those basic questions, as well as provide the pros and cons.
Without further due, let's jump into it.
Plex Software Review Summary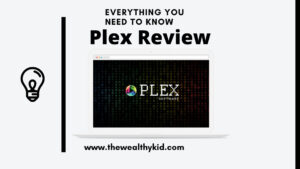 Name: Plex
Vendors: Billy Darr
Product Types: Affiliate Marketing Software
Price: $17
Upsells: Yes
Rating: 20/100
Verdict: Plex is just a typical shiny object designed to fool you. There's no traffic solution as they claim on the sales page. All they do is provide you with social share buttons to share your links on social media. But this doesn't guarantee traffic. Plus, the sales page is so misleading. This is not the right way to start an online business.
Not Recommended! Invest your time and money elsewhere.
==>>If you want to build a long term sustainable online business the right way, see my #1 recommendation.
Quick Navigation
What is Plex Software?
Plex is an application that allows you to build landing pages, connect them to affiliate offers, and in theory drive traffic to those affiliate offers so that you can go ahead and make commissions.
The product comes from Billy Darr, and here's how he describes the product on the sales page:
You can find high converting warrior plus offers.
You can build landing pages.
You have 150 traffic sources in one dashboard.
A step-by-step tutorials.
Apparently there's a world-class customer service.
So we're going to go through the members area, then I'll talk to you a little bit more about what these types of products actually deliver, and also if you stick around I'm going to give you some completely free alternatives to these types of applications.
so let's go inside Plex and take a look around.
How Does Plex works?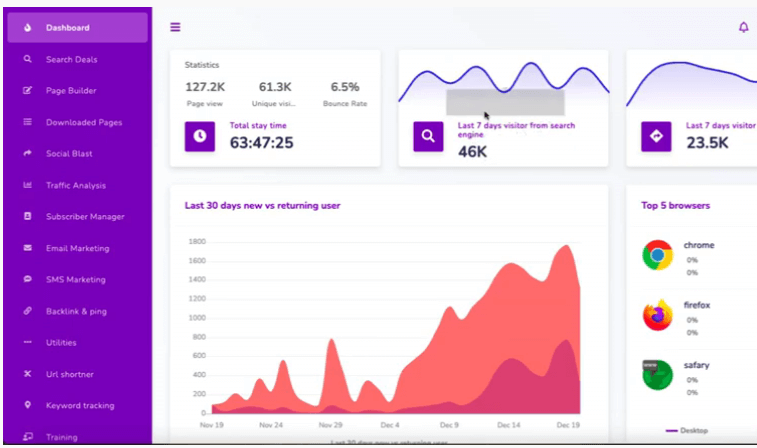 To have a better understanding of how this software works, let's explore the different features.
Search deals
This section allows you to search for deals on warrior plus. All you have to do is click and this will give you you a bunch of warrior plus deals that are actually listed for you.
This is just a database of warrior plus deals.
But keep in mind that you can go into warrior plus anyway and do this. All you need to do is log on and search for any of these offers.
For example if you search for for a product called Zen(which is one of their products), it will give you the opportunity to visit the sales page, and if you are interested in promoting this product, you can go ahead and grab the deal.
However, once you hit this "grab the deal" button, it doesn't seem to take you to the right link. what happens is it goes to the actual product page of the vendor's profile instead of the place you can apply for this link.
But this is good because at least it gives you the opportunity to see others products and ratings of those vendors.
By the way, I have reviewed some of these products above such as Matic, Slick, and Zippy.
Page Builder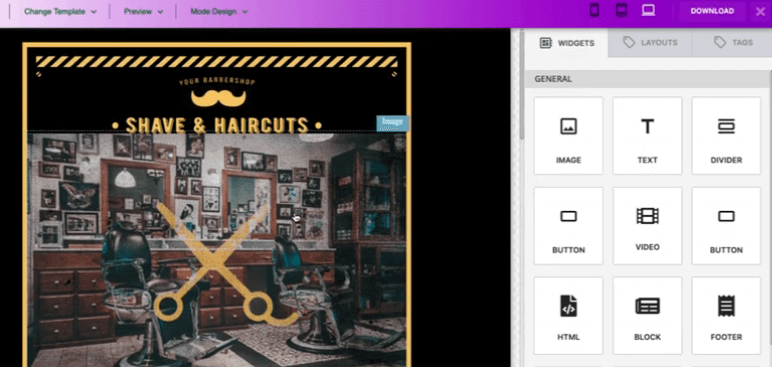 In this section you would build a page and insert the affiliate link you got from Warrior Plus.
It gives you access to a whole bunch of templates where you can actually build a page. You have images, text blocks, etc.
The software does work. There's no real issue with that.
Unfortunately in the training section, nobody actually connects the dots here and tells you where you have to put your affiliate link, and how people will come along and click on it, so that you can make money.
Because let's be honest here.
If you're reading this review, this is because you are a complete beginner. Otherwise you wouldn't be trying to find this type of products in the first place.
So they've missed out a big thing in the training.
Let's hope they include this training in a near future, but right now this is not the case.
Once you have built your page and ready to go, you would then download this onto your desktop as a zip file, and then use that in your own site.
Now the question is, if you've got your own site with wordpress installed, why would you need this application to build pages?
you can have free tools such as Elementor which is a great page builder. There's other page building applications within the actual wordpress platform.
So, as far as the downloading function is concerned, I'm not quite sure what's the point of buying this software when you can get free and best alternatives elsewhere.
The only thing you are going to need is a training that walks you through the process of doing affiliate marketing the right way.
That said, Wealthy Affiliate is the best place to get Free training. Go check this platform out.
Downloaded pages
This is where the actual pages would be. You can manage all your links, edit, or even delete them.
Social Blast
This is the "traffic solution" they are talking about on the sales page.
Remember when they said this software is going to drive you traffic in 30 seconds?
Here we go…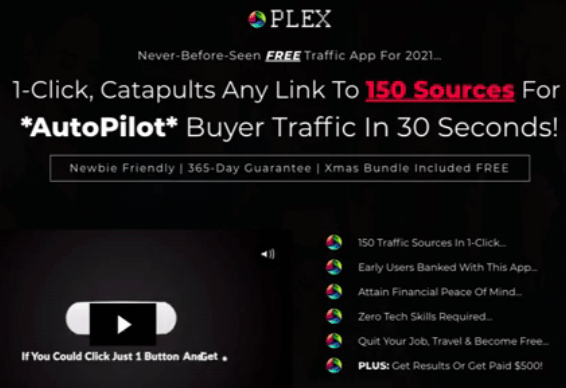 According to the sales page, you will be able to generate free traffic with the push of a single button.
Here's the social buttons where you can share your links to.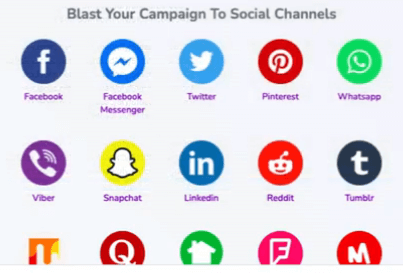 Here's what happens: you will have to share all your page links individually one by one to those 150 sources.
Obviously, this is going to take you a lot of time. Certainly not 30 seconds as they said.
But, this doesn't mean you will get traffic.
In fact, if you have ever read my reviews before, let me repeat myself again, if you have no social media presence and you don't have accounts on these social media sites, and with engaged followers in the niche that you're actually trying to market to, this will not get you any traffic.
There is no reason why anybody would come across your links in these social media sites. You need to master some specific techniques and skills on social media sites.
They mostly work on the fact that you have a following and people are interested in your content.
However, if you have got a big following on social media, you don't need this page builder in this case.
All you have to do is build a WordPress website, then share your content on social media by using some plugins like the one you see on my website right now.
You can't just share your content on social media and expect to have people clicking on your links. I mean, you are not providing any value to them.
So, that's not going to work.
Let's move on to the next section.
Traffic analysis
This just seems to be a bunch of tools that they've added to beef up this particular product. Because you're not going to need most of these tools, unless you build up a business that's actually getting a lot of visitors.
And unfortunately, your websites being built on this platform aren't going to get a lot of visitors.
Subscriber manager
This section gives you the ability to manage your subscribers.
Email and SMS Marketing
I would always be very wary before sharing my data on this type of platforms.
There's a lot of issues these days around keeping people's data and I wouldn't keep people's data on any kind of platform like this one.
You've got to be very careful, you can get in a lot of trouble especially in Europe with GDPR roles. You can get in a lot of trouble by gathering people's email addresses without permission.
Better use a proper vendor for your email or SMS marketing.
Backlink and ping
The whole point of this product was the ability to build landing pages. But having backlinks back to those landing pages are not going to get you any more traffic.
Especially if you decide to host these pages on this software, none of these are going to rank anywhere no matter how you backlink them.
Utilities
This section gives you access to a bunch of other much more complex tools that you would not need as a beginner.
They just seem to be thrown in here to enhance the overall product. Not quite sure the point of any of these and quite frankly there's no training on any of these within this particular version.
Url Shortener
This is just a connection to bitly. You also have Rebrandly, which is another a url shortner.
Keyword Tracking
This section allows you to track your keywords. Which is not really needed.
Training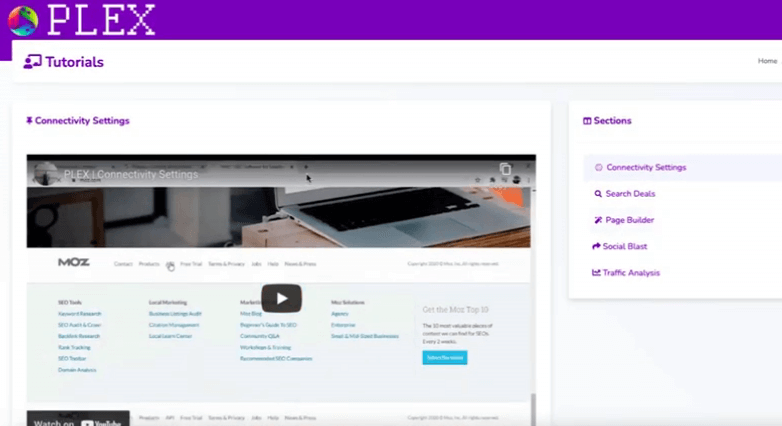 This is just some basic training on how to search deals, how to build the page, how to actually use the social blaster and that's about it.
So, the amount of training they have on the platform is very limited.
I'm not really impressed with this platform. Yes it's got a page builder on it, yes it allows you to blast some of these to social media but quite frankly I don't think you need to pay for any of this if you're really struggling and can't invest in proper tools at the moment.
What I like About Plex
The only thing I like about this software is the page builder.
It is easy to use, and therefore it can be good for beginners.
What I don't like About Plex
The sales page
"150 traffic sources in less than 30seconds" You know that's not true.
All they do is use some hype in order to get your hard-earned money.
But as we saw through this review, nothing of what the sales page claims is real.
Financial Proof has nothing to do with this product
The "financial proof" you see on their sales page is just repeated over and over again on most of their products.
Do not trust it.
Keep in mind that these guys are serial product launchers. That's why and how they make their money.
In fact, they release products every single month. And most of their products don't even work anymore or in service.
So you need to be very careful before spending your money on this type of software because some of them are not going to be supported in the long run.
By the way, they actually build these sales pages on click funnels. It's not their own page builders.
If they're that confident their own page builder is working, why don't they use it?
The Use of big marketer's names
On the sales page, you can see an image of so big marketers names.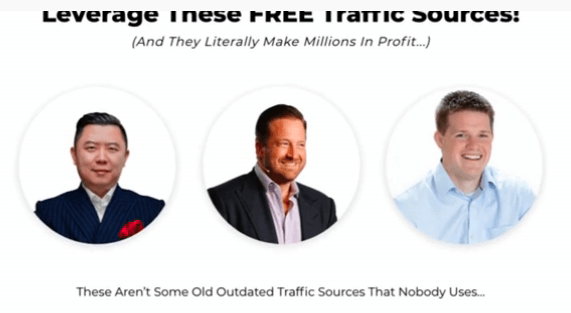 Those marketers don't even know this product.
But as usual, they are trying to make their sales page quite interesting by connecting those big names.
Page non secure at the moment
This is a non-secure page at the moment. Because obviously it's still in draft mode.
Let's hope.
The earnings disclaimer not showing
It's always recommended to make sure that you're not being seen as a get rich quick type application.
But the disclaimer of this platform is not showing.
This is to show the lack of consideration with their privacy policies and legal pages.
Price and Upgrades
Front End: $17
Upsell 1: Plex Unlimited at $37 gives you more templates.
Upsell 2: Plex Done For Your Edition $197.
Upsell 3: Plex Passive Edition $39.
Upsell 4: Plex 100x one click campaigns edition $37
Upsell 5 Plex Auto Machine Edition $197
These upsells could be 500 odd dollars. Do not purchase them.
Pros
The software does work. It does produce pages.
There is a 365-day guarantee. But I wouldn't trust that.
There are done for you pages.
Cons
There's no traffic solution. Unless you have a big following on social media.
The training is not complete. Hoping they will actually complete the training and connect the dots for you as a beginner.
Sales page is over hyped.
The value claims aren't real.
There are free alternatives.
The whole platform to me as usual isn't needed.
Is Plex Software a scam?
First off, thanks for reading this Plex review. I really hope you've gained value from it.
Plex is not a scam.
This is just a typical shiny object designed to fool you, and the additional tools are not required for you especially if you're starting off.
What you need to be doing when you're starting off is just creating good content, giving people value and then you'll make money from affiliate marketing online.
If you're serious about building a long-term sustainable business online, go ahead and click the button below, and I'll take you through the whole process step by step.
have any question regarding this Plex Software review? Don't hesitate to leave it in the comment section below, and I'll get back to you ASAP.
Thanks for the support!