Welcome to my Jaaxy Keyword Research Tool review!
Many bloggers have been using Keyword search tools a lot during the last decades, to find amazing topics to write about, and rank high in the Search Engines.
But, several questions arise as to which research tool is the most effective out there.
Today, let's see what Jaaxy has to offer, all its functions, how to use it, and why it's the best keyword research tool out there.
Sounds good to you?
Then, get comfy, grab a snack, and pay close attention because at the end of this review, you'll know exactly the power of this awesome Jaaxy keyword tool., and how it can help you amplify your business through the revolution of lots of low competition keywords and more.
Without further due, let's jump right into it.
Jaaxy Keyword research Tool Review Summary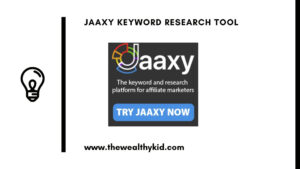 Name: Jaaxy
Creators: Kyle & Carson
Product type: Keyword research tool
Price: Starter=>Free; Pro=>$199 per year; Enterprise=>$499 per year
Best For: Experienced marketers & Beginners
Rating: 98/100
Verdict: Jaaxy is simply the best keyword research tool out there. Simple and easy to use, even beginners can take advantage of all its amazing features without needing any support. Plus, it delivers accurate results, and this is what every online business owner needs.
100% Recommended.
What is Jaaxy?
Jaaxy is a powerful keyword research tool created by Kyle and Carson, also founders of Wealthy Affiliate.
It's a true SEO dream tool and is an essential for internet/affiliate marketers, local marketers, bloggers, and merchants.
Whether you are looking for a new business idea or looking to dig into the deepest corners of your existing niche, Jaaxy will be your power tool.
Keep in mind that this tool is web based so you can access it from anywhere you have an internet connection, including your phone. Sometimes I can be in the store and get an idea about a topic to write about, the easy access to this tool from my phone allows me to do a quick search and save it, so I don't forget.
Use the keyword research box below to start performing any search.
How To Use Jaaxy?
There's nothing more annoying than not being able to use something properly.
That's why people love Jaaxy, it's so simple to use.
Here are all its features on the inside.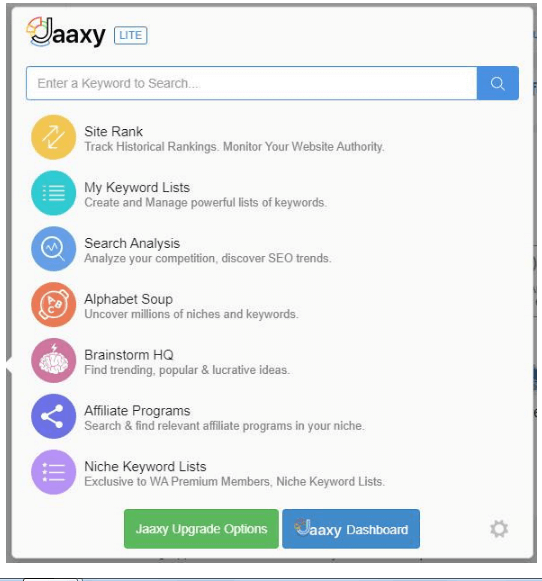 Now let's have an example so you have a better idea of how simple it is.
Here's a screenshot of a keyword I searched "Jamba Juice Careers" The results were shocking!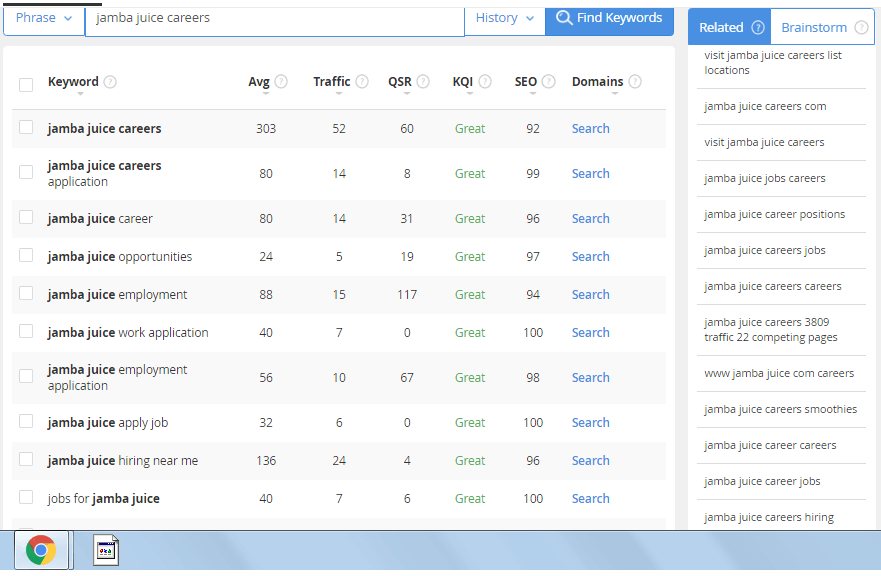 What to make of those results:
look at all keywords above which have the green word "great". This green word means the QSR is less than 300 and if you write an article on any of keywords above, you would definitely have a great chance of being on the first page of Google or any other search engine, and obviously get more traffic.
Now, you must probably be confused about all those terms above. Let me explain what they are.
Understanding what keyword metrics mean.

(1) Keyword – This is the search phrase that the data to the right of it is representing.
(2) Avg – This is the global monthly traffic this search term gets.
(3) Traffic – It's the estimated amount of traffic you'll get if you rank on the first page of Google under a certain term.
(4) QSR (Quoted Search Results) – This quickly gathers information from the search engines and tells you the exact number of competing pages there are under an exact search term. In other words, this is how much competition you have. There are millions of these keywords out there and this is obvious when you have a tool that gives you this data.
Keep in mind that if the QSR is less than 300, you're good to go! The best QSR you can have is 0, meaning No competing pages. In fact, the less this number is, the better it is.
(5) KQI (Keyword Quality Index) – This simply gives you an instant drive of keyword quality for any marketing campaign (PPC, SEO etc).
(6) SEO – This determines whether a keyword is a good candidate for getting SEO rankings. The higher this number(When it's green), the higher you'll likely be able to rank on the first page of Google.
Here are my tips for you after perform a search:
Always make sure the keyword makes grammatical sense!
Make sure the monthly searches(traffic) is over 50.
And make sure the QSR is less than 300. The less this number, the better.
Exploring other functions of Jaaxy.
A/Site Rank Tool.
This allows you to enter a keyword and URL to see how well it's ranking in the search engines. The great part is that you can also do the same thing with your competitor sites. All you need is their URL and any keyword to find out how they are ranking. That's exactly you can beat your competition.
By the way, below is a screenshot of one of my posts. As you can see, this awesome Jaaxy tool clearly shows my ranking in the Search Engines for this particular post.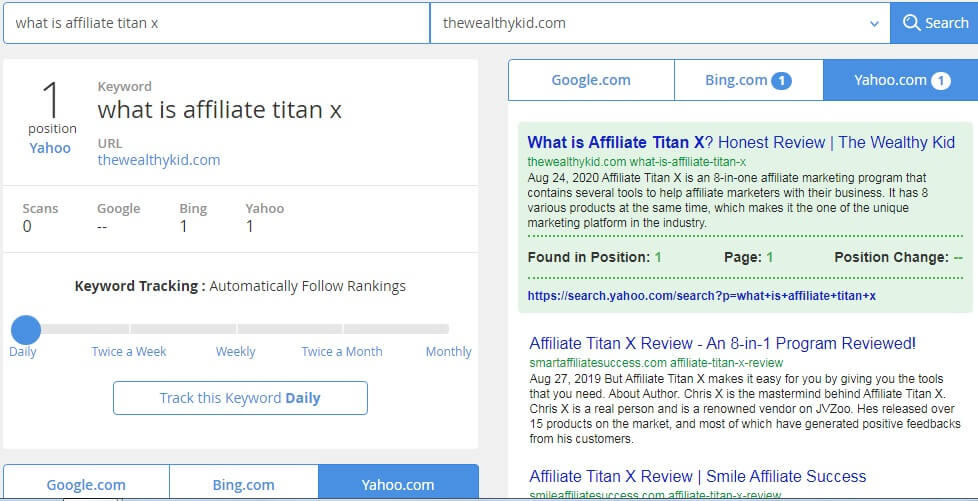 As you can see on the screenshot, this article isn't ranked yet on Google at the time I'm writing this review. But it does a good Job on Bing and Yahoo.
If I was able to rank so high with this particular post, it's simply because of Jaaxy. It's simply the best Free keyword research Tool out there. Keep that in mind.
B/Brainstorm Section.
This section lists popular trending subjects from places like Google, Alexa, Amazon.com best-seller, Yahoo Buzz, and Twitter Trends. So, you are always updated with what's going on, hot market, and that's how you can take advantage of them and absolutely rock it!
C/Jaaxy Training
You have access to full tutorials(with videos) on how to use all Jaaxy's features.
D/Affiliate Programs associated with your keyword searches.
Yeah that's right! For any keyword you do a search for, this tool will automatically find affiliate programs from where you can sign up through, and promote them directly.
Isn't it Amazing?
Jaaxy Pricing
Now you know what Jaaxy can do for you and your business. Just a quick recap, there are niche finding functions, the ability to find affiliate programs, to easily find where your site is ranked in Google and other search engines, analyze your competition, create keyword lists, and much more…
But, how much does Jaaxy cost? You are wondering…
There are 3 options for Jaaxy. Each one depends on your budget.
Here is a breakdown:
Jaaxy Starter==>> FREE
Jaaxy Pro==>> $19/Monthly, or $199 per year
Jaaxy Enterprise==>> $49/Monthly or $499 per year
I recommend everyone start with the free option first, because there's no risk, No credit card required, Nothing.
I personally use the Pro account, which is more than enough for me. Even though, I know the enterprise one is more powerful…
If you are a beginner, the starter membership is more than enough to get you started.
Here's my recommendation if you are completely new to internet marketing:
Get Free Training from

Wealthy Affiliate

starter membership first. It's absolutely FREE, and this is good for you if you are a beginner because you'll learn the basics of Affiliate Marketing combining with Jaaxy.
Join Jaaxy for Free to get an idea of how it works.
Final Word
At the end of this Jaaxy keyword research tool review, it should be remembered that Jaaxy is an amazing tool with a lot of powerful functions.
Now if you ask me Is jaaxy really the best? If not, what is the best free keyword research tool out there?
I think you have your answer already.
Jaaxy is simply the best free keyword research tool for beginners and experienced marketers.
The truth is that you won't find a better one elsewhere.
Thanks for reading this jaaxy review. Hope you have gained value from it.
If you have any question, please, consider leaving it in the comment section below, and I'll get back to you as soon as possible.
Thanks for the support!