Welcome to my ItzFresh review.
Shiny objects are everywhere those days, and the software we are reviewing today is one of them.
First thing first I must congratulate you for taking the time to do your own research before spending your money on any type of product online.
That's the way to avoid scams, and find the Legitimate way to make money online.
But, what is ItzFresh about? How does it work? Will it be able to deliver on its promises to you? Is it the right software to start an online business with? Is ItzFresh a scam? This post will cover those basic questions.
If this sounds good to you get comfy and pay close attention because I'm going to tell you everything about this software, but most importantly the main issue you are going to have.
Without further due, let's get started.
ItzFresh Review Summary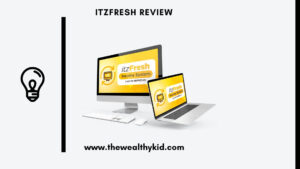 Name: ItzFresh
Vendors: Jason Fulton & Sean Ogundele
Product type: Affiliate marketing software
Price: $19
Upsells: Yes
Best for: No One
Rating: 10/100
Verdict: Itz Fresh is a combination of three software in one. But there's many issues making the product useless. First, there's no traffic solution. What they claim on the sales page is not true. All they do is provide you with social share buttons to share your pages to social media. But as usual, you won't get any traffic if you don't have targeted followers.
Not recommended! Invest your time and money elsewhere.
==>>Are you really serious about starting an online business the right way?
Quick Navigation
What is ItzFresh?
Essentially what you're getting here is a combination of three products that the vendors have already released during the past.
Now they're bundling them up and are saying that those products can work together to make you even more money.
Those products are uProfito, Profitorial, and Preequell.
Let's see whether these can really be used together to actually make you money.
How ItzFresh works?
let's see how these three apps are supposed to work together.
Here's how the product works according to their sales page:
step 1: You set up your passive money pages using software app number
Step 2: You activate the software App number two to get free viral traffic flowing fast.
Step 3: Then the software at number three goes to work on autopilot to make you passive income and if you want more money you just hit refresh.
That's so funny. I like the third step: "If you want more money, just hit refresh".
So this is the way these three applications are supposed to work together.
Keep in mind that they're three completely different applications on different interfaces, so there's no real connection between any of them.
You are going to understand better in the next step.
Inside The three Apps
Let's explore each one of those Apps.
uProfito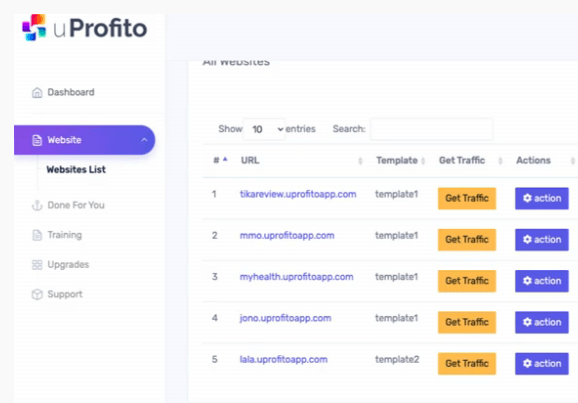 uProfito is an application that allows you to build websites.
You can use a custom domain or sub domain so you can use your own hosting which you would always need to.
Here's the first issue: The site is not secure. You shouldn't really ever go into an app that's unsecured because it means your data is at risk.
Anyway, It is a very simple page builder that allows you to set up sites.
But the main issue with this one is the traffic piece.
I'll explain that in more details later in this review. But for now let's have a look at the next one.
ProfiTorial
This is another page builder which allows you to build websites.
It gives you access to several pages, and all you have to do is pick the type of website you want as a base.
Then you can make changes. See an example of the type of pages that are already here for you.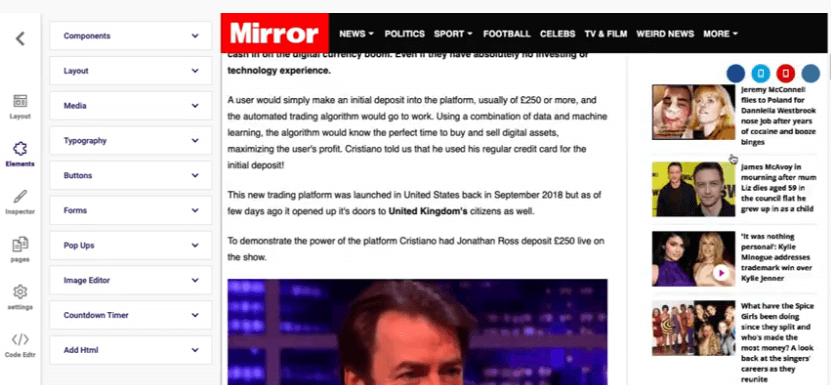 All you have to do here is add certain elements to this page by customizing it.
The idea of this one is that you could use it as a news website and build up your website using various current topics. And people will come along to this, view your topics, and you can make money by putting affiliate links there.
The issue with this particular one is the fact that it's hosted on their platform, which means that you've got no idea whether this is going to be supported in the long term.
Second issue is those pages you are building have no SEO attached to them. Nobody's ever going to come across these organically and find your website. None of these pages will rank.
Now let's have a look at the next one.
Preequell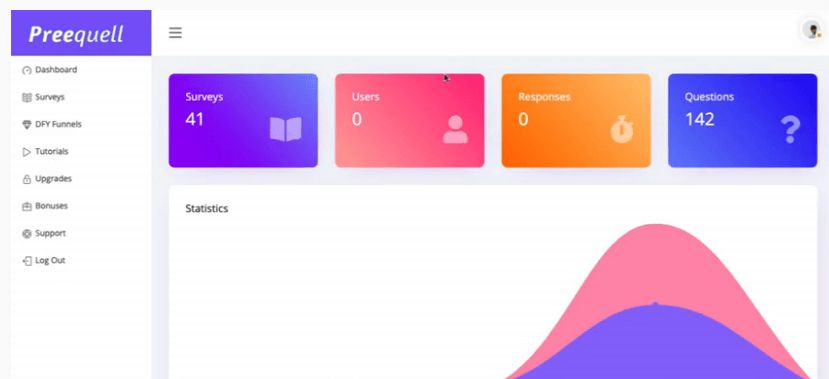 Preequell is an application that allows you to build surveys.
You may have come across surveys before. Basically, a survey is an examination or description of someone or something.
With Preequell, the idea is that you would take a survey and then be redirected to some kind of money link that would make you money.
The survey piece does seem to work. It's very very simple, and there is a lot of logic.
There is much better alternatives to making surveys out there, but this one is fine and produce very simple surveys.
The Issue with ItzFresh
The first issue around ItzFresh is the fact that the three products that have been combined are old products.
The second issue is there's nothing on here that explains how to use these three applications together.
So I would build a survey on one application, but do I add it to the other application? How does one application get me traffic over to a different application?
There's nothing here that actually knits all together and shows me as a beginner step by step how I would use these three applications.
It's just a kind of cash grab to me where they've got three of their older products, they've bundled them together and said "this is our offer" LOL.
There's no way you can logically think how to use these three applications.
The Traffic
The traffic is certainly the main issue here.
No Traffic = No Business
Agree?
You are not going to generate any kind of revenue unless you have people coming over to visit your site, surveys, or whatever you are offering.
Unfortunately the issue is exactly the same with these three products.
Here's what they say on their sales page: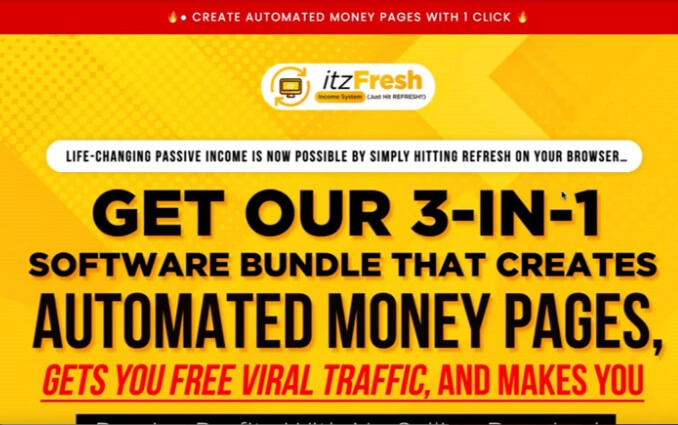 They talk about having free traffic,
Having instant traffic,
These get you free viral traffic,
They get you passive profits with no selling required…
All of these types of buzzwords that make you get excited…
In fact here's the viral traffic they were talking about: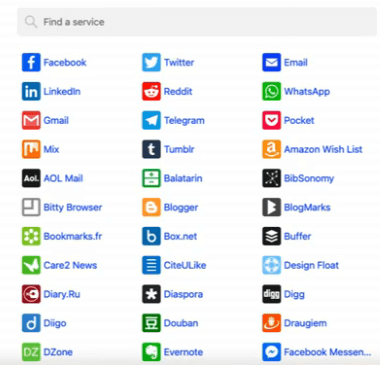 It is just the same with all these type of software. All they do is provide you with social share buttons to give you the ability to share your work on social media.
But does it mean you will get traffic?
Of course No.
The reality is you will not get any traffic from any of these sources unless you have an existing follower base that are going to be interested in your content, will come along, click your links, and come over to your offers.
Same thing on Profitorial, some of these various social media sites will definitely ban you when you start spamming them with links.
And most of these sites have got nothing to do with the types of offers that you'll create. Basically you're just trying to spam these sites and hope that one or two people will come along and actually click on your links and somehow follow the whole funnel down and actually purchase something off you.
You won't make money that way.
It's the same thing with uProfito as well.
These are actually the same interface being repurposed time and time again. All they do is slightly change the interface.
But the reality is it's all the same thing being sold with a different sales page.
None of these products are going to be any good for you. You're going to be wasting a lot of time trying to make any of these products get you any kind of revenue online.
And just bundle up three of them does not make it any better and especially just not make it any fresher.
They just do not care whether you make money or not with these things as long as you buy them.
What I like about ItzFresh
The only thing I like about this software is the 30 Day Money Back Guarantee.
Quite honestly their customer service is quite awful so you may not get any money back even if you do purchase this.
Price and Upgrades
Let's have a look at the otos.
Front End: $19
3-in-1 passive income app
Brand new 'done for you' money-making system with each software having 5 NEW done for you campaigns added

It's called ItzFresh and this brand new system gives you access to 3 automated software tools that work together to get you big results • No technical skills or experience is required

No cost traffic is included and fully automated

You'll be able to get everything setup in just a few minutes

Once you get the money flowing, it just keeps coming

And if you want to make even more money, simply hit REFRESH

No email list needed

No website needed

No computer needed

You can do this from anywhere

This does not involve cold-calling or anything offline

FREE traffic-getting app included

Create a passive income while you sleep in minutes per day

Zero to $517 in 24 Hours Case Study included for FREE
Unlimited Edition$37
Remove All Limits From 3 Software Apps

Supercharge Your 3 Software Apps Results By Up To 100X

Create Unlimited Money Campaigns

Unlimited Campaigns Equal Unlimited Commissions

4 Extra DFY campaigns

Put This App On Steroids
DFY Affiliate Profits $197
We're Making It Impossible For You To Fail

20 DFY Profit Campaigns Ready To Be Deployed

We'll Setup Everything For You

A Failproof Route For Earning • We'll Choose The Niches For You

Start Making Hands Free Income
Automation$47
Want Pockitz To Run On Complete

Autopilot & Continue Making You Money?

SAVE LOADS OF TIME – FULLY AUTOMATE
Diamond Traffic Edition $67
Get Guaranteed Real Human Traffic To Your Campaigns Anytime you want it.

100% Effective New Traffic Source – No Paid ads, No Social Media Posting, No Video or Anything Technical….

Get real human traffic to your websites and boost your alexa ranking as well.

Quit Your Job

Bank Fast Cash

Proven to Work

Access our Deadliest Secrets
Super Affiliate Edition $47
Take You From $0 To Super Affiliate Status So You Can Start Cranking Out $1,000 Paydays Effortlessly?

YES,I want to start cashing in with your special pages that ethically bribe people to buy a DFY offer, making me commissions without a sweat

YES, I want your free built in traffic

YES,I understand that this is a shortcut to 4 figure paydays Profit Boosters Edition$77

The Secret Deadly Strategy Nobody Else Is Teaching

Unheard of promotion techniques that the "I.M. crowd" isn't doing which allow me to dominate.

Give you an "unfair advantage" over the over 2,000 people purchasing

Just let the software deliver and YOU keep 100% of the profits.

#1 High Income Skill

60+ DFY Cash Converting Swipes

Quit Your Job

Bank Fast Cash

Proven to Work

Access our Deadliest Secrets
License Rights $147
We're giving you the opportunity to sell this App as your own product, and keep 100% commissions (even the upgrades!)

A FULL ONLINE BUSINESS IN A BOX –

KEEP 100% COMMISSIONS – • SAVE THOUSANDS
Is ItzFresh a scam?
First off, thanks for reading this ItzFresh review. I really hope you have gained value from it.
This product isn't a scam as far as I'm concerned.
But the software is very useless, and therefore I wouldn't recommend it.
You need to avoid this type of products.
They can't be useful to you if you're serious about building a long-term business online. In fact I would never promote any of these products, especially from these vendors.
As a matter of fact, I've reviewed another of their product called kash Kow. Another useless product.
ItzFresh Review Final Word
Making money online is the result of learning from a proven method and be surrounded by a great community to help you on this journey.
That said, if you're really serious about making a long-term sustainable business online, check out my #1 recommendation.
It is not software. It's a real training course that'll get you started online and will enable you to finally stop looking at these shiny objects trying to figure out a quick way to make money.
This will give you a realistic way that you can actually build a business.
Have any question regarding this ItzFresh review? Leave it in the comment section below, and I'll get back to you ASAP.
Thanks for the support!