What is Earnbucks? Welcome to my EarnBucks.Co review!
Before answering that question, keep in mind that EarnBucks owners claim that you can make $500 a day by using this website. But is that true?
This is what you are going to find out in this review.
First off, congrats for taking the time to make your own diligence before spending your money on any type of software out there.
That's the best practice to avoid scams and find a legitimate way to make money online.
But, what is EarnBucks about, really? How does it work? Will it be able to deliver on its promises to you? Or just another scam?
To find out, keep reading…
EarnBucks.Co Review Summary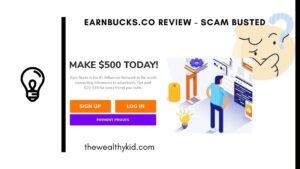 Product Name: EarnBucks.Co
Product Type: Task & Referral
Owner: Unknown
Price: Free
Best For: No One
Rating: 1/100
Verdict: EarnBucks promises you to earn $500 daily but that's just BS. The website is full of red Flags and doesn't work. Not Recommended! Invest your time elsewhere.
==>>If you're looking to build a real long-term sustainable business online, have a look at my #1 Recommendation.
Quick Navigation
What is EarnBucks?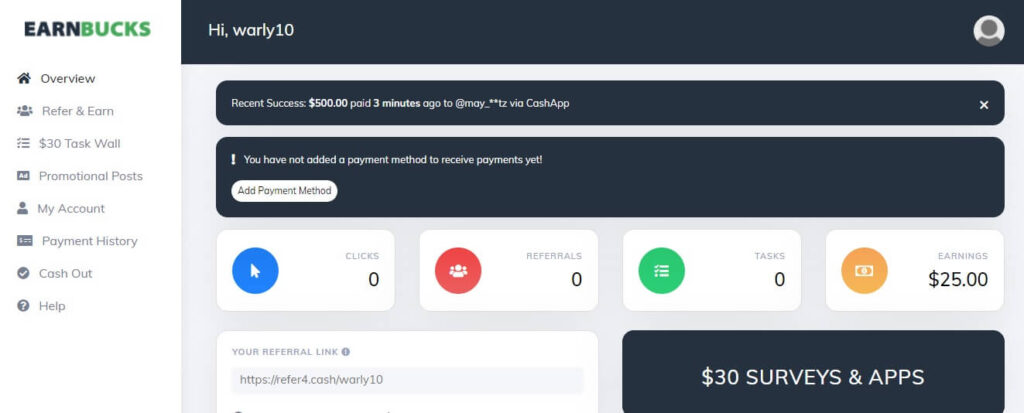 Earn Bucks is a network influencer that supposedly connects influencers to advertisers. The whole idea is to offer you the chance to complete some tasks and earn some cash. But they don't pay.
The number one thing they want is you to refer more people so the owner can gather their personal data/information.
It gives you the impression that you are going to make $500 daily.
And that's probably why you are reading this review, to make sure it's real.
Guess what? You are going to be completing tasks and referring people but they won't pay you. That's the catch.
How Does EarnBucks Work?
As you already know, the idea is you would complete tasks, refer people and earn extra cash.
Once you are in the member area, there is a pop-up asking you to share your link.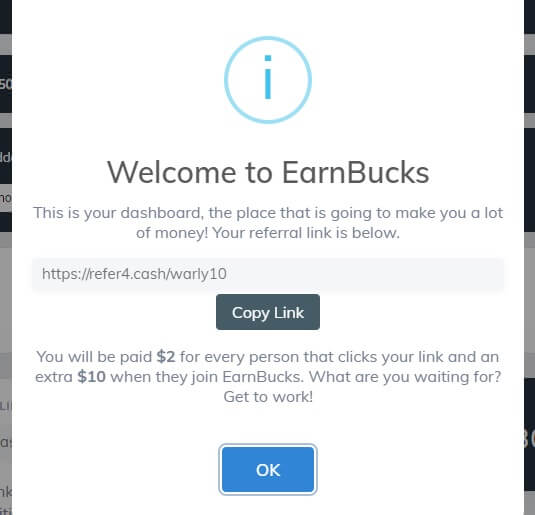 The tasks to complete are referring friends, completing surveys, filling out forms, downloading apps, and getting clicks.
So, you will receive $2 every time someone clicks on your link, $10 whenever you refer a friend, $20 to download Apps and, $30 to complete surveys.
If you scroll all the way to the bottom inside the app, you'll have the opportunity to share your link to FaceBook, Pinterest, Instagram, Twitter and, Whatsapp.
Let's see the pros and cons of EarnBucks.Co.
EarnBucks Review: Pros
Unfortunately, there is nothing good about this network. The main idea is to earn some cash. But they won't pay you.
This reminds me of another similar influencer network I've reviewed before: PaidLeaf.
Note that they all operate the same way.
I wouldn't be surprised if that's the same person owning these apps and keep changing names once marketers exposed them.
EarnBucks.Co Review: Cons
There are so many red flags about this network.
Fake testimonials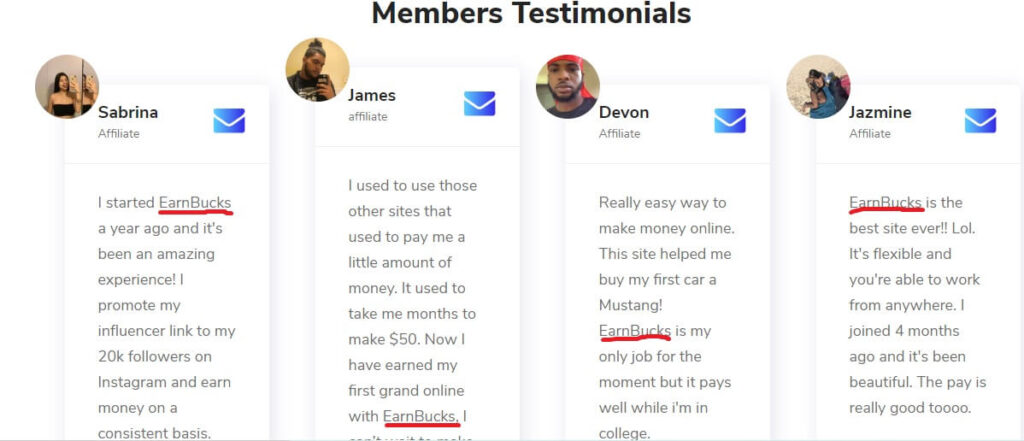 The image above shows the so-called testimonials on the EarnBucks home page.
Those people pretend to have earned money with EarnBucks.
Now, look at the image below.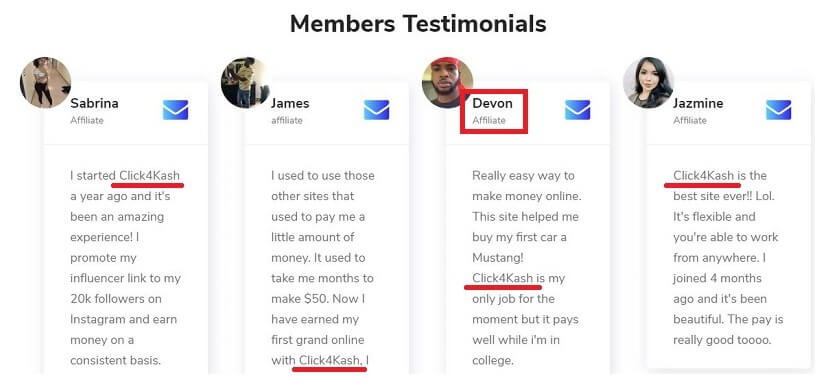 As you can see, it's the same people. They claim to have made money with another influencer network named Click4Kash.
It is also the same people with Cloutshout.
Those are just paid actors from a site called Fiverr. But nothing is true.
Fake Address
On the EarnBucks homepage, if you scroll all the way to the bottom, there is the company address.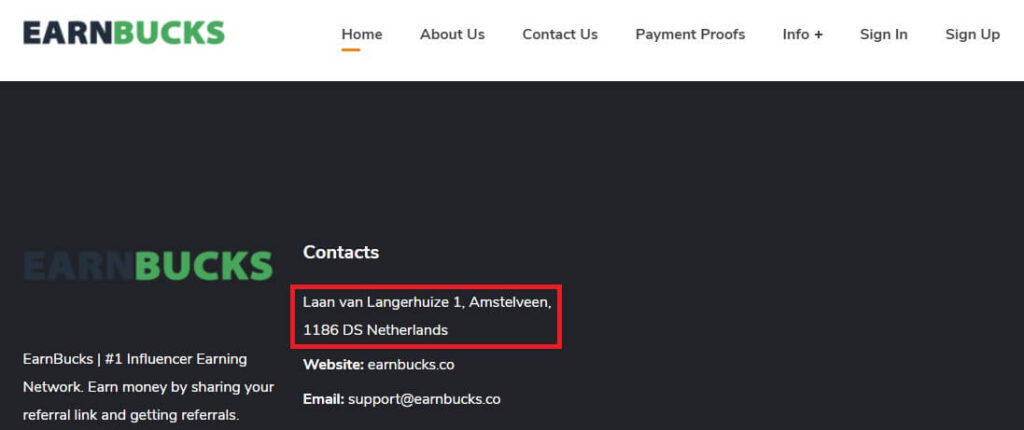 Apparently, this company is based in Amsterdam.
But if you copy the address and past it into Google Map, it shows the KPMG offices in the Netherlands.
So, nothing to do with EarnBucks.Co.
Lack of professionalism
Have a look at the image below.

As you can see, EarnBucks claim to be the number one influencer network in under 10 years now.
But now have a look at the other image below.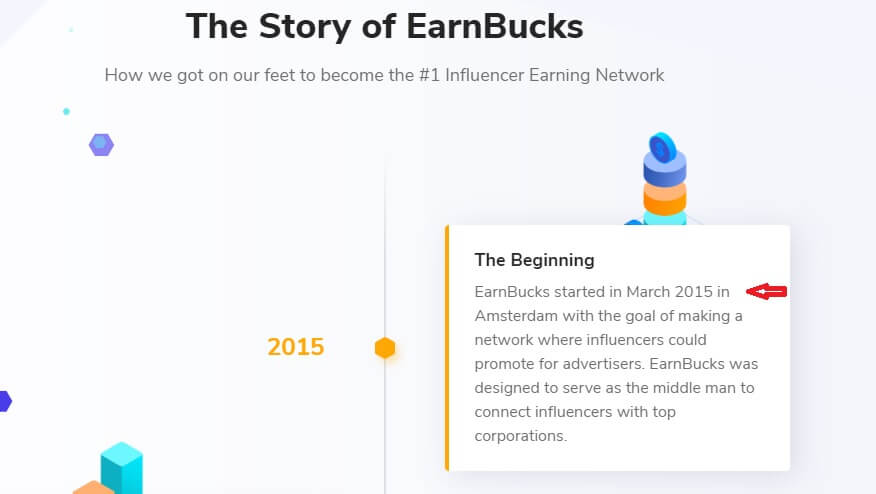 The company first started in March 2015, Apparently.
The truth is when you check for their domain age and registration, here are the results: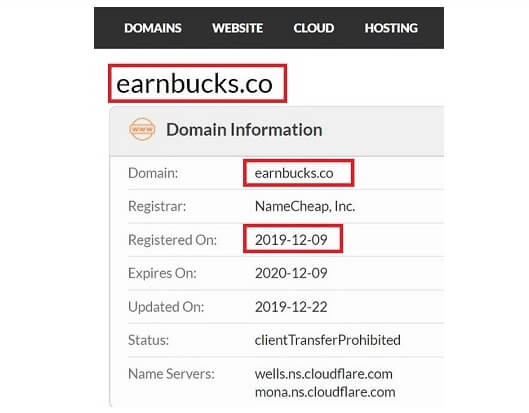 The domain name has been registered in 2019.
So, how on earth have they been the number one influencer for 10 years? This doesn't make any sense.
But, got them!
This shows how lazy the people behind this system are. No effort at all.
Terms and conditions
In the registration process, you are asked to click on "accept the terms and conditions".
But what you don't know is this:

It clearly states that: "You are ninety-nine (99) years of age or older. If you are under the age of ninety-nine (99), you are not allowed to use EarnBucks sites and features nor our services.".
This means that if you have an issue with the site, let's say if it doesn't pay you, for instance, and you are under the age of 99, then you are not supposed to be there in the first place.
This has been put there on purpose. They clearly know the website doesn't work. So, this term is a safety purpose for them. They know people don't usually read those terms and conditions.
Is EarnBucks Legit?
EarnBucks.Co is faking their payment proofs and address. This alone encourages me to believe it's not legit but a scam and a complete waste of your time.
Not Recommended!
Do not even put any bank information on this site.
Don't be discouraged. It is possible to earn money online. But it takes time and effort.
Those systems out there promising you a ton of money with little to no effort and in a very short amount of time are just shiny objects.
How I Make Money Online
I earn an income online by using a simple business model called Affiliate Marketing.
All I do is build simple websites just like this one where I help people.
If I can do it, so can you.
All you need is some training. But I have got you covered. You can get started today for free. Yeah, you heard that right.
But don't take my word for it though.
Check out my #1 Recommendation to build a long-term and sustainable online business.
If you have any questions about this EarnBucks.Co review, do not hesitate to leave them in the comment section below and I'll get back to you ASAP.
Thanks fr the support.