Welcome to my Matic Software Review!
Matic Creators claim that this software can leverage the power of Affiliate marketing to get newbies results in the quickest time possible.
But, is that true?
This is what you are going to find out in this review.
First off, I must congratulate you for taking the time to do your own research before buying into any "apparently" good product online.
That's the way to avoid scams, and find the Legitimate way to make money online.
But, What is Matic Software about, really? How does it work? Will it be able to deliver on its promises to you? Can you really make money with this system? Is Matic Software a scam? This post will cover those basic questions, as well as provide the pros and cons of this software.
If this sounds good to you, get comfy, grab a snack, and pay close attention, because I'm going to give you an honest Matic Review that will help you make an informed decision.
Matic Software Review Summary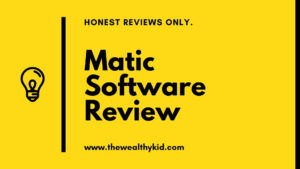 Name: Matic Software
Creators: Billy Darr, Justin Opay and Dipanjan Goswami
Product Type: Affiliate Marketing software
Price: Front End $17
Upsells: Yes, up to 10
Rating: 2/100
Verdict: Long story short, the Matic Software is not worth it! First, there're too many upsells, which encourage me to believe that the creators of this product are just trying to make money from you. Plus, The entire sales page is misleading! There's no unlimited traffic and sales in less than 60 seconds. That's just Bs. This is just a typical shiny object that is going to cost you lots of money if you're not careful.
Stay away from this product. Not Recommended! Invest your time and money somewhere else.
Quick Navigation
What is Matic Software About?
Theoretically, Matic is an automated bonus page builder. You can enter any affiliate link and the software builds you a bonus page.
So, basically what they say is, you'd simply select an offer(This can be on ClickBank, Warrior+, etc), directly from within the app and the software will build a sales-magnet for you instantly and automatically!
Now, you must certainly be impressed. But, you will be disappointed soon…
It has been created by Billy Darr, Justin Opay and Dipanjan Goswami.
They are 3 online marketers who seem to be having some success online. But, is their software really worth it?
Let's find out…
Pros and Cons
Pros: What's Good
Cons: What's not good
Misleading sales page
No overall strategy. If you really knew what

affiliate marketing

is all about, then you'd know that Matic is the wrong way.
Poor quality page builder. You can find better even for $0 out there, easy to use, self-hosted. For example with GrooveFunnel.
Value claims not real. This software isn't $6,000 worth it. This is the same software they've used countless time, over multiple products. All they do is changing the colours and adding the few more pieces.
Not Needed. The whole thing is not needed at all. If you read my full guide about affiliate marketing for beginners, you'll see that it's totally different, and much better explained.
==>>Here's the best way to get started with affiliate marketing!
How Does Matic Work?
Here's how they say the software works:

According to Billy Darr, all you need to do is select an offer to Warrior Plus, JVZoo and ClickBank, then press a single button and you'll generate free traffic and sales in less than 60 seconds!
Here's how the system really works:
You first need to search for offers through any of the networks listed above.
Then, you need to design or build your landing pages, which might take time.
Finally, wait and see if you are generating the so-called unlimited traffic… In fact, you won't get any traffic and therefore, no sales.
Here's something you should know: If they can really generate unlimited traffic, why on earth do they need affiliates to promote their products?
This doesn't make any sense!
Let's have a look on the inside.
Inside The Matic Software.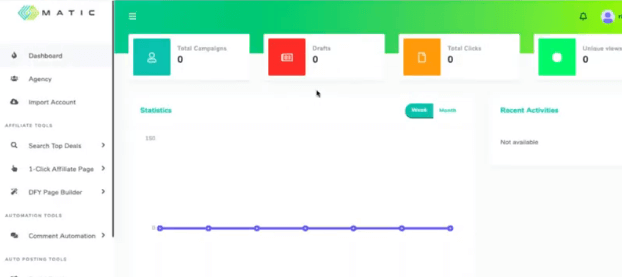 Let's explore the most important features of this software one by one.
Agency
This is where you can add additional users if you get their license.
Import Account
This is where you can import your FaceBook account. A FaceBook account is required here for this to work.
Affiliate Tools
Theoretically, this is where you're going to make money.
This allows you to search for the top deals on platforms such as:
JVZoo Deals
Warrior+ Deals
ClickBank Deals
That's the reason I've said earlier in this review, you don't need this software. If you need to search for any product on ClickBank, you can just go to the ClickBank affiliate network to do that.
keep in mind that when you choose a product to promote, the vendor provides all the materials you can potentially use as an affiliate. But, choosing a product through the Matic software won't allow you to see the affiliate page of the product. Rather, it only provides you with the affiliate links only.
In affiliate marketing, it's always a good idea to have access to the affiliate page, as it provides you with all the necessary tools you need in order to promote a given product.
One Click Affiliate Page
Basically, this is a bonus that allows you to create an affiliate page in 4 steps:
Step 1- Step your source
Step 2- Customize your page
Step 3- Customize social preview
Step 4- Customize hosting preferences.
Once you are done, your page link will be available to display wherever you want.
DFY Page Builder
This is very similar to the previous one, except it gives you also some Done-For-You options.
All you have to do is click on a design, and start editing it(But you need some knowledge on how to do this), and you are good to advertise your affiliate links.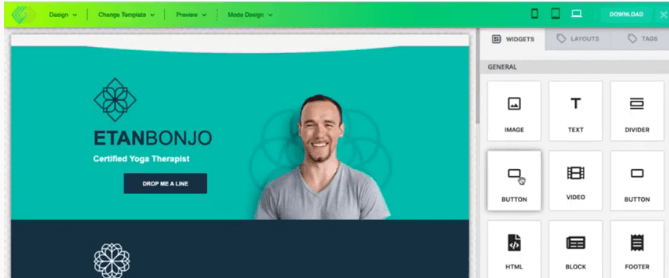 Comments Automation
This allows you to automate your comments. The idea is that you can build pages, post them to social media, and if anyone comments on them, you'll have an automatic reply.
Quite frankly, I'm not a fan of automated reply to people who are potential customers. This is a very poor way to treat people.
You have to communicate with them and provide values.
Would you be happy to ask someone a question and be replied by a boat?
Social posting
This allows you to create:
Multimedia post
CTA Post
Video Post
Social Blast
The 50 social channels.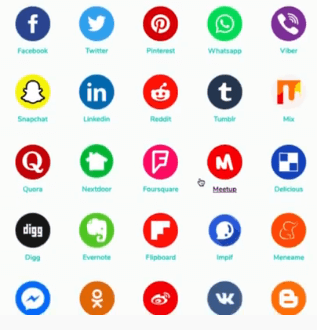 This is the unlimited traffic they talk about on their sales page.
But Guess what? There's no traffic.
All this allows you to do is to share your links to those social media channels.
But does it mean you're going to get traffic? Of course No.
To be honest and realistic here, unless you have a big following on each of those social channels, there are no traffic sources here.
You probably don't even have an account with most of those social channels. So, how the heck do they expect you to get traffic from those channels?
That's the big issue when they talk about traffic in 60 seconds. The reality is, there's no traffic here. Just think about it. Unless you have a big following on "Douban", "Line", "Diaspora" etc, you are not going to have traffic with these sites.
I'm even sure you had no idea these channels existed.
Training
Obviously, there's some training, and there's nothing wrong about that. Expect it doesn't teach affiliate marketing.
Matic pricing & OTOs
Front End: $17
Upsell 1: Matic- Limitless Edition- $39
Upsell 2: Matic- Automated Edition- $39
Upsell 3: Matic- Done-For-You Edition- $197
Upsell 4: Matic- 50 DFY Campaigns Edition- $37
Upsell 5: Matic- Machine Edition- $197
But that's not all the upsells. I'll explain that in a moment…
What I like about Matic
There's nothing I like about this software.
All the claims are not true. They are just selling you a dream.
What I don't like About Matic Software
Misleading sales page
On the Matic Software sales page, they talk about traffic and sales in 60 seconds.

Clearly, that's not true. You can't build a page in 30 seconds.
And by the way, when you see this kind of hypes from any product online, you should be really careful. This is how scams operate.
On the sales page, we can also see "Easy and unique". Not true, because this is the same type of software they release multiple time.
As a matter of fact, here are some other similar software from the same vendors: Zippy, Genie, Hive.
All of them are useless, just like Matic.
Then, they also say "3-Figure a day tutorials included free".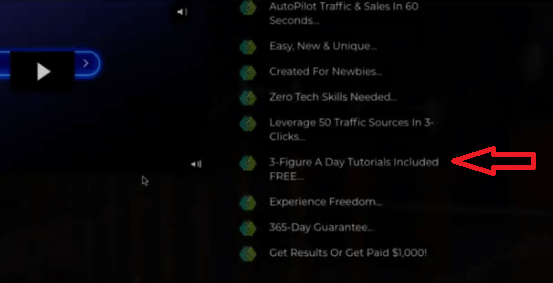 Alright, well, the truth is none of these tutorials below talk about this "3-Figure a day".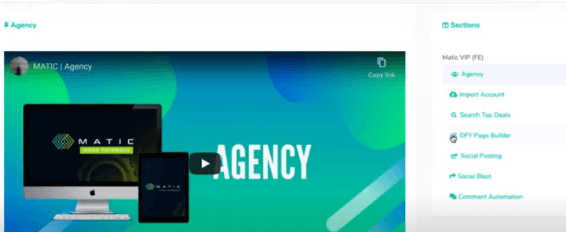 Once again, just a proof that the system is nonsense!
All the claims are completely over the top. But the reality is you are not going to get any benefit, whatsoever, from this type of products.
Crappy Language
Whenever you say that you don't want to buy the actual upsells, there's a little message in the bottom.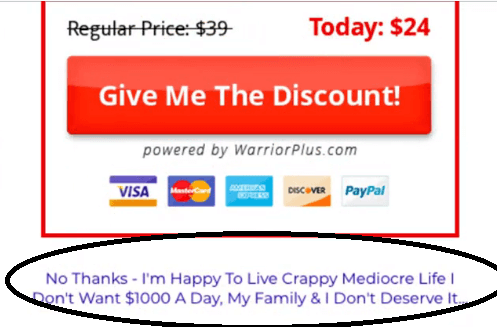 It actually says: "No thanks. I'm happy to live crappy mediocre life. I don't want $1,000 a day. My Family & I don't deserve it…"
Now, if you're willing to give money to people who write this kind of rubbish on their products, then you aren't the same type of person like me.
That kind of language is really poor. And that's just a lesson on the type of people you're dealing with here.
==>>Tired of scams? Here's My Top Recommended Platform!
A Lie on the total number of upsells
basically, before joining Matic, they will tell you that there are only 5 available upsells. But that's not true.
The reality is, there're 10 upsells. Yeah, you heard that right.
Below, is my email address after joining the product. They are clearly offering me 10 upsells! I was absolutely shocked!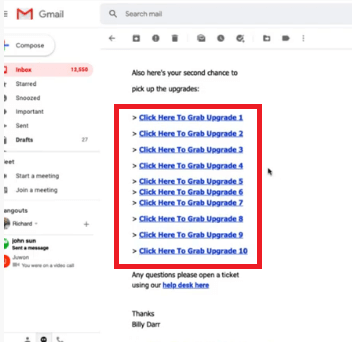 Is Matic Software a scam?
Based on all the ugly truths revealed in this review, I can 100% admit that Matic is a scam!
So, I wouldn't recommend it.
This is just a typical shiny object that is going to cost you a lot of money, especially if you start taking the upsells.
How I make money online
Mind you, making money online is the results of learning from a proven method, be surrounded by a great community, and working hard to build your business. Not by using some useless programs that only want to take your money.
So, my advice to you is, Stop chasing shiny objects.
They are just designed to keep you buying and lose your hard-earned money.
I've been able to build a successful online business, thanks to an amazing training.
So, if you're a beginner and would like to make it into the online world the right way, I suggest you have a look at my #1 Recommended Affiliate marketing Training.
My #1 Recommendation will give you:
Free Lessons- Actually the basics of affiliate marketing
A FREE website to start your affiliate marketing journey the right way.
And much more…
Don't take my word for it
Thanks for having read this Matic Software review. I really hope you have gained value from it.
If you have any question, Don't hesitate to leave it in the comment section below, and I'll be more than happy to help you out.
Thanks for the support!