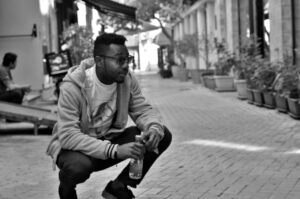 Being a digital entrepreneur is something that I have always wanted when I discovered the potential of it. My name is Warren. At the end of 2018, I started watching videos that explain how to make money online but I was a bit skeptical… A year later, I decided to take action and start this laptop lifestyle.
Today, this is my reality and I want to show the world that with determination, will and hard work, everything is possible. In this article, I will explain you exactly how I stepped out of my comfort zone to join the online world.
A little back story
When I was a kid, I used to dream a lot… I really wanted to be great at something. At first, I thought I was going to be a professional football player, and that was even my first goal by the way…But I did not make it (so sad)…Not because I couldn't, but because from where I came from the mentality was that you have to go to school and then get a normal job to be rich and successful…
Years later in secondary school, I was in literature class… I really love literature, more specifically philosophy. But I did not want to end up teaching at school lol. I know it seems strange…
Only when I was in college that I discovered Affiliate marketing. I came across a post on my news feed about building a successful digital business. I attended a webinar online and then go to google to find a review about the platform. However, this review allowed me to learn more about the business and I even discovered others amazing platform, including the great community I am part of now.
Why do I want to help people ?
This is basically a necessity for me to help people. I have always wondered why do people have to wake up every single morning, going to do a work that they actually hate ! YES you heard me right, this is the absolute truth. most of the people in this world are not happy doing what they do.
Is this how the world is supposed to be ?
Is this why God created us for ?
I want people to realize that it is possible to leverage the internet and become financially independent.
I know people are scared to explore new things. They are always skeptical when it comes to learn something for the first time, something new for them. So, I want to help them change this mentality and have a bigger vision, another way of seeing the world, and the most of all, being able to give up on what they hate and start a new chapter in the online world.
My mission with TheWealthyKid.com
I would like to provide you with some of the best ideas and programs in affiliate marketing, and generating money online…
please keep in mind that there's no guarantee that any of these products systems or ideas will generate income for everyone, but I hope they'll offer you ideas and help in making money online.
While the content focus here is on affiliate marketing and blogging in particular, I hope to bring you resources, solutions, and reviews to every aspect of the affiliate marketing business. Some of these might include the photo editing software, Good web-hosting, keywords research tools.
Anyway, absolutely anything that can be part of your affiliate marketing business. I hope to be the first place you come to have any such information.
==>>As a matter of fact, check out the best way to get started with affiliate marketing!
If you have any question, please feel free to leave them below and I'll get back to you as soon as possible.
However, if you want to contact me, use the contact form on the top menu.
I look forward to hearing from you.
Warren
thewealthykid.com