Welcome to my Zippy Software Review.
First thing first, I must congratulate you for taking the time to do your own research before putting your money into any software online.
That's the way to avoid scams, and find the Legitimate way to make money online.
But what is Zippy Software all about, really? How does it work? Will it be able to deliver on its promises to you? This post will cover these basic questions, and provide the pros and cons of this software.
If this sounds good to you, get comfy and pay close attention because I'm going to tell you exactly why you need to avoid this software at any cost, especially if you are a beginner.
Zippy Review Summary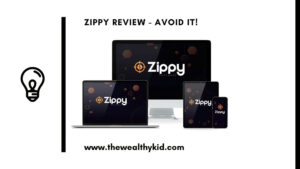 Name: Zippy
Vendors: Billy Darr, Justin Opay, Dipanjan Goswami
Product type: Software
Price: $17
Upsells: Yes
Best for: No One
Rating: 15/100
Verdict: Zippy is just a typical shiny object with No real value. It's the same like most software out there, they promise to give you free traffic, but this is not true. In fact, it's more complicated than that. At the end of the day, you'll find yourself having a low quality pages with nobody to visit them, and therefore No money.
Not Recommended! Invest your time and money elsewhere.
You really want to start an online business the right way with the right tools, with a step by step walk through and for Free?
What is Zippy Software about?
In a nutshell, Zippy is a software that allows you to create interactive content that you can share to your social media.
Apparently it can allow you to get lots of viral traffic back to your business. But this is very questionable. I will go through this in more details further in this review.
The product has been created by Billy Darr, Justin Opay, and Dipanjan Goswami.
Here's how they describe their software on the sales page:
Perpetual viral traffic in 1-click
100% beginner friendly
Get 100s of FreeVisitors
No tech skills and Complications..
Live chat support…
365-day guarantee…
Get results or get paid $300!
Keep in mind that most of those claims are not real. And I will tell you absolutely everything you need to know about this software, so you can have a more informed decision whether this is going to be the right product for you.
How does Zippy Work?
If you purchase this Zippy software, you then have the option of creating a quiz, poll, flip card, story, news, etc.
Let's say for instance you decide to create a poll. Here's how it's going to work:
You first need to enter a title for your Poll
You enter a question for your poll(ex: what is your favorite color?)
Then you set some answers options for people to choose.(ex: yellow, blue, red, etc.)
Add End cards. The idea here is to make your poll looks interactive by adding some text and images.
Next, you add a story title, a slug, and description.
Visible to. You can decide who can see this poll
You add some tags and categories.
Social appearance details. This is where you change the way this looks on a social network with an image, title, and description.
Finally add a cover image for your website
Once you are done,you can head to another section "DFY viral Campaign" to see what your poll looks like in live.
This will be something like this: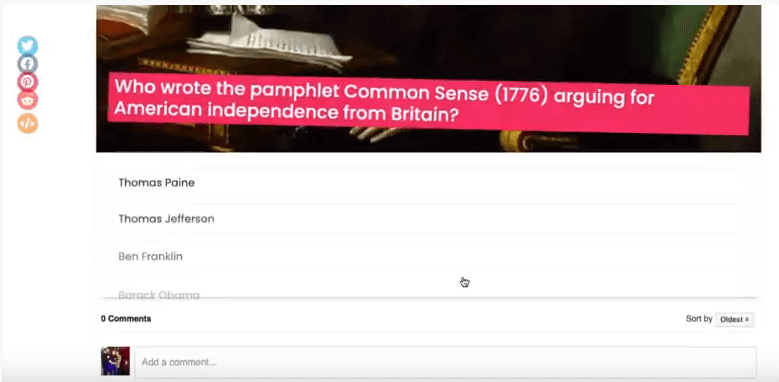 It is not the best quality, but it looks fine.
So, that's pretty much what this software allows you to do. There is nothing else that will give you traffic back to your site.
The idea is to share this to social networks, and that's all.
So, if you have nobody following you on those social networks, then it's not going to get you any traffic.
But the funniest thing is, this is actually the headline of the sales page… I'll talk about this further in this review.
So, this does work. I have seen some of the campaigns.
Let's jump straight into the application.
Inside The Zippy Software
Let's explore the main features of this software:
New Viral Campaign
This section allows you to build a quiz, Trivia, quote, poll, flip card, personality, story, news.
DFY Viral Campaign

This section gives you access to apps that have already been built for you. It gives you different choices.
My Reports

This is where you can see a bunch of different reports.
Traffic Tools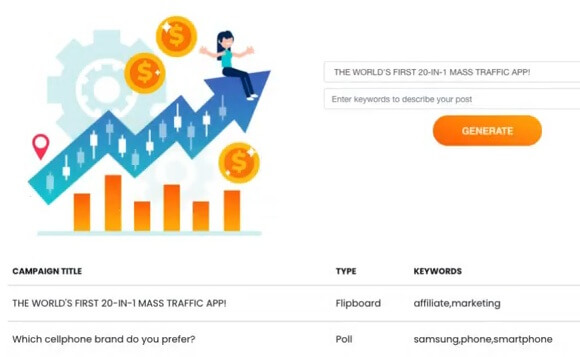 This is just a way to select a campaign you built here, and then add keywords.
Social Blast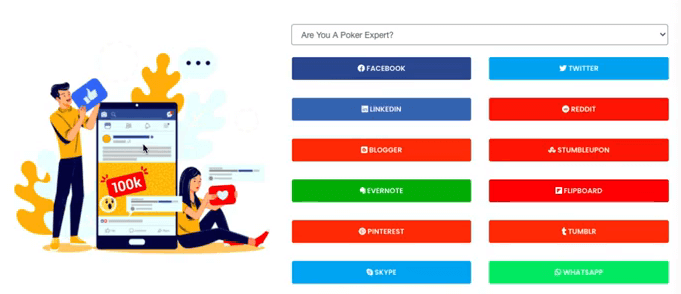 This is basically your social share buttons. But, as I have been saying in most of my reviews on this type of software, if you have no following on any of these social networks, you won't get any traffic at all. Keep that in mind.
You can have the best, nice looking post in the world, you will not get traffic back from this, unless you have some kind of following.
So, that's not traffic.
Affiliate Links
This is where you put your affiliate links. If you do have some affiliate links that you want to promote, this is the place you can put them.
Training
This is where the vendors walk you through the process of using their app.
Pros
Cons
Not Unique
Low Quality Solution. You won't get any money from this software.
No Traffic solution. It's the same for all those software that give social media as traffic source
Not a real business. If you really want to start an online business, avoid this type of software.
Sales page misleading
Fake income proofs
Why 365 days money back guaranteed?
==>>If you're really serious about starting an online business the right way with the right tools, check out my #1 Recommended business model for beginners.
What I like about Zippy
365 Days Money Back Guarantee
At least you can request your money back if you realize the product does not work for you.
What I don't like about Zippy
Sales page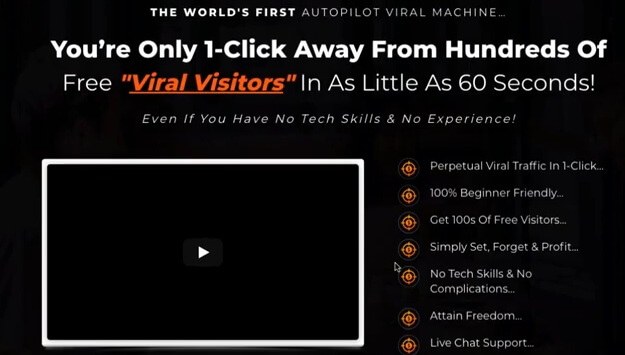 As you can see from the screenshot above, on the Zippy software sales page it's written this: "You're only 1-click away from hundreds of free viral visitors in as little as 60 seconds".
Come on. We perfectly know that you aren't going to get traffic from this software, unless you have a big follow on social media.
This software is just a simple interactive graphic application.
I'm not sure how you can expect to build an online business off this.
If you really want to do this, there are better applications in the market such as Woorise, and LeadsHook. Both are higher quality and give you various options to build contests.
The software doesn't work the way they said
Once again, on the sales page you can see this:

But we already know this is not true. As we already saw earlier in this review, it takes more time and effort than this, and you will never generate traffic under 60 seconds with this type of software.
Avoid it.
Poor marketing technique
On the sales page you can also see this: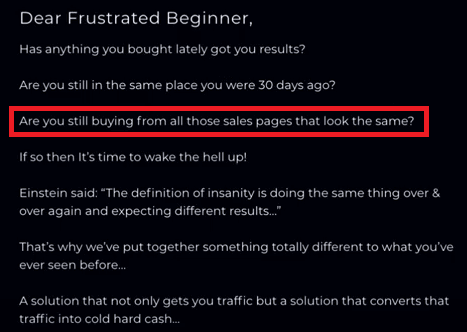 They say "Are you still buying from all those sales pages that look the same?"
But, what's so funny here is that, if you look at another product from those same vendors you can see this: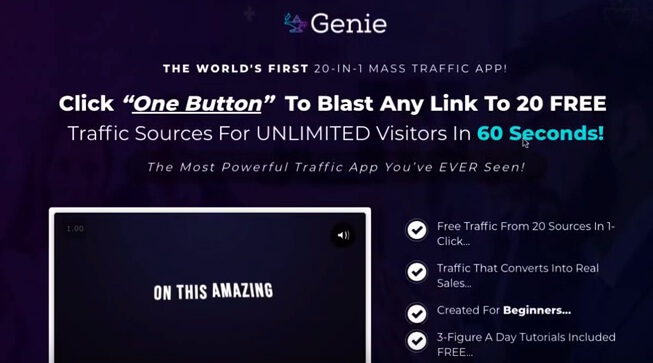 This is one of their products called Genie. As you can see, it's the exact same headline.
So, the answer to his question is, Yes, people are still buying from those sales page that look the same!
It's so ironic that they pointed this out when they are doing the same thing.
Fake Income Proofs
On Zippy sales page, there's an income proof showing an amount of $135.77 earned yesterday. See below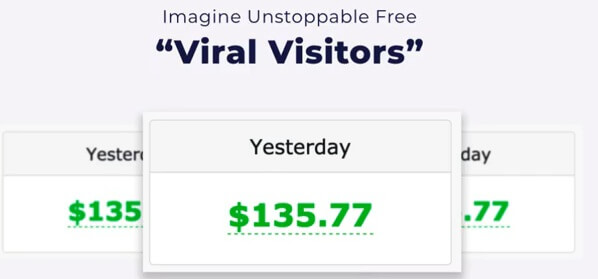 But, it's the exact same income proof on their other software Genie.
And this is just repeated over and over again.
This kind of sales page is just designed to get you to buy the product.
It's just nonsense. None of the claims they mentioned is real.
Zippy Pricing & Upgrades
Front End: Zippy $17
Upsell 1: Zippy – Unlimited Edition $29
Upsell 2: Zippy – Done For You Edition $197
Upsell 3: Zippy – Automation Edition $39
Upsell 4: Zippy Reseller rights Edition $39
Upsell 5: Zippy – ATM Edition $197
Is Zippy a scam? Final word
First off, thanks for reading this Zippy review, I really hope you have gained value from it.
As far as I'm concerned, I wouldn't call this software a scam. It does work.
But I wouldn't recommend it.
This is just a waste of time and money.
And if the software can really help you generate money, why would they fake the income proofs?
Think about that.
In the meantime, if you really want to start an online business the right way, Have a look at my #1 Recommendation and Learn something that would benefit you for life.
Don't take my word for it though.
Have any question regarding this Zippy software review? Leave it in the comment section below, and I'll get back to you ASAP.
Thanks for the support!
Other similar reviews: DFY Profit Funnels, Commission Pages.