Welcome to my Traffic Turbine Review.
Traffic Turbine vendors claim that this software can help you be on page one of Google and YouTube in minutes. But does it really work?
This is what we are going to find out in this review.
First thing first, I must congratulate you for taking the time to do your own research before buying into any type of software online.
This is the best way to avoid scams, and find the legitimate way to start an online business.
But what is Traffic Turbine about, really? How does it work? Will it be able to deliver on its promises to you? Is Traffic Turbine a scam? This post will cover those basic questions, as well as provide the pros and cons.
Traffic Turbine Review Summary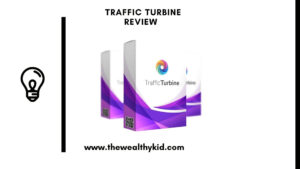 Name: Traffic Turbine
Vendors: Art Flair, Pallab Ghosal, and Ram Rawat.
Product Type: Software
Price: $17
Upsells: Yes
Rating: 10/100
Verdict: This software is of low quality and simply not needed. As usual, the sales page is misleading, promising you can easily rank and get traffic, and therefore make money. But that's not true. In fact you won't get any traffic at all. But most importantly, there's better and free alternatives out there that I'm going to show you.
Not Recommended! Invest your time and money elsewhere.
==>>Also Recommended: Do you want to build a long term sustainable online business? See my #1 Recommendation.
What is Traffic Turbine?
Apparently, Traffic turbine is a product that allows you to get to page one of Google and YouTube in minutes, and it gets as much free traffic as you want.
So essentially this is a tool that will allow you to interrogate YouTube and get some really good keywords and allow you to rank at the top of YouTube with any kind of video.
The product comes off the Warrior Plus network and it's by Art Flair, Pallab Ghosal, and Ram Rawat.
Here's how they describe the software on their sales page:
It generates SEO and optimized titles, descriptions tags for all the videos that google absolutely loves.
it creates eye-catching thumbnails
it creates google-friendly backlinks
You can analyze competitors and apparently see their weak points and use that to your advantage.
You can rank all of their videos.
You can reevaluate their videos and check for weaknesses and how to improve it for higher rankings and more traffic.
You can find the best high converting offers for each video to maximize earnings
We are going to go through the actual method and we'll go through this a little bit of detail and then I'll show you other tools out there that do a better job than this, and they're totally for free.
Then from that, hopefully you can make a more informed decision before you go ahead and decide to buy this software.
so let's kind of go through the product itself and let's see what kind of things this delivers.
Inside Traffic Turbine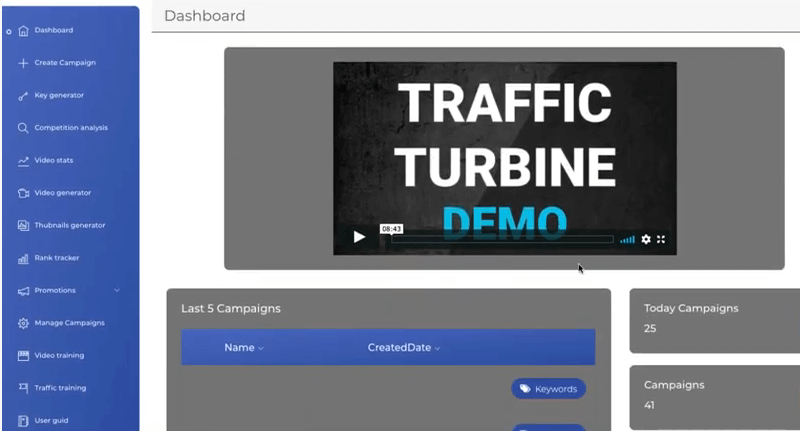 So here we are over the traffic turbine members area. Let's explore the different features.
There is a demo video that walks you through the various tools, and essentially what you have to do is search for various keywords with this tools and then you can use those keywords to obviously rank videos.
The main features of this software are:
create campaign where you can actually generate some keywords,
keyword generator,
some competition analysis,
video stats,
video generator,
Thumbnail generator
rank tracker, and then you've got promotions tab to actually syndicate these to your various social networks and apparently create some Backlinks. But I'll go through all of that.
How Traffic Turbine Works?
The idea is you can find hundreds of easy to rank keywords in any niche that have little to no competition and you can rank for in minutes.
Essentially, you have to create a campaign. Let's do one so you see how it works.
First off, find some keywords. so let's have an example with the keyword phrase "how to jump higher".
It will give you a bunch of keyword suggestions.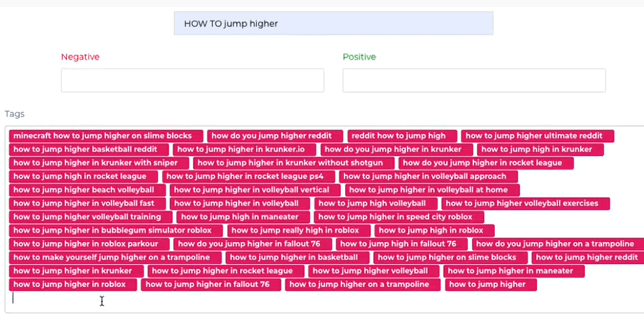 Now what you need to do is kind of go through this a little bit blind and click the "take to competition analysis" button, which gives you some analysis around those keywords.
Once you find the perfect keyword with a high search volume and low competition, you can create a video around this particular topic.
The software also provides you with a Thumbnail Generator. But, quite frankly this generator is very poor and very limited in terms of features as well.
Keep in mind that all what this software allows you to do can be done elsewhere and for free. There's nothing new here.
You are going to discover the best free alternatives further in this review.
This is very poor and clunky software. If you're going to use this as a tool for your business, create thumbnails and do keyword analysis, this is not a good choice, you need to skip away from it.
What I like about Traffic Turbine
30 Day Money Back guarantee
At least you can ask your money to be refunded in case you realize the software is not worth it.
What I don't like about Traffic Turbine
The App is Not Secure
If this is the end version then I wouldn't buy it anyway because it's not secure. But let's hope it's just because it's still the JV version.
No Real Ranking Strategy
What makes a video good and rank high in the search engine is what your watch time is and how much traffic you get. There's lots of other different things that tell YouTube that your video is worth ranking.
When you first upload a video to YouTube, they tend to rank quite quickly anyway, but you'll see very quickly that the algorithm kind of takes over and you start to come down and down.
Art Flair Doesn't Use This Software To Rank
On the sales page, Art Flair stated that he is using Traffic Turbine to rank his videos. But that's not true.
This guy makes YouTube videos, has channels, and is very good at ranking his own stuffs. But he doesn't use traffic turbine as he claims on the sales page.
He's been doing it and ranking for years. And Traffic Turbine has only been around for a few months at the time I'm writing this review. So, how on earth has he been using this software to rank his videos?
The answer is simple…
No Training On How To Make A Video
The software doesn't teach/show you how to make your videos, and this is the most important thing in YouTube.
Price and upgrades
Front End: $17OTO 1: Traffic turbine in advance at $47
OTO 2: Traffic Turine expert $47
OTO 3: Traffic Turbine Done For You at $47
OTO 4: Traffic Turbine Reseller $197
OTO 5: Traffic Turbine Six Figure Training at $47
OTO 6: Traffic Turbine Case Studies $37
pros
30-day guarantee
The software does work
It's a very cheap keyword analysis tool but when I cross-referenced it with Tubebuddy in fairness, it was kind of giving me the same results although it wasn't showing it in a very nice way.
cons
No Traffic. You're not going to get traffic by purchasing this software. There's a lot that you need to do to start getting traffic from YouTube, mainly including just having lots of content and gaining momentum and getting experience. There's a lot more to it.
Very low quality pretty junk thumbnail builder.
Tactics very Spammy. If you want to rank, just make videos and put them on YouTube. Don't worry about back linking to start with. If you do want to share it to your networks fine and you can use the ones recommended by YouTube.
Sales page is always misleading and the value claims are not real. This is just a pretty junk software and they're saying it's worth five and a half thousand dollars.
Best Alternatives
Regarding the competition analysis, you can actually use tools like Tubebuddy or Vid Iq which are totally free, and give you more data.
I would advise you to get Tubebuddy if you really want to rank on YouTube. It will allow you to find great long tail keywords as you kind of go through these various lists. So you can keep finding longer and longer more obscured keywords and then think about whether that's a good thing to write a video for.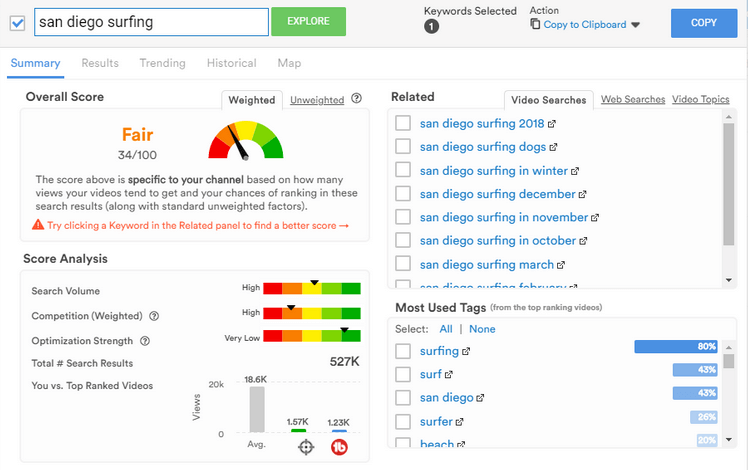 With your thumbnails, if you don't want to invest in something like thumbnail blaster just go over to canva and creates beautiful ones there.
canva is the perfect tool to create thumbnails. It has been used by millions of people online. I also use it to edit my images.
You can actually edit everything on there, add all sorts of effects, and do what you want. It's about a million times better than this software.
By the way, I have reviewed another software similar to this one: Slick.
Is Traffic Turbine a scam?
First off, thanks to have read this Traffic Turbine Review. I really hope you have gained value from it.
This software is certainly not a scam.
But, it's such low quality and quite frankly you don't need it. I recommended the tools that you could go ahead and use. So you can check them out for yourself, you'll be much better equipped.
Just go ahead and start making videos and you can use some keyword analyzer tools to help you out.
==>>If you're looking to build the long-term sustainable business online go ahead and click the button below, and I'll take you through the whole process step by step.
Have any question regarding this Traffic Turbine review? Leave it in the comment section below, and I'll get back to you ASAP.
Thanks for the support!