Welcome to my Jacked ATM reviews!
Jacked ATM creators claim that, this software can make you over $627 each day. But is that true?
This is what we are going to find out in this review.
First thing first, I must congratulate you for taking the time to do some research before buying into any "apparently" good online.
That's the way to avoid scams, and find the Legitimate way to make money online.
But, what is Jacked ATM about, really? How does it work? Will it be able to deliver on its promises to you? Can you really make over $600 a day with this software? Is Jacked ATM a scam? This post will cover those basic questions, as well as provide the pros and cons.
If this sounds good to you get comfy, grab a snack, and pay close attention, because I'm going to give you an honest JackedATM review, and tell you exactly why you should avoid it at any cost.
To save you time, there's always a summary in the beginning… But you can still read the whole review if you want to. Enjoy.
Jacked ATM Reviews Summary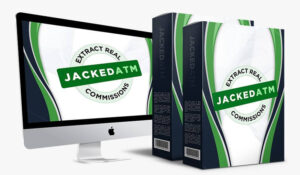 Name: Jacked ATM Software
Creators: Jason Fulton and SEUN Ogundele
Product Type: Software
Price: $19
Upsells: Yes
Rating: 2/100
Verdict: "The ultimate spam Ad generating software". This is how we should name this software. The only thing it allows you to do is to SPAM people on the internet in order to promote your links. The truth is this is not the right way of doing a business online. You'll not get any traffic with this type of methods, and may end up having a bad reputation.
Not Recommended! Invest your time and money elsewhere.
Quick Navigation
What is Jacked ATM about?
In a nutshell, Jacked ATM is a piece of software that allows you to use other people's content to advertise your own products and services.
The software adds some advertising overlays to existing websites, and then creates a new link which you share.
It has been created by Jason Fulton and Seun Oguendele.
Here's how they describe the product on their sales page:
These "virtual ATMs" make us over $627 per day and take just minutes to set up!…
Multiple passive income streams in any niche…
100% beginner friendly…
Automated free buyer traffic built in!
Approved by multiple beta testers who have each gotten results within 2 hours.
Alright…
Most of those claims listed above are not true.
I'll explain it further in this review.
Pros and Cons
Pros: What's good
30-Day-Money back guarantee
Cons: What's not good
Spammy tactics
What is the business? Is your business waking up in the morning and finding content to spam people? You really need to think about what you're doing if you want this to be the way you make money online.
Value claims
Potential legal issues
No Traffic
==>>Here's The Best Way To Do Affiliate Marketing without spamming people
How does Jacked ATM work?
Here's how this software works:
Step 1: Create your splash page.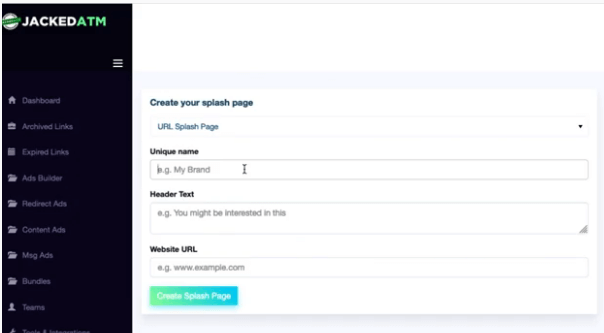 a- Unique name
b- Header text
c- Website URL. The affiliate link of the product you are trying to promote.
Step 2: Go to Dashboard.
This is where you will find the link that you want to "jack". The idea is to find some pages to show people, and that you are going to post your Advertisements on top of.
What they advice is, using a site called Buzzsumo to find trendy content. I'm not sure this is the best.

Then, all you have to do is, enter your keyword and your results will be as below.

All you have to do next is, pick any of these articles, and use that as the base of your Ad. Copy the link, come back to your Jack ATM dashboard, and paste it.
At last, you will get a link that you have to share with people to get traffic over to this Ad.
Note that, you have the opportunity to share it via FaceBook or Twitter. But, unless you have a big following on any of these social media, you are not going to get any traffic, meaning, nobody clicking on it. And it's the same with any kind of software like this, if they're using social media as a traffic source, and they haven't got a following you have no traffic source.
So, that's one big issue.
By the way I have reviewed a product similar to this: Raiid Software.
The problem here is that you are creating an independent link and force it on people, to try and get them over to the site. It's not your link, you are not providing any kind of value for people to click. What you are basically doing is, just trying to spam them.
It's not the right way to market.
==>>If you want much better ways to drive traffic to ClickBank products, or any other affiliate network, check out My Top Recommended Training.
Rather than trying to "Jack" other people's content to do it!
So, as far as the actual overall method is concerned I'm not a fan at all.
Inside the Jacked ATM Software
Let's explore the different features inside this software:
Archived links
Expired links
Which is where you can tell the system that after a certain amount of time, you want a link to expire. And that's where they will be collected.
This is basically where you can add images and create your own ads.
Redirect Ads
Content Ads
Msg Ads
Bundles
Teams
Tools & Integrations area
Training
Which is really just the demo video.
This is just a bunch of campaigns that they've put together for you. So, you have the authority site that you would try and create the jack on, you have the product link of the product in ClickBank for instance, and then you have an affiliate page.
Again, the way that you build an audience online is to niche down and be very specific about the type of niche you are going to promote. And the way you don't do it is by randomly throwing links out there to multiple people as Jacked ATM shows you.
Having said that, you won't have any kind of success online with software like this.
You need to build your own audience by providing value to people. And this is not the way to do it.
What I don't like about JackedATM
High Income Claims
On the Jacked ATM sales page, the vendors claim that this software makes them over $627 per day…
Let's be realistic here, if this software was really able to generate that kind of profits, why would the people making it bother to release it?
They release products every single month with the same claims. Now, think about it. Why would they bother? If this makes that much money, they will just use it.
If you are new to my reviews, I always tell people to avoid any kind of financial claims on the sales page of this type of software. Usually they just copy and paste, or all they do is change a few of the numbers. They are not real.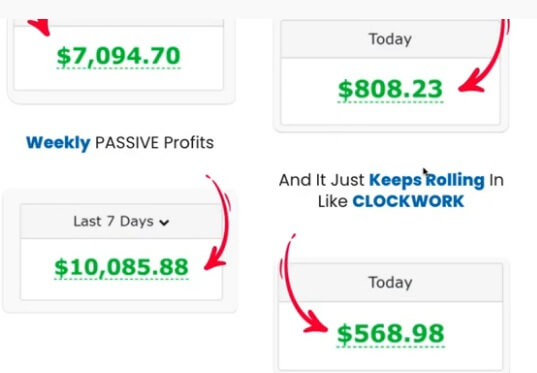 If you are a beginner and want to start your own site and start using this software, it's not going to make you $627 a day. You would need to have thousands of visitors over to your site or your links to start making that type of money from this type of advertising.
Keep in mind that people do not click on advertisements that much, if you just go and post them on top of sites.
Jacked ATM Pricing & Upsells
Front End: $19
OTO 1: Unlimited $37
OTO 2: Done For You $197
OTO 3: $1k High ticket $77
OTO 4: Auto Passive ATM $97
OTO 5: DFY buyer traffic $67
OTO 6: DFY Franchise $197
Is Jacked ATM a scam? Final word
First off, thanks for taking the time to read this Jacked ATM review, I really hope you have gained value from it.
JackedATM is simply a spam Ad generating software. You are not creating any value to others, so it's not a great product.
Long story short, it's a scam!
So, I wouldn't recommend it.
Mind you, making money online is the result of learning from a proven method, be surrounded by a great community, and working hard to build your business. Not by spamming people in the internet.
Stop chasing shiny objects.
Instead, if you are a beginner trying to make it into the online world the right way, I suggest you to have a look at my #1 recommendation.
This is where you are going to learn affiliate marketing the right way.
Don't take my word for it though.
Have any question regarding this Jacked ATM reviews? Let me know in the comment section below, and I'll get back to you ASAP.
Thanks for the support!