Welcome to my Pockitz reviews!
The creators of Pockitz claim that this software will make you $517 in 24 hours with no list, no website, free traffic… But, is that true?
This is what you are going to find out in this review.
First thing first, I must congratulate you for taking the time to do your own research before putting your money into any type of product online.
That's the perfect way to avoid scams, and find the Legitimate way to make money online.
But what is Pockitz about? How does it work? Will it be able to deliver on its promises to you? Can you really make money with this app? Is Pockitz a scam or legit? This post will cover those basic questions, as well as provide the pros and cons.
If this sounds good to you, get comfy and pay close attention because I'll tell you exactly everything there's to know about this software.
Pockitz Reviews Summary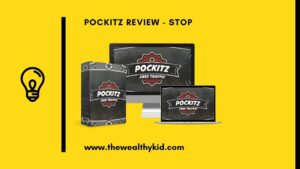 Name: Pockitz
Vendors: Jason Fulton & Sean Ogundele
Product type: Software
Price: Front End $19
Upsells: Yes
Best For: No One
Rating: 1/100
Verdict: Pockitz allows you to steal other people's YouTube videos and re-upload them as if their your own to promote your affiliate links. But this tactic is very poor and you might end up with copyright issues. They're sharing a tactic with you that they don't use themselves. If you want to build a long term business, that's the wrong way. The real way to have a business on YouTube is by creating videos of yourself and be unique. All this type of applications trying to shortcut the process won't work in the long term.
Not Recommended! Invest your time and money elsewhere.
==>> If you're really serious about building a long term sustainable online business, have a look at my free #1 recommendation.
What is Pockitz About?
In a nutshell, this is an application which, in theory, will allow you to pinch other people's videos and make money yourself.
It's not really an Application that you will download from AppStore or PlayStore, but just a web page you can use on a mobile or desktop.
This product has been created by Jason Fulton and Sean Ogundele. They are both used to create crappy products just like this one. I've reviewed a couple of their products such as Jacked ATM, Checkitz, and Scratchz.
Here's how they describe their Pockitz product:
No computer required using this brand new App
Brand new Done For You money-making system
No email list needed
You can you this from anywhere
Free Traffic
Create a passive income while you sleep in minutes per day
0 to $517 in 24 hours of case study included for free.
But as usual, those claims on the sales page are not real.
How Pockitz Works
In a nutshell, here's what Pockitz allows you to do:
Step 1: The idea is the software will help you find YouTube videos.
Step 2: Once you find the video you would like to use, download it.
Step 3: Add a new Thumbnail to that video
Step 4: And finally re-upload them as if their yours.
Step 5: Post those videos on your Youtube channel and put your affiliate links in the description. If somebody comes along, watch the video, and is interested in the product, they'll purchase it through your affiliate link.
But here is the first issue, how do you get people to come and watch those videos?
There's no traffic solution, there's no SEO and therefore, those videos won't rank.
This is the biggest issue you are going to face.
Pros & Cons
Pros: What's good
100 days money back guarantee
Cons: What's not good
Stealing other people's videos. Especially if you follow the advice given in the actual demo and training.
Copyright issues. Even if you use creative commons videos, you are more than likely to run into some issues because you don't always know whether their creative common.
Duplicate content
Poor quality mobile app. This is basically just a web page that you can use on a mobile. But it's not a mobile app.
Bad marketing advice. If you are a newbie, stay away from this type of software.
Poor customer service
No Traffic solution.
No SEO
Simply No value for Anyone
Inside Pockitz Software
Let's explore the different features of Pockitz.
Search
This section gives you lots of options to search for people's videos. This can be a keyword, video type, duration, order, definition, location, etc. It gives you lots of options, but the only one you should really focus on is the "License".
Pockitz gives you three options such as Any, Creative common, Standard YouTube. Now keep in mind that every type of video, apart from Creative common, are not allowed to just download and re-upload it as your own.
When you embed a video on your website, it can be very easy to click on and get back to the channel where that video comes from. Which is why people allow it to be embedded. But you can't just download it, take out the audio, put some music in, and then have that as your own.
This is bad practice!
The only one you can use is "Creative common" videos. But even if you do so, You should still be very careful.
So, this is a very poor way to have a business online because you never really know if you can really use those videos or not.
The real way to have a business on YouTube is by creating videos of yourself and be unique. All this type of applications trying to shortcut the process won't work in the long term.
Automation
This allows you to schedule your videos uploaded.
Thumbnail creator
Basically, this section allows you to edit and add thumbnails to your videos. But to be honest, you don't need it. You can simply use the app called Canva, which is much better and free to use.
Rank videos
This section is supposed to help you rank your videos on page one. But guess what?
Nothing will happen.
SEO can't be cheated. There's no software out there that can make you rank #1.
They say you can rank your videos here by using keyword scraper, keyword suggestion, live event, video rank tracking.
But that's not true. Ranking your videos won't be as easy as they make it look like.
DFY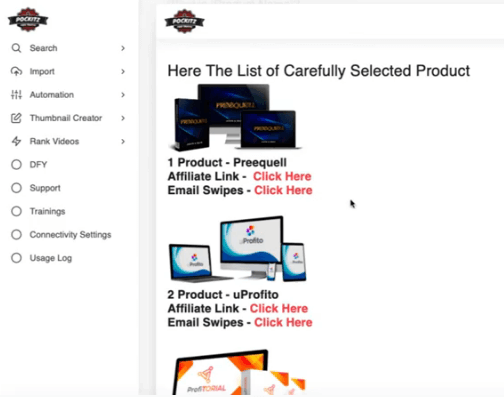 This is where you can find the vendor products, and grab your affiliate links to promote them.
But the videos provided to you here are not going to rank anywhere, because they are old and therefore, people don't search for them anymore on YouTube. Those products have been launched a long time ago.
Keep in mind that they soon dye off, and nobody is actually searching for these products. You should focus on promoting new products released.
Training
If you follow their training, you will see their case study where they say they are using pockitz to promote something called Affiliate weapon. Affiliate weapon is one of this vendor's products.
But when I looked into this vendor's YouTube channel, I wanted to see if he is using this on a regular basis because obviously, this is the tactic he is teaching others. But look at the stats below.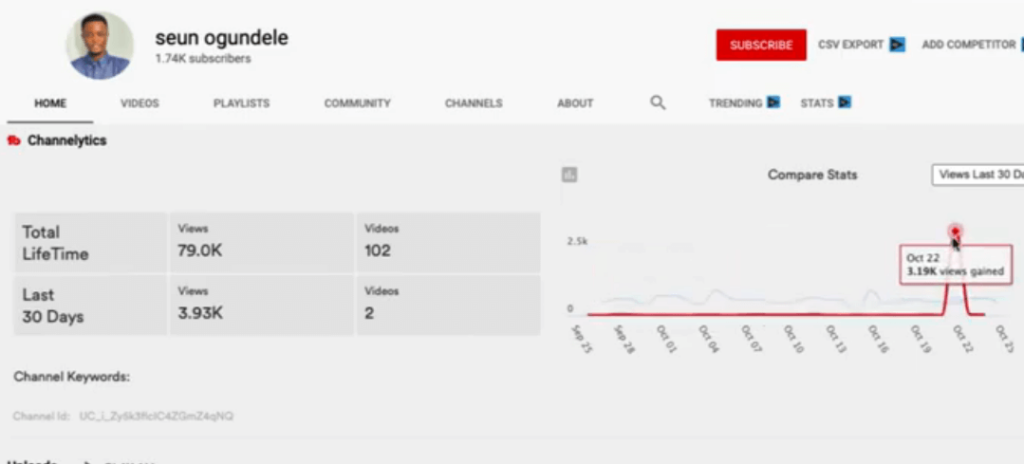 Their channel had absolutely nothing until they got to this point(22nd of October 2020).
And their last two videos have only been uploaded three days ago by the time I'm writing this review, and they both have paid traffic. The reason I know that is their last video has got over 2k views, but no comments.
You can't have over 2k views and 0 comments. It's so obvious that they use paid traffic.
So, I have come to the conclusion that the money they claim to have made from the case study is actually from affiliate sales of their own products. It's not by using this Pockitz software.
What I like about Pockitz
100 days money back guarantee
At least you can request your money to be refunded in case you don't like the software.
But keep in mind that when I looked through these vendors mastermind FaceBook group, I've seen many people complaining about not getting their refund. So, you shouldn't always trust those money-back policies.
What I don't like about Pockitz
Deceptive sales tactic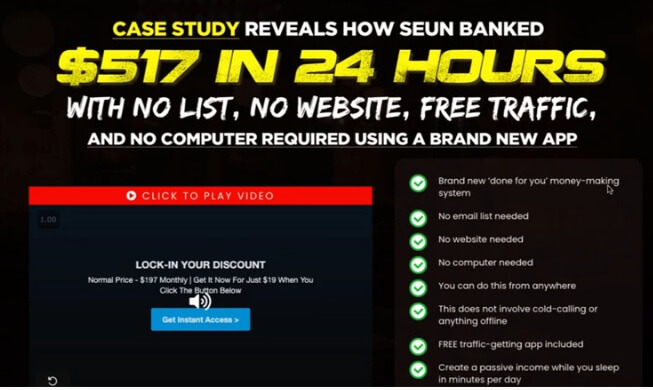 Seriously! Unless you are a newbie, you should know that this is just a marketing poor technique to take people's money. You can't make this type of income if you are a beginner, and mostly with no list, no website, and by stealing other people's content.
Remember, if something is too good to be true, it's because it certainly is.
Using Other people's work
I dislike the idea of taking other people's work for my own profits.
I mean, I guess you wouldn't be happy if you have created content, and someone else was using it to make money themselves.
Plus, would you be doing that as your main online business, your main source of income? Would you be proud to tell your friends and family about that?
No SEO
Stealing people's work is very bad. But if you can't even rank those stolen videos, what's the point of all of that?
I mean, where do you get traffic from?
You would be uploading videos with nobody coming along to watch them.
And if you're a beginner, I wouldn't advise you to use paid traffic. You could easily lose lots of money and very quickly.
Pockitz Pricing & Upsells
OTO 1: DFY Affiliate Profits $37
OTO 4: Super affiliate edition $67
OTO 5: License Rights $77
Is Pockitz a scam?
Without any doubt, Pockitz is a scam and will only waste your time and money. There's no value at all in this software.
The worst is, you will get your YouTube account shut down by stealing other people's videos.
Stay away from this software.
Thanks for reading this Pockitz review. I really hope you have gained value from it.
How I make money online
To make money online, I create very simple websites where I publish content that solve people's problem. In fact, I give them the right information about a product or service they're searching for online.
This is affiliate marketing. And this is one of the easiest and most accessible ways to make a living online.
But unlike Pockitz, I create my own content. That's why Google and other search engines trust my site in the long run.
This is the right path to a long term sustainable business online with affiliate marketing and in search engines.
Not by using some Get-Rich-Quick schemes that only want your money.
My advice to you is, stop chasing shiny objects.
If you want to learn more about the right way to start affiliate marketing, hit the button below.
Have any question related to this Pockitz reviews? Let me know in the comment section below, and I'll get back to you ASAP.
Thanks for the support!