There are 3 types of payouts for affiliate marketing that a blogger or content creator can use to earn income. Largely how the payout is setup or structured is driven by the affiliate program you select. When you find an affiliate program and complete the signup process you will get a link which will track any traffic you send from your site to the referral site. This link is key to your success as only referrals that click that link would be considered referred from your site and ultimately the only ones you get credit for with your affiliate marketing efforts.
Within the affiliate program you will learn as part of the sign-up process how you as the affiliate marketer will get payouts for affiliate marketing. In other words, when do you actually get the credit for someone clicking the link.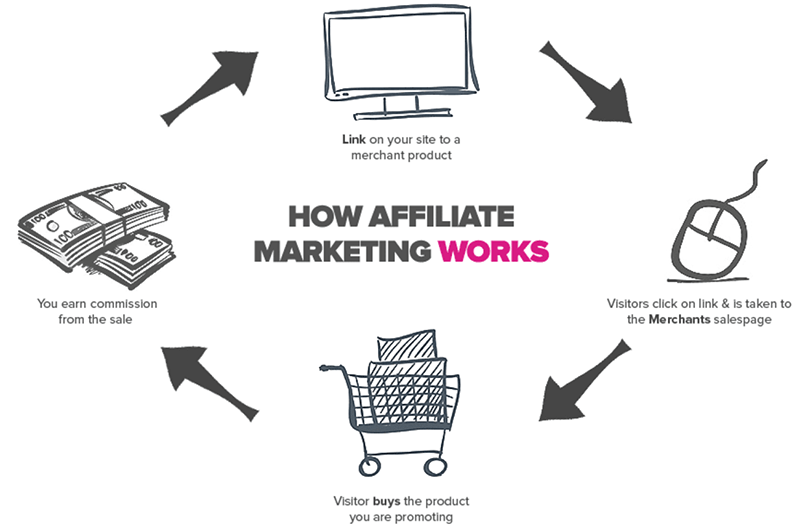 3 Types of Payouts for Affiliate Marketing
Pay Per Sale. This is often the most common for affiliate marketing as the goal of the affiliate program participant is to increase sales of an item, not increase traffic. As a result, they want to ensure the traffic you are sending them actually makes the purchase on their site. From a payout perspective, there is a few options on how you earn within this type. You may get a flat rate when an item is purchased like one dollar for any purchase regardless of the product amount. Alternatively you may get a percentage of the sale which means if the traffic you send over is purchasing higher cost items, you also make more money since the percent would be of a greater amount.
Pay Per Click. This is not as common for affiliate marketing as it is serving up the link to really serve as an advertisement network where the goal is to send traffic to a site and not making you responsible for getting that traffic all the way through to the purchase to get credit for the affiliate marketing efforts. Typically you would earn less per click than you will if you use a program that does the pay per sale payout type.
Pay Per Lead. Some sites are not looking to sell a product or increase traffic but instead they are looking to get contacts. This is often the case in service-based businesses where getting the customer contact data is more valuable because then they have a sales team that will reach out to coordinate with the contact data. In this payout type you will be asked to use your affiliate link to send traffic to a contact form and as soon as your traffic fills in that contact form and submits their information you would get credit for the goal being achieved.
Often the types of payouts for affiliate marketing that are available will depend largely on the niche you are in and the type of affiliates the program you select are in. For example, if you blog about solar energy then you can assume that some of your affiliates may be involved with solar panel installation. As a result, the affiliates goal would be to get contacts from your site to sell them into solar panels and using their installation business. This would make the payout type for this affiliate flow to be a pay per lead. You can compare this to a blog that may be talking about home and garden topics where you may be making recommendations for products to use. In this case, the affiliate wants to see a sale of the products you are linking to.
While there are a few ways an affiliate may setup their payout system keep in mind that the affiliate has a goal and is willing to pay you to help them achieve their goal. You just need to understand what they are trying to accomplish and as an affiliate marketing person, learn how you can use your blog or platform to best help them achieve their goal. If you do this, then you will earn your money and it is a win-win for everyone.