Welcome to my Slick Software review!
Slick vendors claim that you can get buyer traffic from 100 sources in 60 seconds with this software. But is that true?
This is what we are going to find out in this review.
First thing first, congratulations for taking the time to do your own research before spending your money on any product online.
That's the way to avoid scams, and find the legitimate way to make money online.
But what is Slick Software about, really? How does it work? Will it be able to deliver on its promises to you? Is this software worth your time and money? Is Slick software a scam? This post will cover those basic questions, as well as provide the pros and cons.
If this sounds good to you, Get comfy and pay close attention because you are going to know absolutely everything about this software, but most importantly why you should not waste your time and money buying it.
Slick Software reviews summary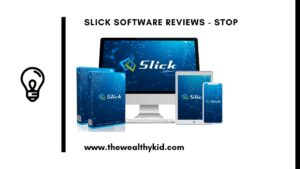 Name: Slick Software
Vendors: Billy Darr, Finn Goswami, Justin Opay
product Type: Software
Price: $17
Upsells: Yes
Rating: 10/100
Verdict: Slick software is simply not needed. It is just a piece of software that you can get for free elsewhere. So, don't bother to purchase it. if you want a best alternative to it, use Canva instead. Plus, the sales page is misleading and full of Fake income proofs. At last, there's no traffic solution. All they do is providing you with social share buttons to share your links on social media. But this doesn't mean you'll get traffic. In fact, if you've got no following on your social networks you won't get any traffic back to your offers.
Not recommended! Invest your time and money elsewhere
==>>If you're looking to build a long term sustainable online business, check out my #1 Recommendation.
What is Slick Software About?
In a nutshell, Slick is an Application that allows you to make videos in a number of format that you can use on divers types of social media, or video platforms to drive traffic to your offers.
This product comes from Billy Darr, Finn Goswami, and Justin Opay.
Here's how they describe Slick based on their sales page:
Slick allows you to tap into 100 traffic sources in 1-click.
Made for newbies
Unlimited traffic in 60 seconds
No video creation or SEO needed
50+ DFY templates
$0 to 3-Figure a day tutorials included
Get Results or get paid $1,000
Keep reading if you want to find out if those claims are actually real.
How does Slick work?
Here's how they say the product works:
Step 1: Log in to the web based app
Step 2: Select from any existing Done for you video
Step 3: Hit "Activate" for unlimited free traffic from 100 source…
Seriously, do you really think it's that easy? Of course not. This is not true, and this is certainly not how you are going to get traffic and make any money.
In fact, it's not just about hitting a simple button that you can generate traffic. I'll explain that further in this review.
All they do here is make it looks simple for you to purchase their software.
Pros & Cons
Pros: What's good
The product does work. It does produce graphics
365 day money back guarantee
Cons: What's not good
No traffic solution. If you haven't got any followers on social medias, you won't get traffic.
Sales page misleading
No overall strategy. They don't really explain how you'll make money here.
Value claims are not real.
Simply not needed
Inside Slick Software
Let's explore the different features of this software.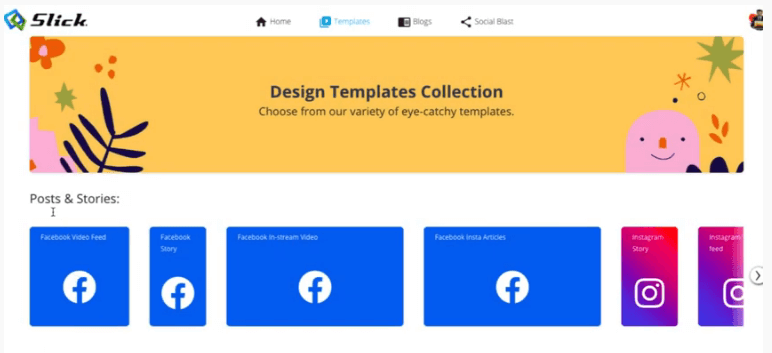 Templates
When you open the App, the first section you see is posts and stories. There's different types of posts and stories for different type of networks. Some of them are FaceBook, Twitter, Pinterest, Snapshat, TikTok, etc.
Then the second section is Online Ads. You can use this section to advertise online, which is something I don't recommend newbies to do, but you're given templates to do that.
If you click on any of these templates, here's how they look like: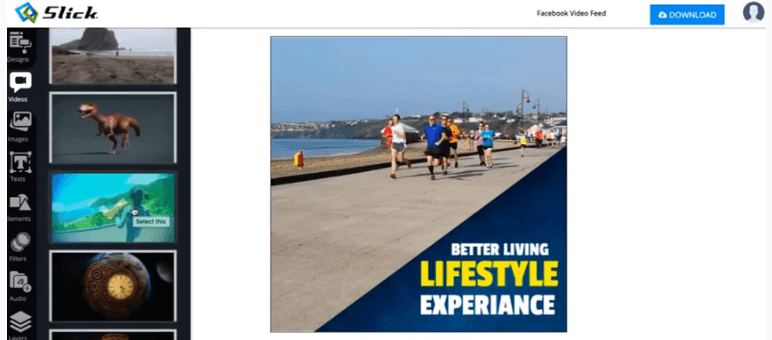 You have a lot of tools that allow you to edit and create videos. You can add some text, images, videos, audio, layers, etc. So, you can use this as much as you want, or you can just use the preexisting ones and change a few words on it. This looks fine, there's nothing wrong about this builder.
It is pretty much the same thing with all other templates you are provided.
Blogs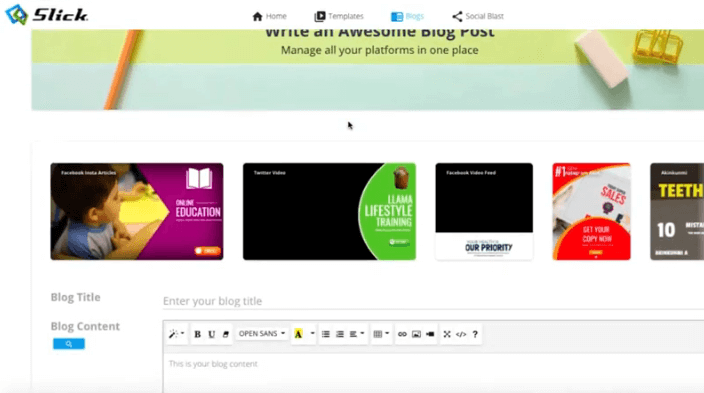 There's a section here where you can add blog posts. Again, there's no real issue here. However, there's no reason why you can't just do this on your own wordpress blog. I don't know why you need to build a third party software to do this. All it really does is giving you images.
Social Blast
Here's where it starts falling down for me. When you look at the Slick software sales page, it's all about traffic. In fact, that's the main selling point of this sales page.
If you have read some of my reviews before, this is where it starts falling down.
When you go to social blast, you are told that, this is where you can get traffic from 100 sources.
As I always say, if you have no following on these social media sites, nothing will happen when you post. So, this is not going to get you any kind of traffic unless you already have a traffic source. You won't get organic traffic from them.
Now, if you already have a traffic source, you probably wouldn't need a simple and cheap product like this to create your posts, and you wouldn't even be here in the first place. There are much better tools out there that can help you do that anyway.
The best free alternative that can help you edit or create videos and posts is canva. Many of you may have heard of canva before. If not, note that Canva is a great app that gives you various tools for your social medias, blogs, etc. You should definitely check it out.
So, all what Slick vendors have done here is to build a piece of software that you can get for free elsewhere.
What I like about Slick
365 day money back guaranteed
At least you can get a refund if you find out the software has no value for you.
But as far as this guarantee is concerned, I would be incredibly careful with this product because none of these guys have got any tracked records of giving you the money back.
Also Keep in mind that this kind of software never last on the market, so it can suddenly disappear in a few months. Be very careful.
What I don't like about Slick
Misleading sales page
The sales page claims that you can generate free traffic in just 60 seconds. But we all know this is not going to happen. It takes more than that, and they don't provide you with this traffic they are talking about. All they do is give you the opportunity to share your work on social media platforms.
And as I already mentioned earlier in this review, you won't get traffic from those sources unless you have a big following on each of them.
Copy and paste Income proofs
It's always the same with this type of software.
Below is an income "proof" from the Slick software sales page…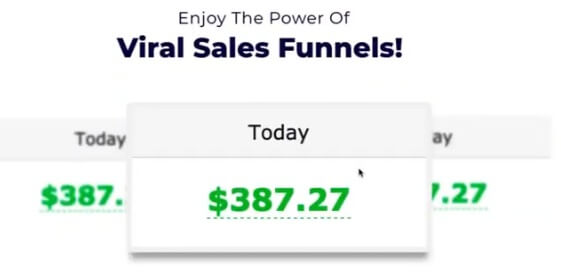 And now, look at another income proof from another of their products called Epic Funnels.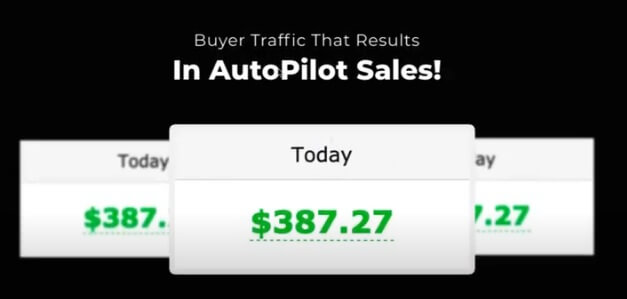 As you can see, it's the exact same income proof they copy and paste everywhere.
By The way, I have reviewed a similar product that only copy and paste the same numbers on every sales page: KontentXpress.
The whole thing is really lazy marketing. Don't get taken away by this type of sales page. This is not true.
At the end of the day, this is just a very cheap and cheerful version of Canva that you have to pay for.
Slick Software Price & Upgrades
Front end: $17
Upsell 1: Slick – Unlimited edition $39
Upsell 2: Slick – Autopilot Edition $39
Upsell 3: Slick – Done-For-You Edition $197
Upsell 4: Slick – 50x DFY Templates Edition $39
Upsell 5: Slick – ATM Edition $197
Keep in mind that in every product they create, it's the same upgrades, all they do is change the product name. In this case, Slick.
Is Slick Software a scam? Final Word
Thanks to have read my Slick Software reviews. I really hope you have gained value from it.
As far as I'm concerned, Slick is not a scam. But I wouldn't recommend it.
Let's be realistic here, I'm not sure what this is giving you here that you can't get for free elsewhere. So, don't waste your money.
making money online is the result of learning from a proven method, be surrounded by a great community, and working hard to build your business.
Stop chasing shiny objects.
Instead, if you're a beginner trying to make it into the online world the right way, i suggest you to have a look at my #1 Recommendation.
Check it out, and join for free.
Have any question regarding this Slick software review? Don't hesitate to leave it in the comment section below, and I'll get back to you ASAP.
Thanks for the support!