Welcome to my New Year Profit Bot Review!
We are living in a cold world where scammers no longer hide.
First thing first, I respect that you take the time to do your own research before putting your money into any product online.
This is what everybody should do, and that's the perfect way to avoid scams and find the legitimate way to make money online.
But, what is New Year Profit Bot about, really? How does it work? Will it be able to deliver on its promises to you? Can you really make money with this software? Is New Year Profit Bot a scam? This post will cover those basic questions, as well as provide the pros and cons.
Grab a snack, get comfy, and pay close attention, because I'm going to tell you everything there's to know about this software. And most importantly, why you need to avoid it at any cost.
Let's get started.
New Year Profit Bot Review Summary
Product Name: Ney Year Profit Bot
Vendor: Glynn Kosky.
Product type: Software.
Price: $17
Upsells: yes.
Best for: No One
Rating: 1/100…
Verdict: Apparently, This software allows you to build DFY funnels, and make $473+ per day. But, the truth is this is just a Low-quality software with No traffic solution at all. Plus, the sales page is full of fake testimonials and income proofs! Finally, this vendor keeps repeating the same product over and over again. The only thing they change is the colour. You're just going to lose money trying to make money.
Stay Away from this software.
Not Recommended! Invest your time and money elsewhere.
==>> If you're really serious about starting a real online business the right way, hit the button below, over to my #1 recommendation, and I'll take you through the whole process step by step.
Quick navigation
What is New Year Profit Bot?
New year profit bot is an application that allows you to build Done-For-You funnels, and theoretically make 473+ dollars every single day. This product is similar to multiple other products that this vendor has released.
This software has been released on the10th of January 10 a.m eastern, comes off the Warrior Plus network, and it's by Glynn Kosky.
Here's an overview of the sales page:
It's a 100% done for you system…
You keep 100% of the commissions earned…
It's a 100% free traffic built into the system…
There are zero tech skills required…
4-5 figure day training included…
100% friendly…
There's a 180-day money-back guarantee…
And you will finally experience freedom.
Something I have come to realize is that this is very similar to something called commission pages that was released a few weeks ago by the same vendor.
And I think the only difference is they're promising you $525 a day on the previous one, and on this one, $473+.
So, I'm guessing next time they release another software, this will be something like $717+ just to make sure they're keeping this more and more valuable for you LOL.
How The New year Profit Bot works?
Here's how they say the product works:
Step 1: Purchase.
Step 2: Activate and configure. Log in, configure some basic settings, and enter your affiliate links into the system.
Step 3: Use and Profit. Use the included free traffic to start generating traffic and leads in under 60 seconds.
WOW, I'm really impressed! That seems to be so easy to make money online. LOL.
Come on guys, do you really think it's that easy?
Of course NOT.
This is just some deceptive speech to get your hard-earned money.
Anyway, I'll explain that in more details later in this review.
Here's how the system really works:
Once you are on the inside, you have to start customizing your squeeze pages, promote their others low quality and scam software, and hope somebody will actually purchase the software through your affiliate links.
Basically, once you hit the publish button, there's a pop up showing a squeeze page URL, an affiliate page URL, and a download page URL.
Here's an example of squeeze page URL you are provided: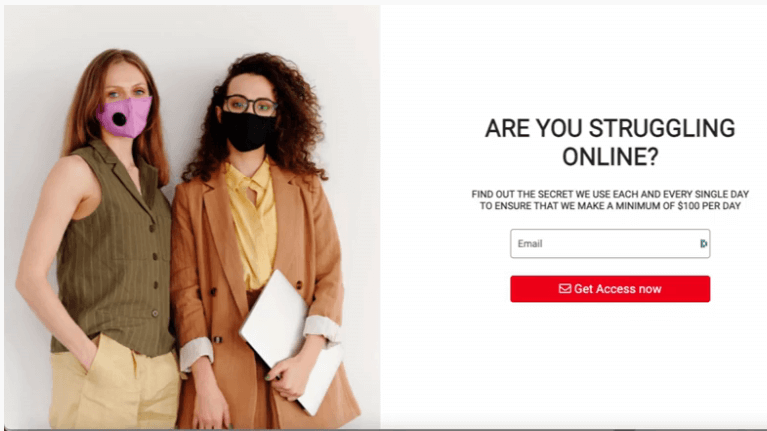 Just a basic squeeze page, which is fair enough…
The actual overall tactics are you have a free lead magnet to give away, this can be a free book for example.
Then, the prospect leaves their email in exchange for the free book.
Finally, send them your offers, and hoping they purchase.
But, where are you going to get people to join? There's no traffic solution in this software. The free traffic they talk about on the sales page isn't real!
Don't worry, this will be explained further. keep reading.
Inside the software
The main dashboard is similar to all the products this vendor releases. The only difference is the colour.
Let's see the main features it has available.
Campaigns.
If you want to create a campaign, theoretically this section will allow you to create your own pages. It is a very low-quality page builder but does work.
You would actually integrate your autoresponder here as well.
The Done-For-You products.
This is going to show you what the actual funnels you'll have access to look like.
Here are those Done For You products:
All of these are their own products. So basically, they're asking you to promote other poor products to people and to scam them as well for a little bit of extra money.
I don't think this is a very nice way to be a marketer online.
Done For You bonus.
Again more low-quality products they're providing to you.
This includes auto profit sites, Profit Sniper x, and VidCommissions.
Social media
This is where you can connect up your various accounts and share.
Free traffic
The free traffic section is composed of three other products from the same vendor. Those products are just spamming various networks.
Here they are Affiliate Traffic Lab, Viral News Jacker, and Tube Traffic machine.
The Tube Traffic machine, for example, is just to create small and very low-quality videos from web pages and then putting them on YouTube and hoping to get some traffic.
All of those spammy so-called traffic apps simply do not work. They're not going to get you any kind of traffic by using them.
What you end up having to do is joining all of these various other products as well, and you'll end up on about 20 lists with various people bombarding you with offers.
I'm not a big fan of that, and basically, the traffic they say is included with this software is not real.
In fact, there's no traffic there as they promised.
All they do is provide you with social share buttons to allow you to share your links on various social networks.
But keep in mind that unless you've got any form of following on platforms like FaceBook, Instagram, etc, nobody's going to see and click on your promotions.
What I like about New year Profit Bot
There's nothing I like about this software.
What I don't like about this software
The main issue I have with these sales pages is just how easy they make this sound.
What's really going to happen is you'll build these pages and nobody will visit them. Your biggest issue is learning how to drive traffic to these pages.
So, the foundation of your business is:
How are you creating value for people to come along and want to click on your funnels?
Now if you can't create value, if you're not creating some kind of blog posts, videos on YouTube that help people and create that value, nobody's going to click on any of your links.
I mean, why should they?
What You're Asked to Promote
One of The main issues is the kind of stuff they're asking you to promote in the first place is equally poor, and low-value products.
You're actually going to sell that to people wanting to make a quick buck.
But you're not going to help them, you're just going to put them in the same situation you are.
People are desperate to try and earn a little bit of money and then you are going to actually contribute towards that by sending them crap online by promoting this vendor's products.
No Email?
They say on the sales page that you don't need an email autoresponder…
The issue there is if you haven't got this attached to any kind of email provider, and you're not collecting people's details, how are you actually going to keep promoting on an ongoing basis?
Because I don't think those potential customers will purchase the first time they land on your page.
So, you need to be able to contact them in the future. Therefore, you need an Autoresponder.
There are no bots
A bot is an automated system.
But the vendor is making it sound like this software is automated. Even if you use one of their traffic solutions, you have to create things on a regular basis that are going to drive traffic back to these pages.
You're not going to be able to do that automatically.
There are no bots in this software.
Fake Testimonials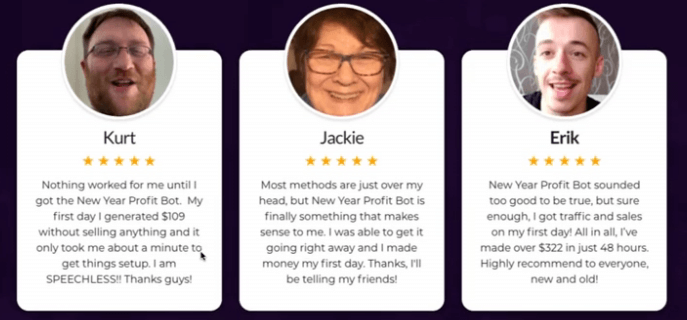 As usual, the so-called testimonials you see on the sales page isn't real. Don't be impressed by that.
Similar to another product
Those vendors are too lazy to create new quality software. All they do is repeat the same one over and over again.
The only thing they change is the colour.
This software is similar to commission pages. It's exactly the same product but one is yellow, and the other one is blue.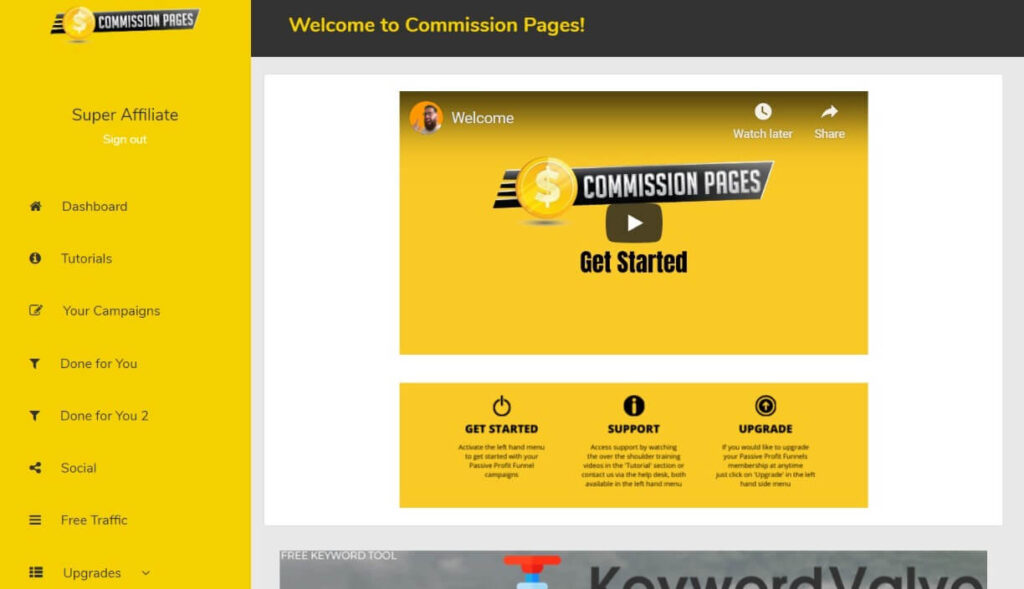 Now, look at the New Year Profit bot interface: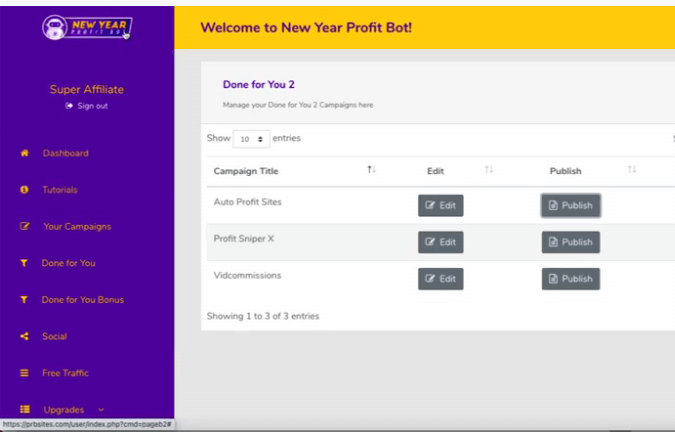 As you can see, they are both similar. Actually, this is the same product.
Pricing & Upgrades
Front End: $17…
OTO 1: Unlimited Version is $67
OTO 2: 100% Done For You $97.
OTO 3: Unlimited Traffic is $147…
OTO 4: 30k in 30-day version $147…
OTO 5: Super Affiliate Version $97
OTO 6: The license rights $147…
OTO 7: The auto profit boost is $47
These are the same OTOs they have on every single product.
And just a quick word on oto 3. Unlimited traffic is $147, that unlimited traffic could be worth tens of thousands of dollars if it was true. If I could get unlimited traffic to the products and services that I promote, I would be extremely wealthy very quickly.
So, it's literally nonsense.
The second thing on that is if they can get unlimited traffic, why do they need to give various affiliates commissions to sell their products?
And why do they even need affiliates to promote their products in the first place?
They have to pay those affiliates up to 50% of any money that they get by selling the product. So why would you do that if you can get unlimited traffic without needing affiliates?
Got them! Those scammers.
Pros
180-day guarantee. But I wouldn't really trust that.
Cons
Very low-quality products they're giving you as Done For You…
There are no traffic solutions. It's all spammy, nonsense that they're trying to sell you.
Very poor customer service.
Unrealistic earnings
I just don't think this is needed.
Is New Year Profit Bot a scam?
This is a very low-quality repeat.
They're not improving these products when they resell them, they're not getting any better.
All they do is changing colours.
Yes, The New Year Profit Bot is a freaking SCAM!

Final Word
First off, thanks for having read this review, I really hope you have gained value from it.
The new year 2021 hasn't actually improved any of these products, they're still exactly the same.
Unfortunately, those who are going to miss reviews like this one are going to lose money.
My advice to you is to stop chasing shiny objects.
If you're looking to build a long-term sustainable business online go ahead and hit the button below, over to my #1 recommendation, and I'll take you through the whole process step by step.
have any question about this New Year Profit Bot review? Don't hesitate to leave it in the comment section below, and I'll get back to you ASAP.
Thanks for the support!