Welcome to my Commission Pages Review!
Nowadays, it's not uncommon to see many software coming from nowhere and claiming they can help you generate money online. Some are legit, some are just shiny objects.
First thing first, I must congratulate you for taking the time to do your own research before putting your money into any type of products online.
That's the way to avoid scams, and find the Legitimate way to make money online.
But, what is Commission Pages about? How does it work? Will it be able to deliver on its promises to you? Can you really make money and generate free traffic from this software? Is Commission Pages a scam? This post will cover those basic questions.
If this sounds great to you, get comfy and pay close attention because I'm going to give you an honest Commission Pages review, and tell you exactly why I think this is just a typical shiny object that will waste your time and money.
What is Commission pages About?
This software comes from Glynn Kosky. I have already reviewed several of his products. So, you know this is going to be a funnel builder, you know it's going to be a Done For You, and of course it's going to be a Cloud Based.
Here's how he describes the product on the sales page:
Brand new "Done For You" Traffic App.
Free Traffic works in 60 seconds.
100% Beginner Friendly
No experience required
No Technical skills required
No email list required
No website required
180 day money back guarantee.
The truth is some of those points are just hype to get you engage. Some of these are not true because when they say "No website required", several of the applications they actually refer you to, to get traffic to these pages required a wordpress website.
So, you definitely need a website to make this work if you take their advice.
==>>If you are looking to build a long term sustainable business online that doesn't involve any kind of shiny object, Have a look at my Top Recommendation.
How Commission Pages works?
When you sign up with Commission Pages and are up running, the idea is that you are going to give away a "12 point Checklist".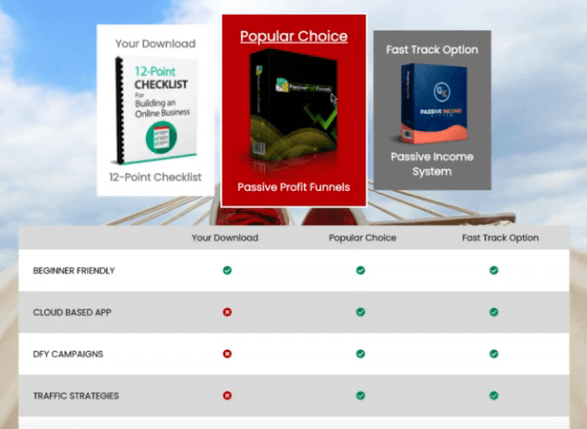 Then you have two choices:
Popular choice, which is passive Profit Funnel
And you have the passive income system
These 2 are paid products.
So, your customers will have the choice of taking the 12 point checklist, but also purchase the last two.
You'll also be entitled to give away some PLRs bonuses.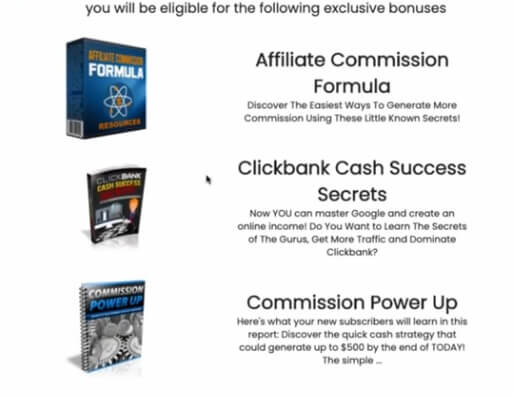 Each page you have the opportunity to promote contains 4 elements such as:
Squeeze page URL
Affiliate Page URL
Lead magnet page URL
Download page URL
So, what they are trying to do is capture people at every step to allow you to earn money, which is a pretty good strategy.
But, there's a big problem with this. Especially if you are a beginner.
How do you get people to come along and see your squeeze page in the first place?
Where do you get your traffic from?
If you're a beginner, you have no idea how to get traffic. And traffic is 90% of the work on anything online.
This is the main issue with this type of Done-For-You software. You may have the nicest website in the world, but if nobody comes along to see this you'll have an issue.
At the end of the day, you'll just get stuck with all of these products and landing pages, etc, with nobody visiting. And That's the hardest part.
Inside The Commission Pages Software
The dashboard is quite similar to all other Glynn Kosky products.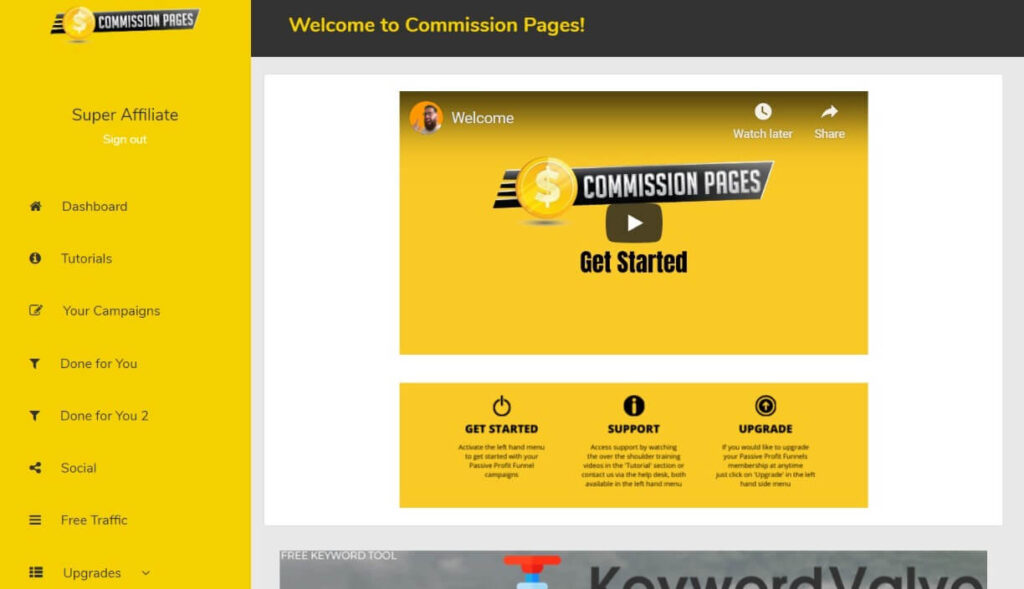 If you have read some of my Glynn Kosky reviews before, you would know that this is pretty much the same interface being sold over and over again. The only thing they change is the color.
Now, let's explore the main features of this software:
Tutorials
There's nothing really wrong about this section. Glynn does all of them himself and they are very clear.
Campaigns
Basically, these are the pages that you set up to advertise your own products and services.
Done For You
This section gives you access to some DFY pages that you can promote such as 1k Daily system, Passive Profit Funnel, and recurring profit machine.
I personally wouldn't promote any of them, because none of them actually works.
1k Daily system and Passive Profit Funnels are two products I have already reviewed, and to be honest they are just waste of time. Imagine promoting these products to people, maybe your friends, etc. This can ruin your reputation.
So, be really careful with what you are promoting out there.
Here's an example of how those squeeze pages look like:
Free Traffic
This is on every single product they have. Glynn always offers you a certain amount of clicks from his rotator, apparently.
Now he has these three products:
The Affiliate Traffic Lab. This allows you to make basic videos and put them on YouTube. So, this software copies the sales page of the particular product that you want to review…This website isn't secured anyway, so I wouldn't advise to use it.
Viral news jacker. This is quite similar to the previous, but you get the feeds off the current news, and then you send them to social media networks like FaceBook.
Tube traffic machine. Allows you to download YouTube videos that aren't yours, and you share them to your site, or add ads.
The main problem here is the traffic, always about the traffic.
They want to shortcut the process, but they forget the most important.
Pros & Cons
Pros: What's good
Cons: What's not good
Poor customer service
No Traffic Solutions
Cloud Based
Low quality DFY Products
Unrealistic Earnings
Value Claims not needed
Simply not needed
==>>If you're really looking to build a long term sustainable business online, and the right way, Do yourself a big favor and check My #1 Recommendation and start for FREE Today.
What I like About this software
Only the fact that the software works. You can build some cool squeeze pages…
But No traffic…
What I don't like about Commission Pages
Hosted By them
Because it's cloud based and hosted by them, you have no control over whether this actually gets maintained on a run going basis, which is a big deal to you if you want to build a real business online. This is why the vast majority of people have their own wordpress website, their own domains, and therefore their own hosting.
It can be a little bit more expensive, but it's 1 million times more secured if you want to build a real business online.
Using any type of product like Commission Pages can be problematic because they don't get maintained on a regular basis.
These vendors release products every single month. So, they can't possibly maintain all of these different products. What will happen over time is you'll start to collect glitches, to have issues, and then eventually lose everything.
So, be very careful when you come across any kind of cloud based application.
I understand why newbies may think this is benefit, but when you get more experienced it definitely isn't.
No Traffic solution
Apparently you can share your pages to various social networks.
But, If you have no following on any of these social networks, you won't get any traffic organically back to your links.
Why would anybody come along on FaceBook For instance and spot your link, and click on it?
Also keep in mind that most of these networks don't allow you to put links on them.
Of course if you have a big following on any of these networks, that's fine. It can work for you. But, again you need to make sure this audience is the right one to purchase those particular products you're promoting.
Price and Upgrades
Front End: $17
OTO 1: Unlimited Version $7
OTO 2: 100% Done For You $97
OTO 3: Unlimited traffic $147
OTO 4: $30k in 30 Days Version
OTO 5: Super Affiliate Version
OTO 6: License Rights $147
OTO 7: Auto Profit Boost $47
These are all the same in every single product. So, if you are a buyer of Glynn Kosky, you are just repeating yourself, and are just going to buy the same products over and over again.
Is Commission Pages a scam?
First off, thanks for reading this Commission Pages review. I really hope you have gained value from it.
I wouldn't call it a scam, simply because the software does work. However, I wouldn't recommend it.
I know if you are a beginner you may want to make money quick, get rich quick, but that's the wrong mentality.
Those software claiming you can make money online so easily and overnight are just scams, and typical shiny objects. Therefore you shouldn't trust them.
Making money online is the result of learning from a proven method, be surrounded by a great community, and working hard to build your business. Not by following some DFY shiny objects.
My advice to you is, Stop chasing shiny objects.
Instead, if you're a beginner trying to make it within the online world the right way, do yourself a big favor and Check out My #1 Recommendation, and learn something that would benefit you for life.
Commission Pages Review Summary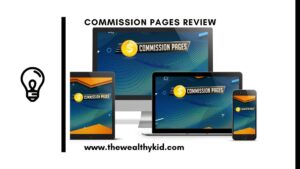 Name: Commission Pages
Vendor: Glynn Kosky
Product type: Software
Price: $17
Upsells: Yes
Rating: 20/100
Verdict: No Value at all. This is just a typical shiny object. Thousands of people will buy this, thousands of people will not make any money from it. And if you've come across this review, I'm just hoping you're one of the few people to actually learn how to do this yourself, and not rely on this product that is trying to shortcut the process for you, but at the end of the day you'll waste a lot of time and money trying to make it work.
Not Recommended! Invest your time and money elsewhere.
Have any question regarding this Commission Pages review? Don't hesitate to leave it in the comment section below, and I'll get back to you ASAP.
Thanks for the support!
Here's another similar software by Glynn Kosky: DFY Profit Funnels.