Welcome to my Zing Software Review!
Nowadays shiny objects are everywhere, and the software we are going to review today is one of them.
First thing first, I respect the fact that you take the time to do your own research before putting your money into any type of product online.
That's the perfect way to avoid scams, and find the legitimate way to make money online.
But what is Zing software about, really? How does it work? Will it be able to deliver on its promises to you? Can you really make money with this software? This post will cover those basic questions, as well as provide the pros and cons.
Without further due, let's get started.
Zing Software Review Summary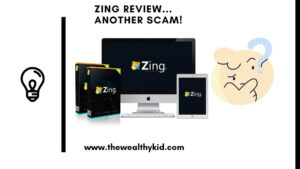 Name: Zing
Vendors: Billy Dar; Dispanjam Goswami; Justin Opay
Product type: Software
Price: Front End $17
Upsells: Yes
Best For: No One
Rating: 1/100
Verdict: Zing is a low quality and very spammy piece of software that allows you to post videos on YouTube and spam other channels by automating likes and comments. This is a terrible tactic, the software doesn't work, and therefore, you won't make money with it. If you really want to create a YouTube channel, this is an horrible tactic and not the way to go about it. You're only going to waste your time and money.
Not recommended! Invest your time and money elsewhere.
==>>If you really want to start an online business the right way, check out my #1 recommendation, and I'll take you through the whole process step by step.
Quick Navigation
What is Zing Software about?
In a nutshell, Zing is a YouTube application that allows you to create videos but also automate certain things such as liking videos, leaving comments, and leaving replies to other people's comments.
This is probably one of the lowest quality products that I've seen so far. If that shocks you, well stick around because I'm going to explain exactly why this is not very good for you if you really want to make a successful YouTube channel.
The product has been released on Thursday the 16th of July at 11 a.m Eastern and it comes off the Warrior Plus network.
Here's a quick overview of the sales page:
They're saying it's going to give you Free traffic and sales in under 60 seconds…
No existing audience needed…
Created for newbies…
No video creation and no ranking needed (which is a bit strange because there's a video creation app inside)…
A hundred dollar a day tutorials included completely for free…
Attain the laptop lifestyle…
90-day money-back guarantee…
Get traffic and sales or you get paid $500 by them.
Keep in mind that most of those claims are not true at all, and I'll explain that in more details later in this review.
Let's jump into the members area.
Inside the members area
After purchasing the software, the first thing you will see is a front page as you can see below.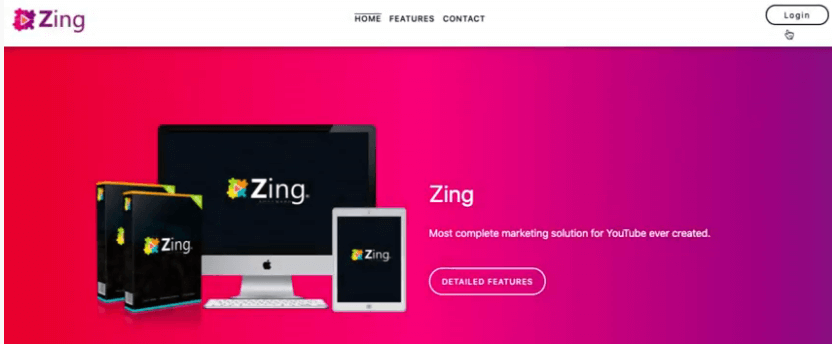 Once you hit the "Detailed features" button, you will see several features such as:
Comment reply, which allows you to reply to video comments…
There's a rank tracking feature…
Like and comment feature, that allows you to like and comment other videos by searching with keywords or channel. This is supposed to be automated.
Playlist manager.
Channel and video analytics…
Subscription, it helps to subscribe to your desired channels automatically…
Search engine, It helps you to search for videos, channels, and playlists.
All of these features might sound really good to some people but in case you don't know, all of that can be done on YouTube.
Bringing me to the point where you don't need to buy this product.
As I go through this review, you are going to realize that all of those  automated features are very spammy, of low quality, and most importantly really bad ways to do business online.
Zing dashboard
This section gives you an overview of your actual channel. It gives you the ability to see the number of views, How many comment replies, subscribers, How many videos you've published, and How many you've scheduled.

Social account
Your social account is actually the channels that you've connected to the system.
Video Creator
You have a video creator which is of very low quality. It's just a basic video editor that allows you to add some videos.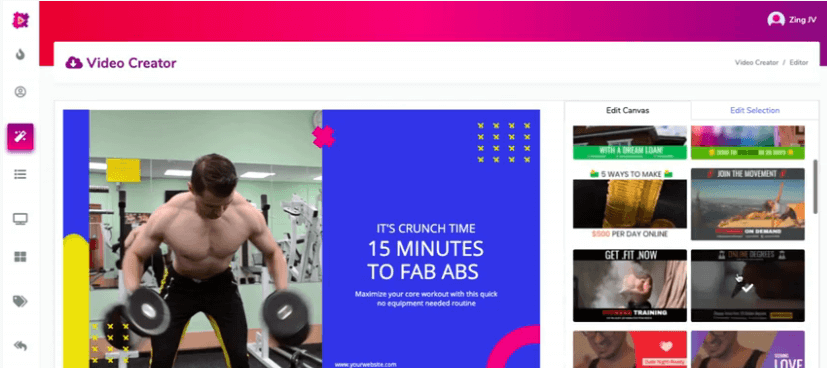 Some templates are already given to you. you can add images, you can add text, you can add elements, you can add lower thirds, and audio.
Automation tools
This piece of the software is very cynical.
In fact, this section gives you the ability to automate liking and commenting on other channels.
So the idea is: You would come along and would create a campaign. You can actually give your campaign a name, select a channel, select a keyword you want to follow, and then select a template.
You can also find a keyword that's being talked about in that channel, go ahead and create an auto like and a comment for that particular channel.
But why do I think that's cynical?
Simply because it's very dishonest.
It's just spam! You don't have any appreciation of the work that's gone into making that video, but all you're doing is putting some random comments over to somebody else's channel, hoping that they'll look at them and come over to yours.
This is very unlikely to work. It's just a poor tactic that is going to waste your time and money.
It's the same thing in the subscription area. what you're trying to do is subscribe to as many other channels as you can with the hope that they'll subscribe back.
But again, if you just blindly subscribe to channels, it doesn't mean that they're necessarily going to subscribe back or they're actually going to end up watching your videos and going down to your office and buy your offers.
So none of these stuffs is really something that's going to be good for a quality channel.
Template manager
This section allows you to build your templates.
The two templates you have the ability to manage are The auto reply template and the auto comment template.
Basically in your auto reply template, if somebody comes along and puts a comment on your particular video, you could just put an auto reply here.
But why would you want to do that?
If you have a YouTube channel or a blog, the idea is that you engage with your subscribers, people who take their time to watch your content.
You should personally engage with them back, grow a relationship with them, then from there they may come along and buy something off you in the future or even become one of your subscribers.
But you can't just leave auto comments to real people. This is spammy and certainly not fair.
Who is Zing software for?
This software is for those who want to waste their time and money, and most importantly, spam the internet.
Because this software won't bring any value to you.
What I like about Zing
There's nothing I like about this software.
What I don't like about Zing
The Whole Sales page
It's not going to get traffic in 60seconds as they claim on the sales page.
Also, your channel is more likely to be banned at some point because even in the PDF training they provide, they tell you not to do this more than 50 times a day otherwise YouTube will punish you.
Plus, you won't get your channel monetized if you're uploading those low quality videos and if they see you spamming others.
The Use of Big Marketer's names
On their sales page, there are some famous Youtubers as if this software is actually going to make you rich like them. LOL
You just have to realize that this is a very cynical and very low quality piece of software.
Comparing it to ClickFunnels
On the sales page, they are actually comparing this software to others that have absolutely nothing to do with this.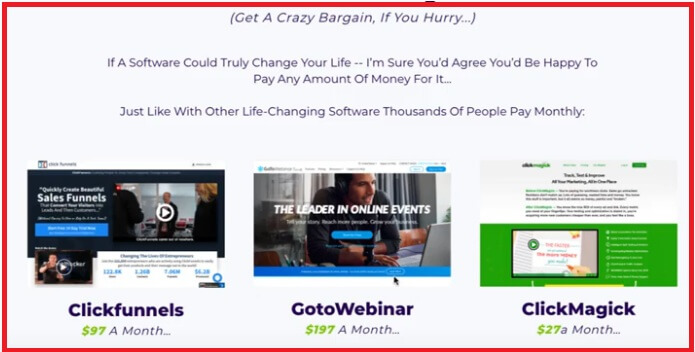 Click Funnels is a funnel builder, Go to webinars is a webinar builder, and Click Magick is a way to track your clicks online.
So they are completely different high quality software, and therefore shouldn't be mentioned here.
Price & Upgrades
Front End: $17.
Upsell 1: Zing limited editions $39.
Upsell 2: zing automation edition $39.
Upsell 3: Zing Done-For-You edition $197.
Upsell 4: Zing Reseller Edition is $39.
Upsell 5: Zing Luxury Edition is $197.
Pros
There's a 90 day money back guarantee.
Cons
Very poor quality videos. Nobody will come and watch this type of videos on your channel, and you're not going to get any any kind of watch time.
Spammy traffic tactics. Liking other people's channels trying to get them subscribed to you by subscribing to them, it works to a very small extent but it's just not the way to do business.
Lack of any marketing training.
Value claims are just completely made up and fabricated.
What is the business for this type of product? your business is having this software running that goes off and spams other people's channels, and Give people auto replies.
Is that the type of business you want?
The most successful Youtubers out there post videos on a regular basis and get views. They don't use any of these tactics. All they do is try and provide value to people by uploading quality videos.
Is Zing a scam?
Yes Zing is a scam and complete waste of your time and money.
This is probably one of the the worst product I've seen so far after Pockitz.
The software doesn't work, and the tactics used are just terrible.
I wouldn't recommend this scam!

Conclusion
First off, thanks to have read this Zing Software review. I really hope you have gained value from it.
Guys, making money online is the result of learning from a proven system, being surrounded by a great community, and working hard to build your business.
Not by using some scams that only want to take your hard earned money!
My advice to you is stop chasing shiny objects.
If you're looking to start a business online the right way, go ahead and hit the button below over to my #1 recommendation, and I'll take you through the whole process step by step.
If you have any question regarding this Zing review, please consider leaving it below and I'll get back to you ASAP.
Thanks for the support!