Welcome to my Cyclone software review.
Many "Gurus" are promising beginners they can make money online with little to no effort with Done-For-You systems. And Cyclone vendors are some of them.
First thing first, I appreciate you're taking the time to do your own research before giving your money to those "Gurus" out there.
That's the only way you can avoid scams and find the legitimate way to make money online.
But what is Cyclone about, really? How does it work? Will it be able to deliver on its promises to you? Can you really make money by clicking on three simple buttons as those vendors claim? Is Cyclone a scam or legit?
This post will cover those basic questions, as well as provide the pros and cons.
Let's get started.
Cyclone Software Review Summary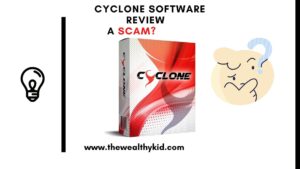 Product name: Cyclone
Vendors: Venkata Romana; Mark Bishop; Al Cheeseman.
Product type: Marketing software.
Price: $17
Upsells: Yes.
Best for: People who want to promote the vendors' products.
Rating: 20/100
Verdict: Cyclone is a cloud-based app that allows you to promote the vendor's products only. But there's no traffic solution, which is pretty bad if you're a beginner. Where and how are you going to generate traffic? There's no free traffic as they claim on the sales page. In fact, the whole sales page is misleading. It's just a typical shiny object aimed at beginners.
Not Recommended if you're a beginner.
==>> If you're a beginner and would like to start an online business the right way and for free, I've something you may want to take a look at: My #1 Recommendation.
Quick Navigation
What is Cyclone software?
In a nutshell, Cyclone is a completely Done For You system that allows you to make money from affiliate marketing with very little effort. At least, this is what they claim.
The software comes from Venkata Romana, Mark Bishop and Al Cheeseman.
Here's an overview of their sales page:
All-in-one self-perpetuating revenue system and it generates income for you.
Multiple done-for-you revenue packages.
Secret stealth mode. Generates revenue on autopilot.
Zero monthly fees or overhead costs.
But as usual with these type of software, what they claim on the sales page is never real.
How does Cyclone work?
The main idea here is you create a campaign. This campaign is your landing page.
Then they provide you with some bonuses to give away to people who are going to join.
Next, you need to promote the vendors' products. In fact, that's the whole business here: only promoting the vendor products to others.
Once you get people to opt-in, they will then refer more other people as well. In fact, when they join, they get an affiliate link that they can use to refer other people.
So Once these folks have opted in, they immediately start getting emails from the system which are automated to start promoting things to them…
Now, this is where the viral piece comes in…
They said it is automated, so there's a couple of pieces of automation on here that they're talking about. one is the fact that it generates viral traffic potentially and the other is the fact that the system in stealth mode, which is just an autoresponder that will go ahead and email people for you.
But the truth is there's no traffic solution at all! All they do is creating affiliate links for you. But where and how are you getting traffic? That's one issue.
I'll explain that in more details later in this review.
Inside Cyclone
One thing you should know is that Cyclone is exactly similar to another product from the same vendor called Expansion.
So whether it's a re-release or they've just repackaged it in a different way. But this looks exactly the same product.
The Cyclone software is cloud-based, which can be good as far as a newbie is concerned because you don't have to buy anything to use it.
But I don't like these kinds of apps because it means that you're not in control of anything that goes on with your own business.
Imagine you ever create these revenue builders with this page and suddenly the vendors decide not to support this anymore, then you're screwed.
Let's explore the different features: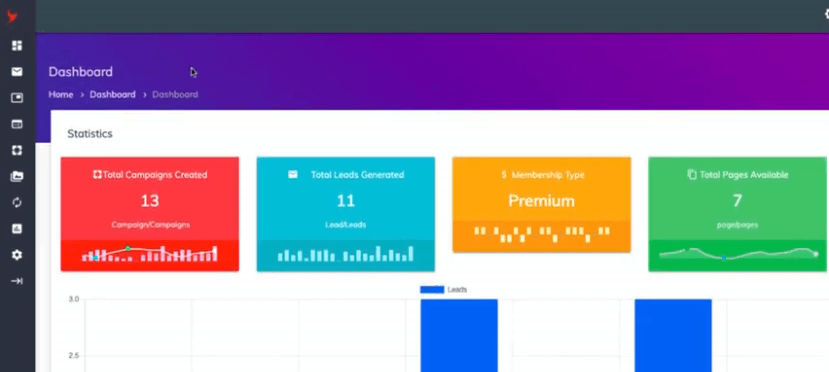 Dashboard
You've got the dashboard which is giving you kind of the total campaigns created, total leads, your membership type, and the total page available you have.
Traffic package
This section allows you to go ahead and create campaigns to generate traffic.
But the system is not generating traffic for you, it's just generating a referral link for you, which you then have to share.
So you would share this referral link to somebody. They would then opt-in and they could use this link to share to others.
I think this is a little bit confusing just like Beast Funnels I reviewed not so long ago. They operate as a pyramid scheme.
Campaigns
This is where you would go ahead and create the campaign. You have the ability to add:
Campaign name.
The number of referrals.
Select opt page.
Redirect page.
Prize title.
Prize description.
Prize link.
Save changes.
Page
This section gives you access to the bonus pages they provide to you.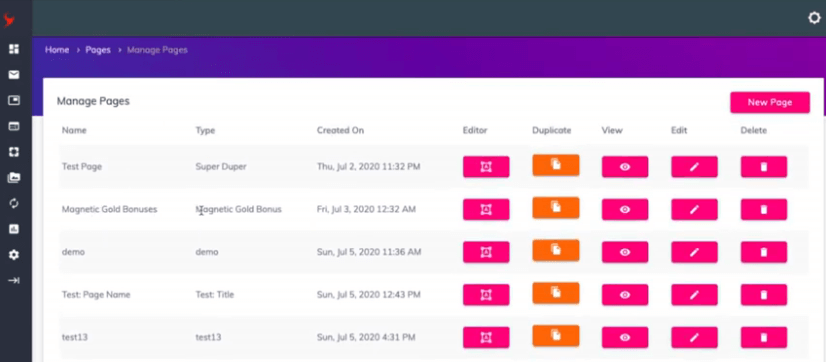 You could pick one and use that as one of your bonus pages. Those bonus pages are nice looking.
Here's an example of what they look like: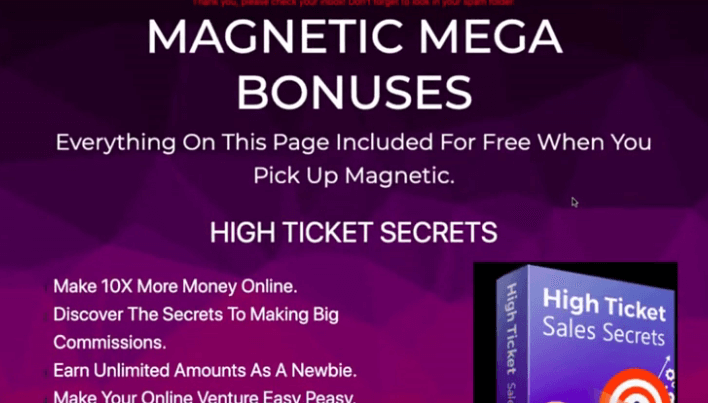 Editor section
This section allows you to edit your bonus pages.
Products to promote
Here are some products they have available for you to promote:
Scope.
Ripple.
Multiply
Amzng
Magnetic
Hypnotic
Infinity.
They all belong to the vendors. So, basically, the business here consists of selling the vendors products only.
This whole thing is a great win-win for them because you're buying this product to them, then go ahead and promote their products to others.
They're pretty much-recruiting affiliates by selling this product.
And what they're really doing on their site is providing you with the lead and the bonus pages to be able to come along and promote their own products.
Bonus Blocks
This is one of the upgrades. It gives you the ability to create more bonus blocks to fit into your bonus page.
What I like about Cyclone
The only thing I like about this software is the bonus pages. They look good.
What I don't like about Cyclone
Traffic referral
This piece is going to be no good. Obviously, the advantage of having a referral link is that you're getting more and more people to direct towards your particular links. But here, you're actually getting people to recruit more and more people.
If you're a beginner, you're not going to get any big clicking on your link. I mean where are you going to get that traffic from?
That's the main issue with that software. They never provide you with traffic. All they do is give you the ability to share or create your affiliate links.
But you as a beginner, how are you going to get that traffic? Are you going to spend your all-time chasing people like an MLM business? Are you going to use solo ads? I don't recommend solo ads if you're a beginner.
At the end of the day, this isn't really automated traffic generating system.
The whole sales page is misleading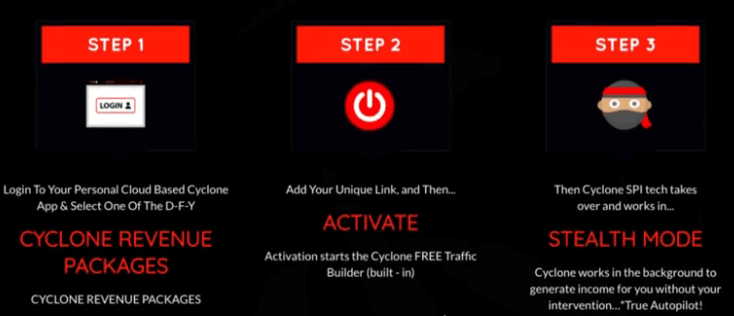 The sales page makes it look easy. As if you are going to click three buttons, sit back, relax and let the money come in LOL.
The way it really works is, you won't get any traffic from that. It's not automated as they claim.
Cyclone Pricing and OTO
The front end which they call the core is $17
OTO 1: Storm $67
OTO 2: Tsunami $67.
OTO 3: Instant traffic $97
OTO 4 Agency License $47
OTO 5 1k every week $197.
Pros
The pages look good.
There's a 30-day guarantee.
Cons
No traffic solution. Traffic is the fundamental floor of any of this kind of shiny object products. You're going to have a problem getting traffic.
Not unique. I've already reviewed similar software on this website. A lot of vendors have created the same shiny objects like this one.
The value claim. They always claim that the software is worth thousands of dollars. But, why would they sell that to $17 only? Even if we include the upsells.
Misleading sales page. They make it sound easy for you. They're selling you a dream, that you can easily make money online with no effort!
There's No Business here. As far as I can see, the business is paying to be an affiliate for the vendors and spending your time trying to promote a random referral link to people.
I don't understand what the long-term vision of your business is if that's what you have to do.
You pretty much got no control over any other part of this process. Just think about how you'd actually grow this into a proper business?
Is Cyclone a scam?
I wouldn't consider it as a scam. However, it's just a shiny object aimed at beginners.
This is what they always do when they try to get beginners hard-earned money.
All they tell you is to click a single button and everything will work quickly with little to no effort. And if you're a newbie, you'll believe that.
No traffic solution. This alone should be a big red flag.
I think you're going to spend a lot of time setting things up thinking things will work and be very disappointed at the end.
How I make money online
Making money online with affiliate marketing is totally possible. But you have to do it the right way, not as those shiny object vendors make it look like.
In fact, they do it the wrong way.
Remember this: The "systems" and "gimmicks" are not designed to work.
They're designed to keep you buying.
If you really want to do affiliate marketing the right way, have a look at my #1 recommended platform, and get started for free today.
Have any question about this Cyclone software review? Don't hesitate to leave it in the comment section below.
Thanks for the support!