Welcome to my DFY Profit Funnels Review!
Apparently, DFY Profit Funnels can help you generate free buyer traffic, sales and commissions… But is that true?
That's what we are going to find out in this review.
First thing first, I have to congratulate you for taking the time to do your own research before putting your money into any product online.
That's the way to avoid scams, and find the Legitimate way to make money online.
But, what is DFY Profit Funnels about, really? How does it work? Will it be able to deliver on its promises to you? Is DFY Profit Funnels a scam? This post will cover those basic questions.
If this sounds good to you, get comfy and pay close attention because I'll tell you exactly why you need to be careful with this software.
What is DFY Profit Funnels About?
DFY profit Funnels is another product by Glynn Kosky, a Warrior plus vendor. I have already reviewed some of his products before.
To be honest, I don't think it's quite different from most of the others.
The idea here is DFY Profit Funnels is a three in one app that allows you to create products, e-books, covers, and most importantly, it allows you to create the funnels.
Inside The DFY Profit Funnels Software
This is a cloud based app, with the usual dashboard.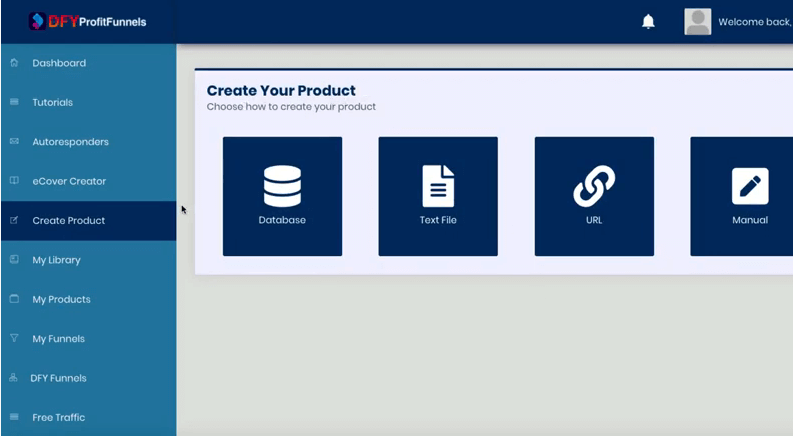 All of those applications they release are virtually the same, they might just add one or two things.
Now let's explore the main features of this software.
Tutorials
This is the training videos by Glynn sowing you how to add covers to your products, how to edit your products, how to set up your funnel, to add an autoresponder, how to create your lead or sales products, how to add a product to the system and add a landing page, how to accept payments, etc.
Create Products
This section allows you to create product pages. All you have to do is:
Put some keywords
Repository. This is the place you want to go and get the PLR articles.
Match
Collect
Then you can press the "Find Button". The idea here is to actually create your lead magnet here.
At last you get some articles that you can use. All you have to do is read through all of them, and make sure they all make sense.
Now, if you scroll all the way down, you can see a "create" button that is going to allow you to create your e-book.
The problem here is you don't know where this information comes from, you have no idea if you can use it or not, but this is what the system provides to you.
Library
This section allows you to manage, or finalize with your e book creation.

Once you enter all the necessary details and save the changes, it will show you your e-book.
So, it just gives you an e-book and does allow you to create some form of lead magnets.
Here's how your products show up in the library:

You can use as many products as you want using either their PLRs, or an external source.
My Funnels
This section gives you the ability to build funnels from either the products you create in the system, or you can simply go ahead and create from the product you got already done for you. Which, is the point of this product.
Then you should see an "add my product" section here where you can connect the product you have created.
You can also just use their own PLRs products they provide to you. But the truth here is that most of those products are really of low quality.
Free Traffic
Evey single one of these vendors use the same traffic system.
Inside the free traffic section, Glynn Kosky tells you to register with one of his products called "The Affiliate Lab". But keep in mind that this product doesn't work at all! The funniest part is it's still being sold to people.
Of course they are giving it for you on this one, but this is just to get your email address.
Pros & Cons
Pros: What's good
Cons: What's not good
No Traffic. You won't get any traffic from this unless you have an existing traffic source. Even if you do, you certainly don't need this type of applications to build a business online.
Hosted by them. You don't own the business, and if everything suddenly collapse, you'll lose everything. This kind of software are never supported after a few month, that's why they always have new releases all the time.
Creates low quality products
No real business here.
==>>If you're looking to build a long term sustainable online business, have a look at my #1 recommendation below.
What I like about DFY Profit Funnels
100 day money back guarantee
Apparently there is a 100 money back guarantee, which is pretty good.
What I don't like about DFY Profit Funnels
The sales page
When you land to the DFY ProfitFunnels sales page, you can see the heading saying…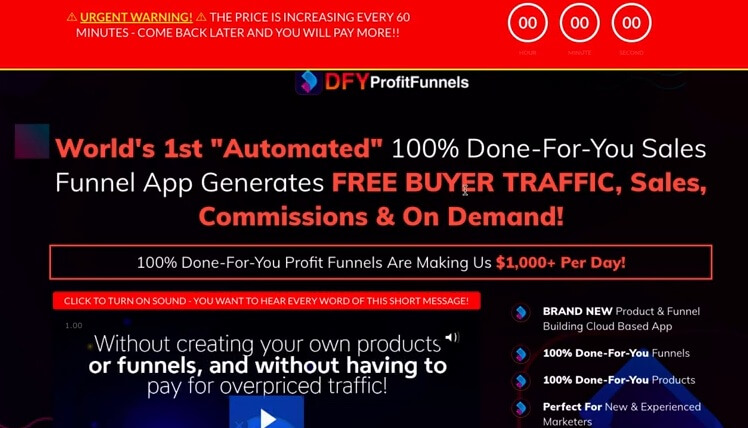 Now, on one of their first products called Auto Profit Sites you can also see this: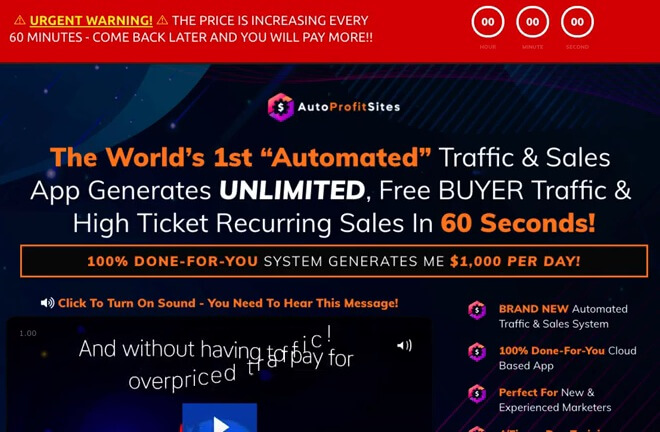 As you can see, this is basically the same page repeated over and over again. There's no effort to create new high quality products.
Attaching big marketer's names to their products
The usual thing they are doing these days is to attach some big marketers big names as if they have something to do with their product.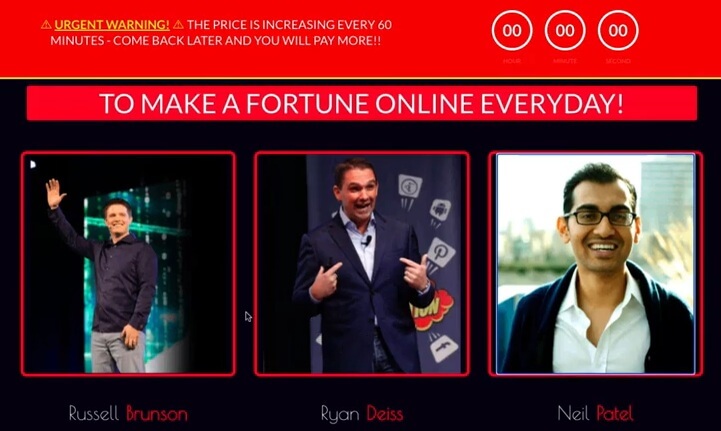 He is talking about Russel Brunson, Ryan Deiss, and Neil Patel as if they also use this product. The idea is to make the product looks more legit, because if people see those well known marketers here, they could easily trust this DFY Profit Funnels Software and therefore purchase it.
Also, sales pages can be expensive, which is why now a lot of these vendors are just having the exact same sales page. It doesn't matter the vendor at the moment, they all seem to be using this exact same format.
So, they are obviously saving money on the sales pages.
You won't get any Traffic
The main issue with this kind of software is the traffic. You are not going to get any traffic with this. Even if you spend lots of hours trying to build something within this application, you won't get any traffic over to your funnel.
I mean, why would people be attracted to your funnel? Why would they be bothered? Why would they buy those awful products? Yeah, because those products are truly awful.
As far as I'm concerned, this is not going to be worth of your time.
Price & Upgrades
It is always the same with most of these Warrior plus products.
Front End: $17
OTO 1: Unlimited version $67
OTO 2: 100% Done-For-You $97
OTO 3: Unlimited traffic $147
OTO 4: $30k in 3oo days version $147
OTO 5: Super affiliate version $97
OTO 6: License rights $147
OTO 7: Auto Profit Boost $47
So, you can spend up to $600 in this software.
If you read my 10x Profit Sites review, you'll notice that these are the same upgrades. In fact, Glynn Kosky repeats the same process over and over again. Every product he creates is the same, he only makes a few changes like the color and the name of the product. All with the only goal of multiplying his chance of success.
Is DFY Profit Funnels a scam?
First off, thanks for reading this DFY Profit Funnels review. I really hope you've gained value from it.
I wouldn't consider this software to be a scam. But I wouldn't recommend it. It's just a low quality product that won't give you any traffic.
One thing I've noticed with this type of products is, once they see the ugly truths of their product is being exposed, they don't support it anymore, and create a new one. This is why most of their products are always similar.
Every time you see this type of products online, you need to step back and really think about what you are trying to build here.
My advice to you is, Stop chasing shiny objects.
If you're looking to build a long term sustainable online business, and get started the right way, you should have a look at my Top Recommendation.
This is where I'll take you through a very honest method for building a long term sustainable online business.
DFY Profit Funnels Review Summary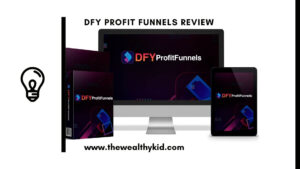 Name: DFY Profit Funnels
Vendor: Glynn Kosky
Product Type: Software
Price: $17
Upsells: Yes
Rating: 20/100
Verdict: This software is Low quality. Plus, you won't get any traffic, meaning No Sales. At last, it's simply not needed.
Not Recommended! Invest your time and money elsewhere.
Have any question regarding this DFY Profit Funnels review? Don't hesitate to leave it in the comment section below, and I'll get back to you ASAP.
Thanks for the support!