Welcome to my Click Wealth System Reviews!
Many people have been successful earning income online through affiliate marketing. But, nowadays it's so unfortunate to see some online programs using it the wrong way!
First off, I must congratulate you for taking the time to do your own research before buying into any "apparently" good product online.
That's the way to avoid scams, and find the legitimate way to make money online.
But, what is Click Wealth System about, really? How does it work? Will it be able to deliver on its promises to you? Can you really make $10,000 a month without effort as the owner claims? is Click Wealth System a scam or legit product? This post will cove these basic questions, as well as provide the pros and cons.
If you are ready, get comfy, grab a snack, and pay close attention because I will give you an honest and unbiased Click Wealth review, to help you make an informed decision.
Click Wealth System reviews Summary
Name: Click wealth System
Product Type: Affiliate Marketing Training
Owner: Matthew Tang
price: $9 front-end
Upsells: Yes
Rating: 20/100
Verdict: The product costs only $9, sounds great. But, this amount is just the front-end. This is just a way to get you through the door, so you will buy the actual upsells. Not only that, Click wealth System provides you with a landing page which allows you to push traffic to, and actually sell their own products. They're doing Affiliate Marketing the wrong way!
Not Recommended! Invest your time and money elsewhere.
Quick Navigation
What is Click Wealth System?
According to the Owner(Tang), Click Wealth System is a done-for-you system that allows you to start affiliate marketing, by collecting people's emails through a squeeze page they provide to you, and then sending these people email messages recommending products through your affiliate links, and then earn money whenever someone makes a purchase.
In case, you don't know, Affiliate marketing is a legitimate business model. But Unfortunately, Tang is using it the wrong way.
To be honest with you, Click wealth should be defined as follows: A Done-For-You system that allows you to promote the Click Wealth System only.
Yeah, because this what this system is all about.
Pros & Cons
Pros:
60-Day-Money back guarantee.
Cons:
Deceptive Sales technique
You have to keep buying traffic if you want to make money.
They do Affiliate Marketing the wrong way.
==>>Tired of scams? Here's my #1 Recommended Training!
How does Click Wealth System Work?
Here's how the system works:
The program basically provides you an optin page. What the optin page does is, allow people to sign up to a list you can have in Get Response, and then go over to their sales page, which is actually for Click Wealth itself. Then, they go ahead and potentially purchase, and the product creator makes the money.
Now, once you purchase and go inside, you become a member. But what they ask you to do, which is absolutely dangerous for beginners, is actually buy solo ads. So they recommend a bunch of solo vendors which they are calling "Influencers" that you can purchase solo ads from.
By the way, I have reviewed others ClickBank products like 12 Minute Affiliate for example, where the vendor is getting you to buy the traffic for them, to sell their own products.
It's quite a clever strategy. But for you, as an individual, you are more than likely to lose lots of money doing this.
So, once you become a member, you are encouraged to sell the Click Wealth product.
After completing the $9 front-end payment, you'll be offered the upgrade options.
If you decide not to upgrade, you'll be offered a $50 discount. In fact, the main purpose is to sell you a bunch of upsells.
Once you still decide not to purchase, they will submit their 2nd upsell.
It seems Matthew Tang is trying to squeeze you for as much cash as possible.
If you finally decide to purchase the traffic and all the other upsells, you will be up and running. But what they don't tell you is that, if you don't buy traffic, you can't make money. The whole system is designed only to sell Click wealth.
Inside The Click Wealth System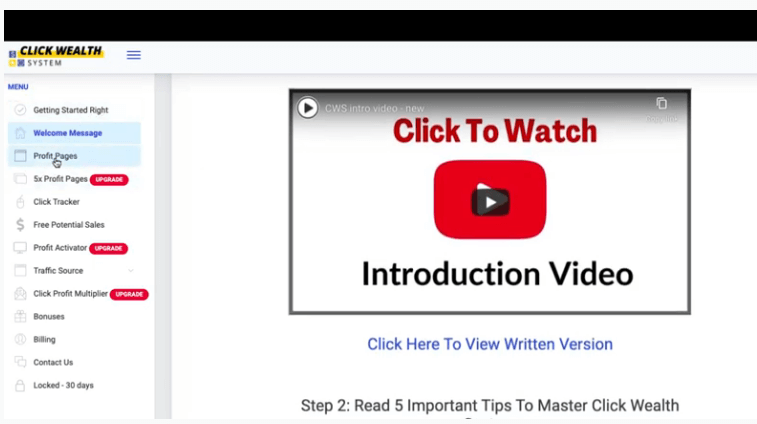 Once you're inside the Click Wealth System, you will see a menu on the left-hand side, containing various features. Let's explore them one by one.
Keep in mind that, after the welcome video, the rest of the training is on PDF.
1. Profit pages.
This is where you have access to different squeeze pages, and every single one of them link to Click Wealthy. So, you choose one of these and decide which squeeze page you want to pay for traffic to go for. That's your profit pages.
2. Click Tracker.
It allows you to track your traffic sources. To know which ones are converting or not. But to be honest, this is not something you actually need, especially if you are a beginner.
3. Free Potential sale
Tang says it's a bonus that allows you to get 100 free clicks to your affiliate link.
Alright, now you may be impressed. But, the question you should ask yourself is, are those free clicks from quality prospects? Or they are actually fake. Because quite frankly, I don't think you will make any sale from those clicks.
4. Traffic Source.
They give you access to two types of Traffic source:
A- Influencer traffic
This is where you are showed some influencers traffic packages available to purchase. You have three options:
purchase Roy's Traffic
Purchase Jasdeep's Traffic
Purchase Matt's Traffic.
Those are solo ad guys. They have various level of traffic as you can see below.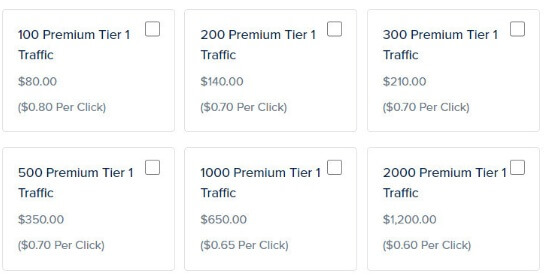 This is the cost per click based on the quality they say the traffic is.
Keep in mind that it's very hard to make money with solo ad traffic. As I always say, buying traffic doesn't mean you are going to make any sale. That's why I don't recommend this route.
If you are interested in buying this kind of products, you have to think carefully before jumping into solo ad.
B- Free Traffic Source
This is where you are given:
PDF on getting traffic from FaceBook- Method 1
PDF on getting traffic from Facebook- Method 2
PDF on getting traffic from Blog commenting.
Now, let's talk about the Upsells
A- 5x Profit Pages
This is just 5 more of the squeeze pages.
Basically what they say is, if you have multiple solo ads, and you drive them to different types of sales pages, you will make more and more money.
But quite frankly, the more likely scenario is you are going to get broke, and get to the point where you have no money left.
Be very careful.
B- Profit Activator
This is where you put all kind of social proofs on the sales page itself to get people to buy.
But, we have seen it before. So, don't be influenced by those types of social proofs. They are all rubbish.
C- Click profit Multiplier
This is an email template that you can paste with some of their other offers and then send to your list.
Again, because it's going to be built up with solo ad list, the quality will be very low. This won't help you much to have any sale at all.
What I like about the Click Wealth Program
The only thing I like about this system is their 60-day-money back guarantee.
So, if you want to take a chance, and want to gamble, I'll leave it up to you to make that decision.
What I don't like about the Click wealth system: Ugly Truths
1- Deceptive sales technique
It's so funny how every day the top bar countdown timer on the Click Wealth System website tells you that today is the last day to get access. Then on the next day, it shows you another date, saying the same thing, again and again.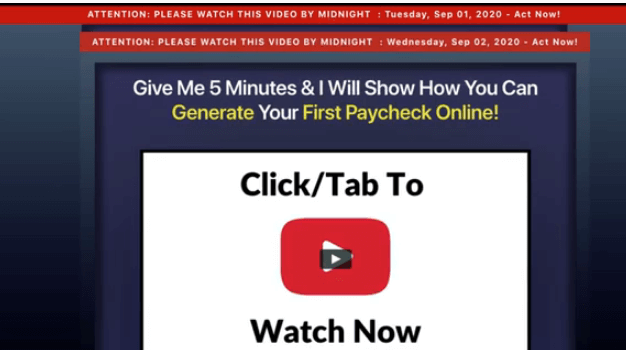 But we all know this is just a marketing technique. This is a tactic usually used to evoke urgency and let you join without much thinking, or doing your own research first as you are doing now.
Unfortunately, many people fall into this kind of trap, and end up regretting it.
2- Exaggerated Income Claims
In Click wealth system, Matthew Tang claims that you can make $10,000 a month.
Even though it is possible to make this amount with affiliate marketing, But not certainly the way Click wealth operates.
I know the sales video shows a ClickBank earning screenshot, then an email from a supposed member making money following Click Wealth system, but that's not true at all.
You would be surprise to see what people are capable of to sell you something. Don't believe all what you see on the internet. Otherwise, you may end up losing lots of money.
3- Click Wealth does Affiliate Marketing the wrong way
Affiliate marketing is the process of recommending other people products or services, and earn a commission when someone makes a purchase through you.
In affiliate marketing, you get to choose your niche, and any product you want to promote.
But, with Click Wealth, you don't have the opportunity to choose the product. In fact, you are forced, if not imposed to sell only the Click Wealth program.
That's not how affiliate marketing works.
If you want to learn more about affiliate marketing, I have created a full guide for beginners. You can Click Here to read it.
4- Too many Upsells
As I already mentioned earlier in this review, the $9 amount you pay to join the product is just a so called an "up front" payment.
This is a sales technique used by most people nowadays. And this is how they make money.
Let's be honest and realistic here, With Click Wealth, you can't make money if you don't buy traffic. But they don't tell you that before you join.
In fact, you'll buy traffic for life! is that the type of business you want?
there are honestly better programs out there that teach you how to generate free traffic and do affiliate marketing the right way. Programs like Wealthy Affiliate For instance…
Is Click Wealth System a scam? Final word
At the end of this Click Wealth system reviews it should be remembered that this is a program that allows you to sell only Click wealth. That's all, nothing more.
I wouldn't consider it to be a scam though.
But, you really need to think twice before joining. Because I think a lot of people are going to lose a lot of money trying to make money with this system.
With this type of systems, you will buy traffic your whole life. Is that what you want?
That's not all, the problem with Done-For-You systems is that you don't own the business, and if everything suddenly collapse, you won't have anything left. You won't even know how to generate free traffic.
mind you, affiliate marketing is the process of learning from a proven method, be surrounded by a great community, and work hard to build your business. Not by using some Done-for-you systems that only want to upsell you.
My advice to you is, Stop chasing shiny objects.
Instead, if you are a beginner trying to make it into the online world, you should take a look at my #1 recommended program.
This is my #1 recommendation because:
It's a proven method
Used by over 1.5 million of people around the world.
It gives you Free training to learn the basics about Affiliate marketing.
It gives you a FREE website as well. Yeah You heard that right. Free training, Free website to start your affiliate marketing journey the right way.
And Much more…
Don't take my word for it.
have any question regarding This Click wealth system reviews? Don't hesitate to leave it in the comment section below, and I'll get back to you ASAP.
Thanks for the support!