Welcome to my 1k Daily System review!
The creator of 1k daily System claims that this software can help you generate $1000+ paydays and unlimited Free Traffic in Under 60 seconds! Is that true?
This is what we are going to find out in this review.
First thing first, I must congratulate you for taking the time to do your own research before putting your money into any software online.
That's the way to avoid scams, and find the legitimate way to make money online.
But, what is 1k daily System about, really? How does it work? Will it be able to deliver on its promises to you? can you really make money with this software in a very short amount of time? Is 1k Daily System a scam? This post will cover those basic questions, as well as provide the best alternative.
I'll explain to you exactly what the issues with this type of systems are, because it's the same product that has been released time and time again by the same vendor, and pretty much the same interface as well. All they do is change the colors, the name of the product and the sales page.
This is an honest review so that you can make a more informed decision before you go ahead and decide to purchase.
1k Daily System Reviews Summary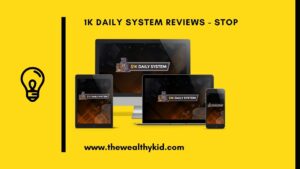 Name: 1k Daily System
vendor: Glynn Kosky
Product type: Software
price: $17
Upsells: Yes
Rating: 20/100
Verdict: No Traffic means No sales. The main issue with this type of software is, because you're a beginner and you have no business established, no following, no email list, you will really struggle to get any kind of traffic over to this type of funnels, and the worst thing you can do is start thinking about using paid traffic such as solo Ads, which is one of the traffic solutions they recommend within the 1k daily System software to try and earn money. If you do that you'll lose a fortune.
Not Recommended! Invest your time and money elsewhere.
What is 1k Daily System About
Here's how the creator describe his product:
100% Done-For-You high commission system
100% free trafficbuilt in
Zero tech skills, experience or maintenance required!
Five figure day training included to get you started
100% beginner friendly – No email list, paid traffic required!
Make sales or we'll send you $75 in compensation
180 day money back guarantee
How 1k Daily System works
This system works in three steps such as:
Step 1: Grab your copy
Step 2: Login and configure some settings, and enter your affiliate links
Step 3: Wait to see if you can make any income.
Pros & Cons
Pros: What's good
Cons: what's not good
Not newbie Friendly at all
Hosted by them. This is a problem because if they don't support this in the long term, you'll lose everything. These products are released every single month. So, they won't even have the staff to support this type of products in the long term.
Need to have an Autoresponder. If you are setting up any kind of system like this you need to be capturing people's email addresses, because people rarely make a purchase the first time they arrive on your funnel.
sales page Misleading. On the sales page they say "no email list required" but that's not the way to market online. Email is still the most powerful way you can get people's attention.
No Traffic solution. You can't just throw affiliate links all over the internet as 1k daily system teaches, and hope someone is going to click on it.
What's the guarantee? 30 or 180 days
==>>Here's the best way to do Affiliate Marketing
Inside 1k Daily System
Let's explore the most important features of this system.
DFY campaigns
This is where you can find a bunch of products to promote. To be more precise, there're four products to be promoted here such as:
Simple Wifi Profits
Passive income system
Project profit academy
Super affiliate system
This are Clickbank products that you can promote. All you have to do is edit them, grab your affiliate links, and share them.
But, quite frankly, you don't need this software to promote them. In fact, you can just go to ClickBank and grab those links, and finally promote them. But you'll need to build landing pages. the only advantage of having a product like 1k Daily System is there's some DFY pages built in here, and you can go ahead and utilize them straight away.
The problem is you'll never learn how to do it yourself if you are using products like this.
Now, if you read my review about Passive Profit Funnels, this is the exact same thing, where you are provided some pages that are your funnels. Basically, this vendor gives you the same funnel every single time.
Create a new campaign
It allows you to pick from a very basic set of landing pages. It's just a set of pre-made landing pages templates that you can pick from. You can edit those templates and do whatever you want.
There's also a social share area that allows you to share your links on various social media such as FaceBook, Instagram, Twitter, etc.
Don't think that you'll get traffic just by sharing your affiliate links all over the internet. Affiliate marketing doesn't work that way. This is why I always think this kind of software is a waste of time. Unless you have an existing following on any of this traffic sources, nobody is going to be bother to click on your link. Unless you share it with your family and friends.
Affiliate Links
This is where your affiliate links are. It gives you the opportunity to preview the sales pages, and if you like what you see, you can grab your links and promote them wherever you want.
Quite frankly I'm not sure those products are worth the money.
Extra DFY Campaigns
If you want additional DFY campaigns, this is where you'll find them. You'll find more products to promote such as:
Partnership to success
Six Figure Success Academy
membership method partnership program
CB Passive Income
Again, those are Clickbank products.
Basically you don't need any of this, you can get your own page builder and set up your landing page, and just direct people towards those webinars. And you can do all of that pretty cheaply.
Anyway, if you want to promote them, Another issue I see is this is all self hosted within the 1k Daily System, and I don't see where you can download these pages and use them yourself.
Keep in mind that these vendors have an history of releasing products every single month, but they don't actually support the product once it's released after a while. So, you are going to end up with a business that potentially disappear overnight.
For newbies, I don't think this is a good business for a long term.
Unlimited Traffic
This is the FaceBook pixel that they put on their own FaceBook pages and tell you it's going to generate traffic.
What I don't like about 1k Daily System
Deceptive sales techniques
On the 1k Daily System sales page, they make the system looks so easy by making you believe that all you have to do is enter your affiliate links, share it, and sit back and wait for the money($1000+) to come in.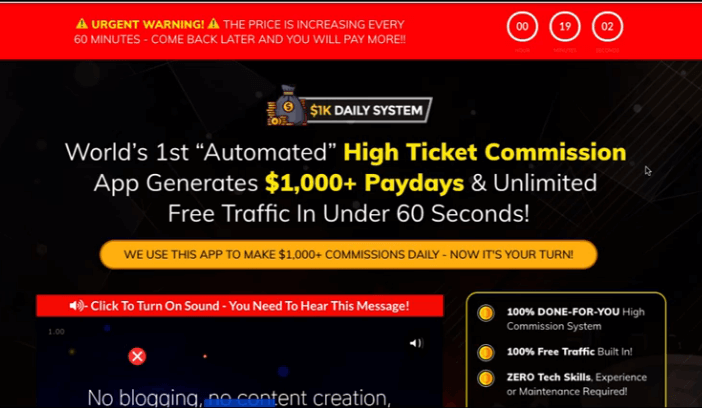 I honestly don't know who is going to believe that. No money will roll in, this is going to take work. The actual strategy itself around building a funnel and having a high ticket offer is great. What you usually do is build up an audience within your own Autoresponder, have some lower ticket offers that your audience is interested in, provide them value, and then try to sell them high ticket offers like those provided inside the 1k daily system.
You can't just grab any old link and throw that on to FaceBook, and then hoping that somebody comes, click on it and willing to pay $2,000 for a product you are promoting. You'd be very lucky if that happens to you.
The Money back Guarantee isn't clear enough

They say you get 100% money back guarantee, "Unconditional 180 day" as you can see from the image above.
But You read, it says "Take up to 30 days to leverage the software & system for 1k Daily System".
So, is this a 30 guarantee or 180 day guarantee? Those two thing don't tie up…
Keep in mind that a lot of vendors from Warrior+ are notoriously hard to get money back. So, be very certain before you want to purchase products off them.
1k Daily System Price & Upsells
Front End: $17
OTO 1: Unlimited version $67
OTO 2: 100% Done For You $97
OTO 3: Unlimited Traffic $147
OTO 4: $30 in 30 days version $147
OTO 5: Super Affiliate version $97
OTO 6: License Rights $147
OTO 7: Auto profit Boost $47
The funniest thing is this is the same products they keep bringing on the market over and over again, they just change the product name, and color, etc.
Is 1k Daily System a scam
First off, thanks to have read my 1k Daily System reviews. I really hope you have gained value from it.
This software isn't a scam as far as I'm concerned. But I wouldn't recommended it.
The issue with this is it's hosted by them, so your business could go straight away. And the another issue is the traffic. You'll need to generate any kind of profits from these offers, but those offers are expensive, up to $2,000 just to become a member. When you make a sale, potentially you can make big commissions, but you'll have to generate lots of traffic to get people that are going to be interested in this type of offers.
Again, making money online is the results of learning from a proven method, be surrounded by a great community, and working hard to build your business. Not by using this type of software.
My advice to you is, Stop chasing shiny objects.
Instead, if you are a beginner and serious about starting an online business the right way, I suggest you to have a look at my #1 Recommendation.
Have any question regarding this 1k Daily System review? Leave it in the comment section below, and I'll be more than happy to help you out.
Thanks for the support!