Welcome to my Livio Software Review!
Livio creators claim that this software can help you start exploiting 2 Billion of potential buyers for limitless free traffic… But, is that true?
We will find out very soon…
First off, I must congratulate you for taking the time to do your own search before putting your money into any "apparently" good product online.
This is the way to avoid scams, and find the Legitimate way to make money online.
But, what is Livio Software about, really? How does it work? Will it be able to deliver on its promises to you? Can you really get free traffic with this software? Is Livio Software a scam or Legit? This post will cover these basic questions, as well as provide the pros and cons.
As usual, these reviews are based on my own opinion, based on my experiences online buying software just like this one. In this case, I'm going to look at it from a beginner point of view, so you can really understand this product before you go ahead and decide if this is a good one for you.
Livio Software Review Summary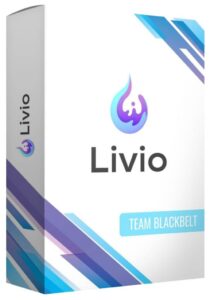 Name: Livio Software
Vendors: Art Flair; Pallub Ghosal; Ram Rawat.
Product Type: Data Analysis software.
Price: Front End $17
Upsells: Yes
Rating: 40/100
Verdict: If you're a beginner, it's a big mistake to use this and have it as the foundation of your SEO management business. The product is so Confusing. It's not a traffic solution, but more like a data analysis tool.
Not Recommended! You can find better elsewhere.
What is Livio Software About?
In a nutshell, This Livio Software is an Analysis tool that allows you to analyse websites.
Whether it's your own or someone else website, this software will give you a lot of different analysis factors and metrics that you can see below.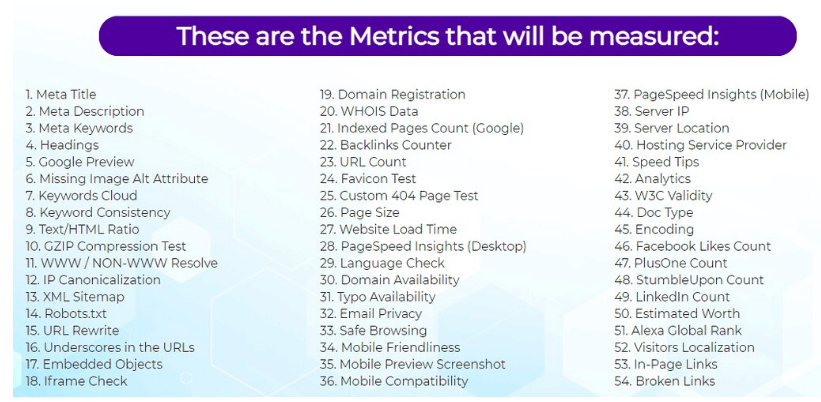 The software was created by Art Flair, Pallub Ghosal, and Ram Rawat.
Here's how they describe their product on the sales page:
Software that automates Tedious and difficult tasks in an easy way.
Generate high quality traffic.
Based on real life case study
Live proofs and case studies
Newbies can drive traffic at zero cost.
I'll tell you what their money-making opportunity they are trying to give you is, and some of the issues I see around that, especially if you are a beginner. All of that, further in this review.
Pros: What's good
Data can be good if you know what you're doing.
30-Day-Money back guarantee
Cons: What's not good
This is not a direct traffic solution. The sales page and the product are two different things.
There're lots of Free solutions out there
Training is Old
Disconnect between sales page and product.
Not newbie-friendly
Making money angle seems to be a form of arbitrage. You're providing a service on Fiverr, but you're using other people to fulfill that service.
==>>Here's My #1 Recommendation To Start Online
How The Livio Software Works
According to the sales page, Livio software works in 3 simple steps as you can see in the screenshot below.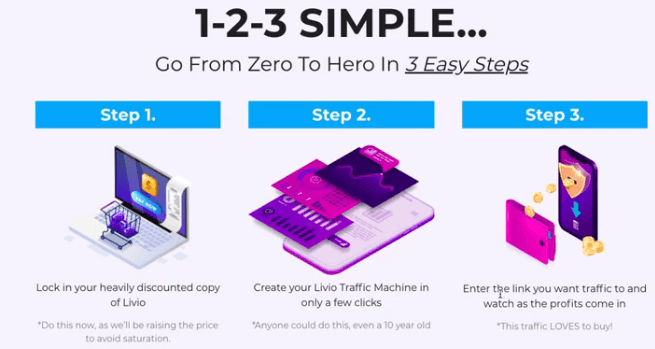 Lock in your heavily discounted copy of Livio
Create your Livio traffic machine in only a few clicks.
Enter the link you want traffic to and watch as the profits come in.
So, the way we understand it is, all you have to do is put your link, and you'll get traffic. Alright, let's see it in more details.
After entering your link and click on "View Report" as you can see below,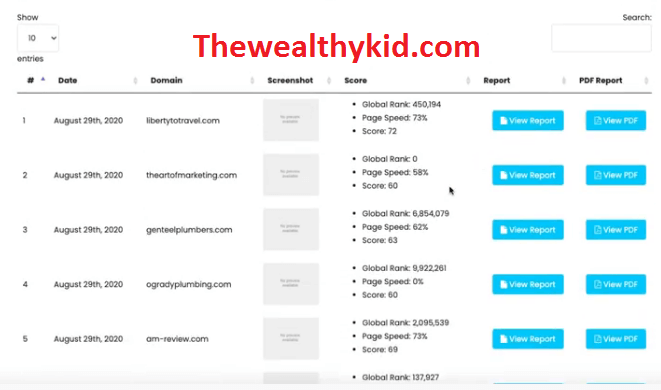 It will then produce report that has many different SEO factors.




It does seem to produce the report, and then gives you warning around the various issues that have been found. So, you can go ahead and look through all of this different type of metrics. It will also give you various piece of advice on how to change them.
Now, Keep in mind that some of these can easily be changed. things like "Meta Title", "Meta Description", "Your site title". You can easily change them in wordpress. No need this software.
Of course if you're a beginner you may not know these stuffs… This is why looking at those metrics can be mind blowing for you.
The idea here is, you have folks on this site that you can connect with on Fiverr or other sites, and then they will change it. But obviously they are going to charge a fee. I'll explain that very well in a moment.
By the way, once all is good with the report, you will have to re-brand it, design it, download it as a PDF file, and then sell it to others. That's the idea.
Quite frankly, this analysis section, if not, the whole software is not needed. Because you can just go on Google and type "SEO analysis for free", and you can get multiple others, better and free alternative tools.
Now, let's see what's inside that App.
Inside The Livio Software
Let's explore the different features of this App.
Site Vs Site
This is where you can compare two sites together.
Recent Sites
This is the recent sites that have already been analysed.
SEO Source
This is where you are getting people from "people per hour" and Fiverr to come along and fix your SEO issues.
But the reality is, all they do is providing backlinks, or some form of guests posts to provide backlinks back to your site. So, there's no really co-relation between most the the stuffs that these guys are doing, and some of the issues your site may have.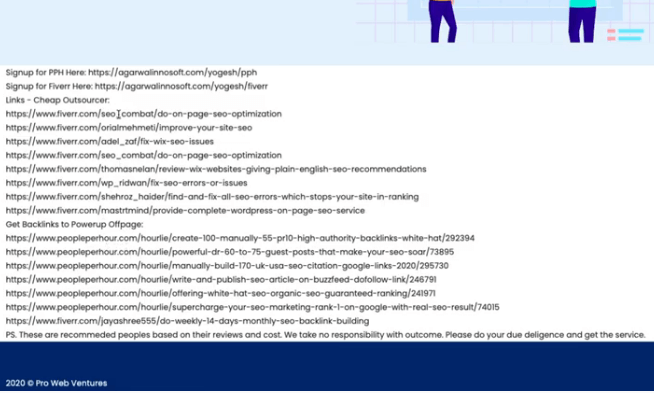 These backlinks can be very dangerous. You can't just trust those folks who are providing them. Stay away from it if you are a beginner.
Keep in mind that, "Any link intended to manipulate a site's ranking in Google search results may be consider part of a link scheme and a violation of Google's Webmaster Guidelines."
Yeah, you need to be really careful.
Contact
There's also some separate training…
Livio Training
Step 1: How to use the software. Not really a case study on how to make money with it.
Step2: Follow the 5RR training. This takes you to their masterclass. It's a bunch of old videos from 2015. Basically, they just take you through the process of building an account on Fiverr. In case you don't know, Fiverr is a platform that allows you to offer services to people or companies, and get paid. I'll discuss the business side of it in a moment.
Step 3: Follow the Riser training. This is more about Freelancing.
Step 4: Follow the slick daily profits.
Step 5: Step by Step guide to $10k a month
What I don't like about this Livio Software
The Software doesn't work the way they make it sounds like
On the Livio software sales page, they say that you only need to enter any website link, and the traffic will come in.
That's not true. The traffic doesn't come after 3 clicks!
In fact, after entering your website link for the traffic to come, you first need to do lots of work to fix all the issues on your site.
I do find it quite amusing that the way they are portraying it and the way it actually is, is completely different.
They just want to make everything seems simple. But the reality is, you put the link in there, you find the data for the site and the issues. Then you sell that in the form of some kind of reports that you have to make on Fiverr for instance, if you set yourself as a vendor.
They say that the business opportunity here is to set yourself up as some form of SEO "Guru", and actually using folks on Fiverr to fix issues.
So, you pretend to be the expert able to fix the issues, then when a client comes to you to fix an issue, you go ahead and find other people on these other sites like fiverr, and they will fix that for you, and all you have to do next is charge your clients.
If that's something you think that you could be happy doing, then this could be something for you.
But as far as I'm concerned, I think it's a mistake for people who don't have a clue about SEO, and i don't think it's something that the vast majority of people will know how to do.
This is not a good way to have a business online. You need some credibility and knowledge before exploring this type of areas online.
==>>Here's My #1 Recommendation To Start Online
There's no case study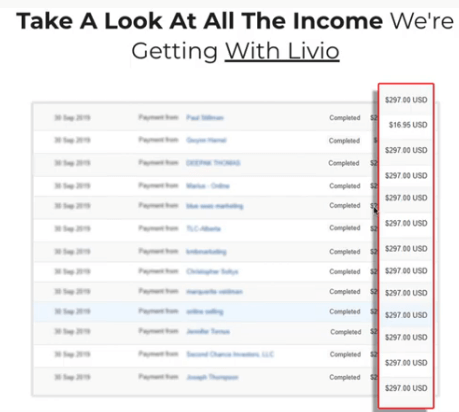 Why don't they show where the incomes are coming from? Where are the case studies they say? Is this money for the report? Is this money for something else? So that I'll use the same to generate this type of revenues as well. There's no case studies here that tells me end to end how this has been used to make money.
Livio software Pricing & Upsells
Front End: $17
OTO 1: Livio DFY ($67)
OTO 2: Livio Case studies ($47)- Why is the case studies provided as an upsell? This doesn't make any sense!
OTO 3: Livio Reseller ($47)
OTO 4: Livio 6-Fig Training ($197)
OTO 5: Livio 03 Traffic Software ($47)
OTO 6: Livio 45 WSOTD ($37)
Is Livio Software a scam? Final Word
First, thanks for reading this Livio Software review. I really hope you have gained value from it.
As far as I'm concerned, Livio isn't a scam. It does provide you some training on how to build an account on Fiverr.
But the main problem is the product is so confusing! On the sales page, they say that it's a traffic generator, but the reality is this is just a standard data analysis tool. It has been sold in a complete different way.
By the way, I've noticed that, It is always the same with all those products coming from Warrior+, they rarely tell you what you're actually buying on the sales page. Products like Matic Software for instance, It's the exact same…
Mind you, making money online is the result of learning from a proven method, be surrounded by a great community, and working hard to build your business. Not by using some software that only want to take money from you.
My advice to you is, Stop chasing shiny objects.
Rather, if you're a beginner trying to make it into the online world the right way, I suggest you to have a look at my #1 Recommendation.
This is where you are going to have:
Free Training
Free Website to start online the right way
Learn SEO and Rank high in the search engines
And much more…
Don't take my word for it though.
Have any question regarding this Livio Software reviews? Don't hesitate to leave it in the comment section below, and I'll get back to you as soon as possible.
Thanks for the support!