Welcome to my Paid Leaf reviews!
It's likely that you want to make money with your social media influence, and you came across the PaidLeaf.com, and now you want to know if it's worth your time and most importantly, if you can make money with it.
Great for you, you are in the right place.
First thing first, I must congratulate you for taking the time to make your own research before buying into any "apparently" good product.
That's the way to avoid scams and find the Legitimate way to make money online.
But, what is PaidLeaf about, really? How does it work? How much to invest to get access? Will it be able to deliver on its promises to you? Can you really make money with this Internet Marketing Program? Is PaidLeaf a scam or legit system? This post will cover those basic questions, as well as provide the pros and cons.
If this sounds good to you, get comfy, grab a snack, and pay close attention because I'm going to give you an honest and objective Paid Leaf reviews.
What is PaidLeaf about? Review Summary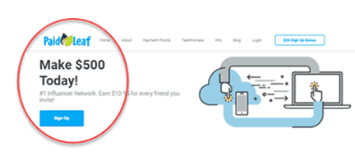 Name: Paid Leaf
Product Type: Paid to Complete tasks
Creator: Unknown
Price: Free To Start
Rating: 1/100
Best for: No One
Verdict: Fake Testimonials, Opaque Transparency, Numerous Complaints, and No Intent to actually pay you! It's a waste of time.
Not Recommended!
==>>Do you really want to make money online the right way? Then have a look at my #1 recommendation below.
Quick Navigation
What is PaidLeaf about?
Technically, PaidLeaf is a social media and influencer program.
At least, this is what they want people to believe…
In fact, they claim to be the "#1 influencer network" and promise to provide people with a way to easily earn $500 per day by simply sharing links on social media.
As a visitor to paidleaf, you are led to believe that all you need to do is merely sign up for free, share your unique link, and you'll begin getting paid around $15 for every person you refer.
From there, your referrals can also do the same by inviting others, and so on.
But the problem is, if everyone keeps creating free accounts on paid leaf, how is paid Leaf making money then?
Based on what they say, they generate their money from ad-spend revenue and sponsorship products is used to pay members.
But that's just BS.
And they claim to have $44,000,000 paid to over 300,000 members.
But, another BS again… Keep on reading and you'll find out why.
PaidLeaf Pros and Cons
Pros:
None
Cons:
Testimonials are Fake!
Owner Unknown
Lots of complaints of people being locked out of accounts
No real payments for users
A scheme to steal and sell your information
==>>Tired of scams? Here's my top recommended Business Model
How does PaidLeaf Work?
In a nutshell, here's how the entire process works:
You sign up and PaidLeaf will credit your account with $25 as a bonus for signing up.
Then you have to share the unique referral link provided to you, and once someone clicks on it you'll earn $2. And $10 if the person signs up.
Complete surveys and earn $30 for each completed task.
But hold on a second… Don't you think that's too good to be true? I mean, is it really possible to make this type of amount just by completing tasks or downloading apps?
The simple answer is NO!
Let's be honest and realistic here, these tasks are only worth a few cents each. That's exactly how you'll find it on legit sites.
Don't forget that all of that is just a way to get your data like personal information, in order to spam you.
By the way, even when completing those tasks, some of them will require your phone number. Why would they need it in the first place?
Only for one reason: To spam and charge you in the future.
So, be careful.
PaidLeaf ugly Truths revealed!
A/Fake Testimonials #1
Here we go. This is becoming very common with these types of programs claiming to be able to help people make money online.
On the picture below, we can see a girl from the Paid Leaf site, as part of testimonials.
But there's a problem though. You can perfectly see that same girl also involved in others online scams like Paid4Clout, RainMoney…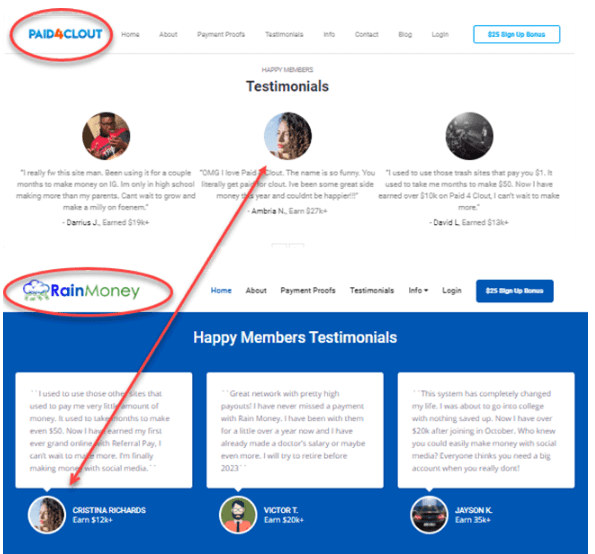 Now you maybe surprise and ask, how on earth is that possible?
Well, the truth is I'm not surprise anymore because I see this all the time with online scams.
Most of the scams nowadays use paid actors from Sites like Fiver.
Yeah, people are actually getting paid to give fake testimonials.
By the way, I review this type of scams all the time.
As a matter of fact, I've reviewed similar scams such as:
B/Fake Videos Testimonials #2
On the PaidLeaf site, you'll see several videos from people claiming to have made money using the system. But again, that's just lies. No, these are just paid actors from Fiver once again.
Look at this dude on the screenshot below…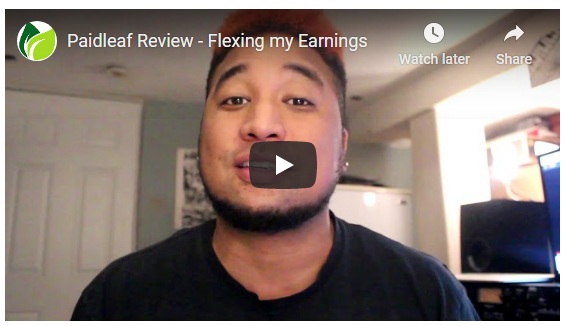 I know this guy because I have done quite a few reviews on ClickBank products, and most of them are fake. That's why it was easy for me to recognize them.
As a matter of fact, here he is on Fiverr…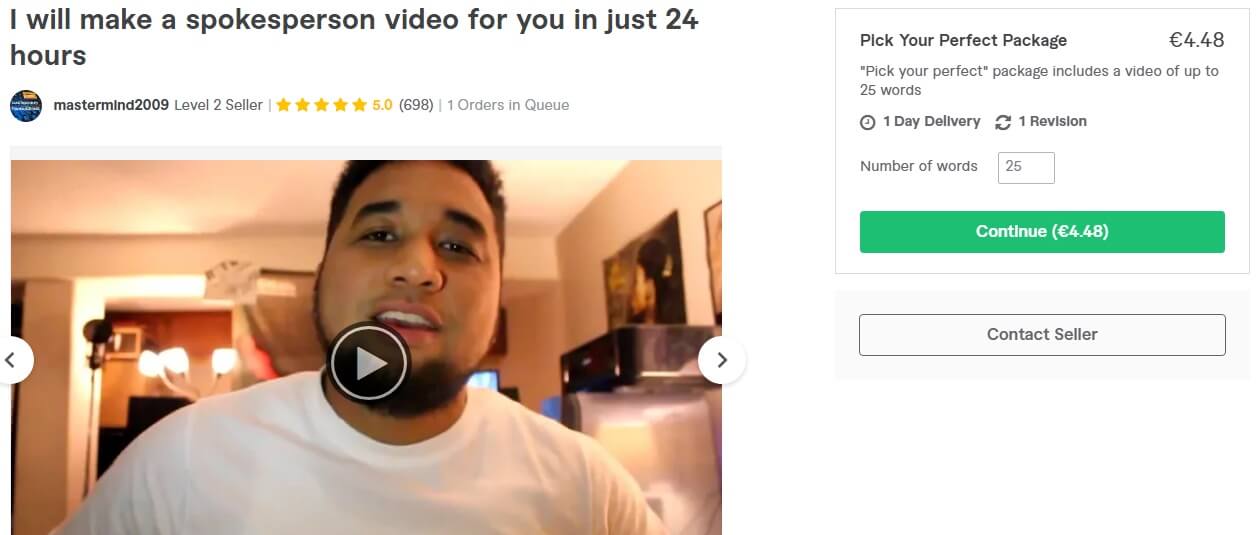 This is where they get their business… They are just paid actors.
C/Fake Income Proofs
On their official site, Paid Leaf has payment proofs dated from February and August 2019.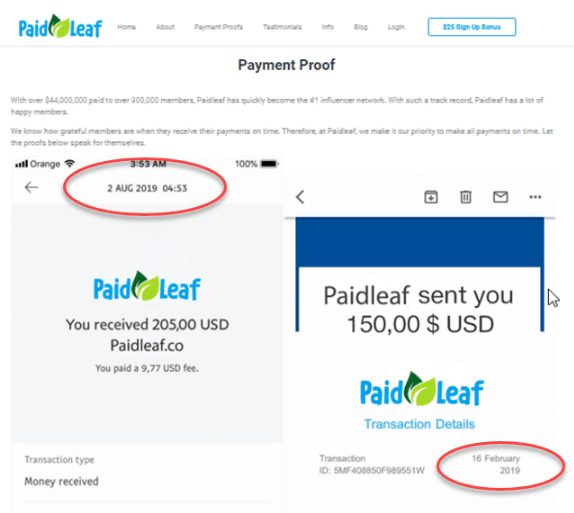 However, during my investigation, I found out that they only launched on September 6, 2019! Check out below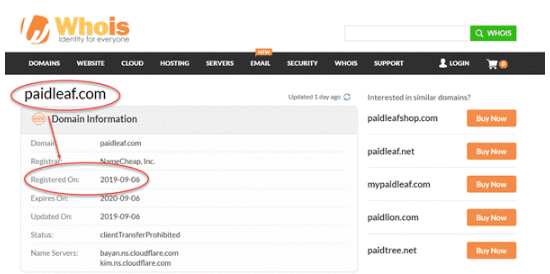 How on earth is that possible to pay their users even before they started the business?
Again, sign of scams!…
D/PaidLeaf Complaints
If you actually go to Trustpilot.com, you'll find reviews from people who have been using the program and completed task, but unfortunately they did not get paid.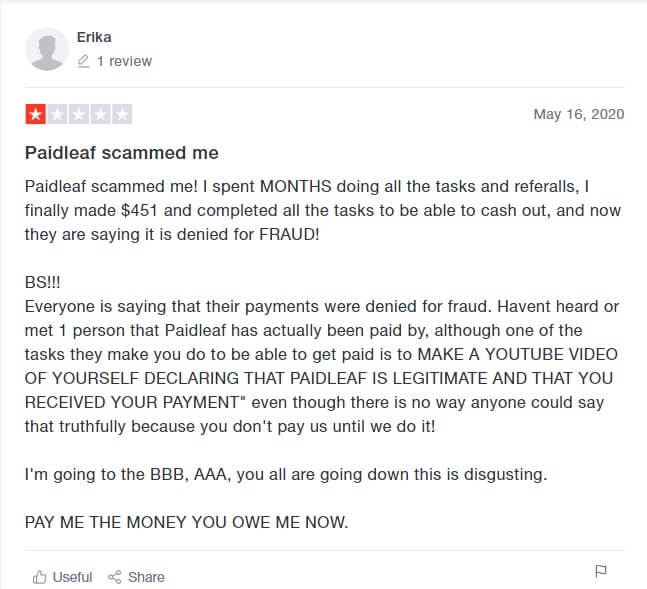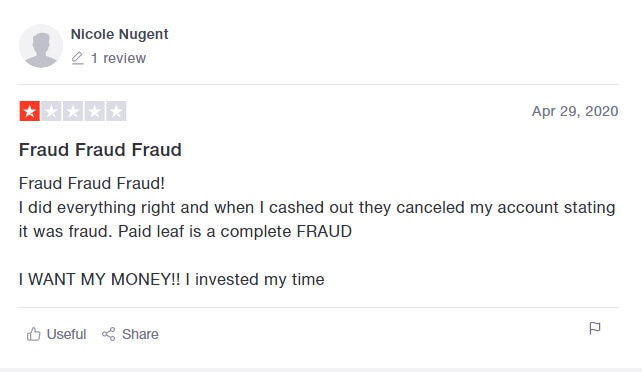 Here are the requirements to request a payment from Paid leaf:
Minimum earning of $200
At least 20 clicks
Minimum of 5 referrals
At least 5 tasks completed.
But unfortunately even though you meet all the requirements to cash out, when comes the payday you won't be able to cash out your money.
Sad reality. And I really feel sorry for those who wasted their time to complete those tasks.
E/No Information About the Owner
The next obvious problem is the lack of information about the owner. This means you can be scammed, spammed, or stolen your money and you won't be able to find who did it.
Can you be in a company without knowing your Boss? I don't think so…
F/Misleading Income Claims
On their site, Paidleaf states that you can actually make $500 each day, only by completing tasks!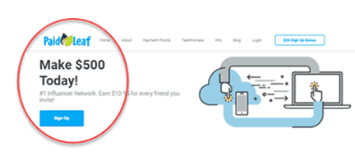 The truth is that can never happen in one day only by doing surveys.
Remember, if something seems too good to be true, it's because its certainly is.
So, stop chasing shiny objects.
Is PaidLeaf a scam? Final Word
At the end of this Paid Leaf reviews, it should be remembered that this network is just a complete waste of time, and they only want to collect all your data in order to spam you.
All the Red Flags raised in this review encourage me to believe that PaidLeaf is a Freaking SCAM!
Stay away from it…
Let's recap those red flags once again:
Fake Testimonials
fake income Proofs
They don't pay
misleading Income claims
No Information about the owner.
Mind you, making money online is the result of learning from a proven method, Be Surrounded by a great community, and working hard to build your business. Not by using some useless program that only wants to waste your time.
So, my advice to you is, Stop chasing shiny objects.
Instead, if you are a beginner and want to make it into the online world the right way, I suggest you to have a look at my #1 Recommended Business Model.
have any question? Please consider leaving it in the comment section below, and I'll get back to you ASAP.
Thanks for the support!