Welcome to this Click Earners review.
Many platforms promise to help beginners start an online business but only a few are really legit.
First thing first, I appreciate you take the time to do your own research before putting your money into any product out there.
That's the perfect way to avoid scams and find the legit way to make money online.
But, what is Click Earners about, really? How does it work? Will it be able to deliver on its promises to you? Is it a scam? This post will cover those basic questions.
let's get started.
Click Earners Review Summary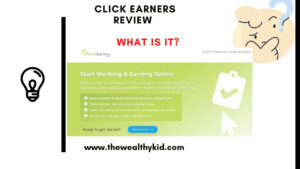 Product Name: Click Earners
Product Type: Freelance site
Price: $57
Upsells: Yes
Rating: 1/100
Verdict: Click Earners is a site that allows you to search for various virtual assistant jobs and offers you some PDF where you can learn about virtual assistant. Unfortunately, that information is very basic and can be found for free on the internet. Plus, you don't need this site to apply for those various jobs. All you have to do is search for them and apply for free on your own. Meaning, this site is useless.
Not Recommended! Invest your time and money elsewhere.
==>>If you're looking to build a long term sustainable online business, check out my #1 recommendation.
Quick Navigation
What is Click Earners about?
In a nutshell, Click Earners is a platform that promises to show you how to become an online assistant.
According to the owner, this site is going to teach you how to make money in your spare time by working as a freelancer.
But the reality is these are just some basic PDF that provides basic information about virtual assistant.
And all the information on these PDF can be found for free on the internet.
How do Click Earners work?
Once you get on the site, you need to register. Here's the process:
The Registering process
The registering process is composed of three pages:
The first page requires you to answer four questions such as:
Do you regularly have access to the internet?
Are you reliable and trustworthy?
How many hours per week are you available?
Are you happy to work from home?
Once you are done, press continue.
Then a new page will appear, a form of decision process which is a bit strange, because they are going to accept you whatever you say here.
Finally, a third page will pop up and tell you have been approved and all you need to do is choose a membership and activate your account.
The membership is divided into two categories:
Lifetime access for $57 or
12 months access for $27
Be aware that there are a few upsells that they are going to try to catch you with on the way in.
Click Earners Upsells
This includes:
10 easy ways to earn online today for $6.76
How beginners can earn $100-200 a day from bitcoin without investing. This costs $12.77
Envelope filling from home. $47
Mystery shopper and secret dinner work $37
Finally, you are being flagged for an upgrade to VIP for $3 for 7 days, and then after that, it's $14.97 per month.
That's it for the upsells.
Once you get access to the member's area, Here's what they ask you to do:
Download the operation manuals. It's in PDF format.
Follow the instructions within the manuals to get your virtual assistant business setup
Search the various platforms for suitable tasks
Basically, this is a marketplace that is going to allow you to find jobs.
What I like about Click Earners
Unfortunately, there's nothing I like about this site.
What I don't like about Click Earners
Poor basic information
The information inside the Clickearner.com site can be found anywhere online and for free.
For instance, one of the manuals you get is "working from home as a virtual assistant".
This is just a manual of 11 pages that teaches you all about virtual assistant. It doesn't really give you any advice about where to get started.
All it does is provide you with some sites where you can get work as a virtual assistant.
Those sites are:
Keep in mind that you can get started on those sites for absolutely free. So, you don't need to get a membership in Click Earners in order to work on those sites.
You can just go straight to those apps and add a profile, depending on your skills and what you are interested in doing, you can also find jobs.
You don't need to go and pay $27 or more to allow you to do that.
Click Earners pricing
Is Click Earners a scam?
I wouldn't consider Click earner to be a scam.
However, I wouldn't recommend it.
Click Earners is just three basics PDF with less than 30 pages.
Basically, you are paying money to get access to what you can get for free on the internet.
They provide you with jobs that you can go and apply for on your own.
Click earner is just a cash grab and you should stay away from it.
Also read Click Wealth System.
How I make money online
There are several ways to earn an income online.
But the easiest and most powerful I have seen so far is Affiliate Marketing.
And this is what I and thousands of people are leveraging to generate money online.
All I do is create simple websites just like this one, where I help people find answers to questions they might be searching for online, and I earn money doing that.
If you are interested to know how I do that, check out this free resource and get started for free today.
Have you been part of the Click Earners community? Do you have any questions related to this topic?
Let me know in the comment section below and I'll get back to you ASAP.
Thanks for the support!