What is CPA Boss all about?
CPA Boss claims that they can show you how to build unlimited passive income machines for $5/day, and turning each of them into $332.25/day in totally passive income. But, is that true? This is what we are going to find out in this review.
First thing first, congratulations for taking the time to do your own research before buying into any "apparently" good product online.
That's the way to avoid scams, and find the Legitimate way to make money online!
But, what is CPA Boss about, really? How does it work? Will it be able to deliver on its promises to you? Can you really make money with this software? Is CPA Boss a Scam or legit? This post will cover those basic questions, as well as provides the pros and cons, and more…
If this sounds good to you, get comfy, grab a snack, and pay close attention because I'm going to give you an unbiased and completely honest CPA Boss reviews, so that you can make your own decision if this is going to be a good product to purchase.
CPA Boss Review summary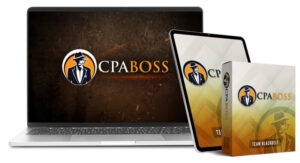 Name: Cost Per Action(CPA) Boss
Owners: Art Flair; Pallab Ghosal; Ram Rawat
Product type: Marketing Software
Price: Front End: $17
Upsells: Yes
Rating: 40/100
Verdict: the CPA Training is fine. But to be honest, as an overall method, if you're a newbie, I would be very reluctant to start with this system. Especially using the paid traffic. Also keep in mind that, this software is very poor, it provides no value to people, but only spam. You're taught to spam the internet. And that's very bad!
Not Recommended! Invest your time and money elsewhere.
Quick Navigation
What is CPA Boss about?
In a nutshell, this is a product divided into two parts: One part is the CPA training course which shows you how to set up a full CPA business, and also gives you a suggestion on how you can get some traffic.
The second part is a piece of software that has been sold as a traffic generator software.
The product has been released on Monday 12th of October 2020 at 11 AM EST.
It comes from Art Flair, Pallab Ghosal, and Ram Rawat. And comes of the warrior+ Network.
CPA Boss pros and Cons
Pros:
Good CPA Training.
30-day-money back guarantee
Cons:
Sales page not honest (High Income Claims)
Software creates spam comments
Paid traffic is a risk.
Not newbie friendly.
Want to do affiliate marketing the right way?
==>>Here's my Top Recommended Platform
How CPA Boss works
Again, the CPA Boss is a combo of Done-For-You CPA traffic software + a CPA training.
CPA training:
There's a number of components that will take you through all aspects of how to go ahead and set up your CPA account, how to pick products, and how to actually advertise those products.
Pallab Ghosal is the one taking you to all of this various modules, and he explains what CPA marketing is.
In case you never heard of CPA before, this is Cost Per Action.
You're actually paid to get people to carry out a certain actions on somebody else product. It's totally different from Affiliate Marketing.
In Affiliate marketing, you get paid when you sell someone else product.
But with CPA Boss, you don't have to sell it, you get paid to do some form of actions.
There are lots of different offers that you can get paid for some forms of action been taken.
For example:
You can get paid for leads. So, all you have to do is make them sign up to an offer, and if they go ahead and become one of CPA Boss lead, you'll get a few box for that particular person.
You can get paid like affiliate marketing for a percentage of the sale.
And you can also get paid for getting someone's phone number…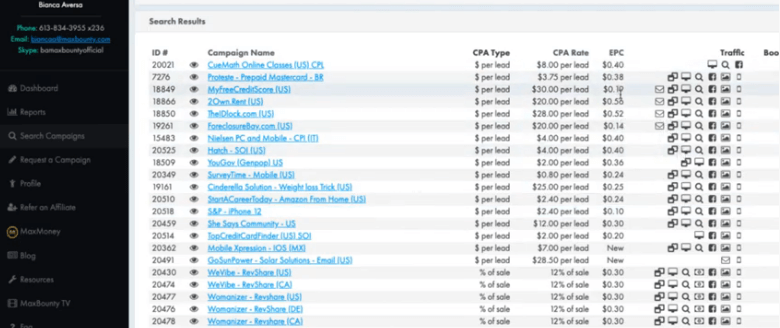 But CPA network is quite hard to join.
You first need to apply to MaxBounty and M4Trix, and you need to prove to them that you have some kind of backgrounds in marketing.
Yes, this shouldn't be a problem if you've been online for a while now and obviously have some experience.
But if you are a complete newbie, it's going to be hard for you to join.
Again, keep in mind that, this isn't like affiliate marketing. This is a lot more difficult.
Now, each one of these offers will also have various restrictions on what kind of advertising they allow you to do. So, just bear that in mind when you come over to those offers.
So, this is CPA training in a nutshell:
It takes you through what CPA is.
How to get accepted in the CPA network,
How to choose the right offer,
And then how to advertise those offers. This is where they are going to use something called "Native Ads". In case you don't know, native Ads are those advertisements that will turn up in the middle of articles that you read online. Have you ever been reading an article on a website, and then suddenly, an Ad pops up? This is exactly what it is. This can be a bit annoying in some websites if you see them all the time. But they are supposed to be placed in a natural way, But certainly not the way CPA Boss does it. They actually expect someone to click on it and go ahead and join an offer…
They will also suggest you to sign up with

Taboola

. This is a site that you pay to get Ads created. It's like an auction, you pay to get your advert on a certain page before anyone else. But, if you are a complete newbie, this is one of my big warnings here. Paid advertising can become very expensive very quickly, and difficult to optimize. Of course it can work using Taboola, but to optimize it and get people to click and take action on it, it's very very difficult. And this is what they're suggesting as your traffic source.
DFY CPA traffic software:
This is a piece of software that allows you to automatically comment on multiple people's videos.
The types of advertisements here is to leave comments on people's videos with the link back to your CPA offer.
Let's see the different components of this software.
Inside CPA traffic software
1. Image editor
As the name implies, this is where you can edit your images. But to be honest, Canva is much better.
2. Campaign
This is where you can search for YouTube videos related to any particular keywords., and then leave comments.
For example if you search for "The best Diet to lose weight", it will show you all videos on YouTube related to this, with the likes, dislikes, and the number of views, and number of comments. This is quite good though, because it allows you to see videos related to any particular niche.
So, once you have chosen the videos, you will see an "Auto Comment" section. This is where you can leave your comment with the link taking to an offer.
In the training, they teach you how to write those comments. They will tell you to put "Google.com" when leaving your link. But Why?
Because they know once you send a comment out with a link, in the most majority of cases, this is going to be caught by YouTube spam filter.
I'm sure you have already seen people leaving some comments on a YouTube video with their Links. See an example below.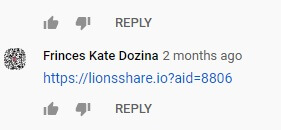 But when they do that, the spam filter on YouTube will catch it and take it out.
But, the reason CPA uses "Google.com" without the "http" on their training is because they know this is not going to be called as a link, but everything else is going to be called.
So, they know by doing this, some of those comments will manage to go through, and someone will see them, click, and go off to buy the product.
Yeah, this is smart, but very very poor and awful as well.
The spam filter of YouTube, or the person who owns that YouTube channel can see that and remove this comment. So, this doesn't guarantee anything at all.
This is really not a good traffic tactic.
You'll have to go there, and keep commenting, and hoping somebody is going to click on your link. So, you create no value for people. This is a shame, because I don't think the training itself was bad. That alone would have been ok.
3. Post template
This is where you can have a standard post to send to everybody. This is even faster to spam people.
4. URL shortner
This is where you can make your link that you try to spam people with shorter.
5. Software Training
this is basically some videos That show you how to spam people.
I'm not a big fan of this whatsoever, and as far as I'm concerned 50% of this product is not good at all.
What I don't like about CPA Boss: Ugly Truths
High income Claims
On the CPA Boss sales page, we can see "How to turn $5 into $332.25/day in totally passive income every single time".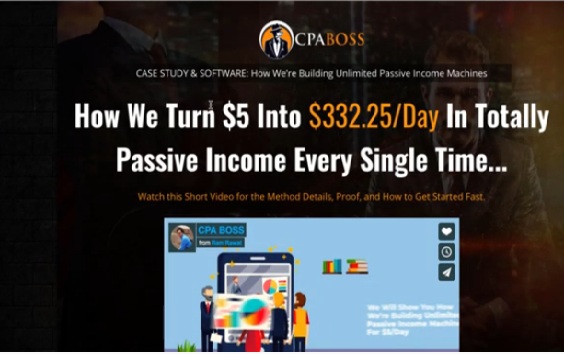 But we all know this is not going to happen, especially if you are a beginner. They make it seems so easy to make money online. But that's not true. It's totally possible to make money online, I mean real money. But not certainly by spamming people as the owners of this system teach people to do.
This is not Affiliate marketing
the owners of CPA Boss claim that, this an affiliate marketing business.
But I don't agree with this. As I already mentioned earlier in this review, Affiliate marketing is the process of recommending someone else product or service, and earn a commission once someone makes a purchase through you.
But CPA Boss doesn't do that. Rather, they teach you how to spam the internet. And this isn't the right type of business.
Many people know affiliate marketing is a legit business model, that 's why many new online system use the affiliate marketing name to get more people. Other programs like Click Wealth System for example does the same. And this isn't right.
Leaving your links everywhere on the net isn't good
With CPA Boss, you are actually taught to leave your links everywhere on the internet, in order to get people to click on any of them, and purchase an offer.
This is not what I call a business.
CPA Boss Pricing plus Upsells
Front End: $17
OTO 1 CPA Boss pro ($37)
OTO 2 CPA DFY pack ($97)
OTO 3 Case Studies ($97)
OTO 4 6x Reseller License ($47)
OTO 5 6-Fig Training ($47)
OTO 6 Traffic Softwares ($27)
Is CPA Boss a Scam? Final Word
Thanks for taking your time to read this CPA Boss review, I really hope you have gained value from it.
Despite the dark sides of this program mentioned in this review, such as Spam the internet with your links, using affiliate marketing the wrong way, I wouldn't consider CPA Boss to be a scam. You get some good training somehow.
But I wouldn't recommend it!
This type of systems might work for experienced marketers. But not for newbies.
Mind you, making money online is the result learning from a proven method, be surrounded by a great community, and working hard to build your business. Not by Spamming the internet as CPA Boss teaches.
My advice to you is, stop chasing shiny objects.
Instead, if you are a beginner trying to make it into the online world the right way, I suggest you to have a look at my #1 recommended platform.
This is where you are going to learn how to start a sustainable online business from scratch with free training, and a free website to start your affiliate marketing journey.
Don't take my word for it.
have any question regarding this CPA Boss review? Don't hesitate to leave it in the comment section below, and I'll get back to you ASAP.
Thanks for the support!