What is Krowd Software?
Nowadays, shiny objects are everywhere. And the product I'm reviewing today is one of them.
First thing first, I respect that you take the time to do your own research before spending your money into any software online.
That's the perfect way to avoid scams, and find the legitimate way to make money online.
But, what is Krowd about, really? How does it work? Does it even work? Will it be able to deliver on its promises to you? This post will cover those basic questions, as well as provide the pros and cons.
Also, I'm going to show you a Free method to do what this software does.
let's get started.
Krowd review Summary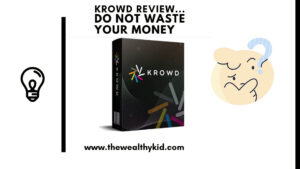 Name: Krowd
Product Type: Software
Vendors: Ventkata Romana; Mark Bishop; Cheeseman
Price: $17
Upsells: Yes
Rating: 30/100
Verdict: Krowd is a Pinterest Marketing software. The whole thing is built around getting loads of traffic but it won't. This is just a shiny object, and the traffic solution is not going to give you as much traffic as they claim on the sales page. Plus, what the software does can be done for free.
Not Recommended! Invest your time and money elsewhere.
Important==> If you have been looking for a legit and perfect way to build a long term sustainable online business, hit the button below and see my #1 recommendation.
Quick Navigation
What is Krowd Software?
In a nutshell, Krowd is a Pinterest marketing software. It's a way you can mimic existing pins on Pinterest, then design your own and then upload them back onto pinterest.
But unfortunately there's nowhere on the sales page mentioning Pinterest. Which is strange. But I'll explain that in more details later in this review.
Here's an overview of the sales page:
You get instant access to 2020's biggest free traffic source…
Krowd unlocks targeted buyer traffic in three simple steps for free traffic…
It's cloud-based software…
It works on any device from anywhere…
They have an emulation system (which is a fancy way of saying you can copy other people's pins that are successful)…
It works in every niche…
Training and support is included…
Is 100% newbie friendly…
There are no additional costs…
And there's a low monthly subscription so you pay once and you get ongoing access
Most of those claims above are not true…
Let's see the members area.
Inside Krowd
On the inside, here's what the dashboard looks like: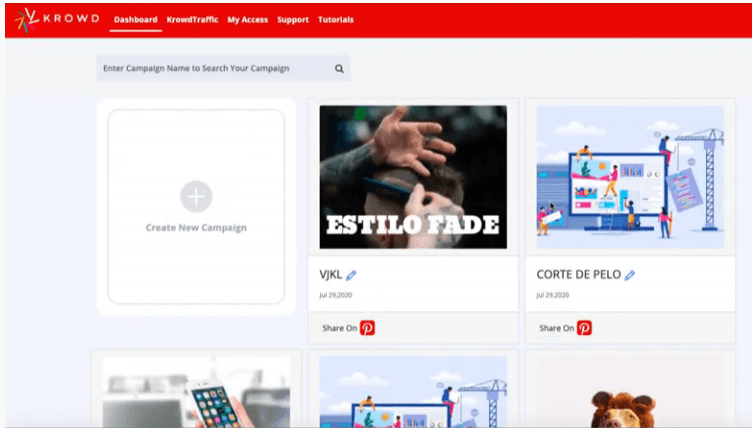 It's a simple members area, and cloud-based application.
Let's explore the different features you have access to.
A/ Krowdtraffic
This section gives you the opportunity to download a theme if you don't have a website. Unfortunately there's no training for this actual theme.
B/ My Access
This section is divided into two categories such as Krowd core and Krowd control.
Basically, these are the sections you have access to. Each one has different function.
Krowd Core
Cloud-based software Monthly Quota: 150 Search, Extract, Emulate & post to Pinterest Monthly. (5 Daily)

Search: Search for high traffic pins ready to emulate in any niche, for any keyword

Extract: Add the pins to the 'Inspiration' section by 'add Inspiration'. Software extracts the titles, descriptions, and tags of the high traffic pins ready to use.

Create: Create pins just like the high traffic pins found in step 2 similar pins like using our built-in ultra-simple image editor

Image selection: select images from Pixabay and Pexels.

Quotes: add quotes similar to pins you added in the inspiration box

Desc: Description, tags, titles can be added manually

Share: Share it on Pinterest manually

Plus: Share manually on Facebook & Twitter as well.
Krowd Control (this is the first upsell)
Same features as FE with the following additions More potential FREE Traffic

450 Search, Extract, Emulate & post to Pinterest Monthly (15 Daily)

Spin – Description, tags, titles added, and spinning content option.

Automatically give titles, descriptions, tags options to choose from Image selection addition: upload your own images
C/ Support
This allows you to get in touch with the support.
D/ Tutorial
This section contains:
Overview video.
How to create a campaign video.
How to edit an image video.
Now let's see how all of that work.
How does Krowd work?
The first thing you have to do is find a keyword…
Once you have that keyword, jump over to the software and use it to find Pinterest pins related to this keyword…
Copy the design of those pins..
And finally uplod them to your own Pinterest account.
Let's see the steps inside the software.
So, inside the software, in the dashboard there's a button that says "Create new campaign".
Hit that button and enter a campaign name…
Press "submit". A window is going to pop up and ask you to enter a keyword to display related pins… 
Hit the search button… The software is going to display all pins from Pinterest and related to the keyword you entered…
Next, all you have to do is come through and just look at what kind of pins are appealing to you and really getting the most traction.
Select what you need inspiration from. In fact, This is what this software allows you to do.
Further, there's an editor section to build one of these actual pins. See what the editor section looks like below.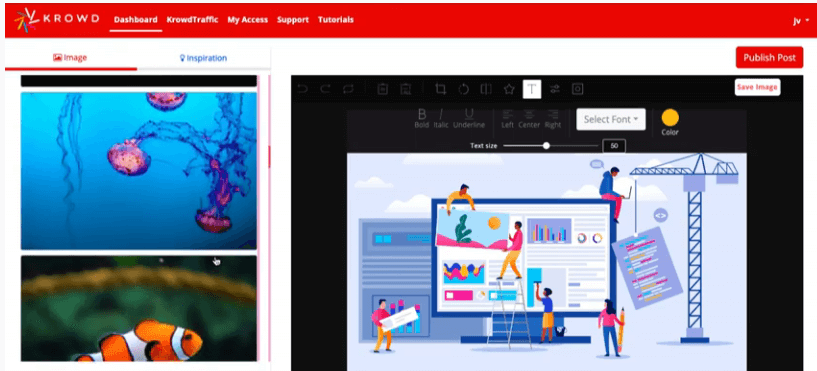 All you have to do is copy this pin.
Editor Section
Keep in mind that those pins are for inspiration only. Otherwise you may end up having copyright issues. So, do not copy.
The editor allows you to change the font, change the color, all sorts of different things that allow you to adjust this to suit a particular inspiration.
Then, you would just go ahead and save the image and finally publish it…
You need to add a description with some keywords obviously, because you need somebody to be able to find your particular pin…
Finally, you add your destination link.
Keep in mind that just because you copy a pin and load it up to Pinterest does not mean you will get floods of traffic like they're saying.
You also have to consider that if you get many clicks on your pin, they can then be sent back off to a website that you've already pre-linked to that particular pin.
So it's a good way to get people to a website in theory.
What I like about Krowd
It shows additional Data
The software can go ahead and drag these pins out for you and also show you how many times they've been liked and re-pinned. So there's a good little bit of data if you're into Pinterest because it's sometimes hard to see what kind of pins are popular.
That additional bit of information is probably the best thing about this software.
What I don't like about Krowd
There's lots of different ways that you can use Pinterest to drive traffic.
But one warning I will give you and the reason I'm not a big fan of this product in particular is that it's promising too much, but the reality of Pinterest is you need to be very consistent and work quite hard to get any kind of traffic from it.
No video pins
The software doesn't allow you to do video pins. And videos pins perform very well on Pinterest. It's a modern thing and get a lot of traction.
Fake income proof
The sales page shows some earnings. But those captures may come from Mark Bishops account.
In fact, Mark is a successful marketer, He sells a lot of products and he obviously owns a lot of money. So this income proof got no relation to Pinterest. He's getting all that from actually selling his products.
Sales page doesn't talk about Pinterest
What's the point of creating a product and not actually mentioning that on the sales page?
There's nowhere on the sales page mentioning Pinterest. It's like some secret application.
This is like they've come up with some secret way of making money LOL.
This reminds me of a similar product I reviewed not so long ago called Slick.
Potentially, if you work really hard at it, Pinterest is a good traffic source for you but you've got to spend months and months building it up. This isn't something that is going to suddenly drive loads of traffic back to your offers only because of this software.
Here's how you can do it completely for free
Because at the end of the day all what this software does is looking at Pinterest for ideas.
You can do it for free
All you have to do is head over to Pinterest, and enter a keyword.
You'll see a lot of popular pins start showing up, and you can get inspiration the same way and for free.
Then you can head over to canva and edit them. Canva is a great place to edit pictures, videos, etc. It's free and a much better editor.
By the way this is what I use to edit my images.
It also gives you the ability to publish it straight to Pinterest, FaceBook, Instagram, etc. See the pic below.
So, you can do the same thing, expect it's Free.
Why would you need to go and spend your hard earned money into this software?
A lot of people on Pinterest use applications like tailwind to regularly pin because Pinterest is one of those platforms a little bit like Tick Tock. You need to be regularly uploading content for the algorithm to really start recognizing your content.
Let's have a look at the price and upgrades.
Krowd Price & Upgrades
Front end: $17
OTO 1: Krowd control $67
OTO 2: Krowd stampede $37
OTO 3: Krowd instant traffic $97
OTO 4:  Krowd Agency  $47 which is the reseller package.
OTO 5: Krowd 7 day to 1k is $197
Pros
Software does collect the pin data…
30-day guarantee
Cons
The traffic, there's no examples of anybody getting traffic in any kind of demo on this. very little traffic from Pinterest unless you really concentrate on putting the content there on a regular basis. I'm talking 10-20 times a day, joining different groups and following people on a regular basis. You have to work really hard at Pinterest to start getting good traffic from it…
You need a following to gain real traction on pinterest….
Not needed. use Pinterest and Canva.
Sales page is very misleading. mainly around the financial area. They are just throwing random financial figures in there that are nothing to do with this actual method….
What is your real business here?
The traffic is too cold with Pinterest, meaning that people aren't interested. They might be just tapping your pin because they like the look.
Is Krowd a scam?
This Krowd software is not a scam.
But don't expect it to get you much traffic.
The whole thing is built around getting loads of traffic and I don't believe it will. This is just a shiny object, and the traffic solution is not going to give you as much traffic as you think it is based on the sales page.
With that being said, I wouldn't recommend it.
Conclusion
Thanks for reading this review. I really hope you have gained value from it.
My advice to you is, stop chasing shiny objects.
If you are looking for a real long-term sustainable business online, hit the button below and I'll give you a free resource that takes you through the whole process step by step.
Have any question regarding this Krowd review? Do not hesitate to leave it in the comment section below, and I'll get back to you ASAP.
Thanks for the support!