Welcome to my Continuum software review!
Continuum creators claim that this software is making them $1,400+ per day, and it can do the same to you. But is that true?
This is what we are going to find out in this review.
First thing first, I have to congratulate you for taking the time to do your own research before purchasing any product online.
This is the way to avoid scams, and find the Legitimate way to make money online.
But, what is Continuum software about, really? How does it work? Will it be able to deliver on its promises to you? Can this software really help you make money? Is Continuum a scam? This post will cover those basic questions as well as provide the pros and cons.
If this sounds good to you, get comfy and pay close attention because I'm going to give you an Honest Continuum review, and tell you exactly why this can be dangerous for you if you are a beginner.
Continuum Software Review Summary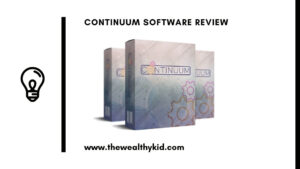 Name: Continuum
Vendors: Jono Armstrong and ZeeShan Ahmed.
Product Type: Software
Price: $17
Upsells: Yes
Best for: Experienced marketers
Rating: 50/100
Verdict: The software is good. But, Keep in mind that this will need additional investment. I mean, there are just too many expenses, and I wonder where does it stop? If you are an experienced marketer that's totally fine. But if you are a beginner with no experience at all, the methods used with this system like paid traffic for instance can be very dangerous for you.
I recommend it to experienced online marketers only.
If you're a beginner, stay away from this software.
==>>Here's my #1 Recommendation for beginners!
What is Continuum Software?
Continuum is a Done-For-You system that allows you to promote high ticket webinars.
The product comes from Jono Armstrong(He's a very well known marketer, probably one of the top reviewer out there) and Zeeshan Ahmed.
Here's how the product is described on their sales page:
Three DFY High Paying Affiliate Offers. You are pre-approved to promote and can make $500-$750 per sale.
Continuum AutoWebinar software. Your ticket to unlimited scaling. The full power of webinars with none of the hassles.
Custom "Unlimited traffic on Tap" Method. This is essentially Google ads. Apparently the program will teach you how to use Google Ads. The exact system they say they've used to make over $2 million.
Beginner Friendly, and step by step training. They say you can get millions in under 8 months by following their training.
Now let's see if the software meets all those benefits.
How Continuum Works
The software is divided into two parts:
A Training part, where Jono Armstrong takes you to the whole process.
Webinar software, which will allow you to create a webinar that people will com along to watch.
To help you have a better understanding of how this software works, here's a diagram: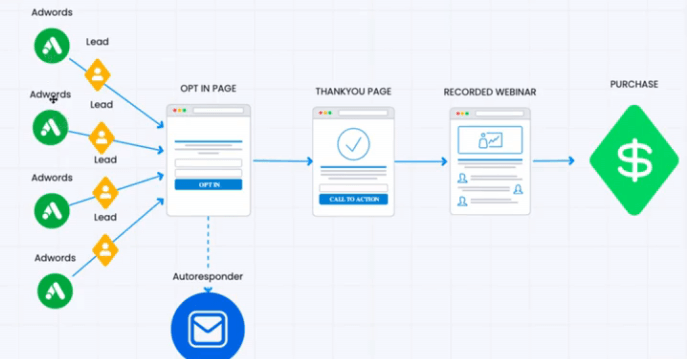 Basically what you are going to do is:
You are going to pay for advertisement with Adwords. They will take you to the training on how to do this.
You get leads and they opt in to a page. They will provide a software that can create a page for you. Keep in mind that there's also an Autoresponder attached to it, meaning additional expenses each month.
Then you have the thank you page.
Finally the recorded webinar, which is this software below.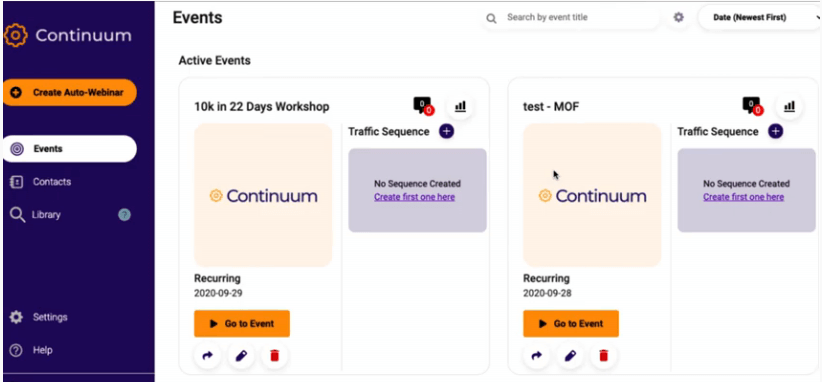 So, the lead goes through all the steps mentioned above, and purchases the product, and you are going to make a commission.
They sell high ticket offers, which is pretty good.
But, if you are a complete beginner, you won't know what to do with those leads you are going to generate. And that's one of the issues I see here.
So, let's recap, essentially what you are doing with this tactic is driving traffic into this funnel above, and then once this traffic purchase the product you are going to promote, you make a commission.
Inside The Continuum Software
Let's explore the different features of this software.
Continuum dashboard.
Once you are in, the first thing you see is a dashboard with a welcome video that walks you through the overall process. Then you have to access the Continuum App(This is your webinar app) right under the video.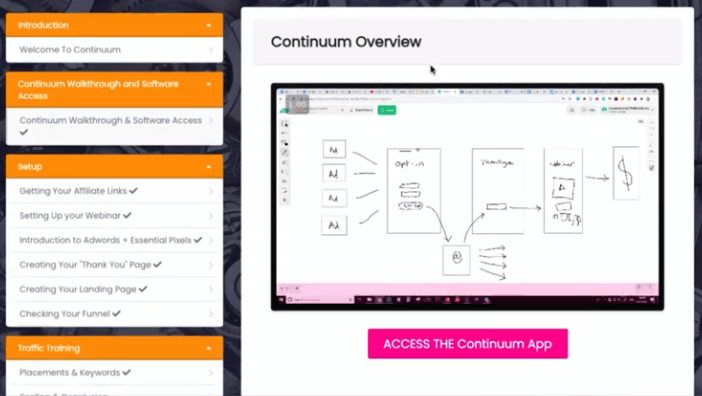 Setup
There's a couple of things you need to do here.
Getting your affiliate links for these offers. This offers are The Ministry of Freedom; John Crestani's SAS 2.0; Simple WIFI Profit. Those are high ticket products from ClickBank. They are the main thing you'll be promoting.
Setting up your webinar. After setting up your webinar, you have to connect it to Get Response. I don't like the fact that they impose you to have this particular Autoresponder only because they are promoting it, and they'll make commissions when you are using it. Get response has a 14 days trial. After that, you have to pay at least 20 per month. So, you'll have to pay extra for Get Response. Keep that in mind.
Introduction to Adwords. This is a very good training on Adwords, and Armstrong breaks it down pretty well. But remember, this is paid traffic, so you'll have to spend money on that. Again, keep in mind that they main issue with paid traffic is it needs optimizing. So, you'll have to spend a lot to get it optimized. And you are not going to get immediate success from the very first advert you put out there. It does take some investments, and if you are a beginner, I honestly doubt whether you are going to be capable of optimizing those adverts.
Creating your Thank you page. You are going to have to buy additional software for this. They suggest you to join GrooveFunnel, which is a pretty good page builder and has a free membership. So, essentially you are going to get a piece of code from Armstrong that you'll have to insert into Groove Funnels.
Traffic Training
They do explain you how you can set those adverts up, and the types of places. He gives you some videos that you can utilize within your advertising on Google Ads. But those are just YouTube videos of Armstrong advertising the product himself.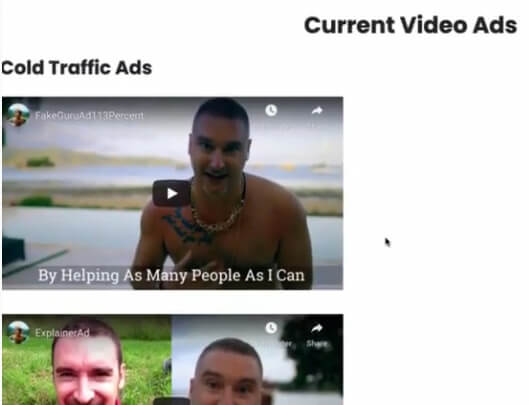 The issue here is that, you get some people in your list, want to advertise to them, but you have no relationship with them, they don't even know what you look like. They will see Armstrong a lot, which is fair enough because he is the one who put this all together.
But, Just remember that you are actually just selling him. Imagine you send them an email, they have no idea who you are, where you come from, because all they have heard and seen so far was Armstrong voice and face. So, how do you intend to sell them something in the future? They don't know you, and therefore they don't trust you.
You can create your own videos to advertise this, and this will be much better. But if you use the ones provided to you, you are going to be seeing the vendor a lot through your entire funnel, which is pretty bad.
Keep in mind that, those products you have to drive traffic through already exist on ClickBank, meaning if you want to promote them, you can just go to ClickBank and grab your affiliate links to do that. It's pretty easy. You don't need this software to do that.
Pros & Cons
Pros: what's good
Done For You webinars
Webinar Software
Training is fine
60 Day Money back guarantee
Good for Experienced Marketer
Cons: what's not good
Not For beginners. The method used like paid traffic should only apply to experienced marketers, those who really understand some of the fundamentals of paid advertising.
Need to have an Autoresponder. You'll need to spend more money than this to set up the system properly.
Paid Traffic methods are dangerous for newbies
Too many Additional expenses are needed.
Required some technical knowledge.
What I like about Continuum
This DFY system can be great
I don't usually like DFY systems, but this one seems great. And once you get it set up, as long as you keep paying the money for the advertising, the rest of this is automatic.
Also, because this is an automated webinar system, there's a way to automatically scale this to get further sales.
60 Day Money back guarantee
As long as you are willing to make the additional investments, then you can potentially make some money off this.
But, It won't be all profits.
What I don't like about Continuum
Paid Traffic is bad if you're a beginner
Not really good for beginners because you don't really know how to optimize it. I don't always recommend this route for beginners, as it can be very dangerous very quickly. I do believe this is not the right way for a newbie to start with.
If you are an experience marketer, that's totally fine. But if you are a newbie with a limited budget, you need to really think twice before doing that.
Plus, if you are a complete newbie and haven't got an Autoresponder, you haven't got a page builder, and you've never done paid advertising, this could be very expensive for you.
Continuum Software Pricing & Upgrade
Front end: $17
Upgrade 1: Continuum Pro Edition $47
Upgrade 2: Continuum DFY x 5 $97
Upgrade 3: Ultimate Affiliate Bundle $197
Upgrade 4: Multi-License Rights to 4 top selling products $197
Is Continuum a scam?
First off, thanks for taking the time to read this Continuum software review. I really hope you have gained value from it.
As far as I'm concerned, Continuum is totally legit.
I do know the system works. But, I'm reluctant to recommend this to beginners, because I know that you are going to spend a lot of money on advertising. And this is not the right route if you have no idea what you're doing.
So, if you are new to internet marketing, this product isn't good for you. You need to first learn the essential skills before you promote products like this.
Making money online is the result of learning from a proven method, and be surrounded by a great community.
So, if you're a beginner trying to make it into the online world the right way with a proven system, beginner friendly, and a step by step training, You definitely need to Have A Look At My #1 Recommendation.
Have any question regarding this Continuum Software review? Let me know in the comment section below, and I'll get back to you ASAP.
Thanks for the support!