Welcome to my Forsage Review!
It's likely that you heard about Forsage, and now you want to know what it is about, if it's worth your time and money, and most importantly, if it's a Pyramid Scheme or even a Ponzi Scheme.
Great for you, you're in the right place.
First off, I must congratulate you for taking your time to do your own research before buying into any "Apparently good" product.
That's the way to avoid scams and find the legitimate way to make money online.
But, what is Forsage about, really? How does it work? How Can you make money with this system? Is Forsage a Pyramid Scheme? Is it a scam? This post will cover these basic questions.
If this sounds good to you, get comfy, grab a snack, and pay close attention, because you are about to find out absolutely everything you need to know about this system, but most importantly why you should avoid it.
What is Forsage Smart Contract?
Forsage smart contract is a computer program or App, built on Ethereum blockchain.
The program is coded with rules and functions, and once uploaded, those rules can't be changed or stopped.
The great part is that it's completely decentralized. No funds are held on the site or on the blockchain, all funds are sent directly, member to member, automatically.
Meet the Founder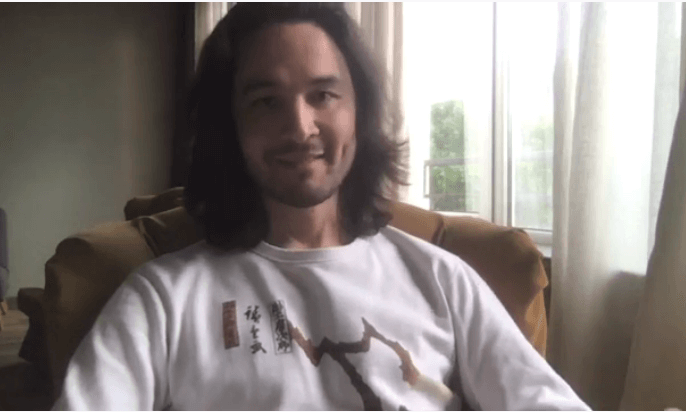 Lado Okhotnikov, who happens to be one of the creators of Forsage smart contract.
So, we assume there's lots of founders. But who are they? We have no idea…
Lado Okhotnikov has participated in matrix projects since 2013, and happens to have a lot of experience.
How does Forsage Work?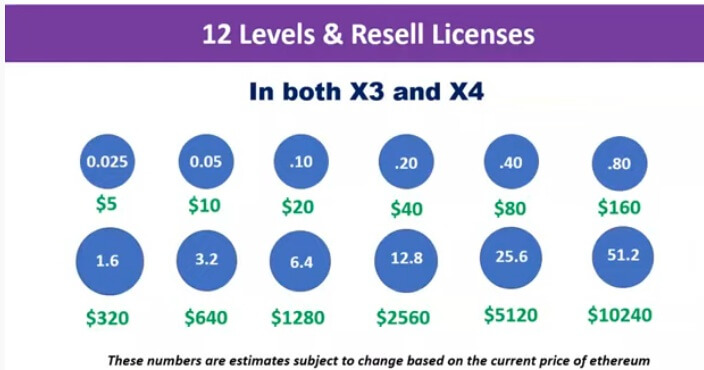 When you join, there are two programs, and you join both at the same time: X3 and X4.
X3 is for people who can bring a crowd, or in other words, "Recruit" people. If you have no challenge talking to people, sharing the system with others, this program is for you.
X4 is known as the team builder. This is for those who don't want to recruit, those who don't want to chase people all the time to make them join the system.
But keep in mind that, if you want to make some money with X4, you have to join an active team that will do all the work for you by recruiting others.
All members have referral links, and new referrals join both programs at the same time.
The minimum cost to join is 0.05 ETH, which is around $10.
How X3 Works.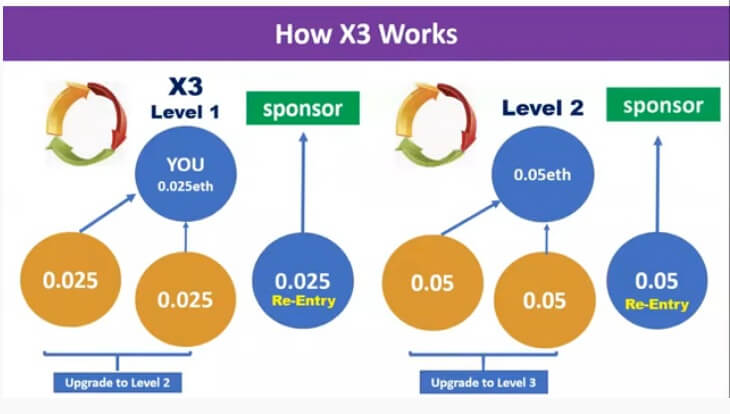 So, remember each new member joins both programs at the same time. Half of the money goes to X3 and the other to X4.
The first two people that you invite to this platform are going to be paying you 0.25 ETH each. After that, you'll have to upgrade to level 2. Because it will allow you to earn double the money, as the people you refer when they upgrade. So, make sure you reach the highest level before your referrals get there, otherwise you won't get any money from them.
When the 3rd person arrives, that money goes to your sponsor and enable you to repeat level one, over and over again, even though you've moved on to a higher level.
How X4 Works.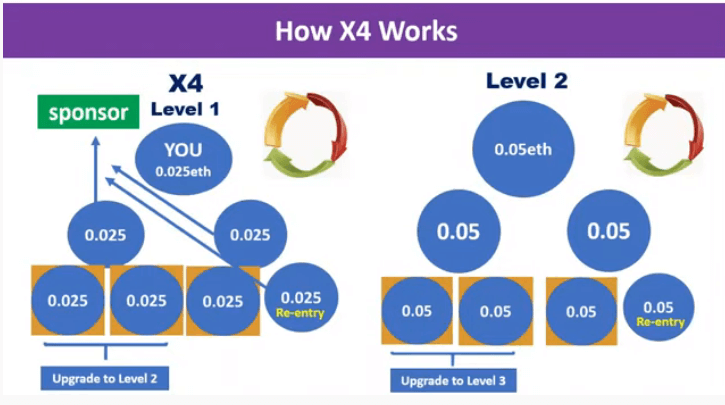 remember X4 is the team builder, Half of the money goes here, and half goes to X3. You don't recruit, You basically make money from the work recruiters do in your team for you.
Here, your sponsor will get money from the first two people that arrive.
But when the next two people arrive, that money goes to you. You can use that to upgrade to level 2. And so on…
What's the difference between X3 and X4?
X3 has 3 spots to position your business partners and in this program you are in full control. Meaning, making money is in your hands, your capability to recruit others.
The faster you recruit and fill in the 3 spots, the faster you will make money.
However, X4 got 6 spots to position your business partners. But this time, Forsage SPILLOVER program will help you fill in them.
Again, if you intend to join and stick to X4 and only wait for your team to recruit, you may end up very disappointed.
What if other members have the same thought as you? For only waiting for other to recruit for them! You are all going to end up with nothing at all.
This is what keeps happening… Check out the screenshots below.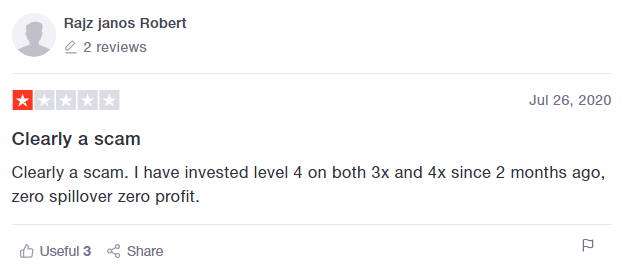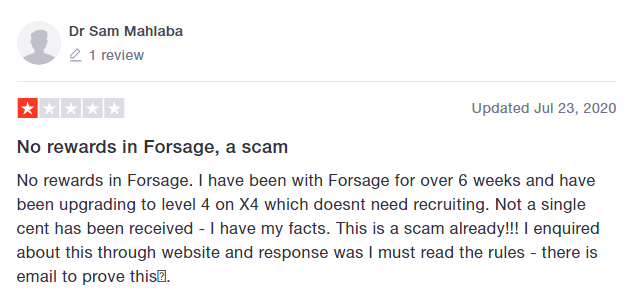 Let's be honest here. The only way to make money in Forsage is by recruiting people! This X4 program is completely useless if no one recruits in a team.
That's why I can't recommend this program.
Is Forsage a Pyramid Scheme?
This smart contract called Forsage can't be called a Pyramid Scheme as it does not have sort of "hierarchical structure" to that of a pyramid.
Reasons:
There's no one on top and no one at the bottom. Everyone starts their journey on the same footing.
In Pyramid scheme, you can't overtake, and can't earn from your upline. But in Forsage all of that happen.
Is Forsage a Ponzi Scheme?
First, let's see the definition of a ponzi Scheme.
It's a form of fraud in which belief in the success of a non-existent enterprise is fostered by the payment of quick returns to the first investors from money invested by later investors.
And I think that's exactly how Forsage works. It's no different from any other scheme where people recruit others for a sum, add them to a list for them to recruit someone else and the money flows.
If they had a product, all would be great, but they don't! The only saving grace, if you can call it that way, is the smart contract that takes the human element out: No one can run off with the money.
Why I don't like MLMs
The problem many people face with MLMs is the recruitment. You have to constantly recruit people in order for you to make any type of income. And that's not how an online business should be.
Many people hate to go out there and try to convince others, chase them and make them join a particular program.
I personally hate that!
I've seen many people trying to convince me to join different programs on Facebook and other social media. They kept texting me all the time, to make me join their programs. That's the only way they can make money!
Also keep in mind that there are others MLMs where you don't necessarily have to recruit in order to make money. Some of them can be MTI, or QubitTech.
Those two companies mentioned above can help you create a passive income stream without having to recruit.
But still, my #1 Recommendation to build a long term sustainable online business is Affiliate Marketing. You should definitely take a look at it.
Why?
Because you don't have to recruit in order to make money
You don't need a huge capital
Don't need to create any product
It helps you create a passive income
And many more…
You know the best part? You can have free training and a free website to help you get started from scratch. Oh Yeah!
Don't take my word for it,
Forsage warning issued by Philippines
Something you should be aware of is that the Philippines SEC has issued a fraud warning against the Forsage gifting scheme.
You should really take it into consideration, and be very careful before joining this system. You can read more about it Here.
Final Word
As per my understanding, Forsage is not a Pyramid Scheme.
It's an MLM gifting which by nature has Ponzi elements.
That said, I do not recommend this system.
You have to keep recruiting in order to make money. Even though there is X4, which allows you to earn from your team effort, at the end of the day your team still has to recruit for you to make money! Otherwise, it's useless.
Now, in case you still want to join Forsage, I advice you should first open to higher level. And try to invest under a very active team. But this doesn't mean you'll still make money…
Hope you gained value from this Forsage reviews.
Again, making money online is the result of learning from a proven method, and working hard to build your business. Not by joining some MLMs where you can't make money if you don't recruit people!
So, STOP chasing shiny objects.
Have any question regarding this Forsage review? Don't hesitate to leave it in the comment section below, and I'll get back to you as soon as possible.
Thanks for the support!