Are you trying to join and purchase this software but want to have more info about that before doing so?
If that's the case, well done. That's the perfect way to avoid scams and find the legitimate way to make money online.
But what is Instant Guru, really? How does it work? Will it be able to deliver on its promises to you? Can you really make money with this app?
In this review, you are going to find out everything there's to know about this software. But most importantly, why you need to avoid it at any cost.
Let's get started.
Instant Guru Review Summary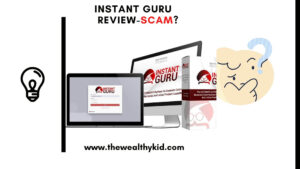 Product Name: Instant Guru.
Owner: Dan Green
Product Type: Affiliate marketing software.
Price: $19.90
Upsells: Yes
Best For: No One Rating: 1/100
Verdict: Instant Guru is a software that allows you to steal other people's content on the internet, and then use them on your own website. This is a very bad technique, and Google will penalize you for doing that. The sales page is so misleading, you'll never rank in the search engine by pinching other people's hard work.
Stay Away from this Software.
Not Recommended! Invest your time and money elsewhere.
Important==>> If you're looking to start an online business the right way, without having to steal other people's work and being able to rank on Google, check out my #1 Recommendation.
Quick navigation
What is Instant Guru?
Keep in mind that this is exactly the same product as Click and Bank(Another product from the same vendor).
It's the same interface, the same dashboard…
In a nutshell, Instant Guru is a website creation software that allows you to create websites using other people's content, and also add reviews from sites like Warrior Plus and JVZoo.
Here's an overview of the sales page:
"Done For You" site creation. Just one click to create an entire affiliate marketing authority site.
"Done For You 100% original content" I'm going to discuss all of these points in more details.
"Done For You monetization" with regular reviews of the top converting JVZoo and Warrior plus products each week.
"Done for You search traffic" rank higher and higher on google automatically every day! Become an instant internet marketing guru and start making JVZoo and warrior plus commissions all with one click.
100% newbie-friendly. No complicated setup, just one click and you're all done!
Those are the claims on their sales page. But they are all nonsense.
I'll go into more details later in this review.
How does Instant Guru work?
The idea is that: You need to use the software to find other content that has already been created in your niche.
Then use this content on your own website that they provide you…
And finally, publish them…
But they make you think that you're going to rank fast, and that's the problem…
In fact, if you are a newbie and don't know how Google works, then let me tell you…
If you steal content from other people's websites, Google will know and will not rank you. They stated that we need to avoid creating duplicate content.
Not only, but they might also punish your website for doing so.
That's why you need to be very careful with those type of tactics.
So, the idea is to have this content with the reviews, create an SEO that google will like, and then people will come along to your site.
Inside the Instant Guru software
As I already mentioned earlier in this Instant Guru review, this is just a copy of another product called Click and Bank.
In fact, with Instant Guru, they give you JVZoo and Warrior Plus reviews. And with Click and bank, you are given ClickBank reviews.
Those reviews are being done by somebody else. And that's problematic because why are you letting other people do reviews on products?
I mean, that's your business, so you should do it yourself if you want to build a business online.
Don't let other people do reviews on products and then put it out there based on their reviews. It's not a very good way to kind of build a business.
Let's explore the different features of this software.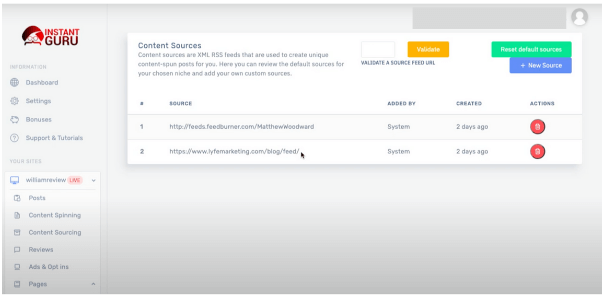 When you're logged in, you can see a dashboard that just shows you all the latest posts and scheduled posts.
There are two parts to this:
You can either manually create content.
Or you can automatically create content.
If you automatically create content, you need to come to the content sourcing tab and you need to put "rs feeds" in various people's blogs and sites so that you can go ahead and take their content.
This is one big issue because if you start taking people's content, you immediately run the risk of a copyright strike. And google will know you're taking duplicate content anyway as I already mentioned.
So, nothing on your site will rank in the search engines.
Post
This section allows you to add posts. Once you have these posts, you can have a look at what you need to actually spin them.
Content Spinning
This feature allows you to add words and rewrite the content if you want to. And once you spin the posts, apparently they'll be yours now and you can go ahead and use them.
Reviews
This is the section where you can go ahead and add manual reviews or they're going to have some motivated ones.
Layout function
Although it's very simple, at the end of the day it gives you the ability to add a logo, a home banner, a banner description, themes, you have a homepage background, and then you can save it and that's really all you can do with the site.
Configuration
Which is basically just all of your warrior plus and JVZoo IDs.
What I like about Instant Guru
There's absolutely nothing I like about this software.
What I don't like about Instant Guru
I could spend the whole day listing what I don't like about this software. I mean, everything is wrong.
Misleading sales page
As usual with this type of products, it's just about how fast you are going to make money, and how easy it is.
The same stuff: click click click, everything's going to work for you, lots of traffic, 100% done for you, you'll be able to bank commissions with no work…
But in my humble opinion, you're not going to get any commissions by using this low-quality site.
Just go to WordPress, get a site, and start writing articles, or head over to YouTube to start producing video reviews of your own, and you'll start getting affiliate sales.
This software is not going to help you do it.
Low-Quality websites
The type of websites they provide to you are low quality.
You'll not get traffic
Traffic is the most important part of any business. Without traffic, there's no money.
With this software, there's no traffic solution.
Also, you won't be able to rank as they promised because it's duplicate content.
The information you pull in is from somebody else's website that you're going to go ahead and spin. And the images, you've got no idea whether you are or aren't allowed to use them.
You can always spin text even if it doesn't sound right when you read it, but you can't spin an image, so they will be copyrighted as well.
And Google will not rank these sites anywhere. I mean, why should they rank yours? Based on what SEO?
The sites you have are not going to rank and therefore, you won't get any traffic, and you won't get any sales on your affiliate links.
Instant Guru OTO
The front end is $19.90 this only allows you to build one site…
OTO 1: $67 It allows you to build limited sites…
OTO 2: Daily profits are $29.90 and that allows you to also do reviews on amazon type products.
OTO 3: Done For You $197. They set the sites up for you…
OTO 4: Some advanced training $29.90.
OTO 5: is the agency license $197 you can use the software on client sites.
OTO 6: White label version at $497.90
Pros
30-day money-back guarantee
Cons
You won't get traffic from this software. There's no SEO effect. Google knows about all of these spins content and it just drank your site all over the place.
Copyright issues. You may be able to spin the content and make that unique but it's very unlikely that it's going to get seen.
Low quality spun content.
Anything around how much you could earn with this as far as the value of this product is not going to be true.
There's no business here!
I mean, Is your business going to be that you create a website, steal other people's content, spin it, add other people's reviews to your website and then try and make the odd affiliate itself?
This is not the right way to do it and as I mentioned earlier, all you need to do is actually build your own website, put your own content, and then you can go ahead and make those affiliate sales in a much more sustained way.
Is Instant Guru a scam?
I wouldn't call it a scam.
However, it is a typically shiny object aimed at beginners. There's no traffic, so it means no sales.
You are just going to waste your time and money.
This reminds me of a product I reviewed not so long ago named Pockitz. They are both software that allows you to steal other people's content.
Final Word: What is Instant Guru?
This software will take your hard-earned money and help you steal other people's content on the internet.
What a waste of time!
This is not a business.
If you're looking to build a long-term sustainable business online with affiliate marketing, go ahead and hit the button below, over to my #1 Recommendation, and I'll take you through the whole process step by step.
If you have any question, or maybe you have been a victim of Instant Guru, don't hesitate to ask a question or share your experience below.
Until next time, Take care.