Welcome to this Traffic Shark Review!
You probably came across the Traffic Shark software and you want to know if it is worth your time and money.
First thing first, congrats for taking the time to make your research before spending your money on any software out there. That's the perfect way to avoid scams online.
But, what is Traffic Shark about? How does it work? Will it be able to deliver on its promises to you? Is the Traffic Shark legit or a scam?
This post will cover those basic questions.
Quick Navigation
What Is Traffic Shark?
Traffic Shark is a 3-in-1 software system that promises to help you create Done-For-You profit links that build your list and make commissions at the same time with no products. The software comes from Glynn Kosky.
Further in this review, I am going to show you that this software is a complete waste of your time and money.
I have reviewed several products of the same vendor. He creates software on a monthly basis, and most of them claim to provide free traffic but they don't.
Some of his products I have reviewed are New Year Profit Bot and 1k Daily System.
Here is how Glynn describes the Traffic Shark software on their sales page:
200+ Traffic sources From 1 Single Platform…
​Software Creates Automated Money Links…

​Blast Your Link To ALL Traffic Sources At The Same Time…
​Generate Commissions From Multiple High Converting Offers…
​Pre-Approved For Everything (No Waiting!)…
​100% Done-For-You Traffic + Commission System…
​​Completely Beginner Friendly…
​Zero Tech Skills or Previous Experience Needed…
​​ZERO Maintenance Costs…
​​Proven Results – Generates Sales On Demand…
​World Class Training Included!
Of course, as usual on this vendor's sales pages, those claims are just BS!
Let's see how the product works
How Does Traffic Shark Work?
The idea is Traffic Shark would help you to build an email list.
Step 1: Glynn will provide you with some of his software that you can give away for free
Step 2: Once you give the software away for free, you grab the prospect email.
Step 3: Then, you promote all your affiliate links or Glynn's offers to your prospects by sending them emails every day.
Basically, Glynn is expected to promote those giveaways and build your list at the same time.
Who Is Traffic Shark For?
This software targets:
1-Newbies Who Want To Start An Online Business.
Apparently, if you are a newbie, you can expect to start an online business by using this software. And the idea is you will promote the vendor's products to make money.
The only thing the vendor wants is you to promote his products(other software). He has several of them.
The issue is that others software are low quality just like Traffic Shark.
I wouldn't advise you to start an online business that way. You might ruin your online reputation by promoting low-quality products online.
The online world is very sensitive. So, you have to be careful with what you are promoting out there.
2-Affiliate Marketers
This product also targets affiliate marketers.
If you are an affiliate marketer, Glynn Kosky is expected you to use this software to get more traffic and promote his products.
But as usual, you won't get any traffic from this type of software.
Who Is Glynn Kosky?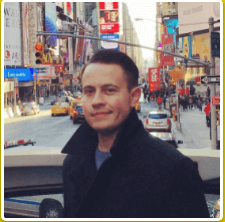 Glynn Kosky is a Warrior Plus vendor and online marketer. He has made a lot of money by creating software each month and targeting newbies to spend their hard-earned money on them.
What I Like About Traffic Shark
I like the idea of using giveaways to collect prospect information, then contact them to sell them something in the future. This promotes the saying "The money is in the list".
But there's no reason to buy this software to do that. You can do it for free. All you need is to find a free ebook to give away and grab people's emails. Then, you can go to ClickBank or any other affiliate network and grab some affiliate links to promote.
What I don't Like About Traffic Shark(Ugly Truths)
There are several things I dislike about this software.
1-You Don't Need It To Start An Online Business
As I already stated before, you can simply offer a free eBook to grab people's emails.
Once you have people's emails, you can promote offers from affiliate programs of your choice.
If you don't know how to apply and grab affiliate links, if you are a beginner and don't know how to start an affiliate marketing business in general, have a look at my #1 recommended Affiliate Marketing training.
2-Low Quality Software To Give Away & Sell
When you are in the Traffic Shark member's area, you will have the opportunity to give away and promote the vendor's multiple software.
For example, one of them is The Affiliate Traffic Lab software I also reviewed before or another one they call $300 CPA every day.
3-The So-Called Free Traffic
It is the same issue with those vendors from Warrior+. Most of them promise free traffic, but you won't get anything.
The funniest thing is, in one of the upsells, you will be required to buy their unlimited traffic.
But, as I always said, if they can provide unlimited traffic, why on earth do they need affiliate marketers to promote their products in the first place?
Those vendors pay affiliates up to 50% commissions for promoting their products. Why would they do that if they can get unlimited traffic for free?
That doesn't make sense right?
4-Misleading Income Claims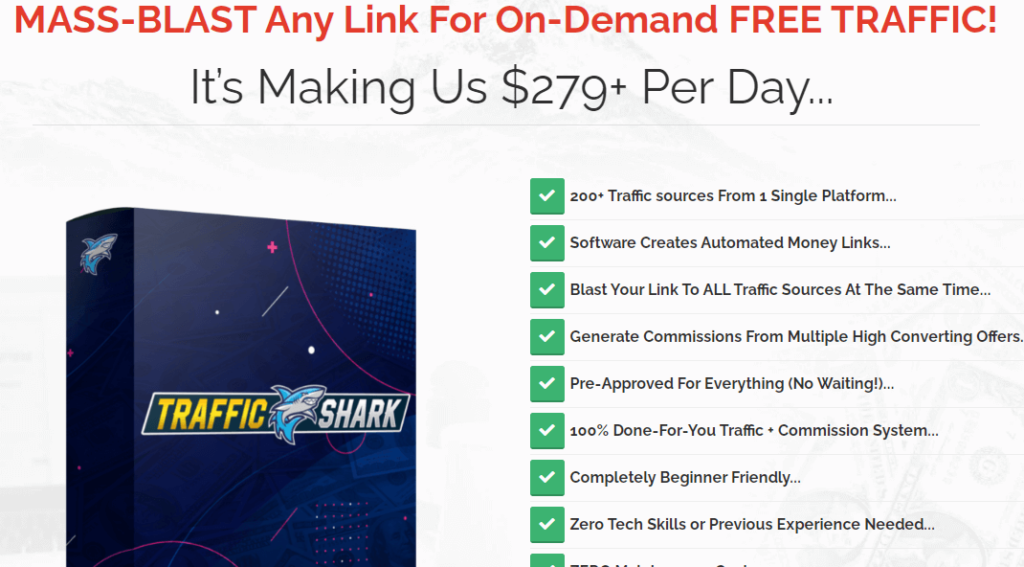 Glynn claimed that Traffic Shark generates them $279+ per day!
Come on guys, this is absolutely not true. Do not fall for it, the product is fairly new.
Traffic Shark Oto & Price
Front End: $17
OTO 1: Unlimited. $67-$47
OTO 2: Done-For-You. $97-$67
Upsell 3: Unlimited Traffic. $97-$67
OTO 4: Automation. $67-$47
OTO 5: ATM Edition. $67-$37
Upsell 6: License Rights. $197-$97
As you can see, they will just keep upselling you over and over again.
Once you start buying something with this type of vendor, you have to keep taking your credit card out.
Pros
Easy to use
Cons
Misleading income claims
Low-quality software
No unlimited traffic
Not the best way to start an online business
Is Traffic Shark Legit Or A Scam?
Traffic Shark is not a scam. But it's not legit either. It is just a low-quality software and shiny object aimed at beginners.
You won't make $200+ daily as the sales page claims.
I wouldn't recommend it.
How I Earn Money Online
Unlike Traffic Shark, I earn money online by building simple websites, just like this one and generating traffic organically using SEO.
I use the right way to do affiliate marketing.
If you are a beginner and want to start an affiliate marketing business the right way and for free, check out my #1 Recommendation.
I hope you have gained value from this article.
If you have any questions, consider leaving them in the comment section below and I will get back to you ASAP.