The Amazon Affiliate Program also known as Amazon Associates is a popular program for website owners. This program allows website owners the ability to drive traffic from their website back to Amazon to make product purchases. As a result of the purchases, the website owner gets a percent of the sale from Amazon.
Unlike becoming a seller on Amazon, when you join the Amazon Affiliate program there is no charge to you for membership. It is free to join and get setup which is one great benefit. The only responsibility you have is to get traffic to your website and drive that traffic to click through to Amazon to make a purchase. When the traffic clicks over and makes a purchase on Amazon you are able to collect what Amazon calls referral fees. You can read more about what those look like here.
So what should I write about in order to use Amazon affiliate program?
As you can see if you click the link above to the Amazon referral fees that a website owner will get varying percent of sale based on the category of the product the purchase is in. As you can imagine, if you are looking to build a website only for the purpose of making money on Amazon affiliate program then it would make sense to look at starting a website on a topic where the percent of sale is one of the higher categories. With that said, if you have an existing website and you are looking to create revenue, you can still get value and revenue from participating in Amazon affiliate program to convert your traffic into revenue.
How do I get started with Amazon Affiliate Program?
To get started, all you need to do is:

Once you are on the site, sign up for a new account which will create an Amazon Affiliate ID for you. This ID is what will be used to track any traffic you generate from your website and send over to Amazon. If that traffic makes a purchase your Amazon Affiliate ID will get credit for the sale.
Like most affiliate programs, Amazon affiliate program requires an approval. Therefore you will want to submit your website when you feel you are ready and have enough traffic and established yourself to help increase your chances of approval.
Once you are approved, you will be able to generate links in the Amazon portal to products. You would then create new blog posts or update existing posts or website pages to link to the product using the specific affiliate link you generated from Amazon.
At some point in the future, if someone hits your website, clicks over and makes the purchase on Amazon you would get your percent of the purchase.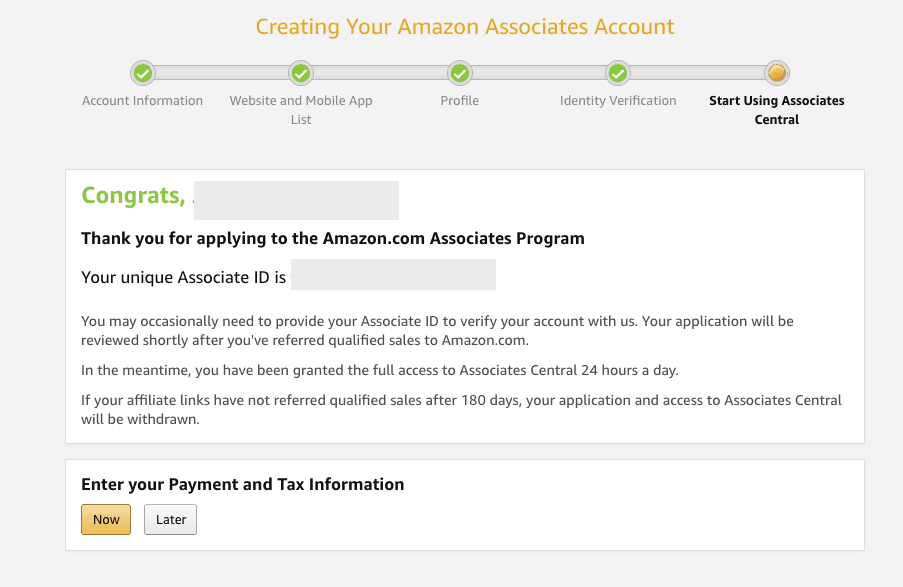 How to make the most money using this affiliate marketing?
As you get started, you should watch out for professionals or paid training opportunities. Often, due to the popularity many scam artists offer paid training for Amazon. We wrote about one example here. The best way for you to stand out and make the most from the affiliate marketing platform is to go deep into a niche. Find the right topic you are passionate about. Focus on that topic and really write in depth articles to become a respected subject matter expert in a topic. Once you are seen as an authority on a topic, any recommendation you make is more trusted. Therefore, you first must be in the work of establishing a brand for your website in a specific niche and stand out as a respected voice. From there, it is about converting that traffic into a sale on Amazon by making referrals to products that are associated with your niche topic.
Conclusion
Amazon is a well-respected platform with a high level of trust. Using this platform as your approach to converting traffic to revenue is a great way to get started on your journey. The hardest part of any affiliate marketing is to get traffic to your website. If you have established that, the easy part is to make money off of it and using Amazon is no brainer.