Welcome to this Tocked review.
Tocked owners claim that you can generate a ton of traffic and money from this software with just a few clicks.
But that's not true…
First thing first, I appreciate you take the time to do your own diligence before investing your money into any product out there.
This is the perfect way to avoid scams and find the right way to make money online.
But what is Tocked about, really? How does it work? Will it be able to deliver on its promises to you? Can you really have an affiliate marketing business with it?
This post will cover those basic questions.
Let's get started.
Tocked review summary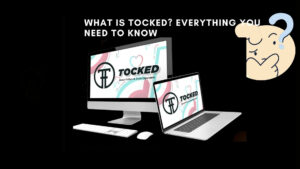 Product Name: Tocked
Owners: Jason Fulton & Seun O
Product Type: Traffic Software
Price: $19
Upsells: No
Rating: 30/100
Verdict: Tocked is a cloud-based app that promises you can generate free traffic and earn money from it. But those claims are simply unreal. It requires more than that to have a successful affiliate marketing business online.
Not Recommended. Invest your time and money elsewhere.
==>>If you're looking to start a real Affiliate Marketing business, check out my #1 Recommendation.
Quick Navigation
What is Tocked about?
According to the owner, Tocked is an Application that allows you to take TikTok videos, upload them to your own site, and finally get a ton of visitors to your site so you can advertise your own products and services.
The product comes from James Fulton and Sean O.
Here's how they describe their Tocked software:
Made for complete newbies
Unlimited viral traffic with just one click.
Generates multiple streams of income daily with no selling.
Only take a few minutes daily.
Get paid daily and fire your boss…
As usual, those claims are unreal and you are going to find out why later in this review.
How does Tocked work?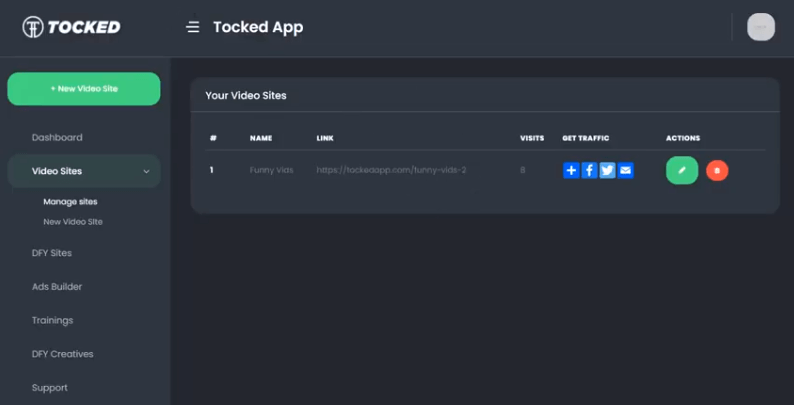 The idea is pretty simple:
The software allows you to find TikTok trending videos.
You would take other people's videos on TikTok that have nothing to do with you and paste them on your site.
Basically, you are using other people's work for your own profits.
But this is not new online. Pockitz does the same…
Once you have pasted those videos on your site, you have to get people to come over to your site and watch those videos.
Now you are probably wondering, how do I make money with it?
Well, in these sites provided to you, there are a few ads with your affiliate links on them.
So, you have to expect people to click on those ads after watching the TikTok videos.
Here's an example of the type of sites you are going to work on: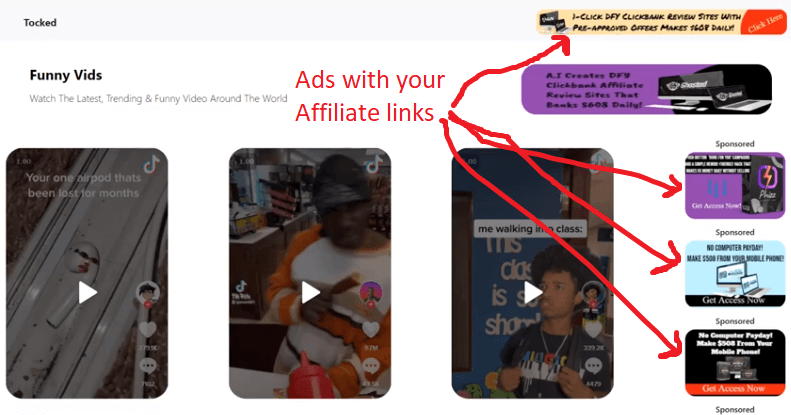 Although the idea is good, the main issue is how on earth do you get people to your website to watch those videos? What audience is interested in those particular videos? Is this audience going to be interested in my offers?
Those are some questions you should ask yourself before investing your hard-earned money into this 'shiny object'.
Because the truth is, even if you manage to get people to your site, this doesn't guarantee they are going to click on your ads and purchase a product.
Another thing you also have to keep in mind is that most TikTok users are teenagers.
You need traffic that can take out their credit card and purchase something. Just saying…
Pros
365-day money-back guarantee.
At least you can try the system and if you realize it's not what you expected, you can request a refund.
Just keep in mind that those vendors do not give refunds sometimes. There have been several people complaining about the refund policies of products from warrior Plus.
Cons
The traffic is not yours
If by any chance you manage to get some traffic to your website and these people double click on any video on your website, they will be redirected to TikTok.
This means you can easily lose this traffic.
Low-quality products to promote
Tocked gives you access to some DFY creatives to promote. But most of them are other products from the vendors.
One of them is Checkitz, another shiny object I have reviewed before.
Useless social share buttons
Inside the software, you have the ability to share your website to a couple of social media platforms such as FaceBook, Twitter, Instagram, etc.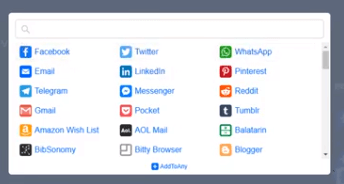 Apparently, this is the free traffic they are promising you.
But here's the issue, if you have no following on any of these platforms, you won't get any traffic.
For instance, you need to have a huge following on FaceBook to expect people to click on your links. Even if they do, it doesn't guarantee they will click on your ads and purchase something.
So, do not consider this as a traffic solution.
Fake scarcity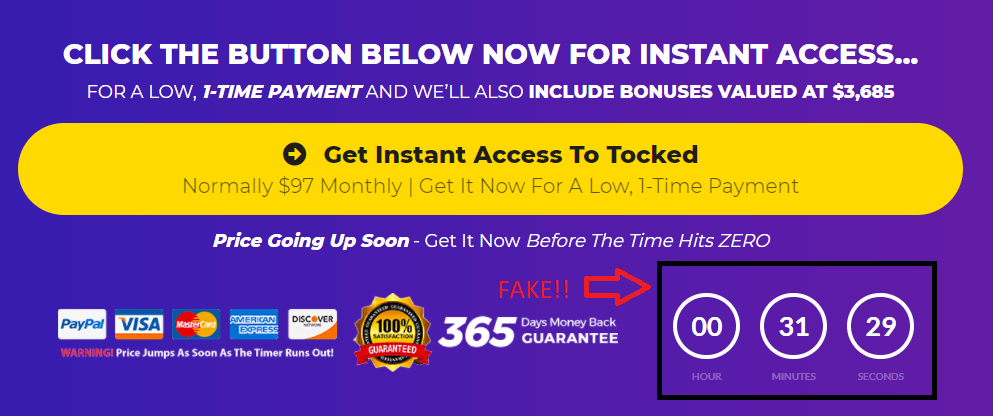 I dislike the countdown on the sales page as you can see in the screenshot above.
This is just a marketing technique used to make you purchase the product faster. Even if you close the page and come back, it will still restart the countdown.
I personally can't trust this type of website.
Affiliate Marketing the wrong way!
Just for your reminder, Affiliate Marketing is a wonderful business model that allows you to promote other people's products and earn money.
But Tocked does it the wrong way. You can't expect to take TikTok videos from other people, upload them to your site and make money.
Affiliate marketing requires more than that.
Several people are taking advantage of this every day by using the right strategies.
My #1 recommendation is the best place for beginners to start learning the basics for free.
Tocked price
The product costs $19 with no upsells.
This is great. Especially because those vendors have the tendency of always upselling people with their products.
Kash Kow or Checkitz are two great examples of this.
Is Tocked a scam?
I wouldn't consider Tocked to be a scam. It's just a shiny object aimed at beginners.
If your desire is to build a TikTok site with all the TikTokers videos, then you can go for it.
But if your desire is to build a real online business, I would highly suggest staying away from this Tocked software.
How I make money online
Unlike Tocked, I earn an income online by building simple websites just like this one where I help people with their queries.
The business model here is still Affiliate Marketing but the right way.
I use free methods to generate traffic(SEO). Thousands of marketers are using the same method to make a living online.
Now, it's your turn to take advantage of it.
I truly believe that every newbie should get the opportunity to try things for free…
Great for you, my Top Recommendation to start Affiliate Marketing lets you start for absolutely free.
Yeah, you heard that right. But don't take my word for it.
Learn more about my #1 recommendation to build long term sustainable business online here.
If you have any questions about this Tocked review, leave them in the comment section below and I'll get back to you ASAP.
Thanks for the support!