Welcome to my Scratchz review.
Scratchz owners claim that this software can help you generate tons of traffic and daily commissions.
But is that true?
This is what you're going to find out in this review.
First thing first, I appreciate you taking the time to do your own diligence before investing your money into anything online.
That's the perfect way to avoid scams online.
But, what is Scratchz about, really? How does it work? Will it be able to deliver on its promises to you? Is this software really worth it? Is Scratchz a scam?
This post will cover those basic questions, as well as provide the pros and cons.
Let's get started.
Scratchz Review Summary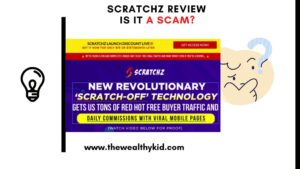 Product Name: Scratchz
Vendors: Jason Fulton & Seun Ogundele
Product Type: Traffic software
Price: $19
Upsells: Yes
Rating: 10/100
Verdict: Scratchz is supposed to get you free traffic, but this so-called free traffic doesn't exist. All you will be doing is to build squeeze pages and share them to social networks like FaceBook, etc. But this doesn't guarantee traffic. Plus, the entire sales page is misleading and full of fake testimonials. You won't make any money from this software. Stay away from it.
Not recommended! Invest your time and money elsewhere.
==>> If you're really looking to start or build a long term sustainable online business, check out my top recommendation.
Quick Navigation
What is Scratchz about?
According to the owners, this software is a new technology app that will help you generate free buyer traffic and commissions.
The software comes from Jason Fulton and Seun Ogundele.
Here's how they describe their product on the sales page:
A revolutionary method that gets free traffic in one click…
It brings in 1000s of buyers for free
Daily commissions
No experience, tech skills or website required
Start writing your own paychecks…
It's as easy as flipping a switch…
$2k per day "live" invite
As usual, most of those claims on the sales page are not real. But I'm not surprised by those vendors because I've already reviewed their previous crappy products such as Pockitz, Kash Kow, and Checkitz…
Anyway, I'll break those claims down in more details later in this review.
How does Scratchz work?
The idea is you'll build a squeeze page that looks similar to the one below: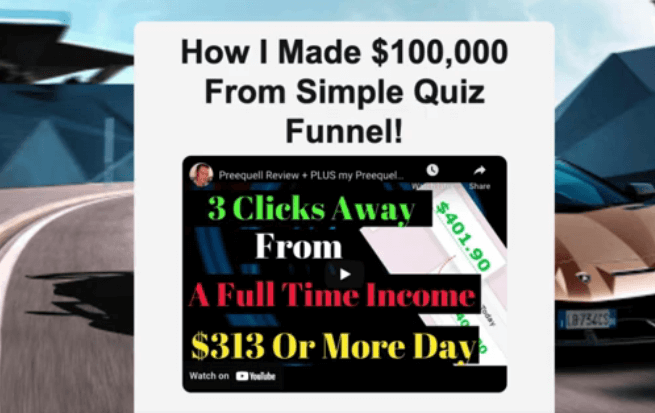 Then you can add their so-called "Scratch technology" they talk about on the sales page.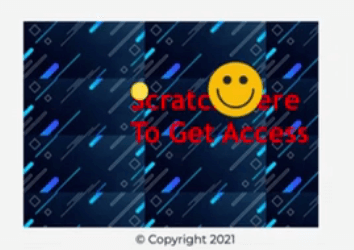 The idea is someone will first watch the video in the first image above, then if the person wants to know more, they will scratch the second one that says "scratch here to get access".
Once they finish scratching, an opt-in page will pop up where they will need to enter their name and email and get access to whatever you want them to get.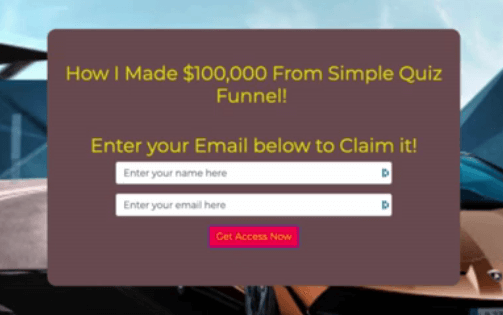 The last step is they will have to share this to get access to the promotion that you're advertising during this campaign.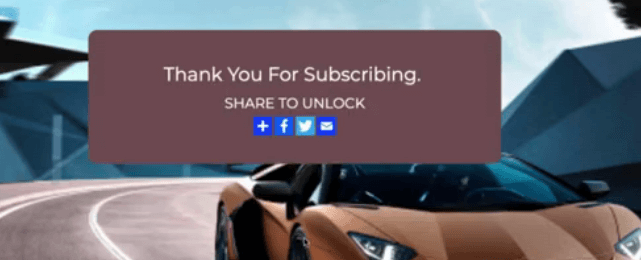 Those leads will have to share this page to different social networks.
Each lead will go through that three step sequence, share to other people, and finally be able to see your fabulous affiliate offers.
And this is where the biggest issue comes in: The so-called "Free traffic".
But does it mean you'll get traffic and commissions? Of course no.
There's no reason anybody would want to share it. I mean, you are not providing any value for them to do that.
Also, the social audience doesn't work unless you have a huge audience on that particular platform.
What I like about Scratchz
There is nothing I like about this software.
What I don't like about Scratchz
Misleading sales page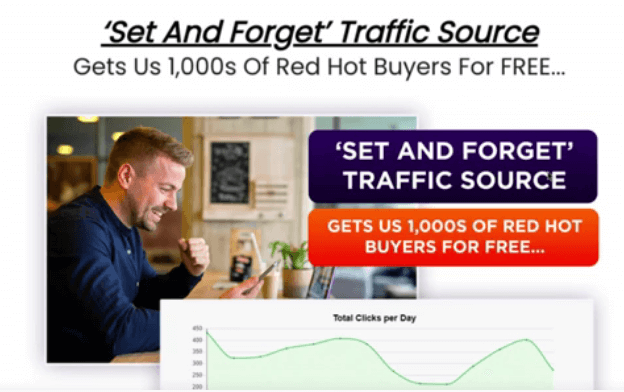 First off, there's no value for someone to share those pages. Unless you have a fabulous offer on the front end, why would somebody share that page to social networks?
So, if you have a great offer or you are giving something away for free, then you can get a few people to share your page.
But even though they do, this doesn't guarantee traffic.
The main purpose of this software is to get you free traffic, but you won't get traffic unfortunately. That's a complete waste of your time.
Not connected to an autoresponder
An autoresponder has checks and balances to make sure you are collecting people's data in the right way.
If you look at the GDPR law in Europe, you cannot collect people's information without giving them prior knowledge.
And there's no privacy policy on this software that explains what you'll be doing with those data once you collect them.
So, using silly apps like Scratchz could be dangerous for you if collect people's data.
Fake testimonials
Whenever you are dealing with this type of low-quality software, you need to always pay attention to the testimonials.
Look at the screenshot below from the Scratchz sales page:

It shows a picture of a guy named Douglas McDade saying: "Free traffic and $148 in commissions within 24 hours and more on the way. The best part is I'm a newbie and I've never made money before online… Thank you guys".
Now look at Jason Fulton FaceBook mastermind group: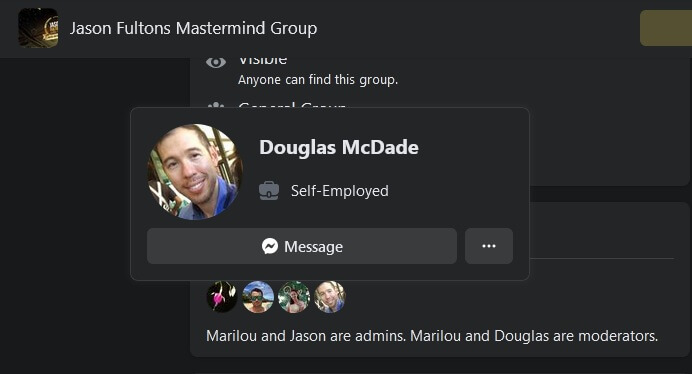 As you can see on the image above, the same dude Douglas who is one of the moderators.
This guy is not a newbie, he's been online for a long time now.
So, those testimonials are made up and absolute nonsense!
Scratchz price and OTOs
Front end: $19
OTO 1: Unlimited Edition $39
OTO 2: DFY push button stores $197
OTO 3: Automated affiliate profits $47
OTO 4: Auto passive ATM $67
OTO 5: 1k high ticket paydays $47
OTO 6: Automation Edition $77
OTO 7: License rights $147
That's a lot of money that will be wasted into this crappy software.
Pros
Cons
There's no real business here.
Traffic claims are not real
The software provides no value
Fake testimonials
Misleading sales page
Spam
It provides no value
Is Scratchz a scam?
It depends on what you think a scam is.
However, I have provided you with all you need to know about this app. Most of all, I have provided you with the fake testimonials on the sales page and the fact you won't get any free traffic.
So, hopefully, this will help you make a more informed decision whether you should purchase it or not.
But my advice to you should be to stay away from it. It won't give you any value at all.
How I make money online
I used to chase shiny objects like Scratchz because I wanted to make more money and fast, but I've always ended up losing money trying to make more money.
The lesson I learned is "the gimmicks and systems are only designed to keep you buying".
Until I discovered the right method to make money online…
With that being said, if you're looking to build a long term sustainable online business with affiliate marketing, check out my #1 recommendation.
Have any question about this Scratchz review? Leave it in the comment section below, and I'll be back to you ASAP.
Thanks for the support!