Welcome to my Hive Software review.
Nowadays, shiny objects are everywhere. And the product we are going to review today is one of them.
First thing first, I respect the fact that you take the time to do your own research before putting your money into any type of software online.
That's the perfect way to avoid scams, and find a Legitimate way to make money online.
But what is Hive software about, really? How does it work? Will it be able to deliver on its promises to you? Can you really have an online business with this software? Is Hive a scam? This post will cover those basic questions, as well as provide the pros and cons.
Get comfy and pay close attention because I'm going to tell you everything there's to know about Hive, and most importantly some Free alternatives.
Let's get started.
Hive Software Review Summary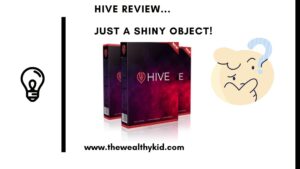 Name: Hive
Product type: Software.
Vendors: Billy darr; Justin Opay, Finn Goswami
Price: $17
Upsells: Yes.
Rating: 10/100
Verdict: Hive is software that allows you to build graphics and sell your designs to various sites like Fiverr, Upwork, etc. But the entire sales page is so misleading by letting you think that you are going to make money in 60 seconds! In fact, you won't get money with this software. Plus, there are free alternatives and much better systems to create graphics out there.
Not recommended! Don't waste your money with this software.
==>> If you're really serious about starting an online business the right way, hit the button below, over to my #1 recommendation, and I'll take you through the whole process step by step.
Quick Navigation
What Is Hive Software?
Hive is a software application that allows you to build various types of graphics for social media or various other types of advertisements. Hive has been released on the Warrior Plus platform, and it's by Billy Darr, Justin Opay, and Finn Goswami.
Here's an overview of the sales page:
Apparently, there are seven streams of autopilot income…
This is free buyer traffic in one click…
Beta-testers are already seeing results…
Created for newbies…
No tech skills needed…
Work for yourself…
Live the laptop lifestyle…
New year bundle included completely for free…
You'll get results or get paid $500.
But you perfectly know these are the same headlines that these vendors put on all of their sales pages. So, most of those claims are not true.
How Do You Use Hive Software?
Here is how they say the system works: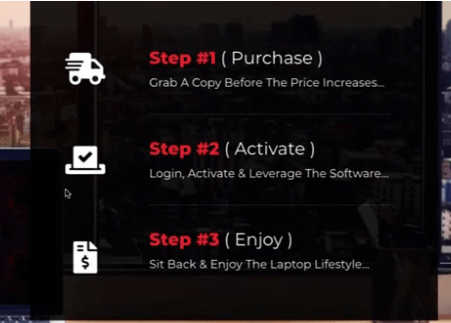 According to those who created this software, all you have to do is a purchase, activate the software, sit, and enjoy the money flowing.
But the truth is it's not that easy. Did you really think you could make money with this software so easily?
Well, sorry to disappoint you but you won't make money with this App.
If you read the entire review, you are going to find out why.
Here's how it really works: The idea is that you would come along and create a design/graphic of whatever you want. Finally, sell them to other people.
But, the first struggle you are going to face is traffic. For a business to thrive you need traffic.
But where are you going to find people interested in your graphic designs?
There is no training teaching that inside this software…
This is a valid business model but I'll talk to you during this review about a couple of things that this application is lacking to enable you to do.
Let's have a look on the inside.
Inside Hive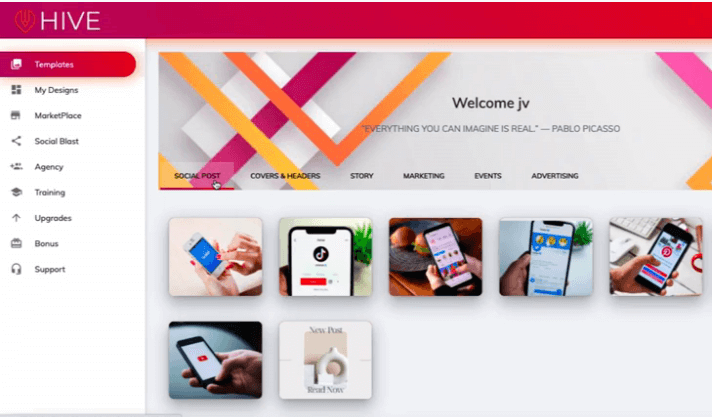 Let's explore the main features of this software.
The dashboard gives you access to various types of templates you can create.
Social posts.
Covers and headers.
Stories.
Marketing templates.
Events.
Advertising templates.
Later in this review, I am going to show you some other resources that are much higher quality and have many more options for you to actually use.
Let's look at the social post for instance.
This section gives you access to Facebook posts, tick-tock videos, Instagram posts, Twitter posts, all the various usual types of things that you can create.
You have the ability to change images, you can change the text, you could also change various things like hyperlinks, make it more transparent, you can add audio, add videos.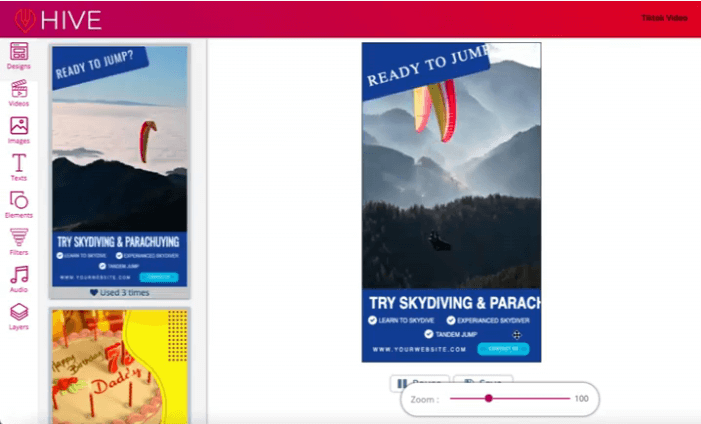 There are 200 odd templates on the front end, and then you get another 300 if you buy an upsell which still isn't that many compared to some of the other applications that I'll show you later.
I think one big drawback of this whole application is, it is $17 on the front end but the reality is that you can get other applications that give you much more in the form of content and various options that you can use and for free.
Designs
This section gives you a full list of all of your designs, and what you can do is you can actually download them directly from here and then use them in any way that you wish.
Because this is cloud-based, this all works really slickly with no real issues. The only drawback with cloud-based type applications, especially from a vendor who is a serial launcher like these folks are is I would be very worried that they're not going to maintain this in the longterm.
Marketplace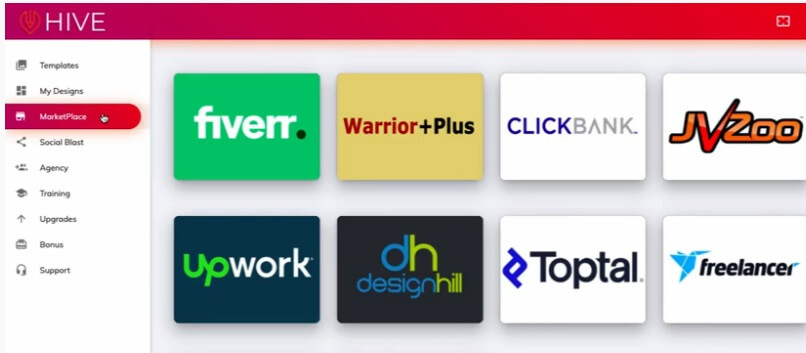 This Marketplace is a collection of sites that you can use to sell your designs. The most suitable ones are Fiverr and Upwork.
I'm not really sure that you would really be able to build an agency selling these type of graphics on Warrior Plus, JVZoo, and ClickBank.
Those particular platforms are mostly used for Digital products.
Social blast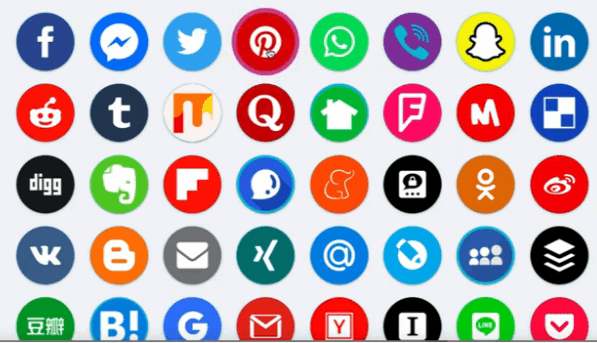 Social blast is a litany of social networks most of which you will have never heard of and have no relevance to selling graphics.
If you want to put your post directly to Facebook, Twitter, or any other social network, this interface allows you to do that.
But on most other applications that do graphics these days, there's always that sharing capability.
So, there's nothing new or special here. These are added to every one of these products as if it's some kind of free traffic and it's really not.
This is also the one-click traffic they usually talk about on every sales page.
Keep in mind that If you have no following on a social media site, and you just blindly post things to that site, you will get no traffic to that post.
There's no reason for people to come over to your post and click on it, especially if you are not providing any value to them.
So it's very problematic.
Best Alternatives
I want to show you three more sites that you can use and I want you to use them as a comparison before you go ahead and decide to buy something like Hive.
So the first site is a site called Canva.
Canva
Most of you guys would have heard this before but Canva has a free and pro version, but the free one is enough if you are just starting.
Canva has hundreds of different templates that you can use for free with much higher quality.
The options here far outweigh the ones that we saw in Hive software.
You can customize this to your heart's content using all the different features and functions it has to offer, and you can do all of that completely for free, download, and share it to the various social networks, etc.
Crello
Crello is similar to Canva. They're both user-friendly and have free versions on the front end that you can try out for a limited type of functionality.
Pixelied
Pixelied is a kind of new fresh version of this and it has some really interesting templates inside.
For instance, if you go to the YouTube section, it's got channel art, end screens, and thumbnails.
The end screens are an unusual one you don't find in certain other applications.
It also has illustrations that you can edit with different types of colors.
Another cool feature I like about it is the free background remover, which is pretty cool.
What I Like About Hive
The only thing I like about this software is the 365-day guarantee.
What I Don't Like About Hive
The entire sales page is misleading
The sales page is always the same, they're literally the same format every time.
The Hive sales page talks about activating 7 streams of autopilot income from one dashboard in 60 seconds.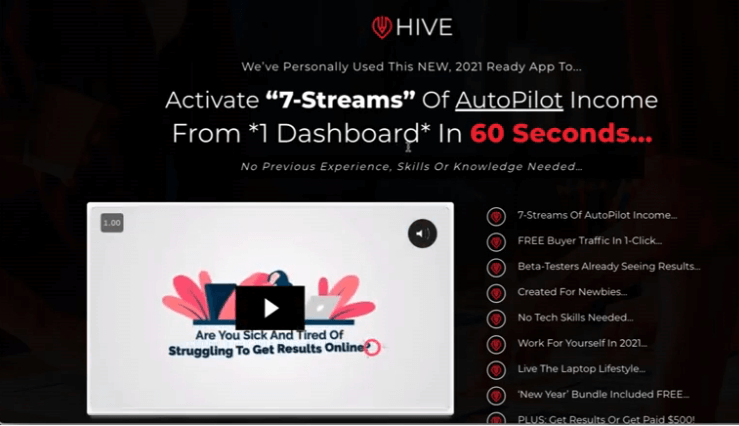 But come on folks, the reality is it's just a graphic design application that's no different from any of the others.
The only thing on this one is it's got a lot fewer templates and I think the quality is a lot lower.
Fake income proof
The usual proof on the sales page doesn't surprise me anymore.
Never bother with anything to do with earnings on a sales page because they're either copied and pasted from other sales pages, or they are completely made up, and sometimes, they've got no relation to the product.
The sales page is all about being able to live the laptop life.
But they're doing this because this is what you want to see, they know you want to be able to build a business online that gives you freedom.
So, they use your emotions. But don't fall for it.
But, is the Hive app free? Let's find out.
Price & Upgrades
Front end: $17 apparently it's the world's first automated high graphic design platform. I think I've just shown you that it's not LOL…
OTO 1: Hive endless edition. Apparently, it has multiple templates unlimited usage, and limited traffic and sales. It comes with additional tutorials for $39…
OTO 2: Hive Done For You edition $197. Apparently, the team will deliver you done for you traffic and sales…
OTO 3: Hive auto edition at $39 the auto edition makes your customers put Hive on autopilot for sales and profit…
OTO 4: Hive 300 one-click templates funnel edition $39. 300 high-quality templates that they can edit, customize, and use…
OTO 5: is the machine edition $197. individual custom funnel setup experience.
So you can see that you could be slightly short of just over $550 there if you bought the whole funnel. And you can get multiple years membership on some of the other sites that I showed you for that kind of money.
Let's talk about the pros and cons.
Pros
Cons
You will struggle with sites like Fiverr and Upwork. On those sites, the guys that do graphic designs are all using photoshop, which is another very technical design applications. You're up against a lot of stiff competition there and in the area of graphics, it would be quite hard for a complete newbie to start making waves unless you had some form of individual talent for it that was different from the others.
Low choice of templates compared to the other sites I showed you.
You get much better quality paid and free options elsewhere.
The value claims are never real.
The entire sales page is just misleading. It's just all about how quickly you can make money and as usual.
There's very little relationship between the sales page and the product that you actually end up buying. This reminds me of software I recently reviewed named Krowd.
Is Hive A Scam?
Hive is not an overly bad quality in any way, but I just think there are free and better quality alternatives available that you could use.
With that being said, this software is certainly not a scam. But just a shiny object made for getting beginner's money.
I wouldn't recommend it.
Similar software: Slick
Final word
First off, thanks for having read this Hive app review. I really hope you have gained value from it.
My advice to you would go down into the free alternatives I have provided to you, look at those sites, and see if they may be a little better investment for you and your business.
Making money online is the result of learning from a proven method and be surrounded by a great community to build your business.
Not by using some Get-Rich-Quick schemes.
With that said, if you're serious about building a long-term sustainable business online, go ahead and hit the button below, over to my #1 recommendation, and it will take you over to a free resource that will take you through the whole process step by step.
Have any questions about this Hive review? Do not hesitate to leave them in the comment section below, and I'll get back to you ASAP.
Thanks for the support!