Welcome to my Passive Profit Pages Review!
It has become very common to see folks selling software and claim this can help you build an online business and help you make money online.
Today, we are reviewing The Passive Profit Pages software.
First thing first, Congratulations for taking the time to do your own research before putting your money into any type of business online.
That's the way to avoid scams, and find the Legitimate way to make money online.
But, what is Passive Profit Pages about, really? How does it work? Will it be able to deliver on its promises to you? Can you really make money with this software? Is Passive Profit Pages a scam? This post will cover those basic questions, as well as provide the pros and cons.
If this sounds good to you, get comfy, grab a snack, and pay close attention because I'm going to give you an honest Passive profit pages review, and you'll learn a very important issue when you're buying software that produces this type of pages.
The purpose of the review is to help you make a more informed decision before you go ahead and purchase any kind of product online.
What is Passive Profit Pages About?
In a nutshell, Passive Profit Pages is a software that allows you to create simple websites to promote ClickBank products.
The product has been created by Krish Rajput. He's got several products on ClickBank, and essentially what he does is selling solo ads traffic, which I will get in to as we go through this review.
How Passive Profit Pages Works
There are many features in this software, but what you actually purchase and have access to is the website. They will give you 5 profit pages where you are going to have affiliate links on those websites, and you'll promote different types of offers.
Here's how to start running those pages:
a-You get your ClickBank Id and plug it in
b-Enter a sub domain. Keep in mind that if you go with their sub domains, you have to use what they provide to you. For instance, the sub domain provided to you in the Guitar page is "Myketoslim .net". This is what you're going to use as your own domain. For instance it can be "SmithMyketoslim .net". Once this is built, you can use that link to advertise this particular page.
c–Build Passive page
If you have an audience to advertise to, this can be good for you.
Anyway, once your links are up and running, you can insert them in those pages provided to you, and if somebody find your page, click on your affiliate links, that will take them to the sales page offer, and if they make a purchase, you will earn a commission.
But, I already see a number of gasps here, because whenever you have an affiliate offer, you should always have a lead capture page so that if customers go over to the ClickBank sales page and don't purchase, you can still do email marketing to them that will bring them back to the sales page and make a purchase.
But if you don't do that, here's what we'll happen:
They'll come to your website, Potentially click an offer, and if they don't purchase at the same time, you'll lose them forever. Because let's be realistic, not everybody is going to purchase the first time.
And unfortunately, there's no lead capture page with this passive profit Pages software.
Pros & Cons
Pros: What's good
30 day money back guarantee
Cons: What's not good
Duplicate Content
Not the right way to start for beginners
The software is not needed. You can just go to ClickBank, grab your links and promote products.
Inside Passive Profit Pages
Let's explore the interface of this software.
Product Builder
This is the main product you purchase. It gives you access to your sites ans different training.
Training
There's a couple of videos that show you how to go about and get your ClickBank affiliate link.
In case you don't know ClickBank, this is just a market place that allows you to sell and become an affiliate, meaning you can promote different products you want. This is why I think you don't need this software to do that.
How you can set up your own pages
As I already mentioned earlier, You have access to five pages. The issue here is that they are five different niches. Having 5 pages is not really going to help you, because you need to concentrate in one niche if you are going to start as a beginner.
One of the pages provided to you is the Guitar. See how it looks like: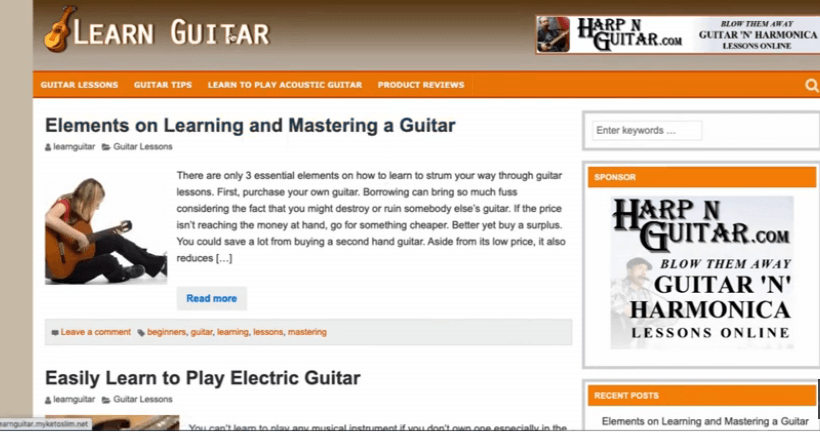 This is a guitar page, essentially all you have to do is put your affiliate link into that guitar page, and if anybody clicks on any of those adverts on the right hand side, go over to the sale page offer and make a purchase, you'll make a commission.
Another issue here is, because you are using a standard page they are developing, and all you do is plug in your affiliate link to the sub domains of their particular listing, you won't have unique content on any of these pages, and that's not going to rank on Google. This is duplicate content, and Google doesn't like it.
But if you really want to succeed, you are going to have to share those links on social medias. But even so, there's no guarantee that you'll make any sale.
By the way, this software is similar to a another product I have already reviewed named Genie.
What I don't Like About This Software
No Traffic Solution
If you have no visitors to your website to click on your affiliate links, you won't make any sale. So this is a big component that you'll always struggle with online.
The problem is not so much the website, but most Done For You builders these days.
All they do is making you believe that you are going to get traffic from social media, but what they don't give you a specific strategy to do that.
Whether you have FaceBook, Pinterest, Instagram, you need an audience that is going to come to your site. Of course this is if you are going to use free traffic. If you don't use free traffic, you will have to use paid traffic, and therefor, if you're a complete newbie, it's not a great idea, as paid traffic can become very expensive for you.
Solo Ads
If you are an expert, you wouldn't be here in the first place. So, I believe you are a beginner…
If you purchase their upsell they called "X", this is a training program that shows you how to set up your own solo ad business.
But, what you are doing is becoming the middleman for folks that are selling solo ads. The vendor says he's making million of dollars with it. But this isn't the type of money you can expect to make. You won't be able to build the list for your solo ad. You are just a middleman.
Solo ads is a difficult business to be in, and these folks who really understand it can make lots of money. It's a very difficult business to get into, and the returns can be very small for you if you don't understand how to create your list of people that you can sell that traffic.
Not recommended if you are a newbie.
They don't let you choose your own niche
Whenever you are doing affiliate marketing, you need to figure out the niche you want to be in, so that the folks you end up promoting to, will be interested in that particular niche. And then you have to build a website to direct this audience to.
But with Passive Profit Pages, you are forced to promote products in niches that are already provided to you. What if those niches are not trendy? what if you don't like them?
==>>Want to do Affiliate marketing the right way? Have a look at my #1 Recommendation.
Price & Upgrades
There are a bunch of upsells there that are quite heavily priced.
Pro-product and training that costs $196. If you don't accept on the first trial, there is a $50 down sale. They'll try to sell it to you for $50 less.
X version traffic business. It costs $196. You get it for $50 less if you don't want the first offer.
Passive profit Community. It costs $20 per month. But this is just a FaceBook group, so I'm not really sure why they are doing that.
Is Passive Profit Pages a scam?
First off, thanks for reading my Passive profit Pages review. I really hope you have gained value from it.
As far as I'm concerned, this software isn't a scam. But I wouldn't recommend it.
All you are really doing is creating some random pages, and trying to get traffic to them. You can have as many website as you want, but if they are just copy of others, you won't get any sales.
So, I would not recommend this product, unless you want to spend $9 just to see what it looks like. But this won't give you any value.
You'll end up spending a lot of time creating pages, and you'll really struggle to get anybody to come along and look at them.
Affiliate Marketing is the result of learning from a proven method, be surrounded by a great community, and working hard to build your business.
Stop chasing shiny objects.
If you're a beginner trying to make it into the online world the right way, I suggest you to have a look at my #1 Recommendation.
Passive Profit pages Reviews Summary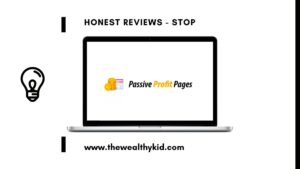 Name: Passive Profit pages
Vendor: Krish rajput
Product Type: Affiliate marketing software
Price: $9
Upsells: Yes
Rating: 10/100
Verdict: You'll end up spending a lot of time creating pages, but you won't get any traffic to come and look at them. Plus, those pages you get are duplicate content, meaning, you won't rank in the search engines. The only way to get traffic will be to share your links on social medias, but this could work only if you have a big following there.
Not recommended! Invest your time and money elsewhere.
Click Here To See My #1 Recommendation!
have any question regarding this Passive profit Pages reviews? Leave a comment below, and I'll be more than happy to help you out.
Thanks for the support!