Welcome to my Passive Profit Funnels reviews!
The Passive Profit Funnels creator claims that this software can help you generate 1000+ buyer leads and over $10,000 per month… But, is that true?
This is what we are going to find out in this review.
First thing first, I must congratulate you for taking the time to do your own research before putting your money into any product online.
That's the way to avoid scams, and find the legitimate way to make money online.
But, what is passive profit funnels about, really? How does it work? Will it be able to deliver on its promises to you? Can you really make money with this software? Is passive profit funnels a scam? This post will cover those basic questions, as well as provide the pros and cons.
As usual, this review is based on my experience buying many products online, just like this one. The idea is to give you more information, to help you make a more informed decision before you go ahead and purchase this kind of software online.
Passive Profit Funnels Reviews Summary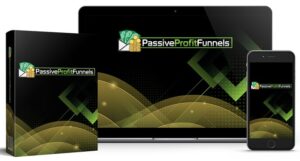 Name: Passive Profit Funnels
Vendor: Glynn Kosky
Product Type: Software
Price: $17
Upsells: Yes
Rating: 25/100
Verdict: The sales page is Over Hyped. The idea is to get you exited, jump in and spend a fortune on this kind of shiny objects. There's no traffic strategies here. If you want any of this type of software to work, you really need to learn about traffic. the funnel is hosted by them, and this is a real problem because if they take this down, your business is gone.
So, Not Recommended! Invest your time and money elsewhere.
What is Passive Profit Funnels About?
Here's how the creator describes his product:
Cloud based software
Multiple 100% DFY Funnels
Multiple top converting products with automatic affiliate approval.
Full library of lead magnets and landing pages
Hosting included for all of your pages
100% free traffic build in + additional free strategies you can use.
Step by step video training.
How Passive Profit Funnels works
According to the vendor, Passive Profit Funnels works in 3 steps:
Step 1: Grab your copy of Passive Profit Funnels
Step 2: Login to the cloud based app, and select one of the Done-For-You funnels.
Step 3: Hit the traffic button.
But keep in mind that, this is not how you can expect to get traffic and make money. Keep reading because you'll find out why this software won't work for you at all. Especially if you are a beginner.
Pros & Cons
pros: what's good
180 day money back guarantee
The software works
Cons: what's not good
Sales page is over hyped
No traffic strategy
Value claims not real
Funnel hosted by them
Low quality DFY pages
Not needed. You can just buy a page builder
No value to beginners
==>>If you want to start affiliate marketing the right way, have a look at my #1 Recommendation
Inside Passive Profit Funnels
This is very similar to most products this vendor produces. It's almost the same product, and all they are doing is changing a few other products out that they allow you to promote, and also changing the colors. But it's almost the same software every single time, they are just changing the name.
Now, let's explore the different features of this software.
Tutorials
Those tutorials walk you through the various aspects of this software.
Here are the different videos you can find:
Integrations. This is how you can integrate your Autoresponders.
How to create campaigns for any product
How you can use the upgrades.
Auto Profit Boost
Super Affiliate Builder.
Traffic strategies. Some of this traffic strategies are paid, some are Free. But, to be honest, you have to be very careful whenever you use any of this type of traffic strategies because some of them can be quite dangerous.
In the traffic strategies videos, the very first one is Solo Ads, and if you are a newbie, you don't want to take that road, because you can spend a lot of money and get very little return. So, if you are newbie and don't know what you are doing, do not go into solo Ads.
Then, there's another traffic strategy called "Paid advertising" that you can find in the tutorials. Again, you have to be very careful when using paid Advertising if you are just starting off. If you know what you're doing, you can perfectly go for it. But the thing with Paid Ads is that it really needs a lot of Optimizing to get it going. And it can cost you a lot of money.
So, be very careful when you use Paid Ads as a beginner. I would advise you to start with Free Ads, meaning you can start with a YouTube channel, or create a website. Both are very simple to do nowadays.
By the way, this is why I'm using a Blog as my main traffic source, because it's free, and it allows me to scale without spending a lot of money.
There's also another tutorial about Instagram. Nothing wrong about this traffic strategy, but remember that if you think about Free traffic methods, you have to expect to be putting out a lot of content to get traffic over to your site.
But, one of the issues with this type of funnels is, what is the reason that anybody is ever going to come over to this organically? You'll have to somehow get people over to your links, which means you need to either create a YouTube channel, create a Blog, anyway creating something that allows people to see content before they come over to this type of offers.
And the biggest issue I have with most of this DFY Funnel Builders is the traffic strategies they give you never really work, unless you spend a long time adding content to the various site. So, just be aware of that.
I do believe that most beginners have no idea how to drive traffic to this type of sites. And this is really what you need to learn how to do before you start to build all this type of funnels.
There's nothing really wrong about the training as far as I'm concerned. The creator of Passive Profit Funnels trains very well.
Your Campaigns
This is the area where you can build your own campaigns obviously. That means, having the various pages in the funnel built for you using this particular piece of software.
Keep in mind that, this kind of things might sounds good, but you can just go ahead and learn how to do this yourself very easily if you are a beginner. And you can end up having unique pages of your own that are actually hosted by you.
Another problem with this DFY software is that they are hosted by these folks. Now I know for a fact that they don't support their products after a while.
As a matter of fact, there's one that is always consider as a traffic solution called Affiliate Traffic Lab. But this product/software doesn't work anymore, and they're still selling it as if it does.
So, if you got a vendor like that, how can you possibly build a business based on having links through software like this if they are not going to be maintained. You have to be very careful whenever you use this type of software, and if you're really serious about building a business online.
This type of software will make you believe that you've got a nice online business, but it's very difficult to get people across and see them.
Done-For-You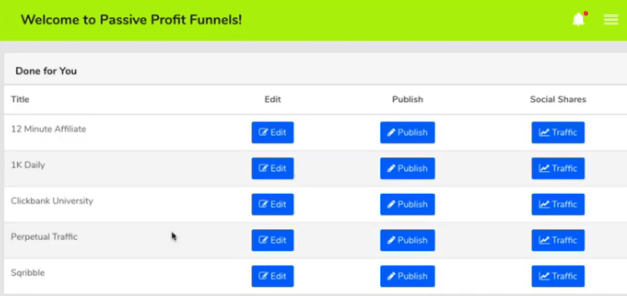 There's two arguments here.
One is there are DFY funnels, meaning you don't have to do anything, and just go ahead to promote those products.
Then, the other side of this is some of these products belong to the vendor. That's what they always do, try to market their own products, and the best thing for them is if you go and do it for them.
The problem here when I see these DFY products is that I wouldn't promote those products myself. 12 Minute Affiliate is a product that encourages you to go ahead and spend a fortune on solo Ads to get people to buy that product. And for a newbie it's an absolute nightmare. Again, the vendor gets all the money there because all they need to do is get people to be spending solo Ads to come into his Funnel and buy his products.
Here're some DFY squeeze pages they provide to you:
12 Minute Affiliate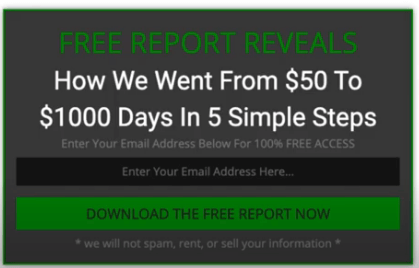 1k Daily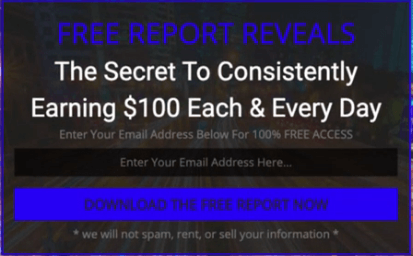 Perpetual Traffic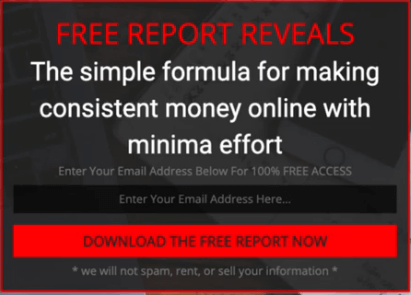 Keep in mind that this are products that you'll have to promote.
Done For You 2
This is an Upsell. There are more DFY products there.
Quite frankly, I'm not a fan of some of those DFY pages. Some of them are not well designed, and you don't even have the opportunity to edit them. Here's an example below.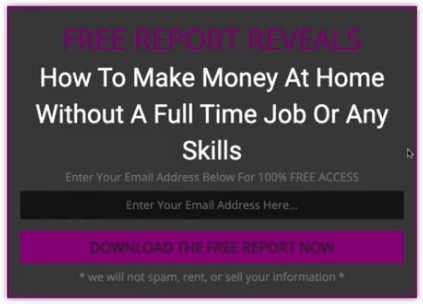 If you go to the actual social share, you'll see a ton of social media platform as you can see below.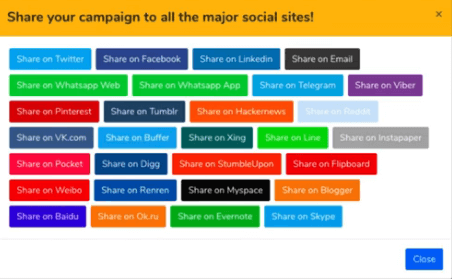 This is the free traffic they say they have. Again, you re not going to have any traffic from any of these sources, unless you have an existing audience on FaceBook, Twitter, Instagram, etc.
If you have an existing audience that you can share these Funnels with, that's Fine. But if you are a complete beginner, you are unlikely to have a big following on any of this, and you won't get any traffic. Just think about it.
By the way, I have reviewed similar software such as:
I mean, try to post a link on a FaceBook page now and see how many people actually go ahead, click, and make a purchase. It just doesn't work that way. You won't have a list of other people who are potential buyers. Maybe just your family, friends.
So, there are a bunch of other things you need to do first. To build up presence on FaceBook, Twitter, etc, you need to build your audiences before you end up getting traffic over to this type of offers.
Free Traffic Method
Some more YouTube training.
What I don't Like About This Software
Over Hyped sales page.
It is always the same with this type of software. They always make you believe that you will make money so easily. But, all they want is you to spend your money into their poor software.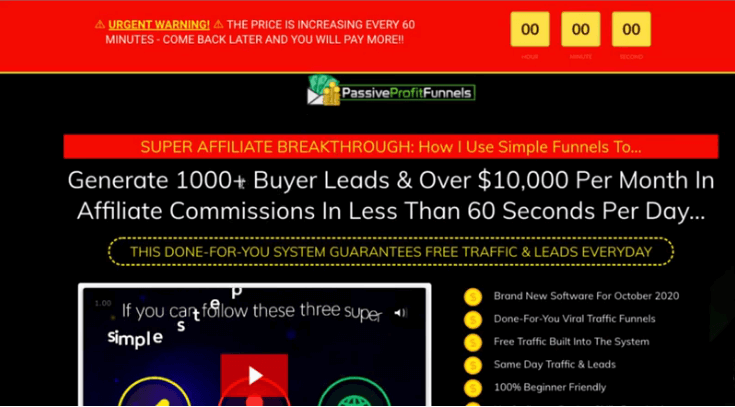 Come on guys, it's not going to make you $10,000 per month, and in less than 60 seconds.
I have no doubts that the owner of this Passive Profit Funnels software makes lots of money with it or any other affiliate product, but you as a beginner, you can't expect to make this type of money with this type of software.
Passive profit Funnels Pricing & Upsells
Front End: $17
OTO 1: Unlimited version $67
OTO 2: 100% Done-For-You $97
OTO 3: Unlimited traffic $147
OTO 4: $30k in 30 days version $147
OTO 5: Super affiliate version $97
OTO 6: License rights $147
OTO 7: Auto profit boost $47
Is Passive Profit Funnels a scam?
First off, thanks for reading this passive profit funnels reviews. I really hope you have gained value from it.
As far as I'm concerned, this software isn't a scam. But I wouldn't recommend it. If you are a beginner, you may end up losing lots of money trying to make money. And if the software crushes or collapses one day, you are going to lose everything. This is the main issue with Done-For-You software.
So, be very careful.
Mind you, making money online is the result of learning from a proven method, be surrounded by a great community, and working hard to build your business. Not by using some Get-Rich-Quick schemes that only want to take money from you.
So, my advice to you is, Stop chasing shiny objects.
Instead, if you are a beginner trying to make it into the online world the right way, I suggest you to have a look at my #1 Recommendation.
This is where you're going to learn the basics of affiliate marketing and start the right way, and much more.
Don't take my word for it though.
Have any question regarding this Passive Profit funnels reviews? Don't hesitate to leave it in the comment section below, and I'll be more than happy to help you out.
Thanks for the support!