Welcome to my Checkitz review.
Shiny objects are everywhere, and the product we are going to review today is one of them.
Congrats on taking your precious time to do your own research before putting your money into any type of software online.
Everybody should do this to avoid scams and find the legitimate way to make money online.
But, what is Checkitz about, really? How does it work? Will it be able to deliver on its promises to you? Can you really generate money through the push of a single button as they claim?
This post will cover those basic questions, as well as provide the pros and cons.
Let's get started.
Checkitz review summary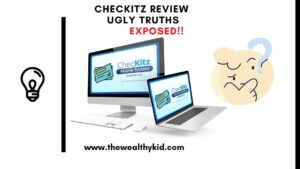 Product name: Checkitz
Vendors: Jason Fulton & Sean Ogundele…
Product type: Marketing Software.
Price: $19.
Upsells: Yes
Best For: No One
Rating: 1/100.
Verdict: Checkitz is a software that allows you to take other people's video reviews on particular products, then use them to advertize products and make commissions. But, this is a very poor way to have an online business. Plus, you won't make money through the push of a single button. In fact, there's no traffic solution, meaning there's no money to be made.
Stay away from this software.
Not Recommended! Invest your time and money elsewhere.
==> If you're really serious about starting an online business, Check out my #1 Recommendation. I've got some free training there that'll teach you how to build a real business online. and I highly recommend you check it out.
Quick Navigation
What is Checkitz?
Checkitz is an application that allows you to build so-called money pages. But in essence, what they are doing is building review pages that allow you to use other people's videos, or you can create your own videos and then add bonuses to advertise products and make commissions.
It is a cloud-based application and as usual, it is promising you to make money through the push of a single button and with no real effort.
The product comes from Jason Fulton and Sean Ogundele.
Here's an overview of the sales page:
Push-button free traffic in one click…
Fully automated income system…
Beta testers already getting results…
No experience or tech skills needed…
You get paid to cover bills and get ahead…
Set 2021 up to be your best year ever…
Live life on your terms…
2k per day live invite included for free…
Get results or get paid…
Triple your money back.
As usual, none of those claims is true.
How Does Checkitz work?
The process is simple.
In fact, the software goes out there and takes other people's videos on product reviews.
Then you use them as your own and just insert your affiliate links.
When someone finds your videos and makes a purchase, you make a commission.
This is typical of those vendors. Actually, I've reviewed some of their other products similar to this one: Pockitz and Kashkow.
They seem to be stealing other people's content on all of their products.
But, don't think this is how you're going to make money.
Don't you think it's too good to be true?
Well, it's, and I'll explain that in more details later in this review.
Inside Checkitz
When you are on the inside, you can see the dashboard.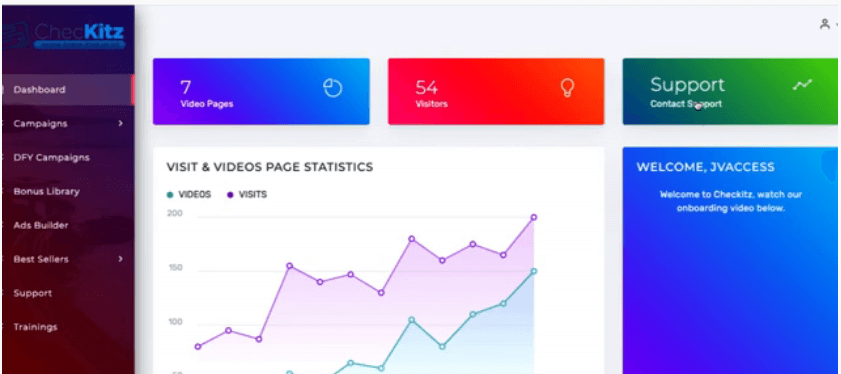 The main dashboard gives you access to the number of video pages you've made, the number of clicks to the site you've got, and you also have the opportunity to contact the support.
Something I have realized is that if you click on the support link, something alarming happens: It's supposed to take you to their fpsupportdesk.com, but that page isn't secure.
So, it doesn't give me a lot of confidence to be able to go through…
Now let's explore the different features of this app.
Campaign
The campaign section allows you to see all your created video pages.
They also give you some PLR type bonuses that you can go ahead and give away.
They're just PLRs that have been used thousands of times before by other people.
Create a campaign
To create a campaign, you need to enter a name, a video title, then to insert a video, you can either have an mp4 video or you can go ahead and grab a YouTube video.
More, you enter your thumbnail. They give you two options: Either search on Pixabay or upload your own.
But in their demo, what they tell you to do is grab other people's YouTube videos to put in the software for your review pages.
As far as I'm concerned, that's a very poor way for you to have a business online.
Why not have your own YouTube Channel, and just review products on your own? It will save you money.
Next, you have the video action. You can choose between image ads, CTAs, buy buttons, option forms.
Change the background colour, etc.
Finally, add your various PLR bonuses.
Done For You campaigns
This section gives you access to their other products. So, you'll have the ability to promote them.
Keep in mind that most of those products are pretty poor.
But this shouldn't surprise you based on what you've seen so far in this Checkitz review.
Bonus library
This is where all those PLR bonuses are.
Ads builder
Ads builder is just a basic editor that allows you to build very simple ads and you can overlay them on your videos.
Bestseller
This best-seller tab is quite weird because all it's doing is going over to Warrior Plus and JVZoo and telling you what the best-sellers are.
But this is something that can just be done through those platforms. So, nothing special here.
So far, this software allows you to do what you can do for free elsewhere.
What I like about Checkitz
There's nothing I like about this software.
What I don't like about Checkitz
Ugly truths Exposed!
Here are the things I don't like about this software.
No Autoresponder?
I've noticed there's nowhere to actually integrate any kind of autoresponder. So there's no way of actually gathering leads on an ongoing basis from your actual business.
Not Self-hosted
This is not self-hosted. It is hosted on their platform, meaning you could build multiple pages and then if they disappear overnight, you'll lose everything.
This is why I always recommend people to start an online business by having their own website.
A website is like having your own real estate property online.
No Traffic
The so-called push-button traffic they always talk about on the sales page is not what you think it is.
In fact, all they do is provide you with social share buttons to allow you to share your links on social media.
But does it mean you'll get traffic? Of course not…
If you have no following on any of these networks, just pasting this over to your Facebook account, Twitter or whatever else will not get you anybody coming over to these pages.
Even if you've got some form of following on those networks, you wouldn't be using software like this anyway. You'll be using nice quality software.
You should have a look at my #1 recommendation to see how you can start online with your own website for free.
The sales page

Their sales pages are all written the same. If you look at their previous product sales page called Pockitz, it's all the same.
All they've done is changed numbers around.
No organic traffic is a problem
The other big issue with that is that the traffic is not going to come organically over to these pages…
People need to search for a particular video in the search engines to be able to find you.
If you're sharing other people's YouTube videos for instance, where are you getting your traffic from?.
Those videos are not going to get you any traffic.
Without traffic, there's no business., and therefore no money!
So your better way to do this is to actually have your own videos on youtube and then get the traffic over to your review pages, which is a perfectly legitimate thing to do.
Stealing other people's content
The other distasteful thing I don't like is the fact that you're pretty much pinching other people's work to make money yourself.
Checkitz pricing and OTOs
Front end for $19.
OTO 1: The limited edition is $37.
OTO 2: Done-For-You affiliate profits $197.
OTO 3: Automation is $47.
OTO 4: Diamond traffic edition is $67.
OTO 5: Super affiliate edition is $47.
OTO 6: No computer paydays edition $77.
OTO 7: License price is $147
And that's around $600 for this crap. You can have a better product with this amount of money.
Pros: What's good
Cons: What's not good
Very poor tactic. Especially how they teach you to steal other people's videos and then use them to profit yourself.
Spammy selling method. You're tricking people into clicking on adverts. This creates absolutely no value to anybody.
There's no way of gathering leads if you want to build a business over time. You can't rely on people just coming across your page occasionally and buying. You've got to be able to build an email or a messenger list.
The sales page, as usual, is so misleading.
Is Checkitz a scam?
Without a doubt, Checkitz is a scam.
The software is not going to work.
There's no traffic.
I don't believe this is a real business.
By the way, I've reviewed a similar one not so long ago: Instant Guru.
Stealing people's content is very trendy those days LOL.
Conclusion: Checkitz Review
Making money online is the result of a proven system. And this software isn't a proven one.
So, you need to stay away from this. It's just a typical shiny object made to take beginner's money.
Not recommended!
If you're really interested in building a long-term sustainable business online, go ahead and hit the button below, over to my #1 recommendation where you'll find a completely free resource there to start learning how to do this the right way.
If you have any question about this Checkitz review, don't hesitate to leave it in the comment section below, and I'll get back to you ASAP.
Thanks for the support!