Welcome to my Groove Funnel review!
If you have been looking for a method to save money on a digital marketing course, or to improve your automation online to save even more money, then this is the article for you.
Sure, there are tools that are already available that any business can use to run their entire company and processes digitally.
However, any minimum amount of research will tell you that most of these products are expensive, complicated and limited in customization. In other words, not very user-friendly, and definitely not suitable for all business owners, especially those who are less tech-savvy and might even be on a budget.
I mean, who can afford to invest thousands of dollars a month into a bunch of complicated tools, and on top of that, hire employees to manage the systems, right?
Well, if this sounds familiar in any way, I have some good news for you.
As an online marketer and blogger myself, I am always looking for new solutions for these everyday challenges we face as business owners.
Today, I am very excited to introduce you to my latest discovery GrooveFunnel!
But, what is Groove Funnel about, really? How does it work? Is it really worth it? Is the platform any good? This post will cover these basic questions and provides all features this system has to offer.
If this sounds good to you, get comfy, grab a snack and pay close attention because I'm going to give you an unbiased Groove Funnels review.
Quick Navigation
What is Groove Funnel?
GrooveFunnels is a suite, which combines various applications used to build sales funnels.
This suite consists of a landing page builder, GrooveSell(which is a shopping cart builder), and GrooveMail(which is an email service).
In case, you don't know, A Funnel is a marketing tool being used to collect leads and transform those leads into buying customers.
GrooveFunnels is one of the best ways I have found to be able to build sales funnels and sell digital products online.
By the way, I think it's the best alternative for ClickFunnel!
Meet the CEO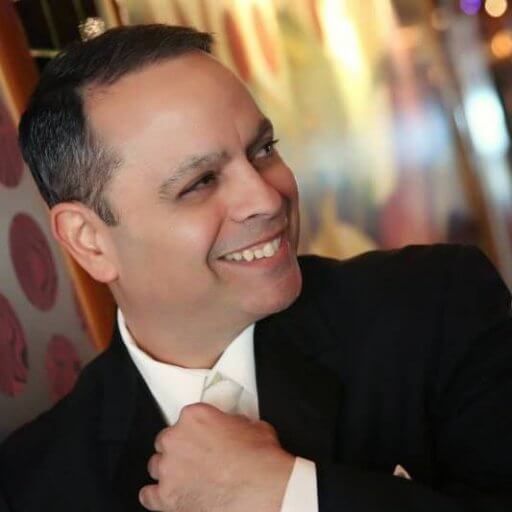 Mike Filsaime is a digital marketer, author, speaker, software developer, online marketing educator, and marketing consultant.
He has been around in the industry for 20 years, so he obviously has a lot of experience in what he does.
Who is GrooveFunnels for?
GrooveFunnel is best suited to anyone wishes to sell a product or service online.
This could be a digital product such as an eBook, course, or a monthly membership, or a service such as coaching or consulting.
If you already created a product to sell, and are just looking for a way to build a sales engine around it, then Groove Funnel is definitely a good fit for this.
GrooveFunnels Features.
Inside your Groove Funnel dashboard, you will get access to Groove Digital products.
1. GroovePages (Landing pages & website Builder).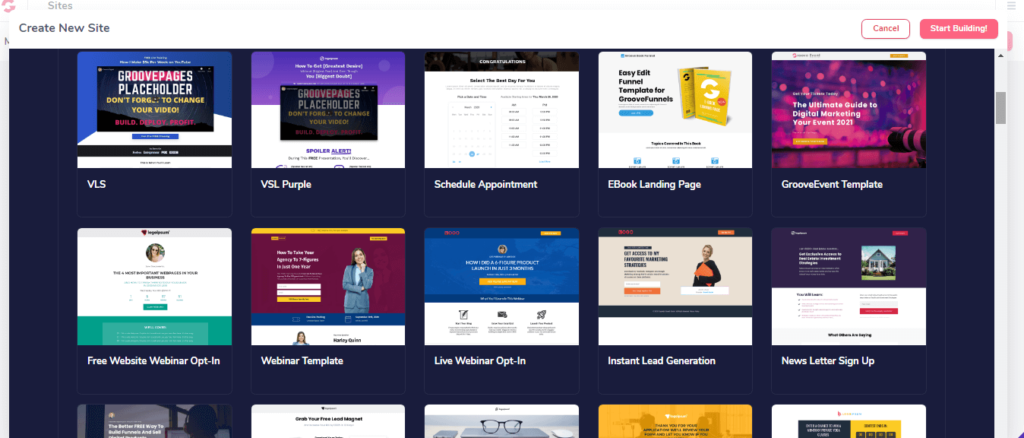 GroovePages is a funnel builder that uses a drag and drop interface, making it easier for online marketers to build their funnels or business landing pages.
It also has predefined themes that you can easily edit and customize according to your business and preferences.
2. GrooveSell (Shopping Cart & Funnel Builder).
Obviously you can't have a sales funnel without the "sales" part, and that's where GrooveSell comes in…
This is essentially where you can put your products in and sell them from.
As you can see in the above picture, inside your GrooveSell vendor Dashboard, you have an overview of your online store. You can easily see and manage your sales, revenues, commissions, refunds, profit, and many more.
Oh and by the way, it's comparable to other shopping cart platforms like SamCart, or ThriveCart for instance.
3. GrooveMail

Groovemail is your email marketing tool. It's an autoresponder like Aweber, mailchimp, etc.
It's currently available for all members.
4. GrooveMember
This is basically if you want to create a membership website.
The purpose of a membership site is to engage with members or users, to build that trust, so they can continue being members and eventually become a customer.
And this is of course one of the best ways to make money online.
Imagine having a membership site with a monthly subscription! Meaning the users pay each month to have access to available tools, services, and content you have to offer. Isn't it Amazing?
But keep in mind that this option is only available to paid members inside the Groove Funnels platform.
5. GrooveVideo

GrooveVideo is a video hosting service. If you want to host your video sales letter, this is where GrooveVideo comes in.
GrooveVideo also has a buil-in capability of sharing videos on social networks like FaceBook…
Also keep in mind that there are other GrooveFunnel features set to launch in the future. Such as:
GrooveBlog
GrooveWebinars
GrooveDesk
GrooveCalendar
GrooveSurvey.
When the time comes, I'll update this review.
Groove Funnels Pricing
Groove Funnels has both Free and Paid options.
The free version of Groove Funnels gives you access to GrooveSell, GrooveAffiliate, and Groovepages Lite.
As I already mentioned earlier in this review, the free membership won't give you access to the Groovemail, which is the email marketing aspect.
You are also limited to 1 funnel template, 3 sites, and 3 funnels.
But, it's completely free for life anyway. So, that's the great part. And if you are new to online marketing, this is fairly enough for you at the moment.
Then there's the GrooveFunnel Platinum Lifetime license, which, you can purchase right now for one-time fee of $1,397.
This gives you absolutely everything the platform is planning to offer. Meaning, you won't pay anything else after that. You will have everything, including future updates and offer without any extra cost!
Yeah, you heard that right.
So, this platinum plan is an awesome plan to get while the offer is still available.
Yes, because it won't last forever.
Here's a breakdown of the membership and future membership option.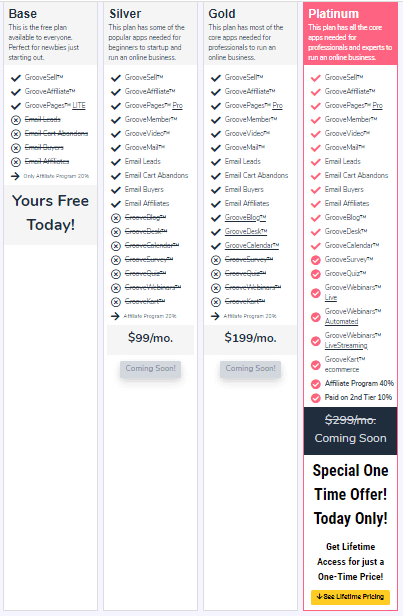 Groove Funnels Training & Support.
When you join GrooveFunnel, you'll also be directed to their FaceBook community, where you can have access to other members, ask questions, and get answers, etc. Also have access to their weekly live training.
There are lots of tutorial videos from previous training. You can still access them all, and if you aren't entirely satisfied with the tutorial, you can still use the ticket system to contact support.
Great news is, support is pretty fast to respond, which is great.
GrooveFunnels Compensation Plan
The compensation plan is simple at Groove Funnel. Just keep in mind that as a free member, you'll get 20% on any affiliate sales you make. (Recommending the platform to others)
However, as a Paid member, you'll get 40% affiliate commission and 10% tier 2 commissions.
What I like about Groove Funnel
1. The Free Plan(For Now)
You can still pick up a lifetime GrooveFunnels account for free at the moment, With some limitations of course.
But, even with a Free account, what you actually get is enough to get you started.
They basically give you for free what other platforms like ClickFunnel ask you to pay for!
So, it's definitely worth the try. Nothing to lose, since it's totally FREE.
2. Free Training.
I mean guys, that's totally mind blowing! Not only you get access to this amazing tool for free, but you also have free weekly training to help you with your marketing business.
What I don't like about Groove Funnel
1. It has a Multi-Level Marketing Model (MLM).
With GrooveFunnels affiliate partner program, it's possible to earn a commission when the person you referred goes ahead and refers someone else to the platform.
And if you have been reading my articles on this website, you would know that I don't promote MLM companies like The Six Figure Mentor or ponzi schemes like Forsage for example. The reason being I don't like to make money only by recruiting people!
BUT, Promoting GrooveFunnel is different and totally worth it because it actually has something to offer, I mean they have the product, which is GrooveFunnel. This will help people grow their business and take it to the next level.
So, there's nothing wrong to direct marketers to this amazing tool, that can potentially change their lives.
But You probably want to join Groove Funnel just to sell a digital product or whatever else you have to offer, and not promote it… If that's the case, then it's still fine.
Pros & Cons of GrooveFunnels
Pros:
♥Easy to use.
♥Excellent all-in-one suite.
♥You don't need to buy any third-party tools with Groove Funnel.
♥Free Training and Tutorials.
♥Free Lifetime access Now.
♥User-friendly dashboard.
Cons:
×Still in beta at the moment I'm writing this review.
×It has a bit of a learning curve to use the advanced features.
Final Thought
What really attracted me to join GrooveFunnel is that you don't need any third party tools or additional recurring subscription for these additional tools.
Do I recommend you to sign up at Groove Funnel?
Well, at the moment it's free for its basic plan, and basically there's nothing to lose. So, Yes I highly recommend it.
Now you might be asking… what's the catch?
The catch is that GrooveFunnels is FREE, but for a limited time only.
As the product continues to get upgraded, GrooveFunnels may not be free anymore.
This means that now is the time to sign up for your free account, which would also qualify you for the additional software upgrades that they make as time goes on.
Awesome deal, right?
It's called being at the right place, at the right time.
And that's where we're at right now.
I'm honestly not sure when this free offer is going to go away.
Do yourself a favor and sign up for your free GrooveFunnels account right now, and I'll see you inside of the FaceBook group.
Thanks for reading this Groove Funnels reviews, I really hope you've gained value from it.
I Have Been Able To Create a Successful Online Business: Here's My Secret
If you really want to build a long term sustainable online business that will create a passive income for you, have a look at my #1 recommendation.
I have written a complete guide that will walk you through the whole process step by step, and you can get started for Free today.
If you do have any question, please consider leaving it in the comment section below and I'll get back to you as soon as possible.
Thanks for the support!