Welcome to my Beast Funnels review.
Shiny objects are everywhere nowadays, and the product we are reviewing today is one of them.
First thing first, I appreciate you taking the time to do your own research before buying anything online.
That's the perfect way to avoid scams.
But, what is Beast Funnels about, really? How does it work? Can it be able to deliver on its promises to you? Is Beast Funnels a scam or legit?
This post will cover those basic questions, as well as provide the pros and cons.
Let's get started
Beast Funnels Review Summary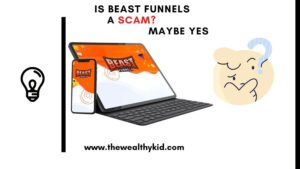 Product name: Beast Funnels.
Vendor: Brendan Mace.
Product Type: Marketing Software.
Price: $12.95
Upsells: Yes
Best For: No One.
Rating: 1/100
Verdict: Beast Funnel is just a typical shiny object aimed at beginners. The system allows you to get leads for your business, but the whole process is confusing and made like a pyramid, the sales page is so misleading, and you simply don't need this at all because you won't get any traffic.
Not Recommended! Invest your time and money elsewhere.
==>> You wanna know how I make money online? Check out my top recommended platform, get started for Free today, and start building a long term sustainable online business.
Quick Navigation
What is Beast Funnels?
In a nutshell, this is a funnel builder which provides a landing page and a thank you page within which you can place any kind of affiliate link you desire in order to get traffic.
The idea of this though is it gives you the ability to get free referrals from others. Those people are provided with their own little funnel and they can go ahead and promote for you.
That may sound great in theory but stick with me because in this review and I'm going to tell you why I think this is a very problematic strategy and why I think this is really not going to be much valuable to you especially if you're a beginner.
Here's an overview of the sales page:
See how to turn 100% free traffic into leads and sales…
you don't need a website, domain, hosting or any tech skills, it's all done for you…
You can triple your marketing reach for more sales in less time…
It's 100% free traffic built into this beginner-friendly method.
As usual, they make it look easy and exciting on their sales page, but the truth is those claims are not real.
How does Beast Funnels work?
The overall process is quite confusing, but I'll explain.
Here's how Beats Funnel work:
You first need to create a landing page and put your affiliate link into that landing page.
Then, you need to bring some kind of traffic to this landing page.
Next, this traffic opts-in and they get immediately sent over to the affiliate link page.
Further, they are provided with a mini-website.
They finally use this mini-website to promote your affiliate link as well.
They'll promote your affiliate link until they manage to sign up a certain number of people you want them to sign up for it.
Once they managed to sign up the required number of people you want, they can go ahead and change that affiliate link to something else that they choose, and someone else will do the same thing for them as well.
So, they can now use that landing page and funnel to promote their own affiliate links.
That's the whole theory.
It's a referral marketing process.
In fact, they are operating like an MLM scheme.
You will probably end up getting more leads because every single person you sign up has to sign a few people for you, and so on.
So, the idea is to get lots of leads for your links.
How do you build a funnel with Beast Funnels?
They provide you with a choice of landing pages.
You can select a template for a landing page…
Go ahead and name your template.
Then you add an offer URL. This could be whatever you're trying to promote.
Next, you include how many subscribers you want the people that are subscribed to you to actually get before they can go ahead and use this funnel for their own affiliate link.
For example, if you say they need to get 4 subscribers to your link, they'd have to get those four people to sign up for that landing page before they can change that landing page and promote their own link.
You can also have your push notification and many chat script.
Keep in mind that the training doesn't show you properly how to go about push notification and chat script, and that can be a problem for you.
I guess you're a beginner, so you wouldn't know how to go about that. Also, things like chat script require some investment, which I don't recommend if you're just starting out.
Finally, there's the connection to the autoresponder. You need an autoresponder to collect leads or you can collect them in this software.
Once you are done, just hit the publish button.
Here's an example of the landing page you'd give out to people: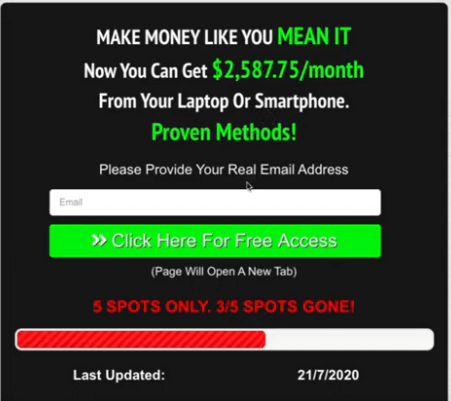 And here's what the thank you page looks like: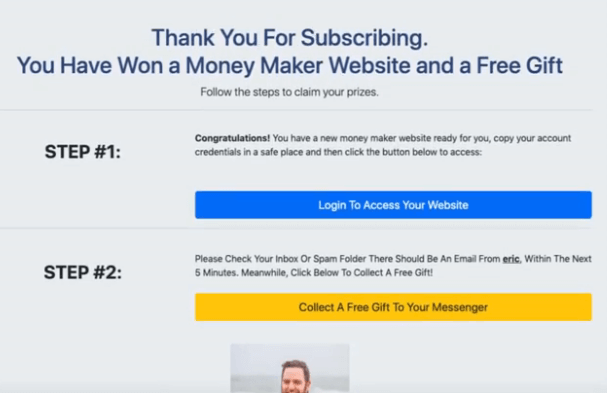 What I like about Beast Funnels
Quite frankly, there's nothing I like about this software.
What I don't like about Beast Funnels
Let me just have a quick couple of points about the software.
7 things you need to know
Regarding the email
If you're in Europe, emailing people randomly can be problematic.
So I'm not a fan of any of these software's that collects email leads for you and once you have them, there's no facility to actually email the prospects.
I mean, what do you do with them next?
But this is of course if you're Europe based.
Cloud-Based
Another point is because this is cloud-based and it's under the beastfunnels.net site, once they decided that they're bored of this and they don't want to actually host it anymore, all of your leads could be gone.
That's one of the big issues with cloud-based apps.
If you want to collect leads in a proper and safer way, I would recommend things such as Aweber or Get Response. They cover you with their rules to make sure you don't get in any trouble.
Support
Once you've subscribed to someone's list, there's nowhere on the page where they tell you what to do next.
All they do is give you your affiliate link. But not how you can go about finding leads.
Awful Tactic
The tactic is awful. Why would they use an MLM system?
You're not going to get people to do this with all the will in the world.
Do you know how to drive traffic to a landing page?
Another big issue is you need to know how you will be able to drive traffic to this landing page in the first place.
In the training they provide, they talk about paid traffic like solo ads.
But you need to stay away from this. You're just going to spend a fortune on it for absolutely nothing.
Misleading sales page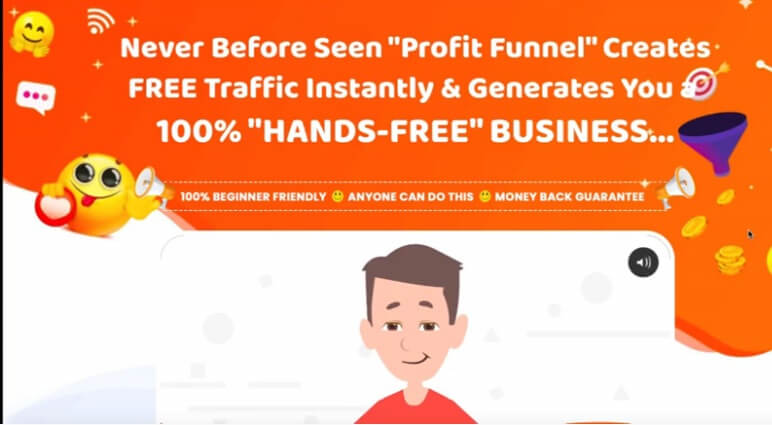 As usual, their sales page is so misleading, making you think you'll easily succeed with this app and generate free traffic.
The whole sales page really just talks about how simple it is, and all you have to do is click a single button and you're done.
They say that email marketing is dead
On the Beast funnels sales page, they talk about email marketing being dead and people don't open emails anymore.
But they're totally wrong! In fact, email marketing worked, is still working, and will still work.
Have you heard the saying that says: "The money is in the list".
Just go ahead and create an Aweber account, your landing page and connect them to an offer in ClickBank for instance, and you're done.
You don't need this software.
Beast Funnels OTO & Pricing
The front end is $12.95
OTO 1: $37. Platinum edition
OTO 2: $197. Done For You blogs promoting ClickBank products.
OTO 3: $197. Done For your multi-million dollar system.
OTO 4: $197. Unlimited traffic.
OTO 5: $167 license rights to sell Beast Funnels as your own product.
Pros
Cons
There's no traffic. You're not going to get any traffic for this and I'd love somebody to prove me wrong. But if you just use this software and start sharing that link around, you're just going to be wasting your precious time.
The whole process is very confusing.
You simply don't need it.
Is Beast Funnels a scam?
It depends on what you think a scam is.
But I've provided all elements about this software.
Let me summarize it for you:
The whole thing is really poor quality and you're just going to lose your hard-earned money with this software.
It's just a typical shiny object and everyone should avoid it at any cost.
Similar software: Affiliate Traffic Lab
How I make money online
If you're looking for a long-term sustainable business online, go ahead and hit the button below, over to my #1 Recommendation and I'll take you through the whole process step by step.
If you do have any question about this Beast Funnel review, do not hesitate to leave it in the comment section below.
Thanks for the support!