Welcome to my Click And Bank Reviews.
You're here because this software promises you automation, everything Done-For-You, easy Google ranking, and easy money…
First thing first, congrats on taking the time to do your own research before buying a product.
That's the perfect way to avoid scams and find the legitimate way to earn money online.
But what is Click and Bank about, really? How does it work? Will it be able to deliver on its promises to you? Is Click and Bank legit? This post will cover those basic questions, as well as provide the pros and cons.
Get comfy and pay close attention because I'm going to tell you everything there's to know about this software.
Let's get started.
Click And Bank Reviews summary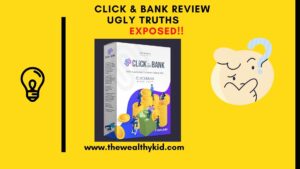 Product name: Click and Bank
Vendor: Dan Green
Product type: Marketing software
Price: $47
Upsells: Yes
Best For: No One
Rating: 1/100
Verdict: Click and Bank allows you to take other people's content on the internet, spin them, and re-upload them to your own website to earn commissions. But there are many red flags: First, Google may penalize you for doing that, second, you won't rank with stolen articles, third, you won't get traffic and therefore no money. Plus, the spun software is low quality, meaning it doesn't re-write the articles perfectly. That's just not the right way to get started online.
Not Recommended! Invest your time and money elsewhere.
==>> If you really want to start an online business the right way with a proven system, check out my #1 Recommendation and get started for Free today.
Quick Navigation
What is Click And Bank?
In a nutshell, Click and Bank is a web-based software that allows you to create affiliate sites with the idea of promoting ClickBank products.
It's a Done-For-You product and comes from Dan Green.
Here's an overview of the sales page:
"Done For You site creation" Just one click to create an entire ClickBank affiliate site from scratch…
DFY 100% original content created and posted to your site every single day…
DFY monetization with reviews the top converting ClickBank products every day…
Done For You search for traffic. Rank higher and higher on Google automatically every day…
100% newbie-friendly. No complicated setup. Just one click and it's all done.
It's every marketer's dream come true.
As you can see based on the Click and Bank sales page, everything seems to be automated. And it seems all you have to do is just set everything up, press a single button and BOOM! You're making money.
But let me disappoint you: All those claims are not true!
In fact, it's absolutely not 100% automated, and you aren't going to rank on Google with the content they steal from other people.
I'll explain that in more details later in this review.
How Click And Bank works?
Once you are on the inside, the first thing you would actually see is a box which allows you to configure your site.
So the essential things here are you give your site a title, a subdomain name, and then you pick a niche.
This picking a niche drives everything else as far as the site creation is concerned.
Then, the software goes out there and finds content or articles related to your chosen niche. And automatically brings them into your site on a regular basis.
Next, the software spins the content.
Finally, it automatically uploads that content to your website
Something you should keep in mind is that spun content is usually low quality and very rarely makes sense.
Also, the other slightly worrying part about that process is that you've got no real visibility about how that content was spun because you can't see the original content to see if you're actually breaking any kind of copyright rules.
Inside Click & Bank
Let's explore the different features of this software.
Settings
This section allows you to see the latest posts and reviews on your particular website that would have been created. And this is created straight away.
Your site
This is the main piece of the software because this is where you can create and edit your posts.
This section is divided into several categories such as:
Content sourcing.
These are a number of feeds that get added automatically, and you can add your own as well and that goes off and finds relevant articles. So the system will source keywords view, articles and it will also source affiliate products for you.
So it is a lot of done-for-you stuff but unfortunately, it's not something that I would recommend at all because this is completely out of your control.
Content spinning
This functionality allows you to add words, and everything to manage your content spinning.
Keep in mind that Google doesn't like content spinning and duplicate content. They're not going to rank anything on this website.
They stated that people should avoid creating duplicate content.
Review
This section allows you to create your own reviews.
Ads and opt-ins
Where you can put your ads, banners, etc.
Layouts
This is where you can configure various elements such as the actual logo URL, you can add a site bio, colours, various things around showing the logo, showing the header, etc.
View site
This is where you can view your site live.
Here's an example of the type of sites the software creates: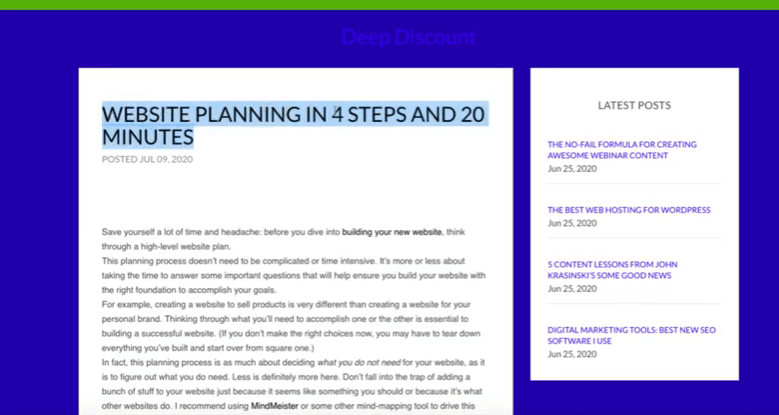 First of all, the site is not secured. And I don't know about you, but I hardly trust not secured websites when I search for a query online.
Apparently, you can add this to your own domain, But very low quality.
What I like about Click and Bank
Unfortunately, there's nothing I like about this software. It's not the right way to do business online.
What I don't like about Click & Bank: Red Flags
You might have Copyright issues
It's going to be bringing in copyright images all over the place because you may be able to spin the actual text but you can't spin an image.
That's what you have to know.
The right type of content?
Another red flag is the software may bring in content that has nothing to do with ClickBank products. Because remember, the software is about promoting only ClickBank products.
Hence the name Click and Bank software.
So, it should only bring in content that will allow you to promote ClickBank products.
On the image provided above, the content provided was about "website planning in four steps".
But, there is no such product on ClickBank about this topic.
No Ranking on Google
Google has made many updates that really count against this whole content spinning theory or being able to get free content and spin it.
This tactic might have worked many years ago, but not anymore.
Do you know how many sites are out there with real, quality content?
So, why would Google rank yours that is duplicated?
You won't rank anywhere and therefore, no traffic-no money. Plus, you get very low-quality sites that no one will ever want to buy off.
They link to the original source
Even though this tactic is very poor, let's assume that someone is able to find your content.
Something I have realized is that they link all the articles back to the original resource.
I appreciate the fact that they link back to the site where they took that content.
But, it's bad for you.
Because if a potential buyer visits your site and is redirected to the original content, it means you have lost that lead. So, he'll buy from the original content instead of yours.
Misleading sales page

Always the same type of sales page. Promising you things that won't happen.
The sales page says that this is relying on SEO ranking your articles.
But if you go ahead and look at some of the articles, they're not going to be ranked anywhere.
Click and Bank pricing, OTOs
The front end is $47.
OTO 1: The pro is $67. You can build unlimited sites… 
OTO 2: Easy Amazon profits $27. They give you some Amazon product reviews.
OTO 3: Done For You $197. They set up the site for you…
OTO 4: Commercial Licence $67. You can use the software on client sites…
OTO 5: Reseller license at $197 You can sell the product and keep 100%
Pros
30-day money-back guarantee
Cons
No Traffic. I don't believe you're going to get traffic. Except for SEO, there are lots more factors that really get websites ranked. And using old spun content from other web sites is not one of them. You need to have content-rich articles.
Potential copyright issues. Your text won't be as 100% unique, and it's impossible to spin images. So, you might have copyright images.
Low quality spun software. You need to know that spun software doesn't create high-quality articles. In fact, have you ever read a text that did make no sense? It'll try to incorporate synonyms but not the right ones, and in the right place.
No real business here. Is your business taking other people's articles and adding an affiliate link to earn money? Is that your long-term sustainable business online?
Is Click and Bank a scam?
It depends on how you define a scam.
But Click and Bank is a software that allows you to create very low-quality websites and steal other people's content.
If that's a scam, then yes Click and bank is a freaking scam!
By the way, the same vendor has another product similar to this one called Instant Guru. It's exactly the same process but this time, with Warrior Plus products.
Where do you go from here?
The lesson you should learn from this post is: There are no shortcuts.
The "gimmicks" and "systems" are not designed to work.
They're designed to keep you buying.
I was like you: I wanted to start an online business and make more money. I wanted it faster and I wanted it easier…
So, I made the same mistakes as a lot of newbies by thinking I'd be successful by buying software…
Finally, I discovered something that allowed me to become financially independent. We always end up finding the right one.
==>>With that being said if you're really serious about starting a long term sustainable online business, go check out my #1 recommendation where you're going to get Free training and get started online the right way.
If you have any question about this Click and Bank reviews, leave it in the comment section below, and I'll get back to you ASAP.
Thanks for the support!