Welcome to my 60 Second Traffic review!
Shiny objects are everywhere these days and the product we are reviewing today is one of them.
First off, I appreciate you taking the time to do your own research before throwing your money into any type of product online.
This is the best way to find the legitimate way to make money online and avoid scams.
But what is 60 Second Traffic about? How does it work? Will it be able to deliver on its promises to you? Is it really legit or another scam?
This is what you're going to find out in this review.
Let's get started.
60 Second Traffic Review Summary
Product Name: 60 Second Traffic
Owner: Bryan Winters
Product Type: Software
Price: $17
Upsells: Yes
Rating: 20/100
Verdict: 60 Second Traffic is a software system that will allow you to post your Affiliate Links on FaceBook pages. This is how you're supposed to get traffic. Eventually, there are many issues you should keep in mind: Spamming your links all over the internet doesn't guarantee you're going to get traffic. Plus, this is the wrong way to start an online business. Not Recommended! Invest your time and money elsewhere.
==>>If you're looking to build a real business online with real organic traffic, have a look at my top recommendation.
This is where you're going to learn how to put your affiliate links properly instead of just spamming the internet.
Quick Navigation
What Is 60 Second Traffic About?
In a nutshell, 60 Second Traffic is a platform software that allows you to post your affiliate links or anything you would like to advertise and then generate traffic.
The product comes from Bryan Winters and apparently, this software will help you generate thousands of dollars.
Further in this review, you are going to find out why this product is not going to be worth your time and money.
Who Is This Product For?
60 Second Traffic is ideal for you if you're looking to invest some money into a program that won't take you anywhere.
Yeah, you heard that right.
Generating an income online requires more than what 60-second traffic has to offer.
I'll dig deeper and give you more details later.
How Does 60 Second Traffic Work?
Once you are in the member's area, the first thing they will ask you to do is to join at least three of their approved FaceBook groups.
This is where your links will be shared.
When this step is done, you have the ability to share 15 links per day. But before that, you have to share someone else link.
Basically, you are going to share other people links and other people will also share your links.
The process is quite simple. Let me break it down for you:
Step one: share someone's link.
Step two: Share your own 15 links, select the category and feature it or super feature it(one of the upsells).
So, that's pretty much all you have to do.
How Do You Get Traffic From It?
Traffic is the most important piece of any business.
So, how do you generate traffic from the 60 Second Traffic software?
Well, according to Bryan, you can get traffic in two different ways:
First by sharing your links into the 60-second traffic community. Apparently, it's a community of thousands of people.
But, there's one issue. All the 60-second traffic members are all there to share their links and therefore, earn money. They are not part of this community to click on your links and buy something.
So, you shouldn't expect traffic from this community.
Secondly, you can generate traffic from FaceBook and Twitter. This is the second way to generate traffic from this software.
But, once again, there are a couple of issues I'm going to state in the next section of this article.
Pros
The system is easy to use. All you have to do is post a bunch of links and you're done, unlike other shiny objects I have reviewed before such as Checkitz, Matic and CPA Boss.
Cons
Some Facebook Groups Don't Allow Affiliate Links & Some Only Allow Some Specific Products
If you have never been part of a FaceBook group, you have to keep in mind that most of them don't allow affiliate links.
Some will allow you to put your links, but you have to make sure you are promoting what the platform accepts. There are lots of rules.
For example, the group may require only to post links to the products in a specific niche. Meaning, you are going to be limited on what you can promote.
Plus, putting your links on a group doesn't necessarily mean that people are going to click on those links.
You have to provide value to people for them to click on your links. You can't just expect to post a bunch of links on a group and expect people to click.
Fake Income Proofs
On the 60 Second Traffic sales page, there is a lot of income pictures like the one below.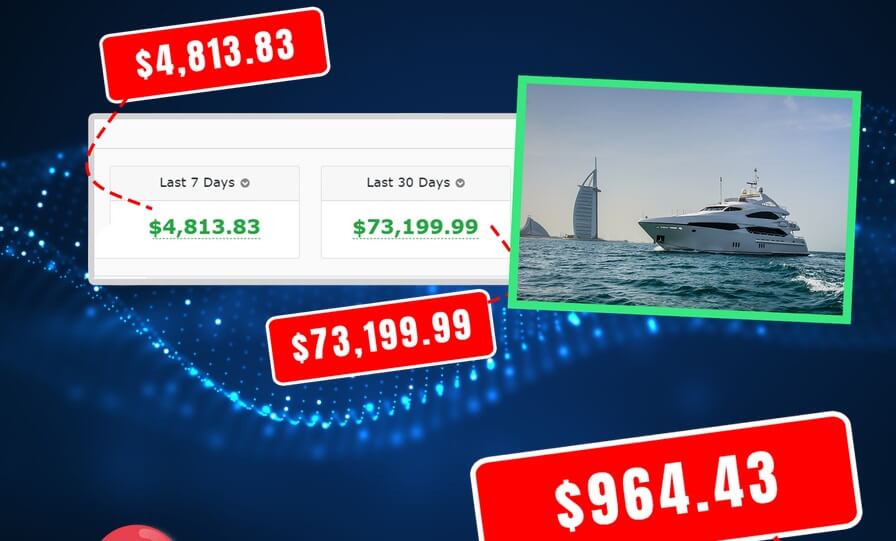 But don't fall for it. these incomes are not coming from this particular product.
In fact, Bryan has been online for a while and has been generating money from affiliate marketing. But certainly not from this software.
Possibly No Refunds
We all like to either try things for free or have the ability to get a refund in case we are not satisfied with a specific product.
But, during the past few years, there have been a lot of complaints about products from the Warrior Plus network.
Most people are not able to get their money back.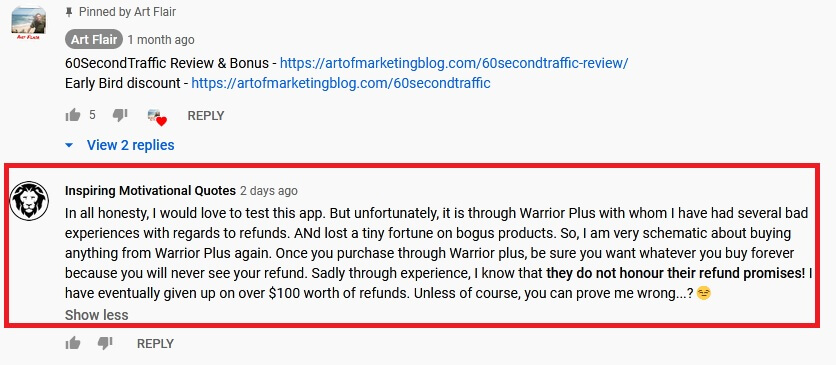 Just keep that in mind.
The Software Doesn't Teach You Affiliate Marketing
If you are a beginner trying to start an online business, you must not be aware of affiliate marketing and how it works.
And unfortunately, 60 Second traffic doesn't teach that.
All they do is allow you to share your links…
But, where and how do you get those links? Here's the issue.
You need to learn first how you can pick products and then promote them.
Learn more about Affiliate Marketing here.
Price & Upsells
The Front End is $17
OTO 1: 60ST 500 daily clicks machine $47
OTO 2: 60ST free traffic
OTO 3: 60ST free $700 Ads generator at $67
OTO 4: 60ST $1000 payday widget at $97
OTO 5: 60ST 6 Figure Cruise Club at $197
The issue with these upsells is once you start buying them, you won't be able to stop and might lose around $300+ for a product that has no value.
Is 60 Second Traffic A Scam?
I wouldn't consider 60 Second Traffic a scam. It's just a shiny object targeting newbies.
So, I wouldn't recommend it.
It is not something you can build a real business with.
How I Make Money Online
It's possible to earn an income online but you need the right way, the right community, the right tools and the right strategy.
I earn money online by building simple websites where I generate free traffic and help people.
This is the best way.
If you want to learn more about how you can turn your passion into profits, click here.
Do you have any questions about this 60 Second Traffic review? Leave them in the comment section below.
Thanks for the support!