Welcome to my Madsense Profits review!
Nowadays, it is easy to see products that claim to be able to help newbies generate money online.
Some are legit, some are called Shiny objects.
First thing first, congrats on taking the time to do your own diligence before putting your money into any type of software out there.
That's the perfect way to avoid scam and find legitimate ways to make money online.
But what is Madsense Profits about, really? How does it work? Will it be able to deliver on its promises to you? Is it a scam or legit?
This article will cover those basic questions.
Let's get started.
Madsense Profits Review Summary
Product name: Madsense Profits
Owner: Brendan Mace
Product Type: Software
Price: $16.93
Upsells: Yes
Rating: 10/100
Best For: No One
Verdict: Madsense Profits allow you to build blogs that you can monetize with Adsense. Unfortunately, there's a couple of issues with this software such as the quality of articles it generates, uniqueness, no SEO and therefore, no traffic. They make the process seem as if you're going to make money overnight, but you're not.
Not Recommended! Invest your time and money elsewhere.
==>>If you're looking to build a real long term sustainable online business, check out my #1 Recommendation.
Quick navigation
What is Madsense Profits?
In a nutshell, Madsense Profits is software that allows you to build blogs with monetization through Adsense.
The software comes from Brendan Mace and there is a couple of issues with this software that you are going to find out in this review.
Brendan has created other critical software in the past. Some of them are Shotoku System and Print Monkey.
Apparently, most of the software he creates lack quality…
How does Madsense Profits work?
According to Brendan, the software works in three simple steps such are:
Choosing a topic/niche
Activate the software
Monetize with Adsense with just one click.
Although it may seem very simple, it's not.
The idea is to build blogs in whatever niche you are interested in and then you put Adsense on those blogs.
There is absolutely nothing wrong with this method. In fact, thousands of online marketers are making a ton of money only with Ads on their sites.
But, it requires a lot of traffic to make a great amount of money, and this is the main issue with Madsense Profits.

How to build a blog with Madsense Profits?
Here are the steps to build a blog with this software:
Once you are on the system, you will have to click on "Blog" – Create a new blog.
A page will pop up and you'll have to fill the blank.
Select articles for your blog
The software will go on the web and pinch other people's content and rewrite/spin them. This works just like the Pockitz software.
Customize your blog
You'll have to enter:
Your name as the author
Header/footer background-colour
Affiliate link. In case you have something to promote.
Anchor text for your affiliate link
Adsense code. You'll need to be registered and have a Google Adsense account with your bank account details for this. So, you need a verified account.
Pixel code if you want to be tracking things. (Optional)
Save and Publish
Here's how those blogs look like: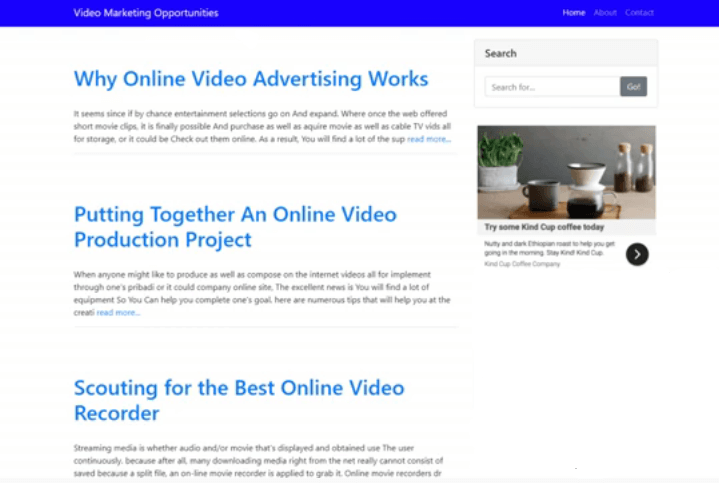 As you can see from the screenshot above, this is just a very basic page where you'll have to put Adsense and find traffic to come and read your articles so you can earn money.
But as mentioned earlier in this article, there are a couple of issues I see in this software that you have to be aware of.
Pros
There is absolutely nothing good about this software.
Cons
The articles the system provides are not of good quality.
There's a lot of mistakes and grammar errors in those articles generated by the software and most of them don't make sense.
The articles provided are not unique.
Something you should keep in mind is that when building a blog, you need to have unique articles.
Unfortunately, Madsense Profits doesn't generate unique articles, all of them are spun from other blogs on the web. And Google doesn't like duplicate content. You may be penalized for having duplicate content in your blog.
No Ranking on Google
The only way you can make money from Adsense is if visitors come to your blog.
So, you need to find a way to bring traffic to your website and unfortunately, you won't rank with this software, there is no SEO.
If you have no visitor, you'll make no money and it doesn't matter whether it's affiliate marketing or Ads.
The entire system is hosted by Madsense and the owner.
Everything you are going to do is not under your control, which is a huge issue because you have no idea whether this is going to be maintained in the long term.
If the whole system suddenly crashes you are going to lose everything.
The so-called Instant Traffic doesn't exist
On the software, there is an instant traffic section.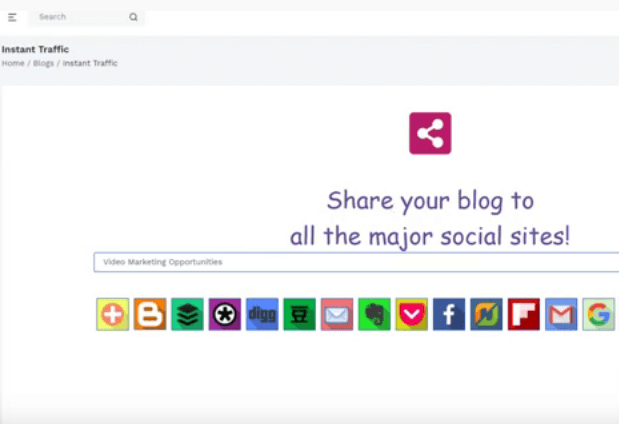 This section is supposed to bring you traffic instantly.
But unfortunately, this is just a way for you to share your log links to social media platforms such as FaceBook, Pinterest, Twitter, etc.
This doesn't guarantee any traffic. In fact, if you have no following on any of these social sites, nobody will click on your links.
You need a lot of page views to make great revenues with Adsense
Although it is possible to make some good revenues with Adsense, it takes a lot of time and hard work to bring this traffic to your site.
So, you need to be patient. Don't expect to make money overnight.
Madsense Profits Pricing & Upsells
Front End is $16.93
Upsell 1: Platinum Edition
Upsell 2: Done For You
OTO 3: Easy Affiliate Profits
OTO 4: $1k Daily system
Upsell 5: Unlimited Traffic
Is Madsense Profits a scam?
Although Madsense profit is useless, I wouldn't consider it a scam. It does provide some pages.
But, I have raised the red flags of this software that you are probably aware of now.
If you really want to start this online venture, you need to have your own website and your own domain name so that you are in control of your business.
This is not expensive. You can use platforms like WordPress. If you are just starting off online, this is the best way to do it instead of spending your hard-earned money on this software that is going to only waste your time.
Once you have a blog, you need to make sure to write unique articles. Google doesn't like duplicate content and will penalize you for this.
How I earn money online
I do earn money online by building blogs just like this one and use SEO to rank them high on any Search Engine.
Unlike Madsense Profits, I write my own articles and make sure they are unique.
Plus, I don't only use Adsense as a monetization, but Affiliate Marketing as well.
If you are really serious about starting an online business the right way with the right tools, I suggest you have a look at my #1 recommendation and start your journey for free today.
If you have any question about this Madsense Profits review, leave them in the comment section below.
Thanks for the support!