Is Four Percent Group a Scam? This is the question many people tend to ask before joining this "online opportunity"… And I guess that's why you're here for today.
Great for you, you're in the right place.
First off, I must congratulate you for taking your time to do your own research before buying into any "Apparently good" product.
That's the way to avoid scams and find the Legitimate way to make money online.
But, what is the Four Percent group about, really? How does it work? Will it be able to deliver on its promises to you? Is Four Percent Legit or a scam? This post will cover these basic questions, as well as provide the pros and cons.
If this sounds awesome to you, get comfy, grab a snack, and pay close attention, because I'm going to give you a completely unbiased and objective Four Percent Group Review 2022.
Four Percent Group Review Summary
Product Name: The Four Percent Group, or the Four Percent Challenge
Founder: Vick Strizheus
Product type: Affiliate marketing course
Website: Fourpercent.com
Price: Approximately $12,175.90 for the entire marketing system!
Rating: 50/100
Verdict: 4 Percent Group is an Affiliate marketing course that teaches you how to promote products through a sales funnel. But the course is just too expensive, with so many hidden costs. Plus, the only way to generate traffic is by using solo ads, meaning you need to constantly pay to get traffic. And this is pretty bad for beginners. You might lose lots of money trying to earn money. You can get better and Cheaper elsewhere
Not recommended if you're a beginner with a tight budget.
==>>Here's my #1 Recommended training(FREE to get started)
Quick navigation
1. What Is Four Percent Group?
Four Percent Group, also known as the Four Percent Challenge is about teaching people how to create sales funnel and how to promote other people's products and services through those funnels.
Some of those products they promote and show you how to promote are Click Funnel, Blue Host, Aweber, and many other legitimate tools.
Basically, the business model here is affiliate marketing, which, in a nutshell, is about promoting other people's products and earning a commission whenever someone makes a purchase through your affiliate link.
Before we dig deeper, let us have a look at the Pros and Cons of the Four Percent Group.
2. Four Percent Group- Pros & Cons
Pros:

The system works
Leveraging legit products
Cons:

×Hidden Costs
×Steep Learning Curves
×No Free Trial
× If you don't buy traffic, No Money
×So many tools to purchase
×Just so expensive
==>>Here's my #1 recommended training(Free to join)
3. Who is Vick Strizheus ? His Shady Past…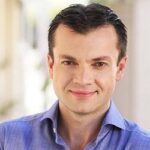 Vick is a successful online marketer with 13 years of experience in online marketing.
However, He was behind a quite number of scam products in the past. Let me explain…
In fact, Vick was the founder of a product called the Big idea Mastermind, which is a marketing funnel…
Unfortunately, he has violated the law and was sent to jail for 9 months for an insurance claim fraud.
The main reason that causes the downfall of the Big idea Mastermind is that Vick was switching people's Affiliate ID to his own so that he could earn more commissions.
Yes, you heard it right. That's what he did to people who trusted him.
Of course, this is the past, and everybody needs a chance to redeem himself. But I would honestly distant myself from his products.
By the way, this Big Idea mastermind product is no longer available now… But he's got this new product called The four Percent Challenge that I'm reviewing now.
4. How Does 4 Percent Group Work ?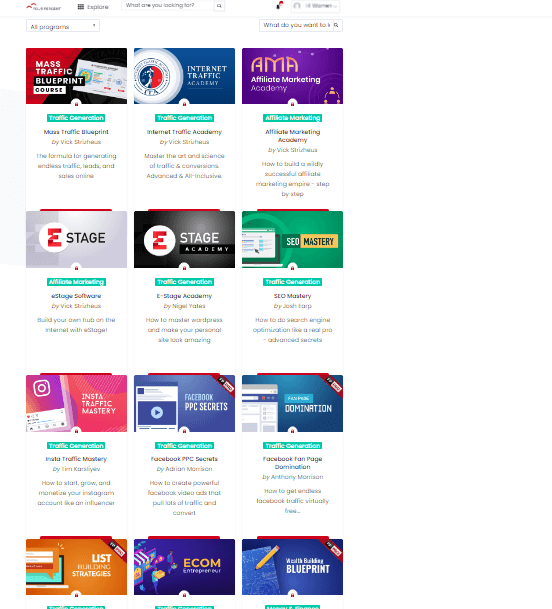 First of all, when you join the four Percent platform, you'll be able to see and purchase one of their programs.
But as a beginner, you're asked to start with their Affiliate Marketing Academy (AMA), which you have to purchase($997).
As mentioned before, the business model here is affiliate marketing. That's why you're required to start with the AMA.
So, the Four Percent Group is a membership product with training and resources to help you set up your own sales funnel and promote affiliate products.
So, once you make the purchase and are up and running, you'll be provided with the affiliate links you've set up with the products.
Whenever you introduce someone to the four per cent group, and that person purchases any of the products inside the platform through your marketing funnel, you will earn a commission.
But keep in mind that, you have to purchase those products yourself before being able to promote them.
Actually, the Four Percent Group doesn't teach you how to make money with your desired niche but teaches you how to promote their products and make money. This is totally similar to Legendary marketer by the way.
And this is not the right way to do Affiliate marketing.
As we already know, you have to spend an amount of $997 to get access to the 4 Percent Group AMA.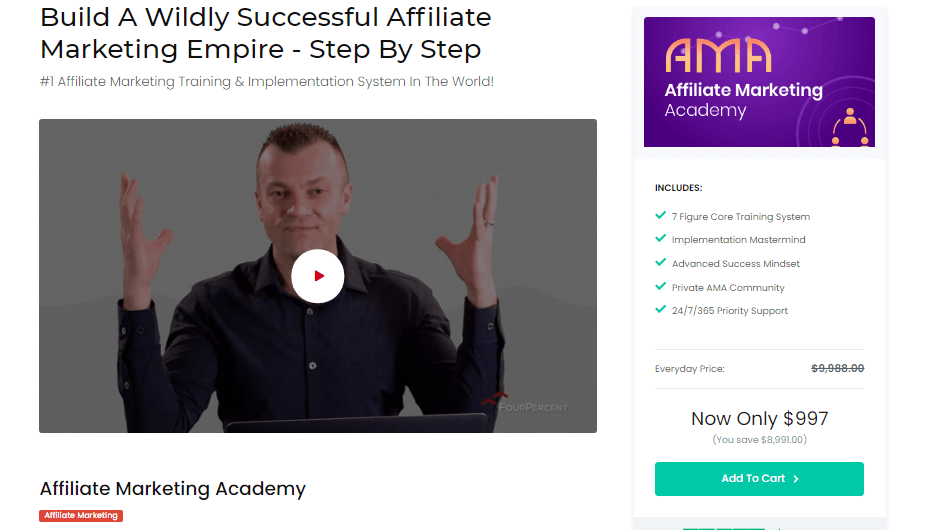 However, Vick didn't mention that in order for the entire marketing funnel to work, you have to purchase more tools.
Let me break it down for you :
Here's the Four Percent Pricing you need to know…
Click Funnel – $97 per month
Aweber – A minimum of $19 per month
Click Magic – $12 per month (Custom Link tracking)
Name Cheap : $8.88 first year, $10.98 years thereafter.
Get Response – $15 per month (Email autoresponder)
Tecademics – Which is the main product the 4 percent group is promoting. It costs $12,000, and you need to purchase it yourself if you want to promote it.
Internet Traffic Mastery – $997 one-time payment.
So do the math… Beginners should not spend that much to start an online business during their first month! How crazy is that!
You don't need to spend this amount of money, especially as a beginner.
Remember, the fundamental of all online businesses is the ability to drive massive traffic to any kind of sales offer.
But unfortunately, the 4 Percent Challenge doesn't teach you how to generate free traffic. It only teaches you paid traffic sources.
Now, you as a beginner, how the hell would you know how to drive traffic to your website? By using only paid methods? The truth is even if you keep paying for traffic, it's not 100% guaranteed that you'll have success.
And paid traffic is not recommended for beginners. You may lose too much money trying to make money.
This is the wrong road if you want to start an online business.
If you really want to start Affiliate marketing the best way, See my #1 recommendation, which will give you the right tools, and gets you started for FREE.
6. What I Like About Four Percent Group
A/ The system works
Affiliate marketing is a legit business model that I'm using as well. So, Vick does a good Job teaching that.
B/ Leveraging Legit products
Remember at the beginning of this review when I mentioned that Vick used to be involved in scam products?
The great news is, the products he uses and promotes now are all legit.
For example, Aweber or Click Funnel, are very popular tools used by many successful internet marketers.
7. What I Don't Like About Four Percent Group
A/ Hidden Cost
As already mentioned in this review, there're quite a number of hidden costs that you'll only find out after purchasing your AMA package.
B/ No Traffic, No Money
Something I truly hate is to pay for traffic in order to make money. The reason is, it's absolutely possible to make money without buying traffic.
There're many online platforms out there that can teach you how to generate free traffic for life… Instead of paying for traffic for life.
And it's so unfortunate that 4 Percent Group only focuses on paid traffic, which isn't the ideal strategy for beginners.
Paid traffic is suitable when you have gained some knowledge and have been online for a while. Not as a beginner…
This reminds me of 12 minutes affiliate who does exactly the same thing.
C/ Steep Learning Curves
The money won't flow just because Vick is helping you set up your sales funnel.
It takes some hard work and you need a strong foundation. That said, investing in a Done-For-You system won't help you in the long run.
D/ No Free trial
Unfortunately, you can't test-drive the system for free.
All you have to do is use your credit card in the first place. But, what if you don't like the program ?… Fortunately, they seem to have a 30-day money-back guarantee.
But let's be honest and realistic here, as a beginner, you should start your online journey for free. Not spending thousands of dollars and aren't even sure if the process will work for you.
8. Is Four Percent Group a Scam?
Four Percent Group is NOT a scam because it's based on a Legitimate business model named Affiliate marketing. The platform is full of great products which a lot of successful internet marketers use today.
However, High-quality internet marketing courses are not supposed to be expensive, especially for beginners.
Those who are just starting online should have a chance to learn without risking too much of their living expense.
Otherwise, you might end up losing too much money and not earn in return.
That's why I wouldn't recommend the Four Percent Challenge to any newbie.
How I Earn Money Online
Unlike the Four Percent Group, I earn an income online by building simple websites just like this one where I help people find the answers they are looking for online.
And of course, the business model here is Affiliate Marketing. But I do it by using free methods to generate traffic, this is called SEO. Unlike Four Percent Group where you have to constantly pay for it.
If you want to know how I do it, check out the same training I and thousands of others are benefiting from and start for free today.
==>>Learn more about this training platform here.
Hope you've gained value from this Four Percent Challenge review.
If you have any questions, do not hesitate to leave them in the comment section below, and I'll get back to you as soon as possible.
thanks for the support!