Welcome to this Creaite Review.
Apparently, Creaite can help you produce readable content for any niche in under 90 seconds.
But is that true?
This is what you are going to discover in this review.
First thing first, congrats for taking the time to do your own research before putting your money into any type of software out there.
This is the perfect way to avoid scams.
But what is Creaite about, really? How does it work? Will it be able to deliver on its promises to you? Is this app really worth it?
This post will cover those basic questions as well as provide the pros and cons of this software.
Let's get started.
Creaite Review Summary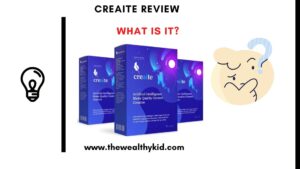 Product Name: Creaite
Vendor: Joshua Zamora
Product Type: Content creation software
Best for Writers/Marketers
Price: $35
Upsells: Yes
Rating: 65/100
Verdict: Creaite is software that can potentially generate unique and readable articles in a short period of time. But it only generates a few words per article, meaning you'll have to rewrite them yourself and add a few more if you want to rank on Google.
Would I recommend it?
Well, if you're struggling with content creation this can be helpful. Just keep in mind that it does only generate around 300-600 words per article, and their credit system can make you spend lots of money.
=>> If you want to know how I earn a living online by writing my own unique and quality content, check out my top recommendation.
Quick Navigation
What is Creaite about?
In a nutshell, Creaite is a content creation software. Apparently, it's going to create completely unique content for you in a short period of time.
It comes from Joshua Zamora. And here's how he describes the product on the sales page:
Done-For-You content for all your sites in over 50 niches.
Never write content yourself again…
Artificially intelligent system that only needs 90 seconds to write you a 300-1000 word article…
Truly unique that passes Copyscape every time…
Later in this review, you're going to find out if those claims are real or not.
In the meantime, let's see how the software works.
How does Creaite work?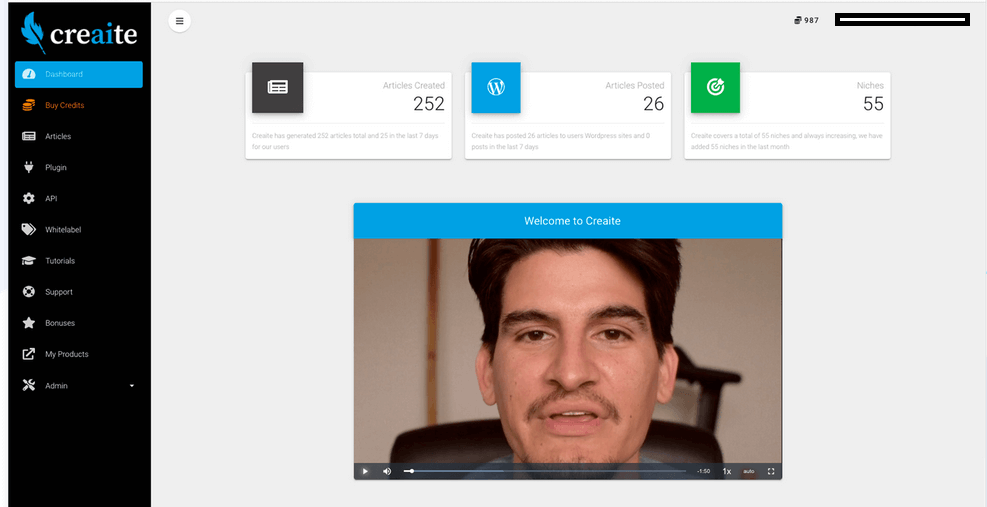 Whenever you are in the system, the dashboard will give you access to the "Article" section where you're going to be creating your content.
Now you have the opportunity to create a new standard article.
You have to enter:
Article Type
Article niche
Language: English obviously.
Set the number of articles you would like to generate. Up to 5. Keep in mind that each article costs 1 credit, which is $1. I'll explain the credit part in a moment.
You have the opportunity to ask some questions, and the software will generate articles based on those questions. But this is an upsell.
Finally, press start.
Then the software is going to display 5 random articles. This is of course if you requested 5 articles.
The articles provided are based on the chosen niche.
Now, you can check on every single one of them individually and see the word count and the quality of the article.
The Credit part
Note that every time you run the system, it costs you 1 credit.
1 credit is equal to $1.
And those articles are only 300-600 words. But, if you want to write 20 articles, you'll have to spend $20.
They do have some credit packages that you're going to discover shortly in this review.
Here's what I noticed
As far as readability is concerned, the articles are pretty good.
I also checked if the articles are unique, and most of them were 95% unique, which is not bad.
So, wherever the content is coming from at the moment, it's unique.
Pros:
The software produces unique content.
The content is readable
Easy to use
Cons:
The software only produces a few words per article(Around 300-600). If you want to rank on Google, you'll need more than that.
Content is written without using SEO. If you want to rank on Google, you'll have to do your keyword research separately.
You'll have to correct some grammar mistakes and make sure it flows properly because those generated articles don't seem to flow well.
Who is this software for?
Creaite is best suited for:
Bloggers who are tired of writing articles themselves.
Affiliate Marketers
Those who don't want to hire a writer
Those who want to start blogging but are too lazy to start writing themselves.
Credit Packages
You'll have to purchase some credits on the front end.
First Package: 100 credits for $127
Second Package: 50 credits for $97
Third Package: 27 credits for $67
Basically, they want you to buy more credits.
There's various upsells that allow you to buy credits much cheaper.
Creaite OTOs
The front end: $35 and you get 50 articles
OTO 1: Creaite Agency. It costs $1 trial, then $47 per month.
OTO 2: Creaite Booster $97. It allows you to write 5 articles at a time and gives you access to multiple languages.
OTO 3: Creaite connect plugin at $47. This is a WordPress plugin that allows you to publish directly to your WordPress website.
OTO 4: Creaite White Label $297. This gives you the ability to sell this software to other people as your own.
Is Creaite a scam?
As far as I'm concerned, this software is not a scam. It does produce unique and readable content.
There are only two issues: The number of words and too many credits to purchase.
It's almost impossible to rank an article on Google with only 300 words. It takes more than that.
Of course, $1 for 300 words is quite good, but you'll have to rewrite them whether you want it or not.
But it can be a good start.
How I write My Own Content
When it comes to writing, many people tend to be scared. But writing isn't as difficult as people think it is.
In fact, if you want to do Affiliate marketing, you'll have to express yourself to people and give them the information they need for a specific product.
And this can be easily done. It's just like explaining something to a friend…
I do write my own content that rank on any search engine. I use a keyword research tool to know what people are searching for on the internet.
This is why it's advisable to always pick a niche you're genuinely interested in, so the writing wouldn't be as difficult.
=>>If you want to know how I'm able to write quality content myself that rank in the search engine, check out this resource.
Hope you've gained value from this Creaite review.
If you do have any question, consider leaving them in the comment section below, and I'll get back to you ASAP.