What is Affiliate Millionaire Club?
It's likely that you're a beginner thinking to join the Affiliate Millionaire Club, and you want to know if this system works and most importantly, if you can make money from this product.
Great for you, you're in the right place.
First thing first, I must congratulate you for taking your time to do your own research before buying into any "apparently good" product.
That's the way to avoid scams and find the Legitimate way to make money online.
But, what is Affiliate Millionaire Club about, really? How does it work? Will it be able to deliver on its promises to you? Is The Affiliate Millionaire Club a scam? This post will cover those basic questions and even more.
If this sounds good to you, get comfy, grab a snack, and pay close attention, because I'm about to give you a completely honest and objective Affiliate Millionaire Club review, and of course reveal to you the UGLY TRUTHS about this product.
Affiliate Millionaire Club review Summary
Name : Affiliate Millionaire Club
Founder : MO?
Product type : Affiliate site builder + training
Price : $47 + Upsells
Thewealthykid.com rating : 20/100
Verdict : Many Ugly Truths such as Fake Testimonials, Fake Income proofs, and the sales page is not honest at all. In fact, the sales page is full of paid actors from a site called Fiverr. Those actors are paid to make fake testimonials about the product.
Not Recommended, Invest your time and money elsewhere.
==>>Here's my Top recommended Program
Quick Navigation
1. What is Affiliate Millionaire Club?
It's a software which claims to be able to help you create niche websites to make money from affiliate marketing.
You have the opportunity to choose which topic you want your website to be based on.
In fact, the whole supposed purpose of this program in general is to create websites in a matter of minutes.
However, while it's possible to quickly create websites, those made for you with everything set up don't usually provide the results you want them too in ranking, simply because they're duplicated. And duplicate content are always punished by Google and never rank high.
That's not even all. I'll be covering the rest further in this review.
Before we get deeper, let's see the pros and cons of this program.
2. Affiliate Millionaire Club: Pros & Cons
Pros :
♥Legit business Model
♥60 Day-Money-Back guarantee
Cons :
×Fake testimonials
×Deceptive sales techniques
×Fake Income Proofs
×Ads Everywhere
If you're really serious about making money online, stop chasing after "shiny objects" like this one and start putting in real hard work by following the right system.
3. Inside The Affiliate millionaire Club
A/ How to get started
Here is how the system works :
You get to choose the product you want to promote
Choose the domain name
Insert your affiliate link
Then the software will build your website in a couple of minutes.
However, as I already mentioned earlier in this review, there's a problem. Many sites created are going to look identical. For SEO this is horrible because duplicate content are punished by Google. Unfortunately there's no exception and you're being lied to if you're told that a duplicate content will rank high on Google.
Anyway, based on what I've seen, the site you get is only one page, and even if it's not, you'll need to have lots of unique and quality content on the site to ever get it anywhere.
That said, it's not going to work with no originality.
B/ Training
I actually couldn't imagine they have training available on the platform because on their sales video, Mo clearly stated that the only thing you need is to plug-in the system and the money will just flow.
Here is an overview of the training provided :
Affiliate marketing & sales training
Email list building

Google Adsense

Guide
Social media
Traffic & SEO
Motivational
Unfortunately the training there is very basic. It's not enough for you to start making money.
Not only that, things like Affiliate marketing, Search Engine Optimization(SEO), list building, etc, require a lot of time and effort to make it work for you. Not as simple as Mo makes it look like.
And he can't and won't do all this work for you. So, you'll have to struggle on your own, and the training you get isn't enough.
C/ Affiliate products to promote
Here are some product categories provided :
Health & Fitness
Home garden
Computers/Internet
Betting Systems-Poker, soccer, etc
Games
Arts & Entertainments
Affiliate marketing Products-E-Business
These are digital products from ClickBank.
4.Affiliate Millionaire club Ugly Truths Revealed!
A/ Fake Testimonials
This is becoming more and more common with online companies!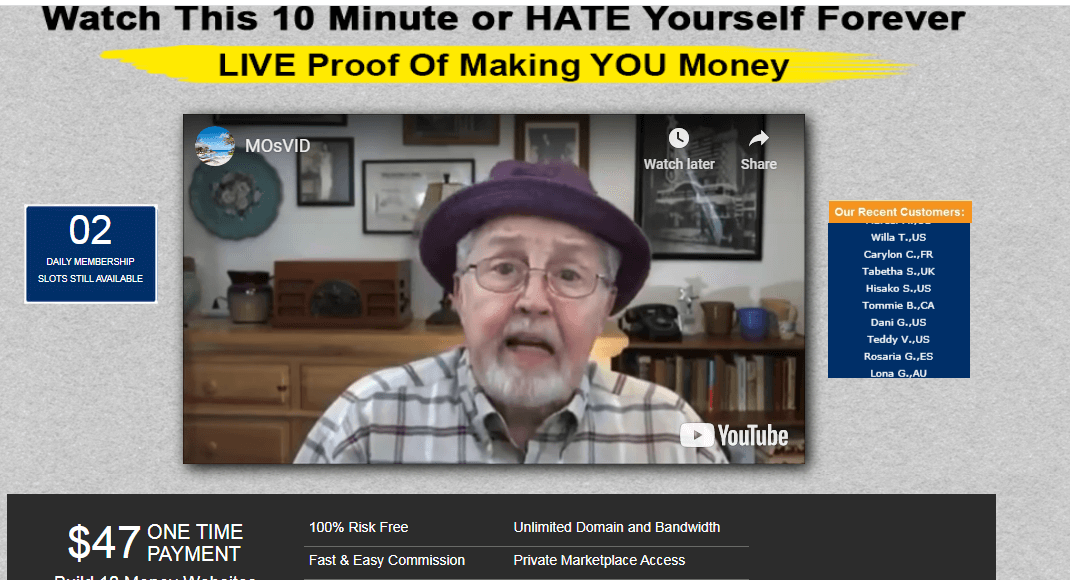 Just like many other scam products out there, Affiliate Millionaire Club is also hiring paid actors from Fiverr.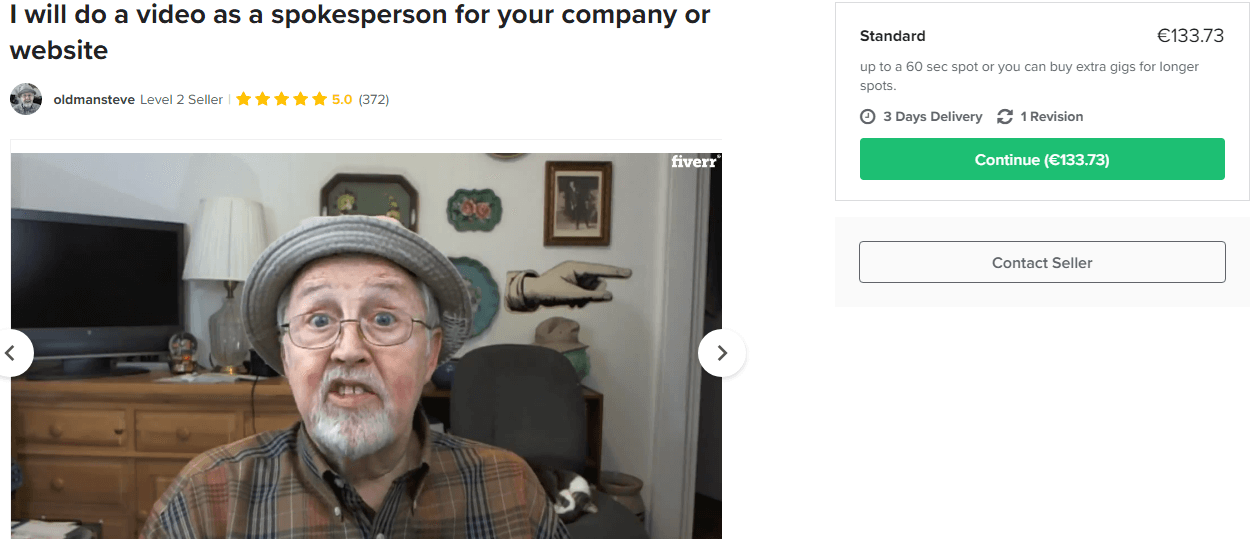 As you can see above, this old man is just an Actor from Fiverr, who got paid to make a fake testimony.
By the way, I've reviewed similar products like 3 Step method, 30 Day Success Club, 7 Minutes daily Profits. They all use Paid actors from Fiverr…
So, Looking at the sales page, I noticed some familiar faces giving testimonials. They became quite recognizable to me because I see them often doing "testimonials" on those types of programs.
These guys never tried any products. All they do is offer a freelance service on fiverr and get paid around $5 or more.
B/ Deceptive sales technique
On their sales page, there are quite a few deceptive sales techniques being used.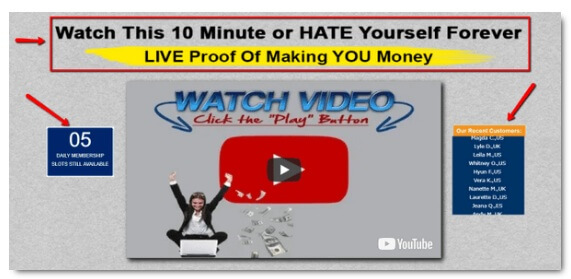 For example the blue box claiming there were only "5 Daily Membership slots still available". Very Funny Though.
As a matter of fact, I later refreshed the site and I once again saw that number go back up to 8. That nonsense about limited openings is just amateur marketing.
C/ Fake Income Proof
On their sales video Mo shows his Income… I mean, a fabricated, photoshopped screenshot. This is totally FAKE. Just like the Testimonials.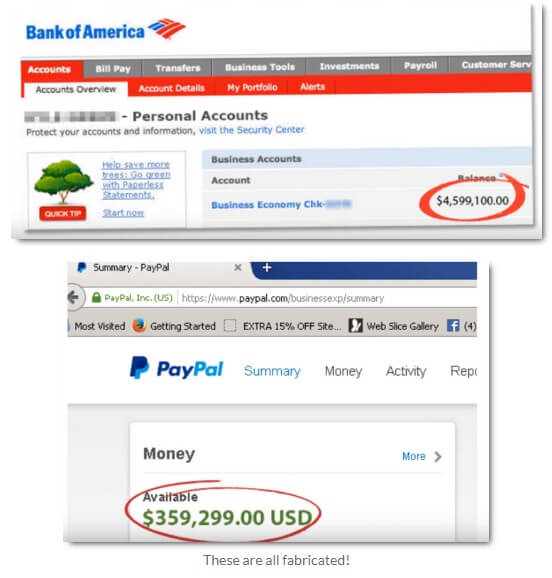 If you have a PayPal account, you'll know that it's supposed to be "Balance" instead of "Money" written there.
D/ Ads everywhere
Once you're at their member's area, you can see a ton of advertisement/banners all around.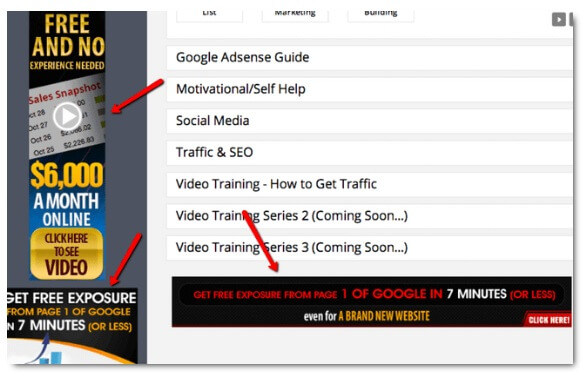 I mean, it's a paid platform, not a free website folks.
So, why the Hell do they have to put these ads for customers ? This doesn't make sense. Unless Mo is just trying to make money off you.
E/ No Traffic = No Business
That makes sense right?
Obviously you can't make any money if you have no quality traffic to your site.
Of course there's training on traffic generation inside the member's area, but not enough to get you results and help you achieve your goals.
That's the sad reality unfortunately. You'll be struggling to get sales simply because the training isn't thorough.
5. Is Affiliate Millionaire club a scam?
First off, thanks for taking your time to read the affiliate millionaire club review. I really hope you've gained value from it.
However, from the fake testimonials, Fake income proof, and the claims of making $1,200 a day right after joining, I can 100% say louder that it's a SCAM!
I don't believe that there's a way to make that kind of income with the website they provide, especially not in the SEO game.
Unless you advertise them on paid networks, then you won't have to worry about duplicate content penalties, and therefore the program may end up being "profitable".
But, You'll have to keep paying for traffic and this is another story…
I don't recommend that to you if you're newbie.
By the way, if Mo could really build a money making site, why would he give it away to a stranger? If you could create a money -making website, would you give it away? This defies logic.
Making money online is the result of learning from a proven method, and working hard to build your business. Not by using some programs that only want to take money from you.
So, stop chasing shiny objects.
Instead, learn to build a strong foundation through the best affiliate marketing training platform(Free).
Do you have any question regarding this topic? Don't hesitate to leave it in the comment section below, and I'll get back to you as soon as possible.
Thanks for the support!