Welcome to my 7 Minutes Daily Profits Review.
Nowadays, there is no shortage of money-making opportunities on the internet. Some are legit, some are scams and some are called shiny objects.
First off, I must congratulate you for taking your time to do your own research before buying into any "apparently good" product.
That's the way to avoid scams and find the legitimate way to make money online.
But what is 7 Minutes Daily Profits about, really ? Does it really work ? Are people actually getting results with this system ? Is it really legit ? This post will cover some of those basic questions, as well as provide my #1 recommendation to making money online.
1. 7 Minutes Daily Profits Overview & Ranking
Product Name : 7 Minutes Daily Profits
Founder : "Vince Howard"
Product type : Affiliate Marketing
Price : $9 gets you started
Upsells : YES
Thewealthykid.com Rating : 20/100
Verdict : So many RED FLAGS. Invest your time and money elsewhere.
==>>Here is my Top Alternative
2. What is 7 Minutes Daily profits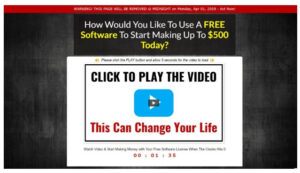 According to their sales video, 7 minutes daily profits is a free money-maker software that will allow you to generate at least $500 every single day online !
So, if you do the calculations, it's just saying that you can make up to $3500 at least per week, online and only working 7 minutes a day. Really !
Honestly, if a program is named something like 7 minutes daily profits, then it's safe to say that there's something up.
By the way, this is similar to programs like 12 minutes affiliate.
Let me tell you right now that all you see on their website and everything about the program is BS. I'll get into that further in this review.
3. Pros & Cons of 7 Minutes Daily Profits
Pros :
♥Some good information on how to run traffic and sales funnels.
♥Money back guarantee from Clickbank.
Cons :
×Deceptive sales tactics.
×Questionable testimonials
×Questionable income claims
×No system or community for support
×Content is stolen from another course creator
4. Who is this for ?
The program claims to be for anyone who wants to make money online.
Stay at home parents
And potentially new home business entrepreneurs as well.
But I would honestly say that the program is best suited for NO ONE.
5. How does it work ?
It simply works like many other ClickBank products in this space.
Basically you get an email from someone about making money online quick and easy, which leads you to the sales page. That sales page uses all necessary tricks to convince you that you're one of the lucky people to be watching. And that if you buy, you will get your hands on a powerful money making machine.
Instead of explaining to you how this program works, all they tell you be you're getting access to a special software that will do absolutely everything for you. All you need is a "Plugin".
The sad reality is that this is not how people make money online.
6. 7 Minutes Daily Profits Pricing
There is nothing free about this software, and there are lots of things that could make you spend more than $9. Here is the initial price below.
The $9 is just the beginning. How those folks really make money off you is by pitching you more products immediately after you buy.
Here comes the upsells, which claim that you can make more money by purchasing these products.
Upsell 1 : Profit Booster to increase profits by 300% – $147; Downsell – $97
Upsell 2 : Click Commission Activator – $127
Luckily, ClickBank gives you a 60-day money-back guarantee if you think that you've bought into a scam.
7. 7 Minutes Daily Profits Ugly Truths Revealed !
A/ Vince Howard doesn't exist !
I'm not surprised that Vince Howard doesn't exist. It's a made up name, and he's never been featured on the news. This is why he doesn't show his face, or provide any proof he says he is who he says he is.
By the way, inside the 7 minutes daily profits program, the trainer is actually someone else. And eventually in one of the videos training, he mentioned his name : Zach Miller… This is not the same person we're talking about, this is someone completely different from Vince Howard.
This made me wonder, why is this guy presenting the course, when Vince Howard is the one showing his name ! That's weird.

The interesting part is that when I Googled "Zach Miller" here is what I found :
He's actually a real person, A top teacher on Udemy(which is a legitimate course). And he's been doing this for over 10 years, creating sales funnels and capture pages etc.
So basically this "Vince Howard" stole someone else content to create a course for himself ! That's why he isn't showing his face.
B/ The testimonials are FAKE !
Another red flag here is that they are using paid actors from a site called Fiverr, to create the video testimonials that you can see on their sales video.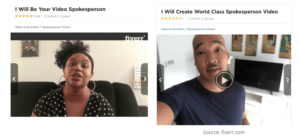 These are really just ACTORS from Fiverr.
Because NO ONE is really making money with this system, they need to hire people to pretend like they are. This is a total BS.
==>>Here is my #1 recommendation for making money online.
8. Verdict – Is 7 Minutes daily Profits a Scam?
I wouldn't say that 7 Minutes Daily Profits is a scam, because you actually get some training for your money.
However, what you get is nowhere close to what the sales page tells you. You don't get $500 daily. It's a total Lie !
Plus, The two biggest red flags that were raised on this review.
There's no information about the real owner. So the site has no blame whatsoever on what happens to your money afterwards.
The fake testimonials are so apparent that it doesn't take a genius to find out that there's something up against the program.
Mind you, making money online is the result of learning a proven process, and working hard to build your business. Not by using some BS magic software.
So, I wouldn't recommend this program.
If you're just starting out and want to make money online, stop chasing shiny objects.
Instead, learn to build a strong foundation through the best affiliate marketing training platform.
If you have any question or would like to mention something about this topic, please feel free to leave it in the comment section below, and I'll get back to you as soon as possible.
Thanks for the support !