Welcome to my Raiid Software review!
Raiid creators claim that this tool can help you make passive affiliate commissions without grunt work. But, is that true?
This is what we are going to find out in this review.
First off, congratulations for taking the time to do your own research before buying any product online.
That's the way to avoid scams, and find the Legitimate way to make money online.
But, what is Raiid software about, really? How does it work? Will it be able to deliver on its promises to you? Can this software really help you create a passive income online? Is Raiid software a scam? This post will cover these basic questions, as well as provide the pros and cons.
The main purpose of this review is to give you more information, to help you make a more informed decision before you go ahead and purchase this kind of software online.
To save you time, I always summarize my reviews in the beginning… But you can still read the whole review if you want to. Enjoy.
Raiid Software Reviews Summary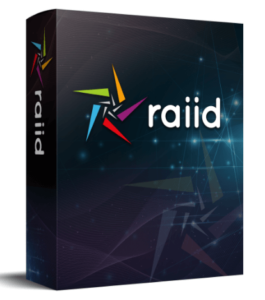 Name: Raiid Software
Creators: Venkata Ramana; Mark Bishop; Nakul N
Product type: Affiliate marketing software
Price: Front End $17
Upsells: Yes
Rating: 25/100
Verdict: The website provided to you by Raiid Software won't give you any traffic, meaning No Sales. Plus, the content they give to you is duplicated. And they don't do any SEO, so there's no way your content is going to rank. At last, you simply don't need it. There're much better out there.
Not Recommended! Invest your time and money elsewhere.
Quick Navigation
What is Raiid Software About?
In a nutshell, Raiid is an application that allows you to search ClickBank, find content, and then build that content into a website.
Here's how Raiid is described in the sales page:
A complete automated affiliate marketing system
Cloud based. Use on any device, worldwide.
Raiid delivers fast results
Works in any niche
100% newbie friendly
no additional costs. Even hosting is included
Includes training
Low Monthly subscription. Pay once,
Get lifetime access.
How Raiid Software works?
The software works in 3 steps:
Find a product on ClickBank
Find posts for your website
You create your website
Once you are on your dashboard, you will have a lot of options.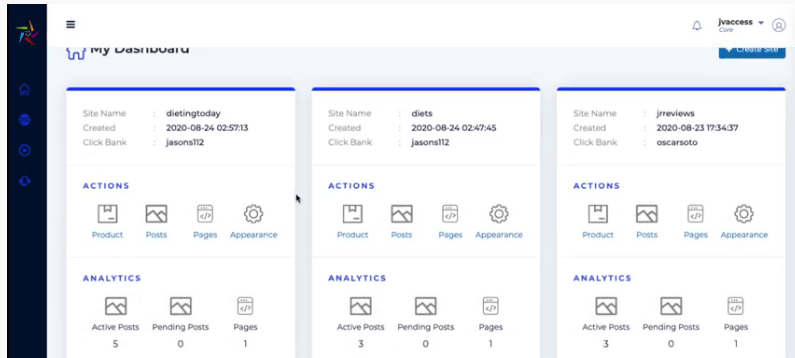 The first thing you're required to do is:
look for products within ClickBank
Note that users can choose 2-3 products to promote at a time.
Once you're in the product research section, and start your research, it goes off to ClickBank and looks for products within certain niches depending on the keyword.
Again, Clickbank itself can allow you to do this without this software. This is why I think the software is a bit useless.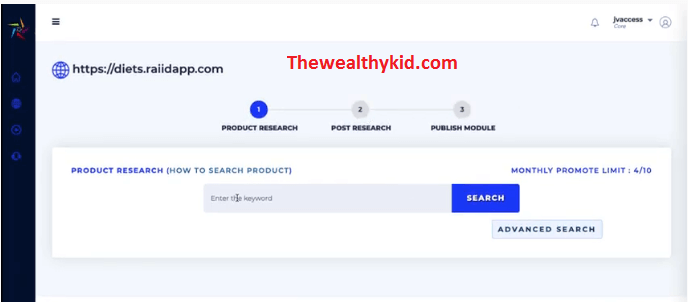 Now, essentially when you search for ClickBank products, one of the keys factor to look at is the gravity. Now the gravity is the measure they use to show how many affiliates have made money off that particular product in the last 12 weeks.
Once you have the product with the highest gravity, you can then move on to the next step.
Search feeds
This is where you get access to the content provided to you. All you have to do is edit if necessary, and then post them to your website.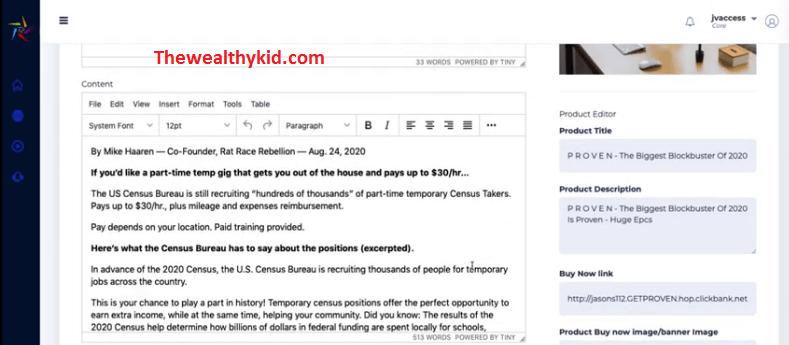 Keep in mind that you will need to spend lots of time going through this, and make sure the content is unique. You can't just grab content of the web and use it as your own. So, make sure it's relevant and unique.
This is essentially what this software is doing for you: Allowing you to search ClickBank, go and grab some links, and then publish that to your subdomain which is your website.
Inside Raiid, you'll also notice the "Syndication". This is a combination of social media like FaceBook, Tweeter, LinkedIn, Pinterest, and wordpress.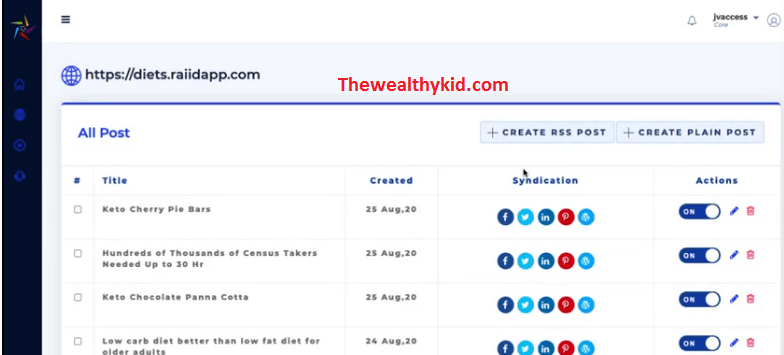 The Main Issue With This Software
Something I've come to realize with this type of software is that, they always provide you with a website with low quality that nobody is going to want to see anyway, and the 2nd issue is that you are not going to get any traffic from any of these socials, unless you already have an existing fan based or subscribers in these sources.
I've actually reviewed another similar product: Matic Software.
So, there's no real way to build this business. Unless you have a big following on one of these platforms.
Even though the sales page looks amazing, what would actually happen with products like this, and I know because I've done it myself, is that after creating these sites, and you put a lot of work into them, at the end of the day nobody is going to come across, because to be honest, there's no way somebody will search naturally and find this organically withing Google. None of these posts are going to rank. They're all coming from other places, so, you'll have to re-write them to make them unique and rank.
But what's the point to do this, when you can just create your own site through wordpress? You don't need this app to get you started.
If you are a beginner and join this type of software, you'll stay beginner forever because you'll never learn how to do proper marketing online.
Raiid Training
Inside the Raiid software you have access to different training such us:
Create a sub domain
How to search a product
How to get ClickBank account
Understanding numbers in ClickBank
How to search for products that actually sell
Selecting suitable products for you
Finding domain names that match ClickBank niches
How to choose and add Feed posts
How to manually add feed URLs.
I think the training is fine, there's no real issue with it.
Pros and Cons
Pros: What's good
30-day-money back guarantee
The training is fine
Cons: What's not good
No Traffic. Which is going to be a big problem for you because you'll spend a lot of time to create this. You're not going to get any traffic from this software because they don't use SEO.
It creates low quality websites. Pages provided to you are just too basic.
Content not unique. Basically the content they provide to you is similar to what they provide to all members. So, it's duplicate.
Value claims not real
You simply do not need this. You can just go on ClickBank yourself, choose any product you want to promote, and grab your affiliate link.
If you want a step by step Free training where you're actually taught affiliate marketing the proper way with SEO, and Free website to start doing affiliate marketing the right way, Have a look at my #1 Recommendation.
Raiid Software Pricing and Upsells
Front End: $17
OTO 1: Raiid Heist $67
OTO 2: Raiid Smash and grab $37
OTO 3: Raiid Smash and grab (Pixel added to sales page) $97
OTO 4: Raiid Agency (Reseller package) $67
OTO 5: Raiid – 1k week V2 $127
Is Raiid Software a scam? Final Word
Thanks for reading this Raiid Software reviews. I really hope you've gained value from it.
This raiid Software is certainly not a scam, because the software happens to be working. However, people will never find your content on the search engines naturally. Meaning, all your hard work will be in vain. What's the point to have a website full of useless content? The answer is obvious.
I wouldn't recommend this software.
Mind you, making money online is the result of learning from a proven method, be surrounded by a great community, and working hard to build your business. Not by using some duplicate websites.
So, my advice to you is, Stop chasing shiny objects.
If you're a beginner trying to make it into the online world the right way, I suggest you to have a look at my #1 Recommendation.
Have any question related to this raiid software review? Don't hesitate to leave it in the comment section below, and I'll be more than happy to help you out.
Thanks for the support!