Welcome to my MoneyChaser.Co review!
During those hard times, people have been looking for ways to make money online. But unfortunately, there are so many scams out there, making people very skeptical before joining any program.
First thing first, I must congratulate you to for doing your own diligence before putting your money into an "apparently" good program.
That's the way to avoid scams, and find the legitimate way to make money online.
But, what is MoneyChaser.co about, really? How does it work? Will it actually be able to deliver on its promises to you? can you really make money with this system? Is Money Chaser a scam? This post will cover those basic questions, as well as provide the pros and cons.
Sounds good? Well get comfy and pay close attention because I'm going to tell you absolutely everything you need to know about MoneyChaser.Co .
What is MoneyChaser.Co? Summary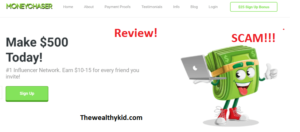 Name: MoneyChaser.Co
Product Type: Sharing & Completing Tasks
Owner: Unknown
Price: $0
Rating: 1/100
Verdict: A Scam! They don't pay, Fake testimonials…
Not Recommended! Invest your time somewhere else.
What is MoneyChaser.Co ?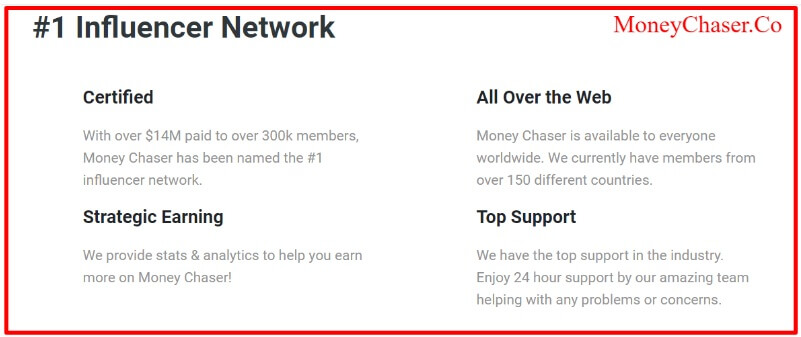 The Money Chaser site claims to be the #1 influencer network, that pays you $5 to $10 for each person you refer.
Based on what they say, you should simply share your referral link and you'll earn $500 a day !
Sounds cool. However is it legit?
It sounds basic and there's a lot of testimonials recordings of individuals guaranteeing they're making money using this system. Since it costs $0 to join, numerous individuals take the risk.
Now, in the event that you share your link via web-based media, etc, it would seem that you're earning, Since the "cash" goes up in your back office.
So individuals keep sharing their links.
Which is, the reason this circulates around the web so quickly. I mean, it's free and all seems to be working properly. Who wouldn't want to take a chance?
All good… until you attempt to withdraw your profit!
This is the point at which the truth hits that you've been scammed. Then it's too late, because you have participated to spread the scam all over the internet…
Before we dig deeper, let's see the pros and cons of this system.
Pros & Cons
Pros:
Cons:
Testimonials are Fake!
Unknown Owner
A Scheme To Steal and Sell your Information
Can't Find Them on BBB… Especially if they are dealing with big brands as they pretend.
Surveys and other tasks generally don't pay that much
So in the following segment, I will clarify how this works in more detail, And afterward I will separate the reasons why it's not real.
==>>Tired of Scams? Here's My Top Recommended Business Model!
How does Money Chaser work?
To begin with Money Chaser, you first need to create a free account. Which involves giving your name, email, and picking a username and password.
Once you join, you are given a $25 welcome reward and your own special referral link. You can actually share this link through content, email, online media like FaceBook, Instagram, Pinterest, etc to start "acquiring" referrals. And once someone joins, you will get paid. I mean, The money will eventually appear in your dashboard.
When you have been able to earn a minimum of $100 or more in commissions, you can apply to withdraw your cash(At least, this is what they want you to believe).
But the reality is that once you reach the minimum amount to be withdrew, and try to cash out, nothing occurs.
Additionally, there's a "task section" that supposedly pays $30 when you complete each of them. However, lamentably these tasks don't pay at all. I'll explain that further in this review…
Keep in mind that Completing tasks is certainly not a genuine method to gain cash. Those type of systems only want to gather your personal information, and make money from it.
Be very careful…
Some Quick facts about MoneyChaser.Co
Individuals are persuaded that everything they have to do in order to earn cash is join, share a link and invite people… And they're told that they'll earn somewhere in the range of $10 and $15 for each individual they refer, and who creates a free account .
But, if everyone creates free accounts, at that point how can Money Chaser bear to pay their individuals such a lot of cash? Where is the cash coming from and how are Money Chaser earning from you?
Another thing you should be aware of is that, The owner of this system keeps dispatching it under various names trying to get away from the negative reviews, hoping that they can continue fooling more individuals into joining.
By the way, I have reviewed another scam similar to this one. I'm shocked because this other system is actually 99% similar to this one. It's called PaidLeaf….
The name keeps changing but the scam remains the same.
 Money Chaser Ugly Truths Revealed!
A/They are not working with big name brands
This organization claims to be working with huge name brands like Fortnite, Burger King, Dunkin' Donuts and Wendy's.
Which is, basically a lie, and is a tremendous warning all by itself.
No legit and professional organization would connect with a site like this one, which has completely zero credibility.
B/Fake Testimonies
On the MoneyChaser.Co site, you can see some "payment proof" and "testimonials".
As usual, The "payment proof" page only contains a lot of Fake screen captures showing fake incomes.
The "testimonials" page contains a few recordings of individuals who claim to make $1,000 using the system.
But have a look at this screenshot below.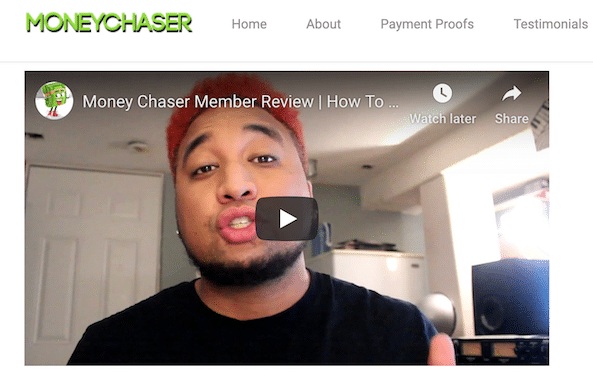 This is just a paid actor from a site called Fiverr.
Yeah, in case you didn't know, people are actually getting paid to make fake testimonials. The internet is so crazy nowadays.
On the screenshot below, the same guy on Fiverr.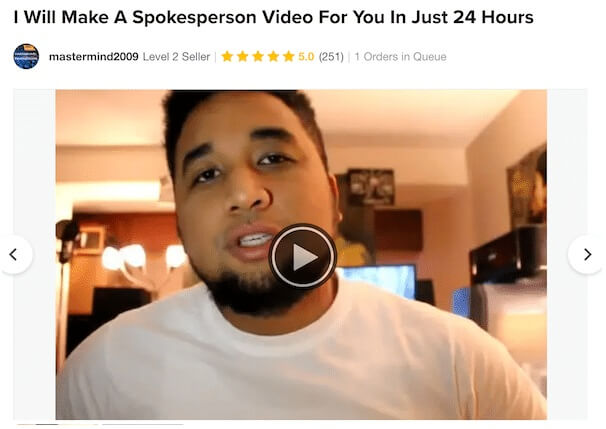 This is his business. People hire him to provide fake testimonials…
If Money Chaser is Legit, why would they need to pay Actors to make Fake testimonials?
==>>Tired of Scams? Here's My Top Recommended Business Model!
C/Owner not disclosed
Why the heck would you create a program and not reveal your identity?
One of the significant warning you should check before joining any program or company, is the data about its proprietor. If a program is legit, there's no point for the owner not to reveal himself and presents his own product or service.
If the owner is not showing up, in most cases, the product or service ends up being of no value, obscure or a scam.
Regarding Money Chaser, it isn't clear who is the founder.
And they do have an Instagram account, where they post all their fake testimonials and other stuffs.
D/Warning from BBB
Better Business Bureau(BBB) has warned people to be very careful with these #1 influencer marketing websites that claim that if you do the tasks offered to you, they will pay you.
The truth is they never pay!
They can offer your information to other scam artists, who at that point spam you with more spam products and services.
They are also likely to send you spam messages that contain infected links. They need your email address and name, so they can easily try to hack your PayPal account, or any other bank account you own.
So think twice before presenting your own data to these #1 Influencer destinations.
E/Misleading earnings
Cash Chaser asserts that anybody can make $500 as soon as they join. Additionally, it gives you $10-$15 per referral, who joins through your referral interface.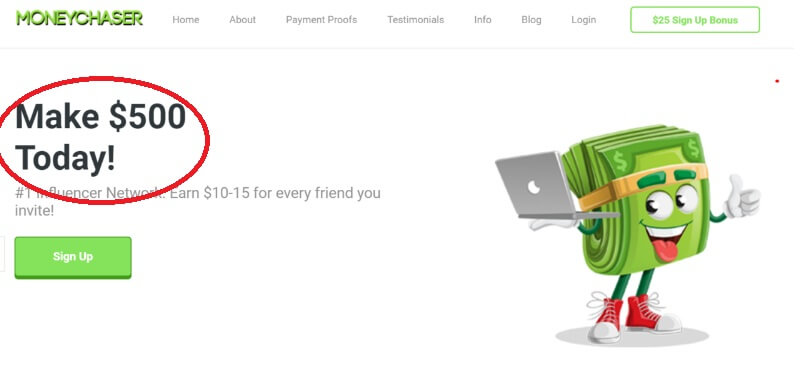 But that's just a deceptive technique to make you join their system.
The truth is, that can never happen in one day only by doing tasks.
Remember, if something seems too good to be true, it's because its certainly is.
So, stop chasing shiny objects.
Cash Chaser attempts to allure the individuals by making over hyped pay claims, which is absurd. They are not paying anybody, rather, they are getting your own data which they can use to even earn more money.
Is MoneyChasing.Co a scam? Final word
At the end of this MoneyChaser review, it should be remembered that this program is a freaking SCAM! and you should stay away from it.
Of course, it doesn't cost anything, but here's the danger. You are going to be wasting your time.
Also, why would they need to fake the testimonials? Why is the owner unknown? Only those two factors alone means a lot about this Money Chasing system.
Mind you, making money online is the result of learning from a proven method, Be Surrounded by a great community, and working hard to build your business. Not by using some useless program that only wants to waste your time, and steal your personal info.
My advice to you is, Stop chasing shiny objects.
Instead, if you are a beginner and want to make it into the online world the right way, I suggest you to have a look at my #1 Recommended Business Model.
If you have any question, please consider leaving it in the comment section below, and I'll get back to you ASAP.
Thanks for the support!