Welcome to my Wesley Virgin Overnight Millionaire review.
Are you trying to start an online business and you came across the Overnight Millionaire system, and now you want to know more before spending your money?
Well, you're in the right place.
First thing first, I appreciate the effort to take by searching online before investing your money into any product.
That's a great way to avoid scams and find the legitimate way to make money online.
But what is Overnight Millionaire about, really? Can you really make money with this program? Is Overnight Millionaire a scam? This post will cover those basic questions, show you the members area, as well as provide the pros and cons.
Let's get started.
Overnight Millionaire Reviews Summary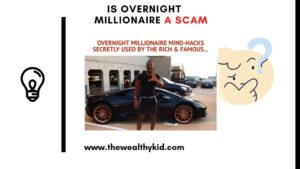 Product Name: Overnight Millionaire System.
Owner: Wesley Virgin
Product Type: Supposed to be a making-money product
Price: $34 Upsells: Many
Best For: People wanting to boost their mindset
Rating: 30/100
Verdict: The Overnight Millionaire system doesn't teach you how to make money online. It's Just about mindset and various aspects of training your mind through meditation, through daily journaling, etc. So, don't expect to learn how you can start an online business. If you only want to build your mindset, then that's fine. But if you want to start an online business, that's not the right product for you.
Not Recommended to build an online business.
==>> If you're looking to start an online business and create a passive income stream, have a look at my #1 recommendation.
Quick Navigation
What is Overnight Millionaire System?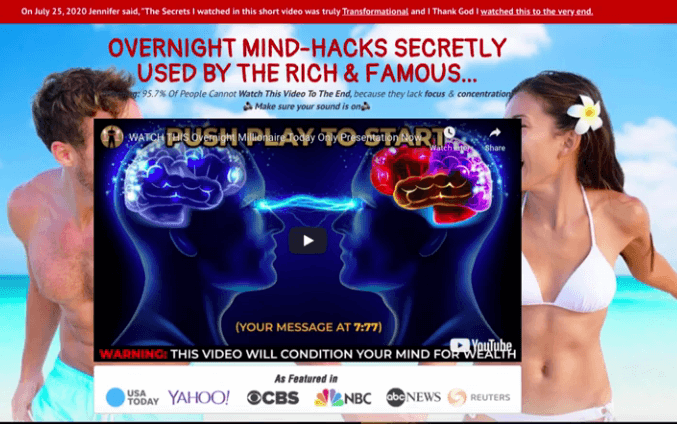 Overnight Millionaire is by a Wesley Billion Dollar virgin.
In a nutshell, the Overnight Millionaire system is more of a mindset course than an actually make money online course.
So, the product name may sound a little bit confusing because obviously, you will imagine making money with this product, but it's not training to help you start an online business and make money online.
In a few moments, I'll show you the members area and the available courses in the front end.
Members Area
Remember, this product is more about mindset and less about actually making money online from a practical point of view.
So, it's not about how to start affiliate marketing or building your own business from e-commerce.
Once you're inside you'll see a mixture of topics that has kind of been put together in a mishmash fashion as far as I'm concerned.
Let's have a look at the front end lessons
The lesson section is divided into three pieces such as:
The overnight millionaire system
The free commit for 90 days bonus section
Internet training for newbies and dummies
Overnight Millionaire system
How to get fast results with Overnight Millionaire system.
A Facebook private group for support
Wesley Virgin Story
What's your why?
Emotionalize writing
Guided visualization exercise
Become an important person to others
Be careful who you listen to
Validate yourself, don't wait for others
Victim mentality
The supplement I use to boost my brainpower
2 books you might read for right now
Body language formula
Rapid visualization technique
5 simple habits millionaires do at night
Money mind conditioning audios
Supernatural frequencies
Becoming an Alpha
Millionaire meditations
The "free commit for 90 days" bonus section
A video to build confidence and your self-image
Wesley Virgin's best IG live in 2018
$13 in one day
How does a millionaire start their mornings?
#1 thing that is stopping you from achieving huge dreams
#1 Rapid mind-altering technique
Internet training for newbies and dummies
How to make money online for beginners
How to make $1000 per day with no skills
My 12 years old son did this to make $30,000 in 48h
ClickFunnel secrets to making $90,000 per month
This last section is just a link to his online millionaire magistery membership which is a monthly cost.
And really in this video again, all he really talks about is the mindset. He doesn't really talk about anything specific around tactics.
So keep in mind that there's nothing practical that you can learn around making money online unless you get access to his Magistery membership.
What I like about Overnight Millionaire System
1.Good Mindset Training
When you start a business, the biggest struggle is your mindset. And Wesley does a very good job at teaching you about the millionaire mindset.
For instance, having the ability to kind of visualize long term rather than short term whenever you start anything.
If you start an affiliate marketing business, for example, the money doesn't always come straight away. So you need to be thinking about where you're going to be in six months, or in a year.
So I think some of this stuff is okay as far as the mindset starts.
2. Wesley is easy to listen to
Wesley is very upbeat and energetic. It's really easy to listen to him. He's very good at delivering his message to his audience.
What I don't like about Overnight Millionaire
1.90 days commitment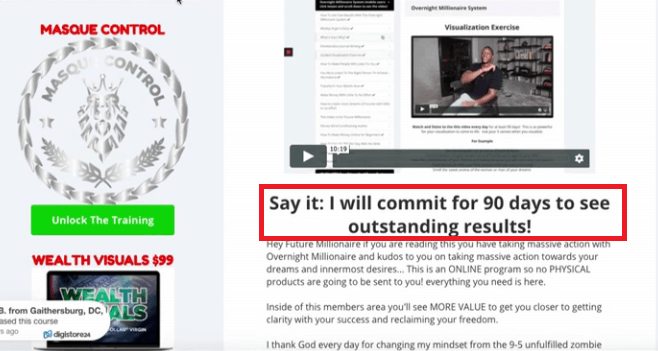 What they do ask you to do is commit for 90 days, which I think is kind of ironic because the guarantee is 60 days.
So you're screwed if you commit for 90 days and you don't make any money.
They're trying to keep you on to make sure you're committing and the overall message is you need to be able to watch these videos over and over again because it's a mindset thing.
2. Teaching Amazon Affiliate
One of the snippets I saw on one of the upsells is actually teaching you about Amazon and being an amazon affiliate.
But this is kind of an older tactic because being an amazon affiliate has become more and more competitive, and also their commission rates are absolutely slashed very recently.
So people have to purchase a ton of products through your links for you to actually make any kind of good money.
3. Too many things to purchase
During the training, Wesley is constantly trying to sell you a supplement.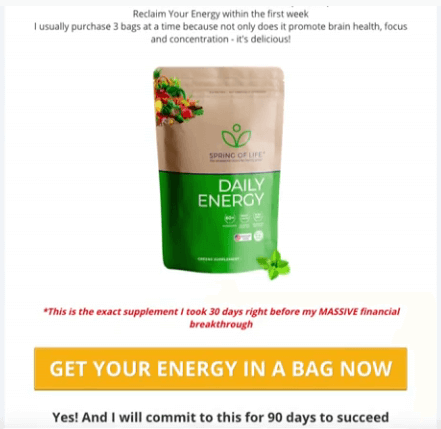 I've never actually seen somebody sell a supplement in the middle of a make money online type products. That's an interesting one.
He's also asking you to buy several books the further you move in the training.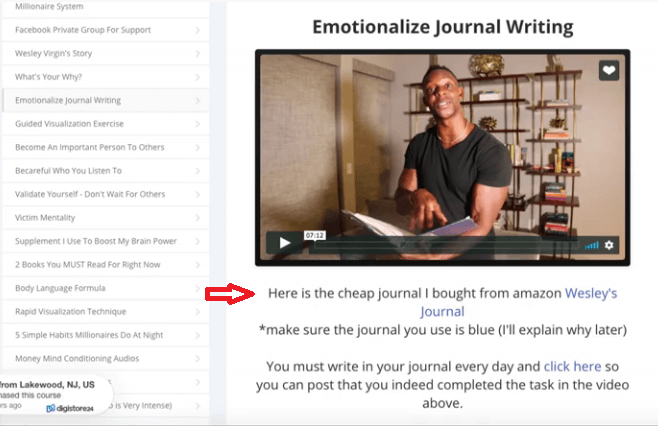 Looks like he's trying to sell his own books and promote you others stuff where he's going to earn commissions.
Obviously, there is an affiliate link to each of those products.
4. Just about mindset
Just remember that if you do buy this product, this is about mindset and various aspects of training your mind through meditation, through daily journaling, etc.
But it's not about practically how do you set up a website, how do you build a landing page, how do you get affiliate links, how do you actually make money.
Some of that can be found only in his actual monthly membership which is obviously an upgrade.
Overnight Millionaire Price & Upgrades
The front end is $37
Upsell 1: Inner cycle membership $79 per month
Upsell 2: Affirmation cash $47
Upsell 3: 7 minute overnight money magic $57
Upsell 4: Unrevealed secrets of a millionaire mind $57
Upsell 5: Million Dollar persuasion $9
Pros
Some of the mindset material is good. There is quite a bit of mindset in building any kind of business and really having the confidence to take things forward.
There are some good tips and tricks.
Wesley is a likeable person.
60-day guarantee obviously gives you enough time to decide for yourself whether you think this is going to be worth it.
Cons
There's too many upsells. You'll be offered one thing after another and then once you get into the product, there's a lot of videos that are actually sending you off somewhere else to purchase either a book or a supplement.
The sales page video is very long, 40 minutes of testimonials.
There's no real path to the training related to making money.
The newbie internet training is no good. It actually says internet marketing training and at the end of the day, it was just more motivational mind mindset stuff.
The product is beginning to feel a little bit old.
Quality not good.
Is Overnight Millionaire a scam?
The Overnight Millionaire system is not a scam.
It's just a mindset type of training. This could be a good product for you if you're looking to boost your mindset.
But if you're looking for products that'll help you make money online, then this isn't for you.
There's no practical training in this particular product.
So, I wouldn't recommend it.
You can also read my Kangen water review.
How I make money online
Earning money online is absolutely possible regardless of your background or knowledge.
I once was a beginner as well… Until I discovered the right training and community, and I have been able to build a successful online business.
If you want to discover my secrets, hit the button below, over to my #1 recommendation, and I'll take you through the whole process.
If you have any question about this Overnight Millionaire reviews, let me know in the comment section below.
Until next time, take care.