Welcome to my Omni review.
The owners of this software claim that Omni can help you generate free traffic and sales in 60 seconds.
But is that true?
This is what you're going to find out in this review.
First thing first, I appreciate you take the time to do your own research before spending your money into any type of software out there.
That's the perfect way to avoid scams and find the legitimate way to make money online.
But what is Omni about, really? How does it work? Will it be able to deliver on its promise to you? Can you really make sales using this app? Is Omni a scam?
This post will cover those basic questions, as well as provide the pros and cons.
Let's get started.
Omni Software Review Summary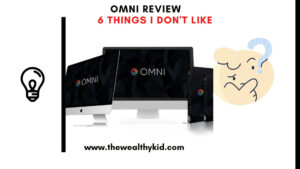 Product Name: Omni
Vendors: Venkata Romana; Mark Bishop; Nakul N.
Product type: Funnel Builder
Price: $17
Upsells: Yes
Best For: Experience marketers
Rating: 30/100
Verdict: Omni is an app that allows you to build landing pages and promote affiliate products. But the entire sales page is misleading letting you believe you're going to get free traffic and sales. That's not true. Plus, it's not 100% DFY, you'll have to do a lot on your own. Lastly, there's no training on how to do affiliate marketing properly.
With that being said, I'd not recommend it. Invest your time and money elsewhere.
==>> If you really want to start an affiliate marketing business the right way with the right tools, have a look at my #1 recommendation.
Quick Navigation
What is Omni about?
Omni is a done-for-you funnel builder.
As usual with these types of software, they're promising autopilot traffic within 60 seconds.
It comes from Venkata Ramana, Mark Bishop, and Nakul N.
Here's an overview of how they describe the app on their sales page:
This is supposed to be 100% done-for-you.
There's built-in proven to convert products.
Each funnel is designed to collect leads and affiliate commissions at the same time…
You're going to get a 100% free viral traffic…
It's a hundred per cent beginner-friendly. You don't need any skills or experience…
There's no domains or hosting, coding or design required, this is cloud-based…
No monthly fees…
There is software training…
As usual, most of those claims on the sales page are not real.
I'll explain that in more details later in this review.
How does Omni work?
The idea is you would get people to come along to a landing page, where they'll be given a free guide like an e-book, and once they've opted in, they would be sent over to a thank you page and then on this thank you page, you would offer them some kind of affiliate promotions.
So, the software will allow you to build a landing and a thank you page.
It's pretty simple to create them.
You just enter a campaign name
Press create.
A Page will pop up, you've got a choice of a landing page and a thank you page.
You hit the landing page option.
You'll see a couple of template options to choose from. Finally, you have to adjust them. You can adjust the image, you could change the colours, etc.
But one big issue is, there are gaps in the training around which links you're supposed to put and where. So if you're a complete newbie, you're going to get really confused with this.
Plus, how will you get people to those landing pages in the first place? There's no free traffic provided to you as they claim on the sales page…
I'll come to that later.
Omni Members Area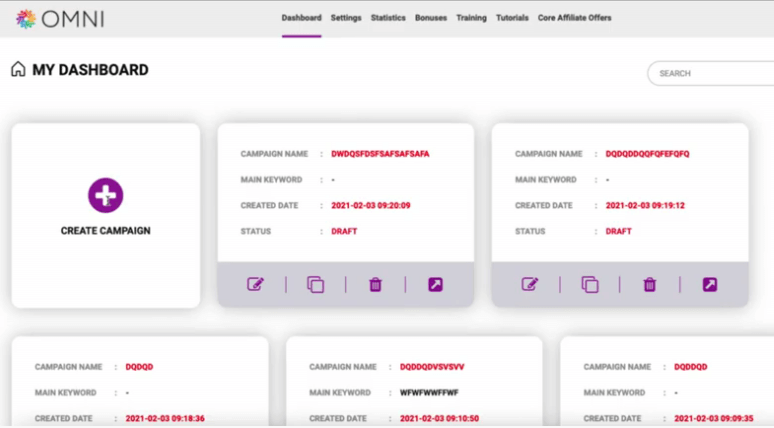 Let's explore the main features of this software.
Training
This is one of their traffic solutions, which is paid traffic and this is all based around Bing ads.
But, I think this is very dangerous for you if you're a newbie and you have no idea what's going on. Because paid ads can be very expensive to optimize and actually get a return on.
In fact, most people actually only use paid ads to get leads in the first place, and most of the selling is done on the back end through things like email marketing.
It's not done on the front end by somebody just coming along to your ad and purchasing something straight away.
So you've got to be really aware of what you're doing with your email marketing when you buy any type of software like this, and really understand that piece because you might spend a lot of money optimizing your paid ads.
You need to be able to traffic organically, meaning for free to build your business up and then maybe use pay ads to supplement your business in the future.
Tutorials
The tutorials are very basic.
There are a couple of videos such as:
How to create the landing pages.
Connecting your autoresponder.
How to publish your campaign. And they show a couple of different ways you can publish it.
How to publish.
How to connect your autoresponders.
How to connect an active campaign.
How to connect Get Response. You need to connect your API key to this to be able to gather leads through your own autoresponder.
Underneath each tutorial, there's a link. This is a cloud-based application, so you can just get a link directly to the pages through this app.
But as I always say, this application could just disappear overnight and you've got no real control over your business. So, you could lose everything.
If you're a complete beginner, I understand that sometimes you may purchase this type of apps to avoid doing many efforts, but if you want to build a real business online it's not really the way to go.
Core offers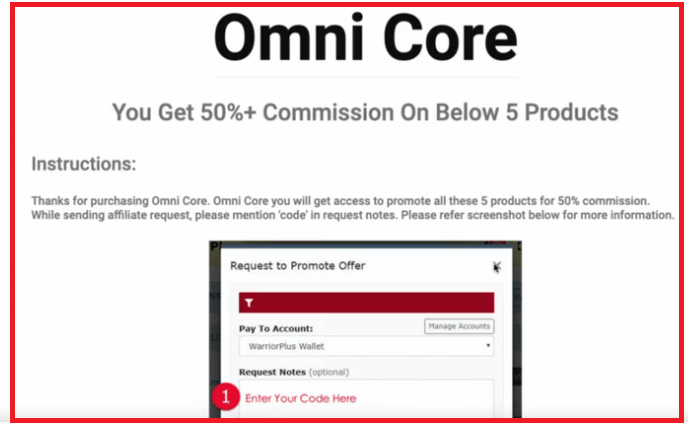 These are basically the vendors own products and they're going to give you the approval to go ahead and promote them.
But you can just go to Warrior Plus and you'll get approved for most offers these anyway.
And most of the products they want you to promote are very low-quality just like this Omni software. Something like Cyclone for instance, which is one of their products you'll have the ability to promote.
What I like about Omni
The only thing I like in this software is the fact that it is simple to create a landing page.
6 Things I don't like about Omni
1.No Training on Affiliate Marketing
There's no training on what affiliate marketing actually is and what you're trying to achieve here.
They give you the ability to have landing pages and thank you pages but there's a lot of missing pieces around how you'll drive traffic to those landing pages.
2. Paid Traffic
They're suggesting that you use paid traffic. But as I mentioned earlier in this review, that's dangerous if you're a beginner and have no idea in online marketing because you may lose lots of money.
3. Where is free traffic?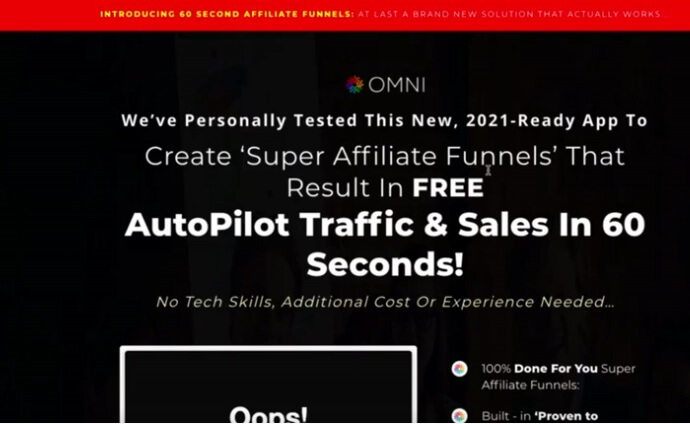 Apparently, they've also got a free traffic solution in this software which, yet again is a bunch of links to social media.
All they do is giving you the opportunity to share your links to FaceBook, Twitter, Pinterest and Linkedin, etc. And they're saying that's the free traffic.
It's just very misleading and not true. You're not going to get any autopilot traffic in 60 seconds to anything.
What you're going to do is build a funnel that's just going to sit there and nobody's ever going to come across it.
So, if you're going to build an affiliate marketing business, you need to learn how to drive traffic over to your pages. That's the key to any business.
4. Hosted by them
It's housed on this, meaning if the whole system suddenly crashes, you'll lose everything.
Plus, you're never really going to get any search engine optimization from these pages.
No one's going to find these organically. You'll have to actually send the links individually to people and hope they click on them.
5. How to use the funnel?
Nobody really shows you how you connect these various pages up. You just got to redirect your URL.
You would have to redirect people once they come over to the thank you page over to a different URL, but that's not really explained anywhere how you actually use this as a funnel.
6. Not 100% DFY
The software is not 100% done for you. You'll have to set a lot this up yourself.
Omni pricing and OTOs
The front end is $17
OTO 1: $39 This is Omni pro.
OTO 2: $97 This is Omni Done For You max.
OTO 3: $39 This is Omni automation
OTO 4: $47 which is a partner program
OTO 5: $127 which is the Omni 1k per week system
OTO 6: $297 which is their Omni white label version.
Once you rack this up, you're talking more than $600 you'll spend for this software which won't even bring you much value.
Pros: What's good
The software works
There's a 30-day guarantee
Cons: What's not good
The traffic claims are nonsense. There's not 60-second traffic. The social media traffic isn't real traffic unless you've got a following on social media who are interested in whatever product or service you have to offer.
There's no real affiliate marketing training on here. It's a big gap there because if you're a complete newbie, this is a typical shiny object where you're going to spend a long time clicking and making certain pages but no idea what you're actually doing and how to build a real business.
Paid traffic is not good for newbies. I wouldn't start off with any kind of Bing ads if you have no idea what you're doing with them.
You don't really need this if you have an autoresponder at all because you can get your own page builder from that autoresponder.
This is not Done For You. You have to do it yourself.
Value claims aren't real.
As usual, the sales page is misleading.
Is Omni a scam?
This Omni software is legit. There's no real harm in it.
I just don't think you need it, and you're better off investing in much better page builder and learning how to do this yourself.
That's why I wouldn't recommend it.
How I make money online
I used to be like you. I wanted more money, I wanted it easier and faster.
So, I started chasing shiny objects and in no time at all, I ran out of money and wasn't able to earn it back…
I understood that the "systems" and "gimmicks" are not designed to work.
They are designed to keep you spending.
But, we always end up finding the right one… So I did and my business took off.
Now, it's your time to stop chasing shiny objects.
With that being said, if you really want to build a long term sustainable online business, hit the button below, over to my #1 recommendation, and you'll learn how to start an affiliate marketing business the proper way.
Have any question related to this Omni software review? Leave it in the comment section below.
Thanks for the support!