How to earn money from Affiliate Marketing? This is the question many people tend to ask when interested in tapping into this billion-dollar industry. Yes, you heard it right, there is so much money to be made using this online business.
However, keep in mind that, where there is money, there is competition… But don't worry, the Industry is so huge that everyone can get a piece of the pie.
Start today, and you will be in prime position to take advantage of that.
But what is Affiliate Marketing about, really? How does it work? How much can you make as an affiliate marketer, and how to get started the best way? This guide will cover those basic questions, and provide tips as well as mistakes to avoid.
Quick Navigation
1. What is Affiliate Marketing About?
Affiliate Marketing is the process of earning a commission by promoting other people's products or services. You find a product, promote it to others, and earn a piece of the profit for each sale you make. Simple as that.
It is one of the most powerful ways to generate an income online.
And you know the best part ? You don't have to spend the time and money to create your own product, Someone else has already done the hard work for you.
Also keep in mind that, as an Affiliate Marketer, you can promote many products from different companies and earn commissions from all of them. Yeah I know it's AWESOME ! …
But, who is this Amazing online opportunity for ?
Before we answer that question, let us have a quick look at the Pros and Cons of Affiliate Marketing.
2. Affiliate Marketing: Pros and Cons.
Pros:
♥More freedom. Affiliate marketing gives you the opportunity to work anytime, and from anywhere, the only thing you need is a laptop and an internet connection.
♥Low barrier to entry. People usually tend to struggle a lot to start a business… But Affiliate marketing is easy to get started with. Most affiliate programs are free to join, and you don't have to create, stock, and ship products, which means less responsibility.
♥Passive income potential. Affiliate Marketing, when done correctly, it can provide the potential for passive income.
Cons:
×It can take time to generate the amount of traffic needed to result in substantial income.
×Competition. You need to face your competitors who are promoting the same product as you.
3. Who is Affiliate marketing for?
Affiliate Marketing is best suited for online entrepreneurs, bloggers, and anyone willing to build an audience they can serve authentically.
It is also best adapted to you if you are not ready to create your own product or service, and just want to serve your audience by recommending products that may be helpful to them.
Affiliate marketing is also best suited for people who are sincere and confident about the product they are recommending. So, honesty is a must.
It's simply best suited to EVERYONE
==>>Get FREE Training and FREE Website To start Affiliate Marketing Here!
4. How does Affiliate Marketing work?
Affiliate marketing allows you (AFFILIATE or PUBLISHER) to promote product or services online for companies (MERCHANTS or ADVERTISER).
This is done through affiliate programs. There are 10,000's of affiliate programs out there, and 100's of MILLIONS of products/services that you can promote as an affiliate marketer. In fact, if you can buy something online, chances are you can promote that same product as an affiliate through their affiliate program.
When you join an affiliate program, they give you a special link you put on your site to promote their products.
First of all, you need to find a product that you want to promote, then the merchant gives you a unique link so they can track who was responsible for a sale. Here is how this link usually looks like :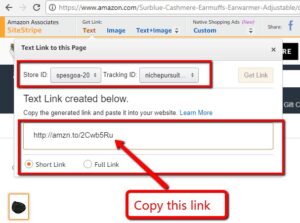 When somebody clicks that link, a file called a cookie gets stored on their device.
Here is what an affiliate cookie does exactly:
It helps the merchant award the sale back to the right person.
Also, this cookie has an expiration date, meaning you still get paid even if the buyer delays their purchase.
Here is an example of how it works:
Let's say that someone visits your post about football boots. They click on one of your affiliate links leading them to the product on Amazon.
But they realize they don't have enough money on their credit card to make the purchase at the first place, so they go to the bank deposit some money, come back, do a bunch of others stuff, and then finally go back to Amazon where they find the product again.
Since they are still shopping on Amazon, they decide to purchase something else, let's say a pair of socks.
You know the great part ? Earlier when they clicked on your Affiliate link, a cookie was stored on their device. And because Amazon has a 24-hour cookie duration, you get compensated for both the football boot and the pair of socks(even though you didn't promote it).
In the case of Amazon, they pay affiliates 4.5% as a base commission with performance incentives based on volume.
For example if you sell a product that cost $1,000 your commission here as an affiliate would be minimum $45.
But don't worry, Amazon isn't the only affiliate network where you can promote products out there. In fact, there are many others that pay huge commissions(up to 70%) to affiliates. Networks like ClickBank, Awin, JVZoo, etc.
5. How much does an Affiliate marketer Make?
How much can you make in Affiliate Marketing once you are up and running? It will totally depend on how committed you are to making it work, and how much time, and focus you are willing to put into it.
Keep in mind that it will also depend on the commission percentage you receive for each sale of a product; How successful you are at promoting those products; and most of all, the size of your audience.
That said, there is no real limit on how much you can make as an affiliate marketer.
The most successful affiliate marketers make four, six, or even seven figures a month.
Below is a screenshot from Jerry's website (a member of Wealthy Affiliate), showing his affiliate commissions in a single month :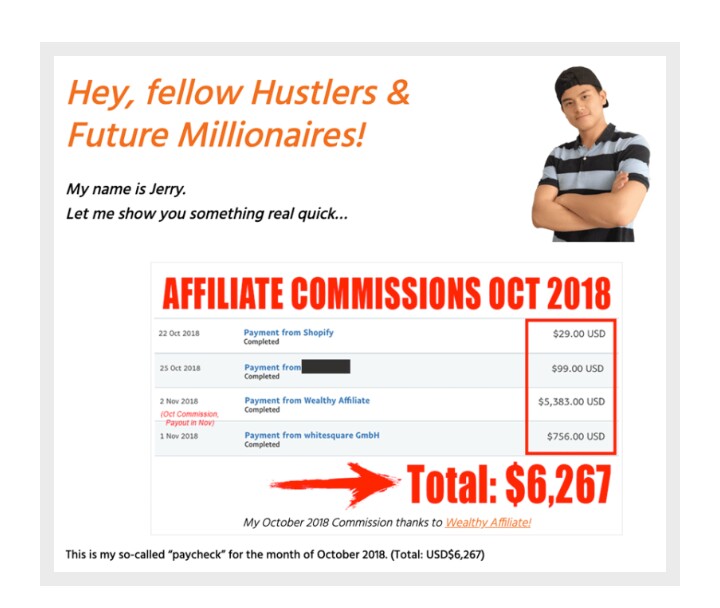 Understand that these results aren't typical. If you are just starting out, your checks might not look like this for a while. You have to put in the hard work. This is how to earn money with affiliate marketing.
And remember that with hard work, time, and the right knowledge, you can potentially reach those levels as well.
Now if you ask me, how is he able to have these types of results? The answer is simple, He has a website.
In order to get traffic, you need a website. You need to be creating content that is relevant and is targeting specific "low competition" keywords with every new post you create on your website.
Making money in affiliate marketing without a website may be a bit complicated. That's why having a website is the most powerful way to build an audience and be very successful with it.
Keep in mind that a website is like having a real estate property. You build it once and make it work for you 24/7 years after years.
That's why most marketers who have a website are able to generate five, six, or seven figures a month.
==>>Get FREE Training and FREE Website To Start Affiliate Marketing HERE!
 6. How to Start Affiliate Marketing Today?
Here are the simple steps to start Affiliate Marketing:
a- Decide on a platform:
It is clear that you can do affiliate marketing on any platform.
However, the best platforms to build an audience with are through a blog, YouTube channel and FaceBook.
Nowadays, starting a blog is relatively easy and cheap. There are so many tutorials out there that teach you how to get started from scratch. And of course, you will have to spend a few dollars per month on things like hosting.
Once your site is up and running, the only thing you have to do is optimize it for search engines to rank high in Google.
The second platform is YouTube, which is as easy as creating a blog. You can create and upload videos to YouTube for free. Optimize your videos for SEO, and include your affiliate links in the description.
The last one is Facebook, which is one of the biggest platforms to generate traffic out there. Almost everyone uses Facebook. I'm sure you have a FaceBook account and know many people who do. So, this platform can be great to drive traffic using free methods, or paid ads.
b- Pick a niche:
People tend to struggle a lot when it comes to choosing a niche.
A niche can simply be something you are passionate about. Once you know your direction(Niche), narrow it down into a specific target audience.
For instance, the topic of "Football" is an enormous category. Rather, try something more specific like Football jerseys for kids for example.
Then your target audience is going to be parents wanting to buy Football jerseys for their kids.
Keeping your topics tight can help you build a more focused audience and help you rank higher in search engines(Google, Bing, Yahoo).
One thing you have to understand is that the minute you start building out your website, you are building a brand. You are working to become a source of information online and through time and effort, you are going to become an industry expert.
C- Join Affiliate programs:
There are so many affiliate programs out there to get started with. Some of them can be found on Affiliate Networks like Amazon, ConvertKit, Clickbank, JVzoo etc. Don't forget private companies also.
So, once you have started to build your audience and develop a relationship with them, you will know what that audience needs. The next step is to identify products you can promote meeting their needs and help them.
And remember that you should choose a product to promote based on your niche.
If your niche is about football, you can't promote stuff from fitness for example.
Also be aware that if you choose to promote high tickets products(Expensive products), there is more competition obviously. And since you're probably just starting, it will be quite challenging to make a meaningful amount of money competing against skilled and experienced marketers.
Of course, anything is possible. So don't let this discourage you… We have all been a beginner once.
D- Create quality content:
Your content needs to be readable. People are becoming less and less inclined to read big blocks of content these days, so keeping your ideas a bit brief is going to help a lot.
Here are 5 things that make up a quality page or post :
(1) Small paragraphs
(2) Black or dark Grey text on white background
(3) Separate your ideas with Heading tabs
(4) Use conversational speak
(5) Choose a captivating headline
E- Drive traffic to your site:
After creating awesome content, You need to get people to read it, so they will click on your affiliate links.
Here are three strategies to take into consideration:
(1) SEO:
SEO stands for Search Engines Optimization. It is the practice of optimizing pages to rank high in Google search engine.
SEO is all about :
Understanding what your target clients are searching for ;
Creating content around those topics (Blog posts etc.) ;
pushing those posts higher in the search engine.
SEO is a long term traffic opportunity that will still be here. Lots of people keep searching for things online at a higher rate than ever.
Learn the basics in this video :
(2) Paid traffic:
This is where you pay for traffic to your site, and you can do this using PPC ads.
The great part about paid traffic is that as soon as you start paying, you get traffic. But keep in mind that once you stop paying for ads, your traffic will stop as well.
And I don't usually recommend it if you're a beginner. If you're just starting out, better stick with organic traffic from Google.
(3) Build an Email list:
Email lists allow you to keep in touch with your readers. It is a great way to keep your audience engage, and eventually, keep them coming back to your site for more. Which leads to more affiliate clicks and of course sales.
Don't forget that you need to offer your audience something valuable, which will make them sign up and therefore appear in your email list.
7. Affiliate Marketing: Tips to succeed
Build trust first : focus on building your community and the trust within that community first.
Know the product : If you're not extremely familiar with the product, don't promote it.
Help your audience learn as much as possible about the product : Show them how it works, instead of just explaining the product and what it can do for them.
Disclose that your links are affiliate links : Federal trade commissions (FTC) requires you to be transparent when receiving income for endorsement.
Use your own language to promote your products : Speak to your audience using your own words. Do not just copy and paste. It would be obvious.
Ask yourself, Is the product good for my audience ? You should always put yourself in the customer shoes.
8. Mistakes to avoid with Affiliate Marketing
Not being honest about a product or service: Honesty is a must when recommending a product, whether good or bad.
Do not treat Affiliate Marketing like a Get-Rich-Quick scheme. You can't succeed with affiliate marketing overnight. It takes some times and hard work.
Avoid promoting a product that has nothing to do with your niche.
9. Final thoughts
This guide was all about how to earn money from Affiliate Marketing. Now you know how it works, the ups and downs, as well as how to get started with this amazing online opportunity. These are the fundamentals.
Affiliate marketing can be a great choice for NEWBIES, experts, online entrepreneurs, bloggers and anyone who has a website and willing to build an audience they can serve. It can be a great way to augment your existing income, and even become your main source of income if you are willing to make the commitment.
And remember, If you go in with a Get-Rich-Quick mentality, it won't work for you.
Again, starting affiliate marketing requires the right training, a great community and support to help you on this journey.
But No Worries, I got you covered…
If you're ready to start your affiliate marketing journey, hit the button below and get free training, a website, a great community, mentor, and support.
No credit card required!
Got any question? let me know in the comments section below.
Thanks for the support…