Welcome to my Print Monkey review.
Shiny objects are everywhere, and Print Monkey is one of them.
First off, congrats on taking the time to do your own diligence.
That's the way to avoid scams and find the legitimate way to make money online.
But what is Print Monkey about, really? How does it work? Will it be able to deliver on its promises to you? Is it a scam?
This post will cover those basic questions.
Let's get started.
Print Monkey Review summary
Product Name: Print Monkey
Vendor: Brendan Mace
Product Type: Review Page Builder
Price: $12.95
Upsells: Yes
Rating: 10/100
Verdict: Print Monkey is a software that allows you to build review and bonus pages and promote products. But there's no traffic solution, meaning nobody will visit those pages. Plus, the system is designed to make you promote the vendor's products. But those products are low-quality. At last, the entire sales page is so misleading. Everybody needs to avoid this software.
Not Recommended! Invest your time and money elsewhere.
==>> If you're looking to build a long term sustainable business online, check out my #1 recommendation.
Quick navigation
What is Print Monkey about?
Print Monkey is a review and bonus page that is supposed to help you drive traffic, promote your offers, and make money.
The product comes from Brendan Mace.
Here's how he describes the product on the sales page:
15 affiliate campaigns
Use as your own
Instant Commissions
Bonus pages included
3 step system
Newbie Friendly
Hosted by vendor
As usual, some of those claims are misleading making you believe the system is so simple and you can make the same results. But the reality is the only person who's making money from this software is the vendor himself.
I'll explain that in more details later in this review.
How does Print Monkey work?
The idea is the system will allow you to build a review page and bonus page.
Once you have those two pages available, you will have to share them wherever you want, this can be on social media and hope somebody clicks on your links.
In case you manage to get somebody to click on your link, they will be directed to your review page where they can see your various offers(this is whatever you're promoting).
If they do decide to make a purchase, they will be redirected to the bonus page where they can get access to their bonus.
That's pretty much the whole concept.
But this strategy can be very bad for various reasons I'll list them further in this review.
Members Area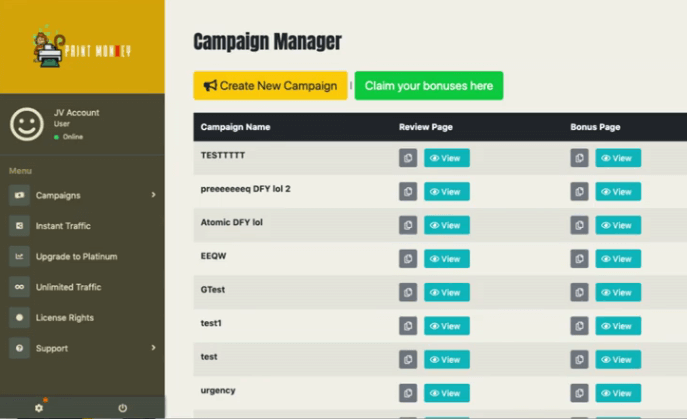 Let's explore the different features of this website.
Campaign
This section contains pages you have created and pages the vendor is providing you. These are the old promotions he has done in the past.
You can also decide to create a new campaign here, which is very simple. All you need is:
Add a campaign name
Enter your Warrior+ affiliate link. The system will display a bunch of different products. You'll need to pick one.
Product review
Save and Publish.
That's all you need.
But note that most of those products you are going to be provided with are very poor and low-quality products.
I really wouldn't recommend you to promote them to people you really care about.
Instant Traffic
This is the social media traffic.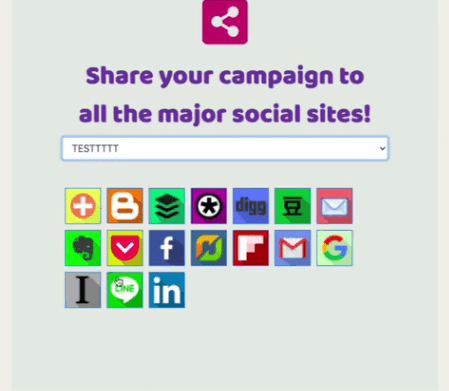 The vendor will make you believe that this is a traffic source, but it is not.
In fact, this section will only allow you to share your links to various social media such as FaceBook, Instagram, Twitter, etc.
But you won't get traffic unless you have a huge audience on all those platforms.
Upgrade to Platinum
This is one of the upgrades.
Unlimited traffic
Another Upgrade.
But, don't be fooled by this.
If those vendors could really generate "unlimited" traffic, why on earth do they need affiliates to promote their products?
In case you are not aware, those vendors pay affiliates up to 50% of commissions to bring customers.
So, why would they do that if they can generate a ton of traffic?
This doesn't make any sense. This so-called "unlimited traffic" simply doesn't exist.
What I like about Print Monkey
30-day guarantee
This is the only positive thing about this software. At least you can request your money back if you realize it's not for you.
What I don't like about Print Monkey
Misleading sales page
The entire sales page is so misleading and only based on the vendor earnings, but not how the product will really help you make money.
No traffic
Those vendors have huge lists of people they usually promote to. Meaning they already have potential customers to buy their crappy products.
But you, as a newbie, how do you go about finding customers?
Don't expect to get a ton of traffic by sharing your links to social media.
Nowadays, people don't just click on random links, especially if you're not providing any value.
No Autoresponder
Even though you manage to get a few clicks on your links and a few people visit your pages, how do you collect their email?
Most people won't purchase something the first time they land on your page. That's why it's always a good idea to collect their email in order to contact them on a daily basis and promote your offers.
Selling The Vendor's Products
The whole system is designed to make you promote Brendan products only.
Although there's nothing wrong with that, the main issue here is that those products are low-quality.
Imagine recommending something that doesn't work to a member of your family or a friend.
Also, those products may be popular during the first couple of weeks after they have been released, but no one is searching for them after that.
You're just going to be wasting your time promoting them.
Not a real business
I don't see this as a business you'll be doing after one year.
Everything is Hosted By the vendor
The fact that the entire system is hosted by the vendor can be a huge issue.
This means you have no control over your business.
And if the whole software suddenly crashes, you lose everything.
This is why I would always recommend having your own domain.
Print Monkey Price & Upgrades
The Front End: $12.95
OTO 1: Traffic training
OTO 2: Lifetime campaigns $37 per month
OTO 3: Easiest system ever
OTO 4: Limitless traffic
OTO 5: License rights 100% of profits
Is Print Monkey a scam?
Print Monkey is definitely not a scam.
It's just a shiny object aimed at beginners.
After a couple of red flags raised in this review, I wouldn't recommend it to anyone who wants to start an online business.
Stay away from it.
Also recommended: Shotoku System.
How I make money online
I used to chase shiny objects, but I ended up realizing that the "systems" and "Gimmicks" are not designed to earn you money.
They are designed to keep you buying…
The real and legit way I make money now is by building simple websites with my own domains where I give people the Infos they are looking for on the internet.
This is the best way to build a long term sustainable business online.
If you want to know more about that, hit the button below.
If you have any question about this Print Monkey review, leave it in the comment section below.
Until next time, take care.